Where Will PayPal Stock Be In 5 Years? An Expensive Stock, But A Good Business
Summary
PayPal has pulled back roughly 20 percent from its all-time high in July of this year, yet still trades for 54x 2021 earnings.
PYPL is a growth stock through and through, with 20 percent annual projected revenue growth for the next 5 years.
The market fears inflation for high growth names, but PayPal makes its money off of transaction volume and interest, which could actually benefit from inflation and/or higher rates.
The real risk to PayPal stock isn't inflation but competition from other large tech companies.
At today's prices, PayPal isn't a resounding buy but is still a good business. I'd wait for a dip to buy.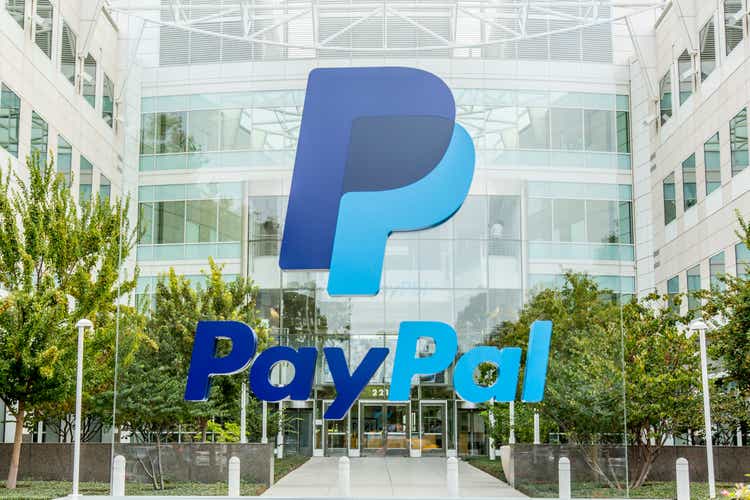 There has been plenty of ink spilled lately over "long-duration stocks," with the idea being that popular NASDAQ growth stocks are projected to get much of their growth in the far future, so they're reflexively sold whenever rates and/or inflation expectations climb. With many NASDAQ names trading over 50x earnings, this makes sense. But the correlations can lead to some funny outcomes that are worth more research. Take PayPal Holdings (NASDAQ:PYPL), for example. PayPal makes money off of transaction volumes and from interest on customer balances (through the PayPal side of the business and through Venmo), and theoretically could be worth more in an inflationary and/or higher rate environment. But that's not how the market has been working lately, to the point where a while after the pandemic started, the NASDAQ and Dow became negatively correlated.
Does this make sense? Maybe not in the long run, and it implies that there could be opportunities in the market at the right price. With PayPal down about 20 percent off of its all-time high, it's worth digging into the fundamentals to see where these funny knee-jerk correlations could lead to opportunities for you. Like the NASDAQ, PayPal is still highly valued right now, but the strength of their business means that there is a price I would like to buy.
Does PayPal Stock Have Room to Grow?
Last year, I named PYPL as my top stock pick of 2020, figuring that e-commerce would boom and inflation would result from the pandemic. Back then, PayPal traded for under $150. Now PYPL is significantly higher in price, so it's worth comparing the multiple then to now. PayPal earned about $3.55 in diluted earnings in 2020, so the stock traded for about 41x earnings. PayPal is expected to earn $4.72 for 2021, which is about a 54x earnings multiple. If you look at 2022 earnings estimates, the company is expected to earn about $5.90, or 43x 2022 earnings. PayPal's valuation is high and the stock more than doubled after the pandemic, which somewhat caps your upside. The long-duration stock selloff makes sense from the perspective of high-valuation stocks in general, even though PayPal, as a payments and financial services company does have a unique relationship to higher rates not captured by the broader correlations.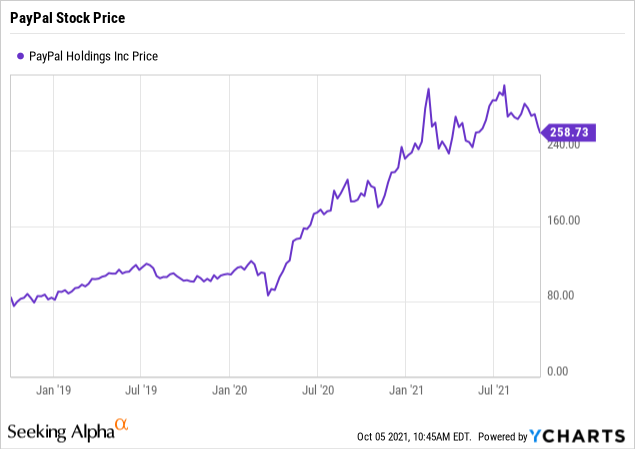 Since the start of the pandemic, PayPal's rise in share price has been driven mostly by success in the business, but at the same time, investors are willing to pay about eight full price-to-earnings turns more for PayPal's earnings than they were in early 2020. If more commerce moves back to brick-and-mortar, then it's possible these earnings estimates might be a little ahead of themselves. But then again, many of the changes brought about by the pandemic such as increased e-commerce, work-from-home, and increased use of digital finance may have pulled forward technological change, meaning they're permanent.
What about the long run?
PayPal has been able to grow revenue at or above 20 percent annually, even with eBay (EBAY) revenue slipping to nothing, as discussed in the most recent conference call. Their total addressable market is huge and growing, both from the global economy providing a tailwind and from e-commerce. PayPal's ambition is to become a one-stop app for consumer financial needs from banking to credit to cryptocurrency, and by growing its user base, the company is building the infrastructure for this push. Will this come to anything? It may, but it doesn't have to for the stock to appreciate. With the tailwinds present in e-commerce helping grow PayPal into its valuation anyway, this is just a free call option for shareholders. One plus for PYPL shareholders is the company manages to stay out of the news and has dealt with antitrust concerns discreetly and professionally, something that Facebook (FB) shareholders would probably appreciate now.
Higher interest rates could result in a structurally better earnings profile for PayPal, which could stand to make a boatload of money off of customer float. PayPal is currently very profitable without making much money from float, but if PYPL could earn even 2% in interest (very possible if the Fed wants to clamp down on inflation), then earnings could get a 10% boost. Their 10-K from 2018 showed $168 million for the year in interest income against about $2.05 billion in net income, but last quarter they only made $13 million from it. Granted, PayPal is a lot bigger now, but if the company could get a 10% earnings boost from higher rates then that would raise the floor and ceiling for the stock.
At roughly 50x earnings, PayPal's Achilles heel is the same as any expensive tech company – competition. If PayPal has poor returns going forward, it will likely be from competitors eating into its high-margin businesses. Competitors like Apple (AAPL) and Amazon (AMZN), and Square (SQ) as well as traditional payment processors like Visa (V) and Mastercard (MA) would all like to get more market share. Still, as I mentioned, with global e-commerce growing at 10% plus off of tough post-pandemic comps, there is plenty of room for all of them. PayPal is a dominant player in the fintech space and can use its valuation and position as a market leader to acquire new competitors as well. There are risks to PayPal's long-run success, but inflation is not one of them, and neither are higher rates.
Where Will PayPal Stock Be in 5 Years?
Dozens of analysts have published earnings estimates for PYPL stock out until 2023, at which point it starts to thin. The projections are for PayPal to grow earnings at around 20% annually, and the few analysts that have projections going out to 2025 have earnings projections averaging $10.61 per share. These make sense given the fundamentals we looked at earlier, so I'll take the estimates at face value.
No company can grow earnings at +20% forever, so at that point, the hope would be that PayPal could continue to grow earnings at least at a double-digit rate and that shareholders would see their shares appreciate roughly in line with the amount of growth above expectations. But the current valuation needs to be grown into, PYPL stock has more than doubled since the start of the pandemic!
If we assume PayPal can grow at 20% annually for the next five years, that gets us earnings in December 2026 of about $12 per share, plus or minus. PayPal might trade for 30x earnings at that point, implying a 2026 price target of $360, or an annual return of ~7% between now and then. This is acceptable, but not exciting. PayPal is a great growth business, but broader valuations on the NASDAQ are really high right now. Of course, on high multiple stocks, price estimates are very sensitive to growth rates – a few more years of 20% returns and the stock will cruise, and a few years less will crater the stock. The higher the earnings multiple paid for a stock, the more of a crapshoot it ends up being. With this same math, you would need a purchase price of roughly $223 to earn a 10% return annually in PayPal assuming there are no negative changes in the business, so that's the price I would buy it at.
Conclusion
After an incredible run and subsequent pullback, PYPL stock is still priced as such that current shareholders are getting most of the credit for future growth. I'd currently rate PayPal as a hold, with a five-year price target of $360 and a current buy price of $223. The buy price should rise over time in line with PayPal's business success, but I wouldn't want to get caught up in too much hype with any NASDAQ stocks right now. I'll close by posing a question to my readers. Have you seen any other stocks that are trading strangely on correlations? If so, share them in the comments.
This article was written by
Author and entrepreneur. My articles typically cover macroeconomic trends, portfolio strategy, value investing, and behavioral finance. I like to profit from the biases and constraints of other investors. Paywalled articles are available along with 1,000+ other authors by subscribing to Seeking Alpha Premium.You can read some more of my work for free here on my Substack.
Analyst's Disclosure: I/we have no stock, option or similar derivative position in any of the companies mentioned, and no plans to initiate any such positions within the next 72 hours. I wrote this article myself, and it expresses my own opinions. I am not receiving compensation for it (other than from Seeking Alpha). I have no business relationship with any company whose stock is mentioned in this article.
Seeking Alpha's Disclosure: Past performance is no guarantee of future results. No recommendation or advice is being given as to whether any investment is suitable for a particular investor. Any views or opinions expressed above may not reflect those of Seeking Alpha as a whole. Seeking Alpha is not a licensed securities dealer, broker or US investment adviser or investment bank. Our analysts are third party authors that include both professional investors and individual investors who may not be licensed or certified by any institute or regulatory body.