Facebook Stock: Be Greedy When Others Are Fearful
Summary
Facebook Files and an outage have hurt Facebook's stock. The company's value has dropped by a massive $150+ billion over the last month.
This seems widely overblown, as Facebook could weather this without harm if history is a guide -- the company has done so again and again.
At current prices, FB stock looks heavily discounted, and total returns from the current price should be attractive.
Looking for a helping hand in the market? Members of Cash Flow Kingdom get exclusive ideas and guidance to navigate any climate. Learn More »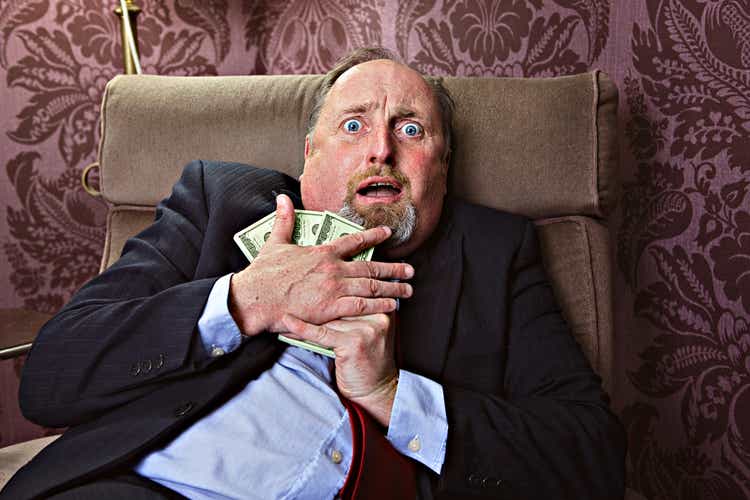 Article Thesis
Facebook (FB) has experienced a share price decline over the last couple of weeks, based on worries about the so-called Facebook Files and some technical problems. Even before that, shares were very inexpensive, and now they are looking even better. I believe that these worries are overblown and that Facebook will do well in the long run, which is why shares are attractive at current prices.
Facebook's Price Decline
Facebook has been a strong performer in 2021 up to late August, generating a 40% return through the first eight months of the year. Since then, however, shares have declined substantially: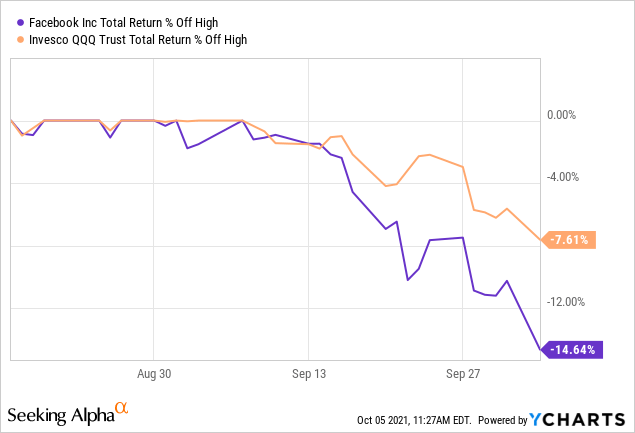 Shares dropped by 15% in just one month, thereby destroying a massive $150+ billion in market capitalization. The share price decline can, to some degree, be explained by an overall downturn in the NASDAQ (QQQ), as other tech names saw their shares pull back as well. Facebook has, however, been hit especially hard, due to a couple of company-specific issues.
Market Worries Are Overblown
First, there are the so-called Facebook Files. The Wall Street Journal has released a series of articles that showcase some of the things Facebook knows about how its platforms impact users, and how Facebook operates and tries to increase usage by teens, etc. These are very interesting files and articles for sure, but I personally believe that these things are not especially surprising -- Facebook, as a business, is naturally interested in maximizing the time users spend on its platform to generate more ad revenue.
The fact that the usage of Facebook's platforms can impact one's mood and mental health is also, I believe, not a surprise. In fact, most users of the company's platforms have already known that from either their own experiences or from the experiences of others.
The steep share price decline over the last month implies that these revelations will somehow hurt Facebook's business outlook in a big way -- after all, more than $150 billion of market capitalization have vanished. It is, I believe, not likely that future profits will take a hit this big. In fact, I believe that there will not be any meaningful impact on Facebook's business at all. Why do I believe that? Because it would be consistent with what has happened to Facebook's business after past controversies. Take, for example, the Facebook ad boycott campaign from 2020 or the privacy violation scandal from 2019, or the Cambridge Analytical scandal from a couple of years prior to that. What did all of these scandals have in common? They didn't impact Facebook's actual business in the slightest, as can be seen in the following chart: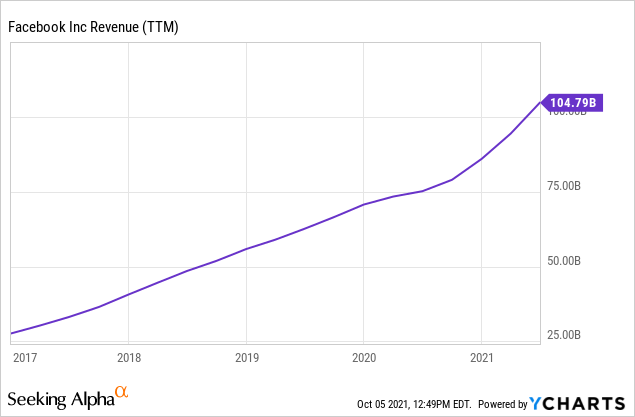 Facebook's revenue rose without any interruption, rising by almost 300% over the last 5 years -- despite a range of scandals. These did garner a lot of media attention and some outrage, but users, as well as advertisers, apparently didn't really care, as can be clearly seen by the very consistent growth Facebook has experienced over the last couple of years. I do assume, although I can, of course, not guarantee it, that the same will hold true going forward -- the Facebook Files get a lot of media attention, and there will be some outrage, but ultimately, users will still remain on the company's platforms.
Advertisers, meanwhile, might state publicly that they do not agree with Facebook's approach. But due to the great advantages of social media marketing (fast ad campaigns, excellent targeting for specific audiences, etc.), advertisers will continue to use the platform -- going back to print advertising and billboards just isn't a viable option for many companies.
Last but not least, it should also be noted that the fact that using social media can cause mental harm does not mean that users will be discouraged by that. Many products that are widely used are unhealthy, be it fast food, carbonated drinks, alcoholic beverages, etc. Many consumers do know very well that these are not really healthy, but demand for these is still very high and continues to grow around the world. I believe that the same will hold true for social media, which can have negative effects as well -- but which also can have positive effects, of course, as social media allows users to stay in contact with friends, family, etc. over large geographic distances, for example.
Another reason for Facebook's share price decline was the outage of its networks for a couple of hours on Monday. That is, I believe, clearly not a long-lasting and important issue. Users will not stop using Facebook's platforms just because they couldn't check their newsfeed for a couple of hours, and Facebook's vast resources (people and financial) should allow the company to prevent similar outages in the future, as the issue has been identified.
Summing this section up, I do believe that the recent share price decline by 15% was widely overblown. There are no guarantees, but I do believe that it is pretty likely that neither the Facebook Files nor the outage will impact Facebook's business growth to a significant degree in the long run.
Facebook: Strong Growth At A Low Price
Speaking of that growth, it is expected that Facebook will continue to deliver above-average revenue and earnings growth in the coming years. Facebook's user count continues to grow, especially in international markets where digitalization efforts result in more people having access to the internet and smartphones or other devices. Facebook also benefits from the fact that social media advertising is very attractive for companies, and has clear benefits versus "old tech" advertising such as print or television. The revenue growth outlook is thus, not surprisingly, pretty compelling:

Source: Seeking Alpha
Analysts are currently predicting that revenue will grow by almost 40% this year and by 13-19% a year over the following five years. It should be noted that Facebook has beaten revenue estimates for 10 out of the last 10 quarters, thus analysts have a history of underestimating the company. This could be an indication that actual results might be even better than what is currently predicted, but that wouldn't even be necessary for Facebook to be a solid investment. Even if Facebook manages to grow at just two-thirds of the currently predicted rate, revenue growth would still average 10.5% between 2022 and 2026.
I believe that a low-double-digit growth rate from a market leader with a strong moat and an excellent balance sheet would still be highly compelling, and as noted above, this is a quite conservative estimate -- if history is a guide, Facebook will outperform current analyst predictions.
Revenue growth is not the only relevant metric, however. Facebook could deliver earnings per share growth that is stronger than its revenue growth through margin expansion tailwinds and the impact of buybacks, which is why analysts are currently forecasting that EPS will rise from $14.12 this year to $34.80 by the end of 2027. That pencils out to an expected 16% annual growth rate, which I deem quite attractive. Facebook has, likewise to the revenue growth metric, historically outperformed analyst expectations for its EPS growth, thus these numbers might end up being too low. Even if they are not, however, Facebook could deliver compelling returns over the coming years.
The broad market (S&P 500) is trading at 22x 2022's expected net profits right now, according to YCharts. Facebook is, I believe, a company of above-average quality, due to its moat, industry tailwinds, net cash position, strong margins, etc. One could thus argue that it should trade at a significant premium to the broad market. Even if Facebook trades at just 22x net profits in 2027, that still pencils out to a share price of $770, which would allow for annual returns of 15% a year from here.
When we want to be conservative and assume that actual EPS in 2027 trail current estimates by 10% and that the earnings multiple declines to 20, we get a price target of $630, which would still allow for 11% annual returns. With ultra-conservative assumptions (actual EPS in 2027 15% below current expectations, and a target multiple of just 18x net profits), we still get to annual returns of 8% a year from now through 2027.
This shows, I believe, that shares are currently trading at a huge discount to fair value, which provides for a strong energy point. Even if Facebook underperforms current expectations significantly, shares could still be a very solid investment, with annual returns in the high-single-digit to low-double-digit range. If things go right and Facebook continues to beat expectations -- as it has for years -- returns could easily come in north of 15% a year going forward.
Takeaway
There are no risk-less investments, and Facebook isn't risk-less, either. But I do believe that the market reaction to the Facebook Files and the outage was severely overblown. Thanks to a huge moat and a fortress balance sheet, Facebook does seem like a relatively low-risk investment, although it can't be ruled out that social networks will experience more regulation in the future, for example. I am willing to take on that risk, however, as the total return outlook for Facebook is pretty attractive at current prices, even if we are relatively conservative with our estimates.
Facebook has weathered all kinds of controversies and scandals without harm in the past, and I believe that there is a high likelihood that this will happen this time as well. It could thus pay off to enter or expand a position here, while others are fearful.
Is This an Income Stream Which Induces Fear?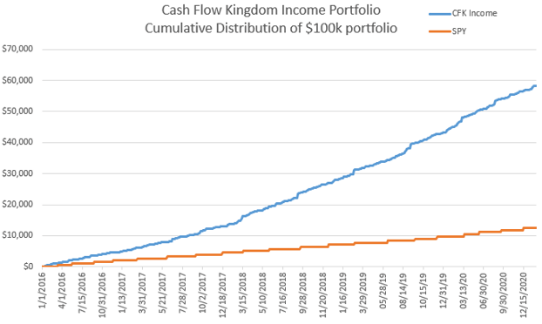 The primary goal of the Cash Flow Kingdom Income Portfolio is to produce an overall yield in the 7% - 10% range. We accomplish this by combining several different income streams to form an attractive, steady portfolio payout. The portfolio's price can fluctuate, but the income stream remains consistent. Start your free two-week trial today!
This article was written by
Jonathan Weber holds an engineering degree and has been active in the stock market and as a freelance analyst for many years. He is an active author on Seeking Alpha since 2014.    
According to Tipranks, Jonathan is among the top 1% of bloggers (as of August 1, 2023). 
Jonathan is interested in income stocks and value stocks primarily but does also follow some growth stocks. 
If you want to reach out to Jonathan, you can send a direct message here on Seeking Alpha.
Disclosure:
I work together with Darren McCammon on his Marketplace Service Cash Flow Club.

Analyst's Disclosure: I/we have a beneficial long position in the shares of FB either through stock ownership, options, or other derivatives. I wrote this article myself, and it expresses my own opinions. I am not receiving compensation for it (other than from Seeking Alpha). I have no business relationship with any company whose stock is mentioned in this article.
Seeking Alpha's Disclosure: Past performance is no guarantee of future results. No recommendation or advice is being given as to whether any investment is suitable for a particular investor. Any views or opinions expressed above may not reflect those of Seeking Alpha as a whole. Seeking Alpha is not a licensed securities dealer, broker or US investment adviser or investment bank. Our analysts are third party authors that include both professional investors and individual investors who may not be licensed or certified by any institute or regulatory body.