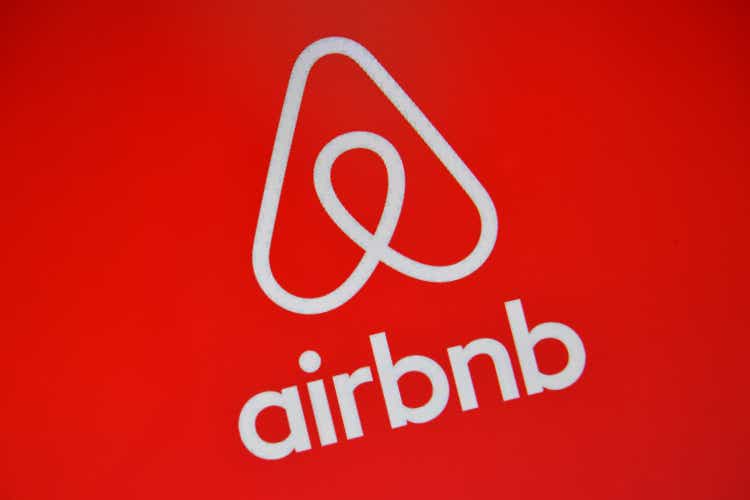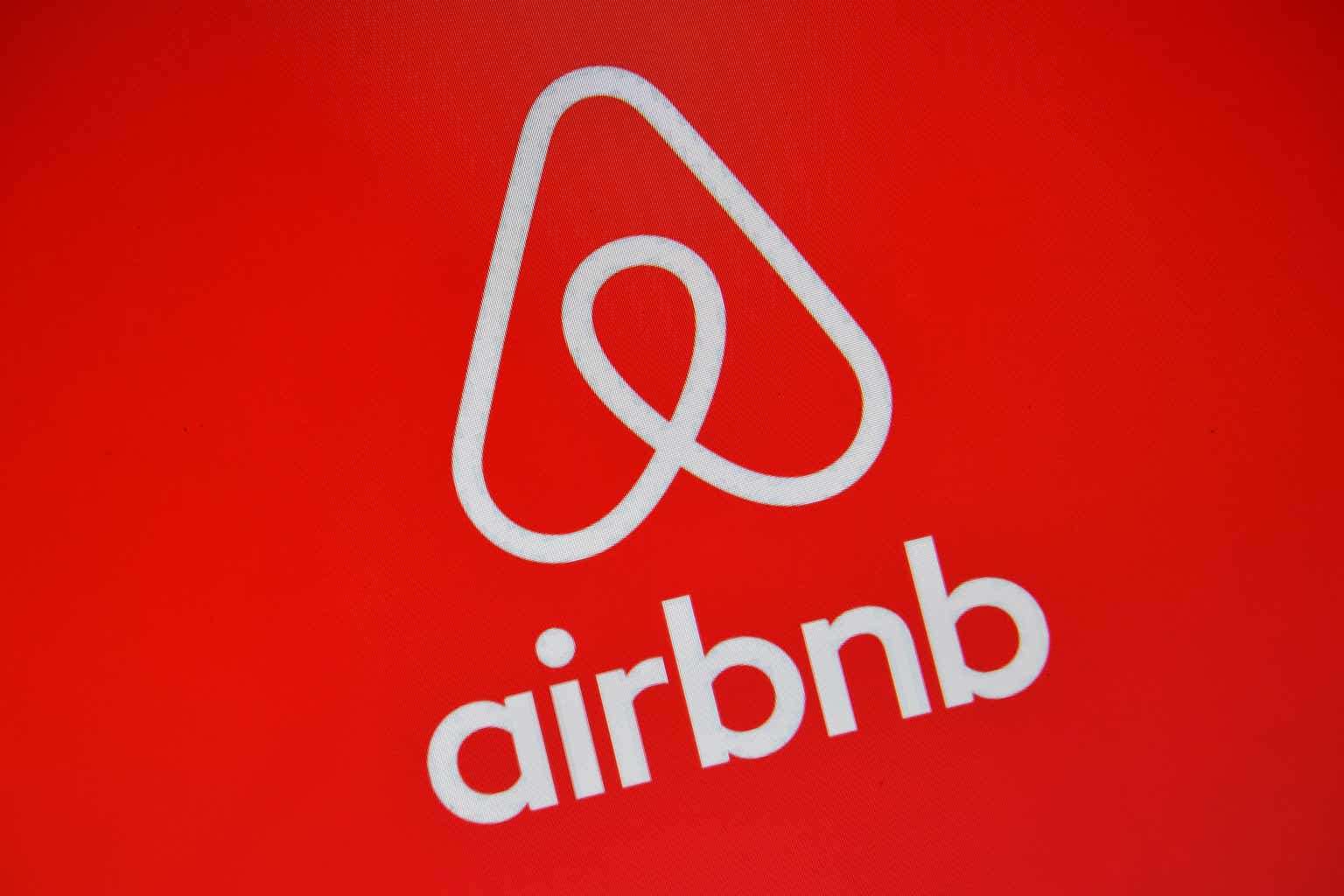 My last article about Airbnb (NASDAQ:ABNB) was published on February 10, 2021 - one day before the stock peaked at $219.94. Right now, the stock is still trading about 20% below the previous all-time high and in the meantime, it dropped almost 40% and bottomed around $130.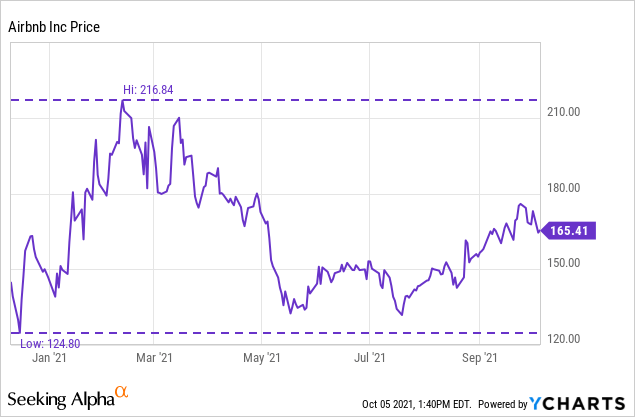 In the last few weeks, the stock price could recover again, and one might be annoyed if he or she did not buy at the bottom. But in my opinion, Airbnb was never a bargain or even fairly valued - not now for $170 and not for $130. In the following article, I will argue again, why Airbnb is certainly a great business, but why I consider the stock not a good investment at this point.
Quarterly Results
When knowing, that Airbnb is an online marketplace for lodging (vacation rentals and tourism activities) it is not surprising, that the company was hit hard during the COVID-19 pandemic and had to report horrible results in fiscal 2020. But in the last quarter, we see improvements and the company could generate $1,335 million in revenue. Compared to the same quarter last year ($335 million in revenue) this is an increase of 308% and compared to Q2/19 it is also an increase of 10.0%. Airbnb still had to report a loss of $51.3 million in the second quarter but compared to a loss of $583.2 million in Q2/20 this is a huge improvement. It is also an improvement compared to Q2/19, in which Airbnb had to report a loss of $297 million. When looking at adjusted numbers, Airbnb could report an EBITDA of $217 million.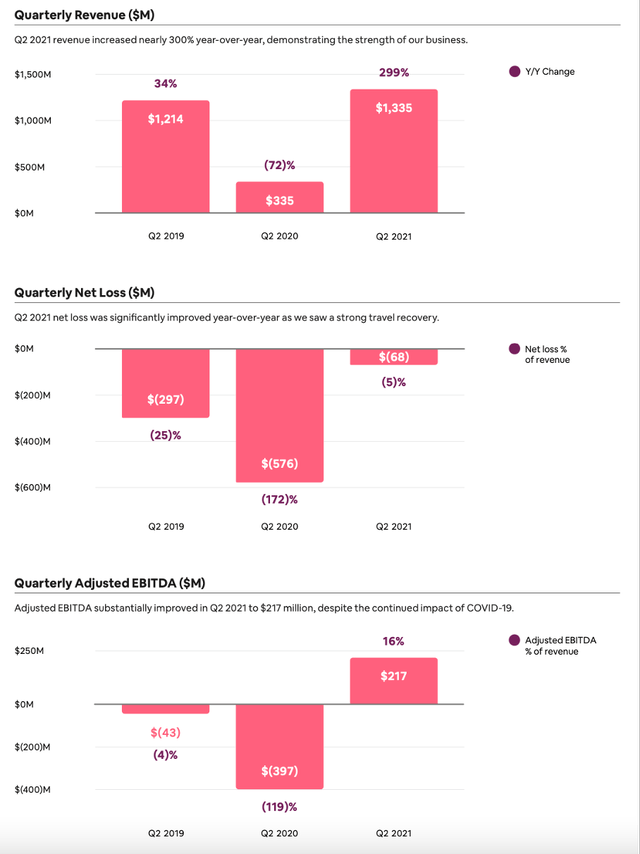 (Source: Airbnb Shareholder Letter Q2/21)
When looking at some other important metrics, we also see improvements in the second quarter of fiscal 2021. The number of nights and experiences booked was 83.1 million and compared to the same quarter last year (28.0 million), the number tripled. And Airbnb almost reached pre-pandemic levels (in Q2/19 and Q3/19 the number was a little higher). The gross booking value was $13.4 billion in the second quarter of fiscal 2021 (compared to $3.2 billion in the same quarter last year) and it was the highest quarterly GBV for Airbnb ever. Especially the gross booking value per night increased in the last few quarters and was $161.45 in Q2/21 compared to $114.18 in the same quarter last year.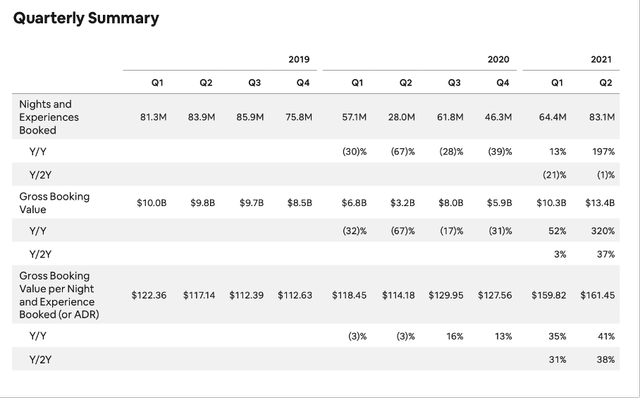 (Source: Airbnb Shareholder Letter Q2/21)
Balance Sheet
It is also worth pointing out, that Airbnb has a solid balance sheet and for such a young company, that is still in its growth phase, the balance sheet is impressive. On June 30, 2021, the company had $1,980 million in long-term debt on its balance sheet. Compared to a total stockholder's equity of $3,393 million, we get a D/E ratio of 0.58. Usually, I would also compare the total debt to the operating income a business can generate annually to get a feeling how long it would take to repay the outstanding debt. But as Airbnb is still generating a loss, this number doesn't make much sense. However, we can compare the outstanding debt to the free cash flow of $1,451 million in the last four quarters and it would only take about 1.4 times the free cash flow to repay the outstanding debt.
When looking at the asset side, Airbnb has $655 million in goodwill (4.2% of total assets) which is not a problem. Additionally, Airbnb has $5,673 million in cash and cash equivalents as well as $1,755 million in marketable securities. Considering, that Airbnb is generating "only" $4.4 billion in revenue, these are high amounts of cash and cash equivalents Airbnb has and should enable the company to withstand potential troubles in the years to come and fuel future growth.
Growth
And there seems to be little doubt, that Airbnb will be able to grow with an extremely high pace in the years to come - otherwise the current stock price can't be justified in any way. When talking about growth, we can look at the near-term as well as long-term growth potential.
Short-term troubles
When looking at coming months, management is confident that Q3/21 will be the strongest revenue quarter the company ever had - despite the persistence of COVID-19. But we must assume for the fall and winter, that COVID-19 will probably have a negative impact on travel activities again - and therefore on Airbnb's business. Considering the high vaccination rates in many countries, I would assume that lockdowns either won't be necessary in most countries, or if necessary, it will still be tough for politicians to justify them. In several European countries - including Germany, France, or the United Kingdom - vaccination rates are between 60% and 70% with countries like the Netherlands, Spain, Portugal, or Denmark having a much higher percentage of the population vaccinated. In the United States, 56% of the population is totally vaccinated and worldwide, one out of three people are totally vaccinated (34.3%). But I still would assume, that fewer people will travel in the winter months than usually resulting in a lower revenue than Airbnb could potential generate in a "normal" fall and winter.
Long-term growth potential
As long-term investors we should not focus so much on short-term developments as fluctuations in one or two quarters won't matter - the development over the long run is important. And when looking at analysts' estimates, revenue is expected to grow with a CAGR of 23.15% over the next decade until 2023. And when looking at the bottom line, analysts are estimating Airbnb to report a loss in fiscal 2021, but from 2022 going forward, the company is expected to be profitable. In fiscal 2022, analysts are expecting $0.51 per share in profits, and for the years until 2030 analysts are expecting Airbnb to grow with a CAGR of 44.28%.
Positive trends
During the last earnings call, Airbnb mentioned several positive trends, which should be beneficial for the company. First, long-term stays (defined as stays of at least 28 nights) remained the fastest-growing category during the last quarter. And nearly 50% of gross nights booked were from stays of at least seven nights in Q2/21. Airbnb's business model is to take a percentage of the total booking volume and it is therefore profiting from longer stays, which are generating more income for the hosts and therefore more revenue for Airbnb.
Management also mentioned other trends, that could be beneficial for Airbnb.
We've also seen a very big uptick in the use of flexible destinations as well, where people -- if they're flexible about where they travel, we can recommend them to where to go. Now these features are really important. The reason they're really important isn't just because this is the paradigm shift and how people are searching for travel, but it's also important because this means that we can point demand to where we have supply. And this is a major, major shift for our business.
People are obviously traveling more flexibly (40% of searchers are showing flexibility when searching on Airbnb), and this is enabling Airbnb to better match demand and supply. If travelers are more flexible about the destination and the timeframe, Airbnb can pick hosts from many different locations and is able to better match hosts and travelers. It also plays an important role, that more and more people are working remotely, which means that - at least in theory - they can work from anywhere (and also on "vacation"). When listing to the last earnings call, the CEO seems to be confident, that traveling will never be the same again as before COVID-19.
Addressable market and profitability
Airbnb is without doubt addressing a gigantic market. According to Statista, global spending on leisure and tourism was $4,692 billion in 2019 (and we can assume, that the industry will normalize in the next one or two years and reach a similar amount again). In the last four quarters, the gross booking value of Airbnb was $37.6 billion resulting in a market share of 0.8%. Airbnb is estimating its total addressable market being $3.4 trillion (including $1.8 trillion for short-term stays, $210 billion for long-term stays, and $1.4 trillion for experiences). When using these numbers, we get a market share of 1.1% and still enough potential to grow.
Of course, we should not expect that Airbnb can generate a total booking value anywhere close to the total addressable market and it is unlikely, that Airbnb will reach a similar dominance in its market as Google (GOOG) or Facebook (FB). But a market share in the mid-or-high single digits is not unrealistic and would generate enough growth potential for Airbnb in the years to come. And the company cannot only grow its top line by increasing its gross booking value. When Airbnb's position is getting more and more dominant, it can also increase its fees and take a higher percentage of booking value.
Additionally, it can increase margins and become more efficient, which will have a positive effect on the bottom line and during the last earnings call, the CEO also confirmed, that Airbnb will focus on becoming more profitable in the years to come and improve the bottom line:
Now over the past year, as our top line recovered, we consistently focused on improving our profitability. For example, over the last 4 quarters, we've improved EBITDA margins on average more than 20% every quarter as compared to periods in 2019.
Marketing
It is also worth pointing out, that Airbnb was launching its first large-scale marketing campaign in five years with the goal to inspire more people to become hosts. The campaign launched in the first quarter of 2021 in five top markets (United States, France, United Kingdom, Canada, and Australia) and was expanded to Italy and Spain in the second quarter. This led to rather high spending on sales and marketing in the second quarter - $315 million or 23.6% of revenue.
And I am certainly not saying that advertisement should not be used or that it is a bad thing. But one could also interpret this as rather negative as we usually expect young companies with a dominant business model to be able to grow without huge advertising campaigns. We could also interpret the increased marketing expenses as reaction to growing pressure from competitors.
Looking at competitors
When looking at Airbnb's competitors and its position in the industry we will realize that Airbnb can already be described as one of the dominant players in the market - despite the fact, that we are talking about a rather young company. When looking at market capitalization, Airbnb is already the biggest company in the "Hotels, Resorts and Cruises Lines" industry. Right now, Airbnb has a market capitalization of $107 billion and is ahead of Booking Holdings with $101 billion and Marriott International with $51 billion.
When talking about direct competitors with a similar business model, we must mention Booking Holdings Inc. (BKNG) and Expedia Group, Inc. (EXPE). And although Airbnb has a higher market cap, both competitors are still generating more revenue than Airbnb. While Airbnb is generating $4.42 billion in revenue, Expedia is reporting $5.78 billion in revenue and Booking Holdings is generating $7.18 billion in revenue. Aside from these similar online marketplaces, we can also mention Marriott International (MAR) as well as Hilton Worldwide Holdings (HLT) as competitors (which are listed on stock exchanges) although the business model is certainly different as Airbnb is not owning any hotels or restaurants.
We can assume, that Airbnb is in a great position and although we are talking about a rather young company, it is already one of the dominant players in the world. As already mentioned above, Airbnb also has a great balance sheet, which is helping Airbnb to compete with its peers as it can invest in future growth without being dependent on debt. And while Marriott, Booking, and Expedia are still generating a higher annual revenue, Airbnb is coming close and due to impressive growth rates, it will soon be the dominating company in this industry.
Why Did I Not Buy At The Bottom?
One might ask at this point, why I did not buy Airbnb after the stock declined almost 40%. Such a steep decline is often creating a bargain and a good buying opportunity for many stocks. However, Airbnb was so overvalued, that even a 40% decline did not create a buying opportunity and $130 for Airbnb was still too expensive.
Right now, Airbnb is still trading for 72 times free cash flow, which is not cheap - even for a company that can grow with a high pace. We must point out, that the price-free-cash-flow ratio constantly declined and in July, the stock was trading only for 55 times free cash flow. But we also must point out, that the free cash flow of the last four quarters seems to be extremely high. While Airbnb was not profitable yet, it generated $1,451 million in free cash flow meaning that almost one-third of revenue ended up as free cash flow, which is an impressive number. And although Airbnb has a business that is not capital intensive, I would be rather cautious if this number is representative of Airbnb's ability to generate free cash flow.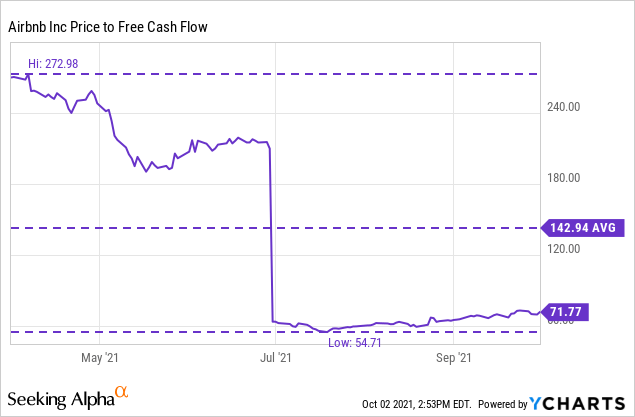 We often see analysts or investors using earnings estimates for the years to come, but not only for the next fiscal year (which could make sense) but for two, three, or four years ahead. And we clearly must question if a P/E ratio for fiscal 2025 makes sense. Nevertheless, we can use analysts' assumption of $0.51 for fiscal 2022, which would lead to a forward P/E ratio of 339. And when using fiscal 2023 estimates, the stock is still trading for 154 times earnings. Both multiples are extremely high and indicate, that Airbnb is priced for perfection.
In my last article, I also calculated an intrinsic value for Airbnb by using a discount cash flow calculation. And while acknowledging that it is quite difficult to make accurate assumptions for the years to come, I calculated an intrinsic value of $90. Maybe we could be a bit more optimistic and assume a fair value of $100 right now, but a stock price of $170 seems too expensive.
Conclusion
In the end, I am neutral about Airbnb. On the one hand, I think Airbnb could be a great investment over the next few decades as the company has the potential to become a dominant player in the industry with a wide economic moat and the potential to grow with a high pace over a long timeframe. When talking about the strengths of the business, we can also mention the solid balance sheet, which is beneficial for Airbnb. On the other hand, the stock still seems to be overvalued - even when assuming high growth rates for the years to come. And the fact, that the stock seems to be overvalued right now is making huge setbacks in the next few years for the stock likely (or Airbnb trading in a sideways range for years) and although we might buy a great long-term investment, we are probably buying it for a high price.