QuantumScape Has A Promising Idea Along With Many Uncertainties
Summary
QuantumScape has retreated 83% from the high of $131.68 since December 22, 2020, and the stock expects to stay volatile.
QuantumScape solid-state battery could provide solutions to the existing dendrite, energy density, battery cost, and driving range issues but years away to be proven in a production cell.
A huge 145 million EV addressable market is providing the potential to grow but QuantumScape needs to overcome many obstacles before tapping into this big market.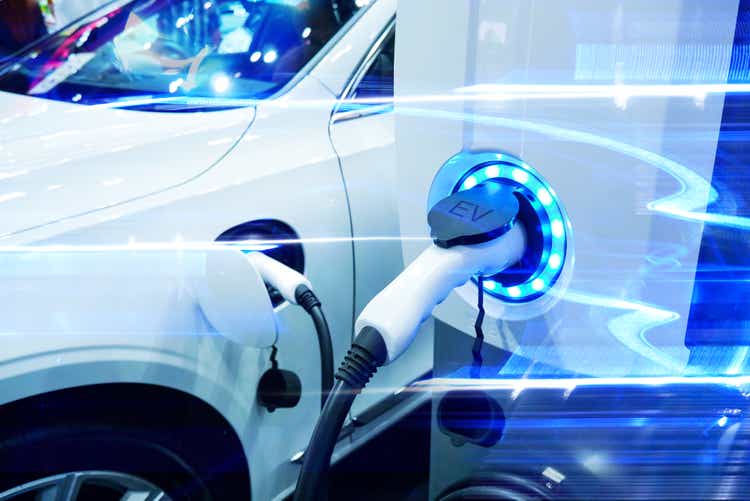 Investment Summary
I issue a SELL recommendation for QuantuamScape (NYSE:QS), with a one-year target price of $17.49, presenting a 19% downside potential on the closing price of $21.48 on August 27, 2021. The target price is based on a Relative Valuation. My recommendation relies on the following key catalysts:
1. Large addressable market: QuantuamScape is operating in a 145 million electric car market by 2030, representing a 15 times increase in the next 10 years. On the solid-state battery side, the market is forecast to grow from 27,070 units in 2025 to 661,724 units by 2030, a CAGR of 89.5%. The solid-state battery could be a big player in facilitating the EV transition, delivering safer, cheaper, longer range, and higher-density batteries.
2. Technological milestones: after 10 years of R&D: the ability to fast charge 80% in 15 minutes, retain more than 80% energy in more than 1000 cycles, and potential ability to solve the decade-old problem dendrite. Since then, the company has increased the layer count to four and then 10 with the latest update from CEO Jagdeep Singh's tweet. The company needs to develop many battery prototype versions before launching the cell to mass production with many uncertainties waiting ahead.
3. Scorpion Capital's short sale concerns still exist: in April, the short seller published a 188-page report claiming QS is a pump and dump SPAC scam by silicon valley celebrities. I don't agree with everything this report states as certain interviews could be paid by Scorpion Capital to former QS employees. However, many concerns such as potential misleading facts, the usefulness of the ceramic-based separator, and the possibility to scale up production timeline could be real.
Business Overview
Founded in 2010, QuantuamScape was spun out of Stanford University and is currently developing the next-generation solid-state battery with an anode-free and ceramic-based separator. In the past ten years, QS has run over two million tests to find the right separator parameters. The company went public on November 27, 2020, through a reverse merger with Kensington Capital Acquisition Corp. Also, QS has expanded quickly, with a 20% jump in headcount to 400 employees by the end of the second quarter. This past April, QS signed a long-term lease on a 197,000-square-foot facility in San Jose, California, for a pre-pilot production line facility (QS-0). Currently, the company has a three-shift engineering workforce and a 24/7 process where QS employees have a strong work ethic dedicated to continually improving the process and testing the materials. Because of the vertical integration, QS is developing the separator material and continually testing the materials in their internal labs with an efficient process.
Source: QuantumScape Analyst Day, October 2020 (not published anymore)
Technology Overview
The solid separator is the main component every player is working on for the solid-state battery. QuantuamScape's cell will be combined with an "anode-free" battery with a lithium metal anode and solid separator instead of a graphite or silicon anode and polymer separator (plastics). In the traditional lithium-ion battery, the anode could take up 40% of the space and create dendrite issues that could cause battery fires. However, the lithium-metal anodes do not work with liquid electrolytes due to issues from the dendrite and rapid impedance growth from a chemical side reaction. These have been known in the industry since the 1970s. After two million tests in the past ten years, QS has developed a solid-state separate prototype that could potentially solve the issues without the need to use traditional anode. With the current small testing cell sizes, QS's technology in solid-state separator combined with the lithium-metal could potentially increase the battery density, charge pace, safety level, and lower cost. Currently, 200 patents have been filed and over 100 trade secret processes for use in the formulation of the material. Singh highlighted that even though their products are used in production, it would take competitors 3 to 4 years to reverse engineer the materials. The 100 trade secrets are actually protecting them and they will develop a new version of the separator once someone catches up with their first design.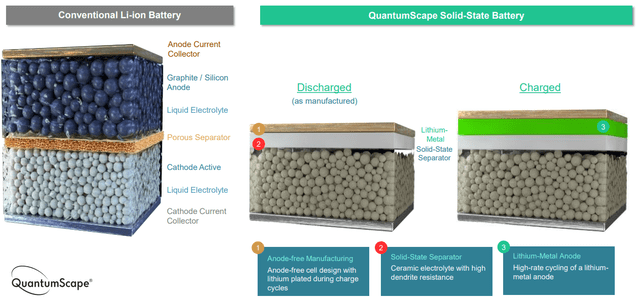 Source: Battery Showcase, December 8, 2020
According to the patents filings, the separator is possibly made from LLZO (Lithium lanthanum zirconium oxide). However, the company management has neither disclosed publicly about the materials they are using nor shared samples with the public. If LLZO is the separator material, QS would fall under the oxide's electrolytes instead of the sulfides many others have used including Solid Power, Toyota, Samsung, and Hitachi Zosen Corporation. Oxides tend to have stable chemicals against Li metal due to kinetic stabilization compared with sulfides that are good at Li-ionic conductivity. Certain battery players do not want to test with the sulfide due to the cost concern. However, if the battery producers source the materials directly from certain mines in South America, the cost could be reduced by over 90% and it is believed it would be easier to achieve mass production compared to oxides electrolytes from the cost standpoint.
Disclosed in the S-4 and 10-k filings, QS's cathodes use liquids, and therefore the battery the company is developing is not 100% solid. Only the separator part is solid and that is the most important part of the solid-state battery. However, QS may not get away from the liquid electrolytes completely in the cathode as they stated they are still working on this issue. Thus, their cell structure is still lithium metal and liquid electrolyte. In other words, the liquid electrolyte additive could be an important area for QS to research on how to mitigate lithium dendrite but nobody has a conclusion yet in the industry what additive should be used to maximize the functions.
According to QS's 2020 Annual Report: our cathodes use a combination of conventional cathode active materials (NMC) with an organic gel made of an organic polymer and organic liquid catholyte. In the future, we may use other compositions of cathode active materials, including cobalt-free compositions. We have an ongoing research and development investigation into inorganic catholyte that could replace the organic gel made of an organic polymer and organic liquid catholyte currently used.
Also, QS has consistently mentioned that they are developing an anode-free battery, but the process to manufacture their separators is more complex than the traditional anode process. The company is many steps away from manufacturing production cells. Consequently, these manufacturing methods need validation in the coming years.
During the Q2 earnings call, Singh indicated he has hired a third-party agency to verify his 1-layer cell result which he would then publish in the coming months. The company has already tested 4-layer and 10-layer cells, however, they are planning to disclose the 1-layer cell result by the third party at this point. Singh mentioned the best way to test is from the OEMs and he is engaging a third party for testing due to requirements by the investors.
Management Background
QS was founded by Jagdeep Singh who was born in India. He left the country when he was four years old and traveled around the world as his father worked at the World Health Organization. He attended the University of Maryland when he was fifteen and graduated with a computer science major at the age of nineteen in 1987. Singh worked for HP (HPQ) for four years before he started various companies including Infinera (INFN), Lightera (CIEN), OnFiber, and Airsoft.
Another two cofounders are Professor Fritz Prinz, Chair of Mechanical Engineering at Stanford, and Dr. Tim Holme, Research Associate at Stanford.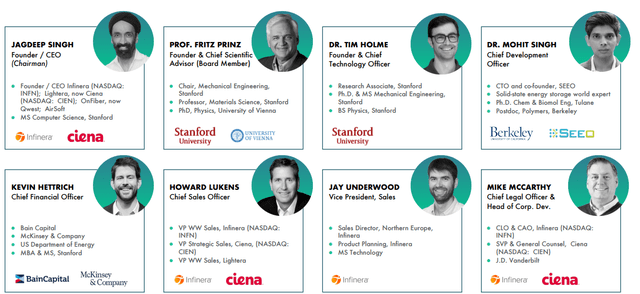 Source: Battery Showcase, December 8, 2020
The most notable executive hire recently was Celina Mikolajczak, who is serving as the Vice President of Manufacturing Engineering. Mikolajczak has led many EV battery engineering and production teams at Panasonic Energy of North America, Uber (UBER), and Tesla (TSLA). She has superior battery production experience to bring to QS. One of her first projects is to oversee the QS-0 production facility in producing 200,000 cells a year in test vehicles.
Investor and Celebrities Endorsement Overview
Many notable investors and companies have invested in QS, including Bill Gates, JB Straubel (Co-founder of Tesla), Vinod Khosla, Volkswagen, SAIC Motor, Capricorn (investor to Form Energy and Redwood Materials), and many others.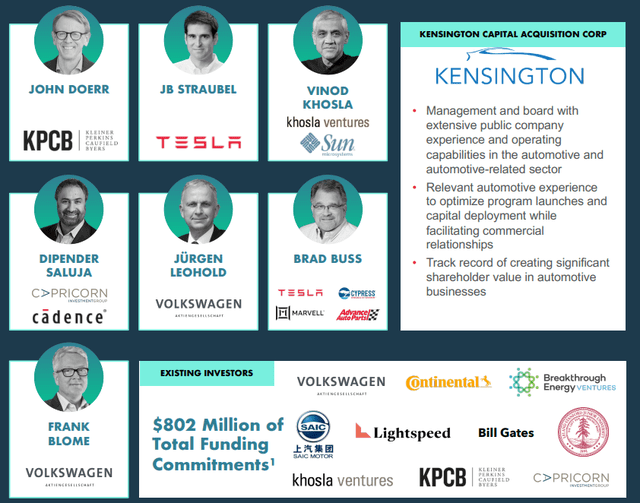 Source: Battery Showcase, December 8, 2020
Volkswagen (OTCPK:VWAGY) began its collaboration with QS in 2012. VW's engineers have worked closely with QS's teams throughout the years. In 2018, VW formed a 50-50 joint venture with QS named QSV. Also, VW invested $100 million, becoming the largest shareholder. In June 2020, VW announced its intent to make another 200 million dollars available, which brings the potential total investments to $300 million. As of August 27, 2021, VW owns 22% of the company, followed by Qatar Investment Authority, Capricorn Libra, and Vanguard with 4.7%, 4.5%, and 3.8% respectively. CEO Singh owns five million shares, which gives him 1.6% of the company shares. However, the Class B shareholders (owned by founders, early investors, and employees) still control over 80% of the voting power.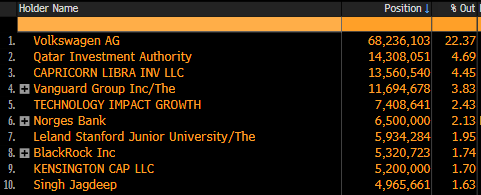 Source: Bloomberg
On December 8, 2020, the company held an all-star panel announcing the 1-layer cell test results. The panel featured the co-founder of Tesla, JB Straubel, Managing Director from Breakthrough Energy Ventures, David Danielson, Co-inventor of the Lithium-Ion battery, Stanley Whittingham (2019 Chemistry Nobel Prize Winner), and former head of US DOE APPA-E IONCS Solid-State Battery program, Paul Albertus. All of them spoke highly about QuantumScape and its technology.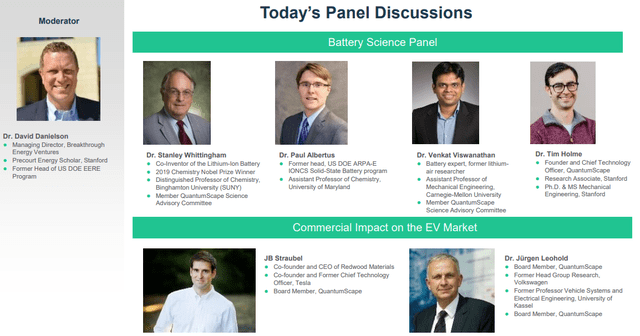 Source: QuantumScape Battery Day, December 2020 Page 26
High-Quality SPAC
According to a joint study among professors from Harvard, NYU and Stanford, SPAC stock tends to suffer significantly due to the dilution effect from sponsor promotion (20% of shares are given to the SPAC sponsor for $25,000 at IPO), underwriting fees of 5-7%, and potential warrant exercise and PIPE sales post IPO. For the SPACs that are performing better, the target firm tends to provide a solid reason for IPO (speed up cell development for QS), a strong SPAC sponsor team (Justin Mirro and his coworkers' 20 plus years of experiences for each in the automobile industry), and participation in the post-merger company (Mirro is serving as a board director for QS). QS met all these criteria among SPACs that performed well enough to be considered as a potential high-quality SPAC company from the SPAC standpoint.
Global Footprint
Currently, QS is still in the development phase of the product in California. Once the company is able to mass-produce the solid-state batteries, they can leverage Volkswagen to sell their products globally, as VW is going to be the first OEM using QS's products. However, the partnership with VW is not exclusive, and therefore QS can sell its upcoming products to any OEM providers in the future. From the company's patent filings as of December 2020, QS is making plans to expand globally to all major EV battery markets, including the U.S., China, Japan, South Korea, and Europe.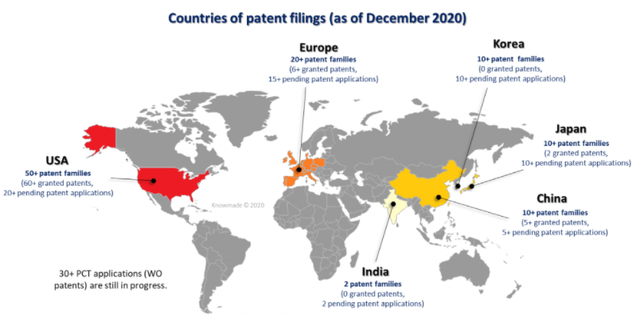 Source: QuantumScape Patent Portfolio
Key Milestones
Build 10 layer full-sized battery cells in 2021
Finalize cathode materials and cell design in 2022
Validate a manufacturing process for QS separator and cathode materials in 2022 or 2023
QS produces samples for use in test cars in 2023
Begin commercialization in 2024 or 2025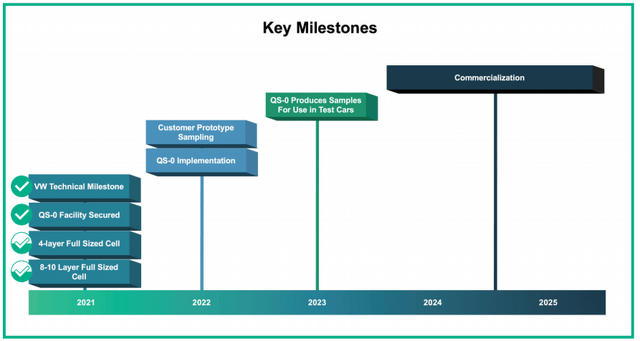 Source: Investor Presentation, August 12, 2021
Industry Overview and Competitive Positioning
Solid-state batteries have been in our daily life in RFID, pacemakers, wearables for years while providing a safer environment with higher energy densities and higher costs compared to the traditional lithium-ion batteries. In the future, solid-state batteries could be used in aerospace as well, but the strongest demand still exists in the electric vehicle market.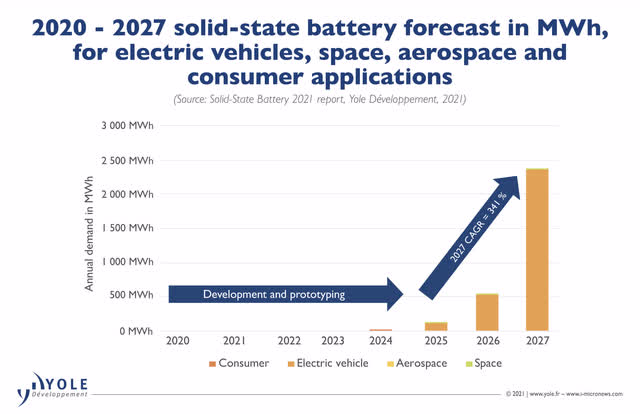 The solid-state electrolyte was discovered in 1834 and used in electrochemical systems in the 1950s. When Sony commercialized the first lithium-ion batteries in 1991, many companies and institutions discontinued further development of the solid-state batteries as many obstacles existed. However, Toyota from Japan, which has been researching solid-state batteries the entire time, was later joined by Hitachi Zosen Corporation and Samsung. In 2008, Toyota started a partnership with Ilika to work on solid-state electrolytes. In 2020, Toyota formed a joint venture with Panasonic to develop solid-state batteries. Toyota currently owns more than 1,000 solid-state battery patents, more than any other company in the world. In this solid-state battery race, Japan and South Korea are leading China and the U.S. As increasing numbers of Tesla and other EV batteries caught fire in the past ten years, safety became a primary concern. Many battery producers and car OEMs from China, the U.S., and Europe joined the race for a safer EV battery. These new players are currently trying to catch up with Japanese and South Korean companies.
Even though the solid-state test cells are still small, Toyota, Hitachi, Samsung, and Solid Power have shared their prototypes with the public. Although some are concerned about the cost of sulfides to make solid-state batteries, certain South American mines can actually be sourced with less than 90% of the current costs. Problems left to solve are how to treat dendrites and recycling parts from the potentially toxic materials from sulfide. From the cost standpoint, sulfides could be easier to mass-produce than oxides. No matter which direction the solid-state battery firm is selecting, many OEMs and cathode material producers are waiting for the first solid-state battery to be available. Source: Yole Development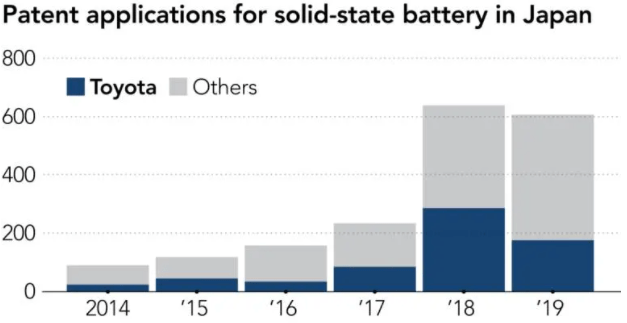 Source: Japan Intellectual Property Research Institute
Demand Drivers
1. Lower cost of the EV cars and batteries create stronger demand: According to Bloomberg NEF, electric cars will reach cost parity to produce with ICEs in 2027. The commercialization of solid-state could be another boost to help EVs lower the costs while facing stronger demand from both customers and the government.
Supply Drivers
1. Net-zero emissions pledges to ban ICEs: Due to global net-emissions pledges, many countries have set explicit EV goals that will ban internal combustion engines starting in 2025. Consumers, automobile OEMs, and governments will look for more reliable EV batteries to achieve the goals. Solid-state batteries could help provide the solution.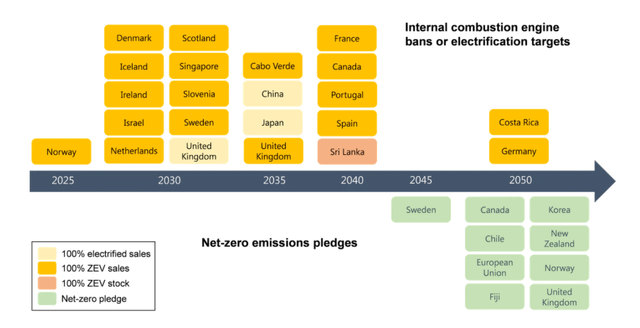 Source: Policies to Promote Electric Vehicle Deployment
2. Technology advancements on solid-state batteries could boost the EV solid-state battery adoption: many battery producers and automobile OEMs have invested in solid-state battery technology to explore in this blue ocean as the traditional Lithium-Ion batteries are controlled by CATL, LG, Panasonic, SK, Samsung, and BYD. All-solid-state battery companies are still in the development phase and are seeking to constantly increase their cell layer count/capacity to achieve the production level. Once one or two companies can make it to mass production with the right quality, hopefully in the next 5-10 years, more and more EVs will adopt solid-state batteries.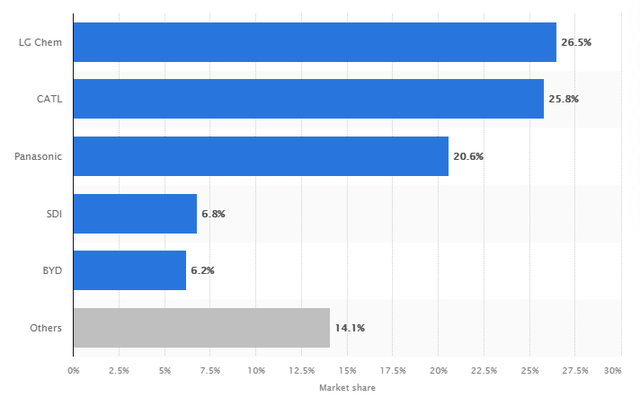 Source: Statista 2020 Global Lithium-Ion Battery Market Share
Competitive Positioning
QuantumScape claimed to own the only battery to significantly increase energy density, shorten the 0-80% charge time to 15 minutes, lower costs up to 20%, increase battery life, and improve safety. If these goals are achieved, all the industry needs could be met.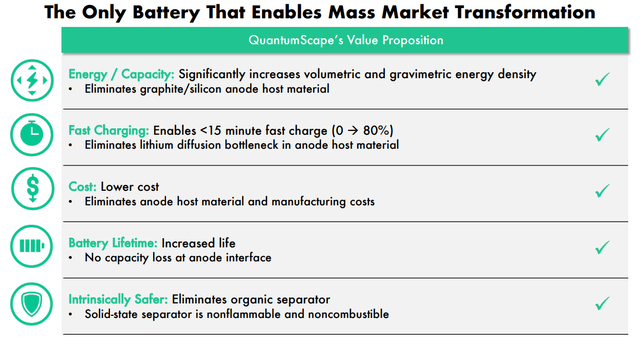 Source: Analyst Day Presentation, October 2020
Financial Overview and Valuation
Financial Overview
Company management provided a seven-year forecast (via their Analyst Day in October 2020, note: slides are no longer available on the website) which uses the QS-1 pilot, QS-1 expansion, and QS-2 production lines as estimate drivers. QS does not forecast any revenue generation with pilot product sales until 2024 and 2025. Starting in 2026 and 2027, more production will come from the QS-1 expansion and QS-2 facilities. It is anticipated 2028 will be the first year showing full production capacity, with 910,000 EVs estimated to use QS's batteries, which is equivalent to $6.4 billion in sales and $1.6 billion in EBTIDA.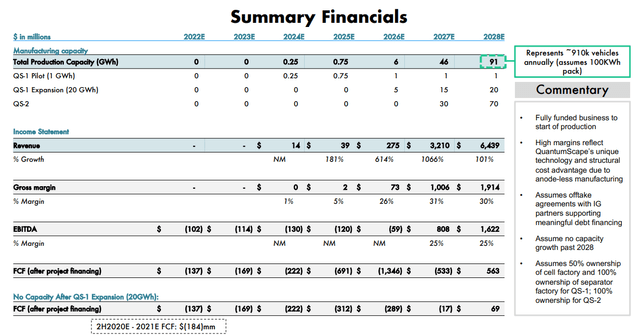 Source: QuantumScape Analyst Day, October 2020 (not published anymore)
Valuation
The solid-state battery industry is much like the life science sector, as both need long-range research to pass different stages of tests before achieving public trust and acceptance. When valuing a biotech firm, one of the common approaches to use is adjusted discounted cash flow with a probability of success assigned to each drug based on their FDA phases. The typical valuation for such a life science firm would be a 20-year forecast to cover the entire FDA drug patent lifespan. However, we cannot apply this adjusted discounted cash flow method to value QS because:
1. The first forecast year with potentially full capacity is 2028. Unlike life science firms, where many studies already exist on the possibility of success to achieve final FDA approval from each stage, the public data is limited in terms of solid-state battery testing from 1-layer to multiple layers to dozen layers prior to everyday use.
2. It is very difficult to trend out after the existing forecast of 2028 because the future is uncertain due to the evolving solid-state battery technology and future products.
Thus, a relative valuation is considered. Also, we considered both the going concern and liquidation scenarios for QS and used a weighted average between the two to come up with our fair market price for the company.
Multiples
Many solid-state battery companies are either not public, such as SolidPower, SES, and many others, or they are part of the larger battery corporations such as CATL, SK Innovation, Samsung SDI, and LG Chem. For the private companies, we do not have enough internal company data to compare, which leaves the traditional lithium-ion battery manufacturers, CATL, SK Innovation, Samsung SDI, and LG Chem, as the only possible peer group (currently trading at 4.2x EV/Sales and 20.7x EV/EBITDA).

Source: Capital IQ
The peer firms develop both traditional lithium-ion batteries as well as solid-state batteries. Given the large size and diverse business nature of the peer group, a substantial premium is considered for QS multiples. However, QS needs to develop multiple prototypes before mass production which presents a lot of execution and operational risks. Thus, instead of valuing the company at a premium to traditional battery manufacturers, I used the peer group multiples directly, which is not unreasonable. Applying a 12% discount rate and the mean 5x multiple from the peer group provides a $34.98 per share price for QS.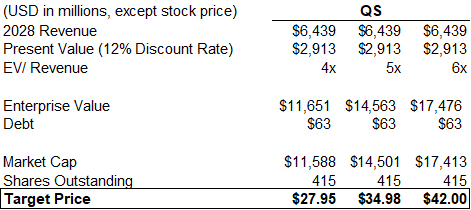 Source: Author, with market data on August 27, 2021

Source: Author, with market data on August 27, 2021
However, the above scenarios are based on the going concern scenario where we assume QS can develop all the prototypes until mass production. At the same time, the company might not be able to achieve the production level if certain testing does not meet expectations. Under such a scenario, the company would be worth $0. In order to value QS, I use a weighted average between going concern and liquidation scenarios to come up with a target price of $17.49.

Investment Risks Final Thoughts
The three biggest risks involved with QuantumScape are technology development and scale-up, consumers' willingness to adopt EVs, and stock price volatility.
1. QuantumScape may run the risk of not developing a solid-state battery cell and mass production for widespread adoption. QS is at the early stages of testing the 4-layer and 10-layer cells. To achieve mass production capacity, the company needs to constantly invest capital and develop potentially 20-layers or more before the cell can be used in an EV. Also, QS needs to build the right production facilities to generate enough cells for mass adoption.
Mitigation: QS's merger with Kensington and Volkswagen's investments provided a strong balance sheet to support continuous cell development. However, many uncertainties lie ahead for the investors from both technology and manufacturing standpoints.
2. EVs may not be adopted by customers as fast as expected. The demand and growth of QS's products are dependent on EV adoption worldwide. If the speed slows down or the traditional lithium-ion battery technology evolves in superior ways to solid-state battery technology, QS's business could be impacted dramatically.
Mitigation: QS is committed to the priority full-speed development of the next-generation battery with very early partnerships with Volkswagen since 2012. The company is working 24/7 with three engineering shifts and plans to expand as fast as needed to achieve all the milestones.
3. QuantumScape stock may be subject to extreme volatility. Since QS started to trade on November 27, 2020, the stock price has gone up as high as $131.67 on December 22, 2020, before falling to a low of $19.3 on August 2021. The December and January selloff reasons are still not clear, but PIPE shareholder's sales are one possible reason and the Scorpion Capital short report in April 2021, could be related to the April and May selloff. Ultimately, however, the reasons are still unknown.
Mitigation: Given that QS' technology is still subject to numerous uncertainties, the stock price can be expected to be volatile until the company is able to mass-produce the solid-state battery cell in the next several years.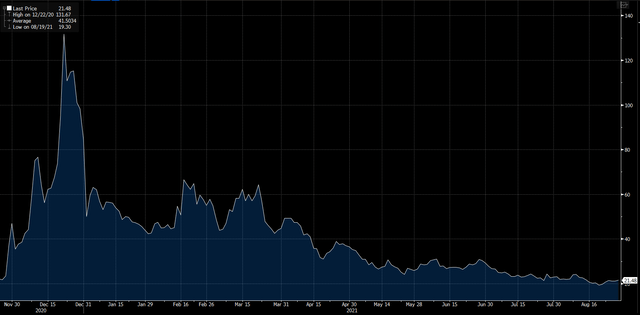 Source: Bloomberg
Final Thoughts
QuantumScape is developing the next-generation solid-state battery with an all-star management team and investors backing the company. Also, EV adoption is favored and encouraged by governments, consumers, and investors globally with a 15 times larger market in the next 10 years. A solid-state battery could help make the transition quicker, safer, and cheaper. QS has a strong balance sheet after the merger with Kensington and Volkswagen's investments to support future capital investment in cell development and manufacturing while meeting the market demand. However, QS cell technology is at the early stage with many steps yet to achieve before successful mass production. Also, the company has not displayed its prototypes to outsiders like other competitors and they run the risk of not being able to achieve all their milestones. Thus, based on the relative valuation, the stock could go down to $17.49, which means a ~19% stock price loss from the current level.
This article was written by
Through writing in Seeking Alpha, Brendan hopes to share his views about renewable energy stocks with those who are passionate about the energy transition :)
Analyst's Disclosure: I/we have no stock, option or similar derivative position in any of the companies mentioned, and no plans to initiate any such positions within the next 72 hours. I wrote this article myself, and it expresses my own opinions. I am not receiving compensation for it (other than from Seeking Alpha). I have no business relationship with any company whose stock is mentioned in this article.
Seeking Alpha's Disclosure: Past performance is no guarantee of future results. No recommendation or advice is being given as to whether any investment is suitable for a particular investor. Any views or opinions expressed above may not reflect those of Seeking Alpha as a whole. Seeking Alpha is not a licensed securities dealer, broker or US investment adviser or investment bank. Our analysts are third party authors that include both professional investors and individual investors who may not be licensed or certified by any institute or regulatory body.