Editor's note: Seeking Alpha is proud to welcome DF Ventures as a new contributor. It's easy to become a Seeking Alpha contributor and earn money for your best investment ideas. Active contributors also get free access to SA Premium. Click here to find out more »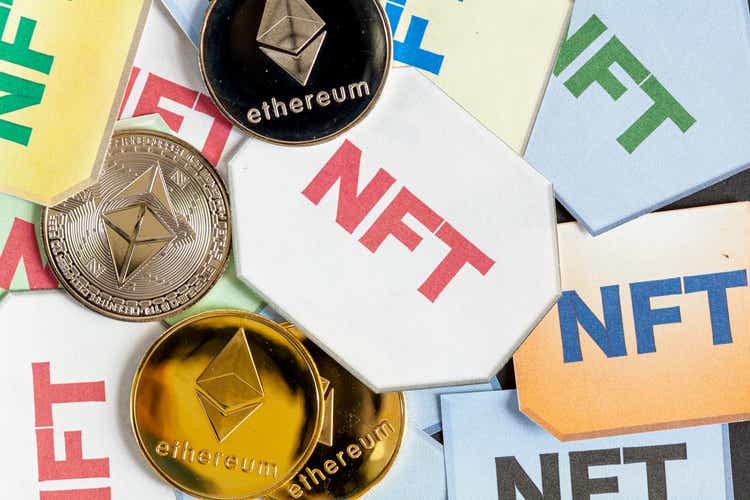 Tapinator (OTCPK:TAPM) is a mobile gaming company that has been accumulating top-tier NFTs to launch an NFT art museum. Several of its pieces have skyrocketed in value (some up to 50x), but Wall Street investors have not taken notice yet. Not for long, though, as its mobile app is due to launch on the week of October 11. Current valuation is cheap at P/S ratio of 2.2x, revenue growing at approximately 30%, and with positive EPS to boot.
In my opinion, Tapinator is the best NFT stock with actual skin in the game as compared to others that may not live up to the hype.
Why NFTs?
As cryptocurrencies and blockchain proliferate our world, there are many subsets that serve their own purpose such as DeFi (Decentralized Finance) to provide a decentralized financial system or L2 protocols to improve on Ethereum's inefficiencies. However, it is Non-Fungible Tokens (NFTs) that in my opinion will see the fastest growth and widest acceptance in the immediate future.
Under-appreciated sector
Art has long been an under-appreciated sector of our society and most artists struggle to make a living. In this study, a full three quarters of artists in the US made $10,000 or less per year from their art. Close to half (48.7 percent) made no more than $5,000. The myth of the starving artist is anything but a myth.
The revolution of NFTs is bringing about a new phase of recognition and exposure to art and when the stakeholders have so much to gain, it'll generally see acceptance and support far quicker as compared to when you're trying to disrupt an industry. For example, prestigious art auction houses such as Christie's and Sotheby's (BID) have started featuring NFT collections in an apparent nod to the phenomenon. In contrast, the very nature of DeFi, for example, disrupts the present incumbents of the financial sector and we've seen news and reports about governments discussing regulations.
Addictive Phenomenon
Don't take my word for it. The biggest NFT marketplace Opensea.io saw a record $3.4 billion transaction volume in August 2021, 10 times the month before. In September, it was $2.99 billion. There are various types of NFTs and I shall not go into the details but 1 worth mentioning is Profile Picture (PFP) NFTs.
PFP NFTs have blown up recently, and we're talking millions of dollars being traded for a Punk or Ape Profile Picture. In my opinion, it boils down to 2 reasons. Firstly, social capital. Owning a Punk is a status symbol, just like owning a Patek Philippe or Ferrari except that a PFP can be viewed by anyone on the web which means higher exposure especially in this era where social media is so inherent. PFP NFTs have become the new way to flex your net worth. Secondly, a sense of belonging to a community. Humans have always craved social interaction and validation. As the old adage goes, "your network is your net worth". It feels good to connect with other Punk/Ape PFP owners who have similar beliefs and financial standing. When you combine money, status, and community, it can yield very powerful results.
Celebrities/Influencers & Conglomerates
Arguably the biggest reason why NFT sales have skyrocketed in recent months. Celebrities, influencers, key opinion leaders, and big institutions have all jumped on the bandwagon providing big validation towards it.
We all know how powerful influencer marketing can be when utilized correctly (especially among Gen Z), but the power of the message is truly enhanced when it is shared organically and not a paid post. Snoop Dogg recently revealed that he has bought several NFTs that are currently worth $17 million in value. Steph Curry was reported to have spent $180,000 on his purchase of Bored Ape NFT. Supermodel Kate Moss launched her own NFT collection and sold an intimate video clip titled "Sleep With Kate" for $16,000. Billionaire Mark Cuban shows off his entire NFT collection here, the site is a project that he's personally backing financially. Ellen DeGeneres launched her first NFT collection to raise money for charity. Many more notable people getting on the NFT craze include Grimes, Shaq O'Neal, Paris Hilton, Gary Vee, etc.
Not yet impressed? What about blue-chip conglomerates then? Visa (V) reported that they bought a 'CryptoPunk' NFT for $150,000 and Coca-Cola (KO) launched their own NFT auction that fetched more than $575,000. Twitter (TWTR), is launching an upcoming NFT integration to its platform where users can show they are verified owners of the NFT on their display pictures. You can view a sneak peek of the design here. Even fashion powerhouses Louis Vuitton (OTCPK:LVMHF) (OTCPK:LVMUY) and Burberry (OTCPK:BURBY) (OTCPK:BBRYF) are not missing out.
Risks Of a Nascent Industry
However, as with all new emerging markets, it will be rife with pitfalls and scams. Phishing sites to scam you off your NFTs have become so good that even pioneers and techies have fallen prey. A prominent NFT pioneer and investor was scammed into buying what he thought was Banksy's NFT artwork. It's a key investment risk.
How then does the average investor get into the world of NFT and participate in the upside without getting burned by hype and scams?
What is Tapinator (OTCPK:TAPM) ?
Tapinator is a micro-cap stock that has been focused on building mobile apps and games since 2014. After finding success in its early years, the stock has languished until recently when their Video Poker Classic app started to see year-on-year growth and positive net income.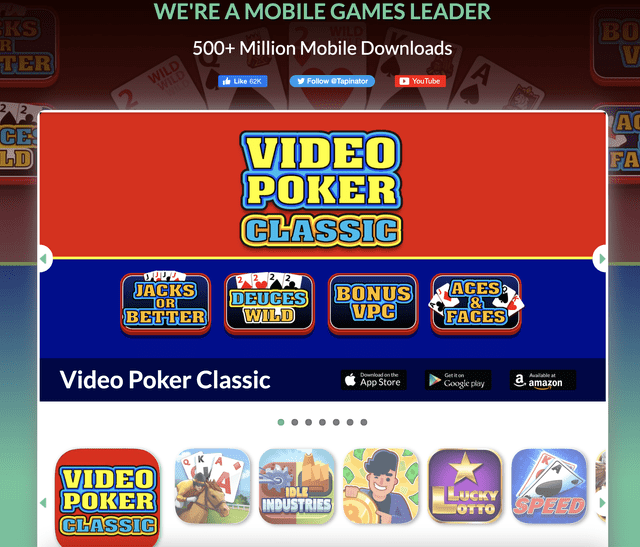 Image Source: Company Website
In 2020, revenue was $4.5 million and adjusted EBITDA was $1.0 million, up 18% and 479% year-over-year respectively.
In Q1 2021, revenue was $1.2 million and adjusted EBITDA was $200k, up 33% and 121% year-over-year respectively. Quarterly net income was $237k and fully diluted EPS of $0.40.
In Q2 2021, record revenue achieved of $1.42 million and adjusted EBITDA was $374k, up 21% and 20% year-over-year respectively. Quarterly net income was $216k and fully diluted EPS of $0.37.
In Q2, they have launched another new game, Idle Industries. The game had a great reception by players, who rated it an average of 4.7 out of 5.0 stars.
However, it is the development of NFT500, their NFT Art Museum app that is the focus of the article.
NFT500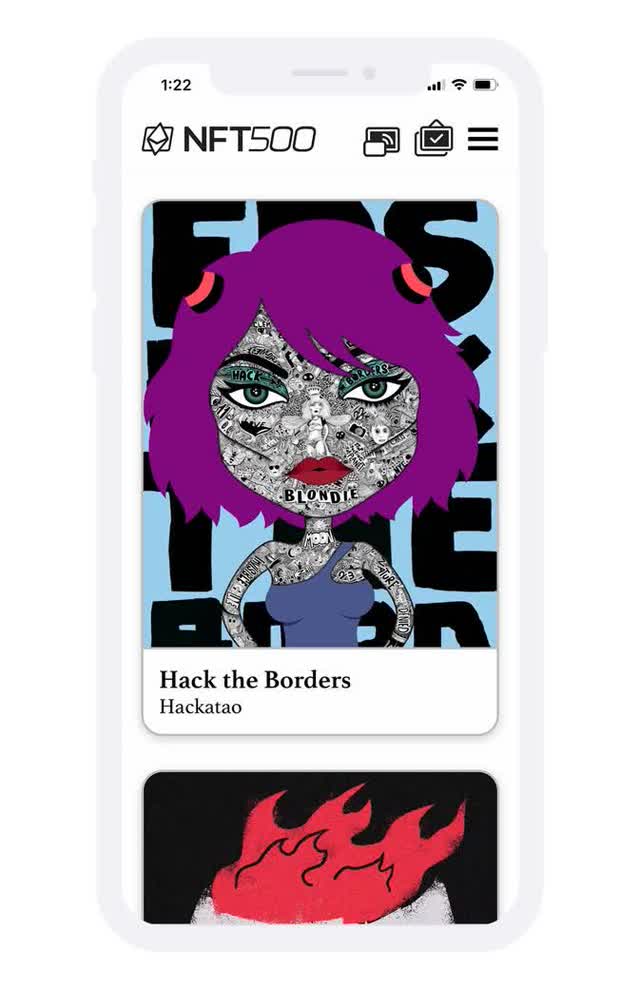 Image Source: NFT500 App Website
The NFT500 app is scheduled to launch on the week of 11th October. It's a curation of top-tier NFT art that allows the user to participate in price appreciation and to cast it on the big screen TV in their homes.
According to CEO Ilya Nikolayev:
Think of NFT500 as building your digital art collection, similar to how you would add canvases or prints to your physical art collection. However, purchasing and owning NFTs would typically require a crypto wallet, Ethereum, and extensive security measures, not to mention a strong knowledge of curation within the digital art space. NFT500 handles all of this for you in exchange for an affordable subscription fee. Through the fully compliant $NFT500 Token, you may also get to participate in the potential appreciation of the collection.

Quote Source: Yahoo Finance
They have a roadmap detailed in their website with short-term and long-term plans and a preview clip of the app is available on their Twitter post. You can also view their current collection here.
What's special about them, why not buy NFT directly myself?
Only the top-tier NFT projects rocket in value, 90% of the rest fail.
Due to the hype currently, there is a constant supply of new NFT collections that are launching every day and many of them are just money grab projects or purely trash. To succeed in NFT investing, you have to be astute in picking the right ones to mint/buy, otherwise, you're bound for big losses. To do that you have to be in the inner circle yourself to find out which are the projects that are backed by the big NFT players (or crypto influencers) which will in turn fuel demand for the resale market after the first mint is sold out. Or you have to do your own homework to find out which projects have a great roadmap for further developments and not just a money grab.
For example, the Bored Ape Yacht Club (BAYC) NFT collection, which currently has a floor price of 41ETH (~$140k USD) per piece, recently announced Roadmap 2.0 which features a BAYC game and a real-life Miami Clubhouse for stakeholders.
CEO Ilya Nikolayev and President Andrew Merkatz have been in the NFT scene since 2018.
These guys are NFT pioneers and have proven their caliber in curation. Many of the art pieces held within the NFT500 collection have skyrocketed in value. They own 2 BAYCs bought for 0.49ETH and 0.75ETH 5 months ago, that's a price appreciation of 6,600%! 5 days ago, they bought 2 pieces of Meridian by Matt DesLauriers for an average of ~6.6ETH, today the collection has a base price of 22ETH. That's 333% alpha in 5 days. Back in July, they were included in the original mint for Damien Hirst's (reportedly UK's richest living artist) first NFT collection called The Currency. Each piece was minted at $2,000 and today it has a floor price of 11ETH ($37k). That's another 1,800% appreciation.
It's very difficult to turn into a successful art investor overnight for the average investor, so why not let someone else worthy be your steward?
NFT500 provides 2 ways of increasing intrinsic value of the stock, not just 1.
- Inherent price appreciation of the NFT collection with astute buys
- Success of its mobile app by accumulating a substantial user base.
Mobile app success with first-mover advantage
The NFT scene is still at its nascent stage and TAPM has the advantage of being early in the game. There's a big disconnect from non-crypto users in terms of ease of getting onboard the NFT world. A user has to deposit funds into a fiat-to-crypto exchange, buy Ethereum, create another Ethereum wallet (usually metamask), sync it with the various marketplaces such as Opensea.io. That's what's hindering really exponential progress, there's too much technicality and steps. If NFTs are to go mainstream, it needs projects that enable user-friendliness with superior UX/UI. That's what NFT500 aims to do. Imagine the ease of just downloading the app and paying via Apple for a subscription and viola, you own a portion of a specially curated NFT collection. You can also show it off to your friends on your phone or cast it on your big screen TV when you have visitors.
If the app does launch in October as planned and downloads explode, they'll own a valuable trove of user base and data. Tech or art companies (Zynga (ZNGA)? Netflix (NFLX)? Christie's?) trying to get into the scene will find it easier to partner up with Tapinator than to build from scratch. When that happens, I believe we'll see valuation expansion and the sky is really the limit for a micro-cap like Tapinator.
Management Credentials
When investing in micro-caps, it's of utmost importance to vet the credentials of those steering the ship. You can have a great story but without good leadership, it'll never fulfill its potential.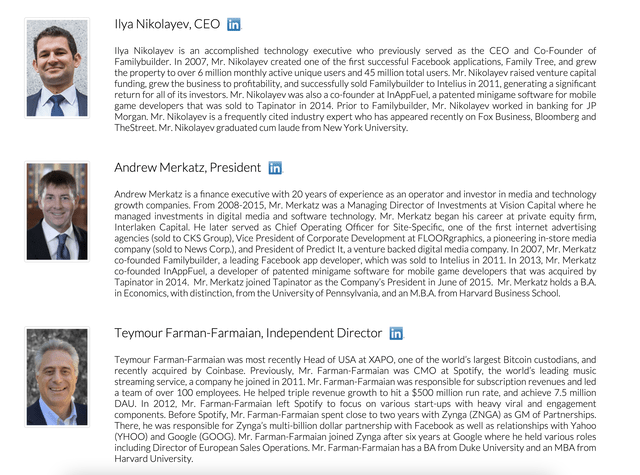 Image Source: About Us Page
CEO Ilya Nikolayev worked for JP Morgan before creating one of the first successful Facebook applications, Family Tree, which was successfully sold to Intelius in 2011, generating a significant return for all of its investors. He graduated cum laude from New York University.
President Andrew Merkatz boasts 20 years of experience investing and leading multiple tech and media companies before co-founding Familybuilder. He holds a B.A. in Economics, with distinction, from the University of Pennsylvania, and an M.B.A. from Harvard Business School.
Teymour Farman-Farmaian was most recently Head of USA at XAPO, one of the world's largest Bitcoin custodians (acquired by Coinbase). Previously, he was CMO at Spotify, GM of Partnerships at Zynga, and Director at Google.
For a micro-cap company, the leadership credential is clearly outstanding. In addition, management has a large ownership stake of more than 30%.
Valuation & Shares Outstanding
At $20/share, TAPM has a market cap of approximately $11 million and a P/S ratio of only 2.2x. Not forgetting the fact that the company is growing revenues of its mobile gaming division year-over-year (18% in 2020 and ~30% in 2021) and with positive EPS which seems to be a unicorn in recent times for the tech growth niche.
Bear in mind, these statistics do not yet account for any explosive growth that NFT500 mobile app would bring them nor the price appreciation of their NFT art collection. To give you context, the current valuation of their 2 BAYC NFTs already accounts for approximately 2.5% of their entire market cap. These are all free alpha for current shareholders.
One last thing to note is that Tapinator only has 563,564 shares outstanding. (Remember the fact that insiders own 30+%, that means only 394k available ). We all know what can happen to a low float stock. However, that also means that it will be difficult to market buy a large position. Investors should exercise the same caution when investing in OTC stocks as always.
Conclusion
Sotheby's last month brought in $26 million from its Bored Ape NFT auction and Christie's announced that it surpassed $100 million in NFT sales. I believe that we are at an exciting growth stage for the NFT space and TAPM is the best bet for the average investor to partake in exponential returns, at the same time boasting reasonable valuations, whilst avoiding scams and protecting oneself from low-quality projects that could plummet in value.
Thanks for reading, this article assumes you already understand what an NFT is and not meant to be an NFT explainer. You'll find many helpful explanations on NFTs if you look up Google or YouTube.