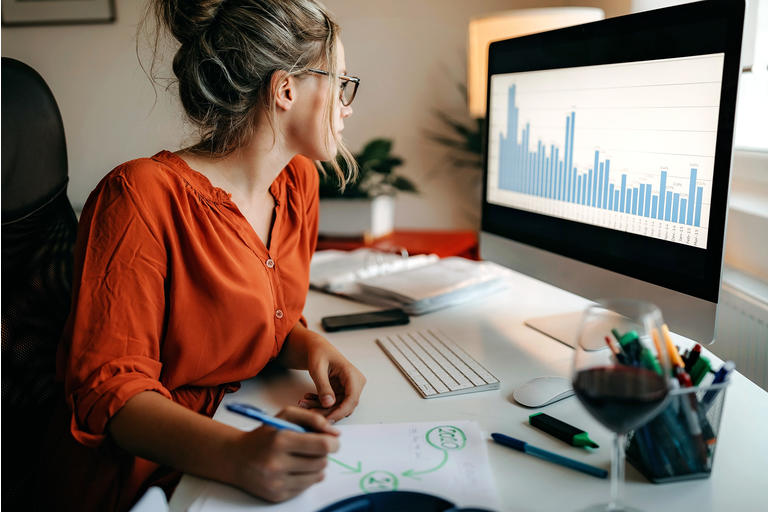 Investment Thesis
Elastic (NYSE:ESTC) is an open-source search platform. It's aimed at enterprises seeking to unlock insights from data from any source and allow users to take action.
Elastic's guidance for Q2 2022 is pointing towards 34% YoY, which is a dip from the growth rates that investors had come to expect from Elastic.
That being said, one segment, Elastic Cloud, continues to show great promise and is not only growing faster than the underlying business, but it already accounts for more than 30% of the total business.
At 14x next year's revenues, for this more than 35% CAGR company, this stock is cheaply priced.
Revenue Growth Rates Remain Enticing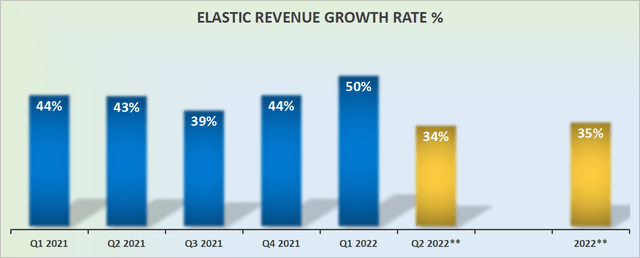 Source: author's calculations; company guidance
Elastic continues to put out sizzling results with Q1 2022 growing its revenues by 50% YoY against a challenging period last year when its top line grew by 44% YoY.
Now, the problem for investors is that the guidance for Q2 2022 is more subdued at 35% YoY. For a company that's pushing out approximately 40% CAGR, or higher, for a number of quarters, this guidance implies a meaningful deceleration of about 1,600 basis points from Q1 2022.
However, it's reasonable to expect management is being conservative with its guidance to leave themselves plenty of room to impress investors. In fact, if we look back to Elastic's original guidance in Q4 2021, this is what Elastic was guiding for at the time:

(Source)
Thus, given that it has now revised higher its full-year guidance higher by more than $20 million so early in its fiscal year this should put investors' fears aside.

This raised guidance once more reinforces the argument that Elastic's management lead by founder and CEO Shay Banon is opting for prudence with its Q2 2022 guidance and for fiscal 2022 as a whole.
All that being noted, investors will undoubtedly have clung to the fact that calculated billings in Q1 2022 only increased by 27% YoY. As a reminder, calculated billings reflect work that has been invoiced by Elastic, but not yet recognized as revenue.
In other words, this is a leading indicator of where revenues will come over the next 12 months. This is an important metric because if billings growth dips meaningfully below revenue growth, that means that the pipeline of new contracts is drying up.
However, during the earnings call, management noted that Elastic is expecting billings to be second-half weighted, which one can infer to mean that calculated billings are likely to pick back up to closer to 30% YoY starting Q3 2022.
Moving on, the most compelling segment that readers should look to is Elastic Cloud. This segment grew at 89% YoY and now accounts for approximately a third of its total revenues.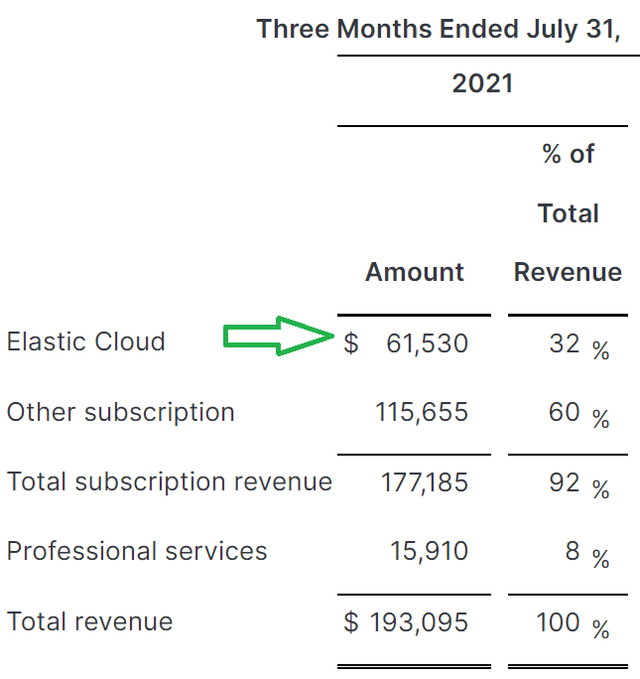 As you can see above, Elastic Cloud is a subscription business, and since it's growing faster than the rest of Elastic as a whole, this implies that over the next 18 months, Elastic Cloud will make up close to half of Elastic's total business.
My point here is that even if revenues in 2022 are expected to dip to the mid-to-high-30s% range over the next twelve months, investors may witness Elastic's total revenues accelerating back up. If that's the case, then investors are going to re-rate this stock higher. But I get ahead of myself. First, let's unpack this business.
Why Elastic? Why Now?
Through its open-source platform, Elastic's freemium model delivers fast and relevant search experiences.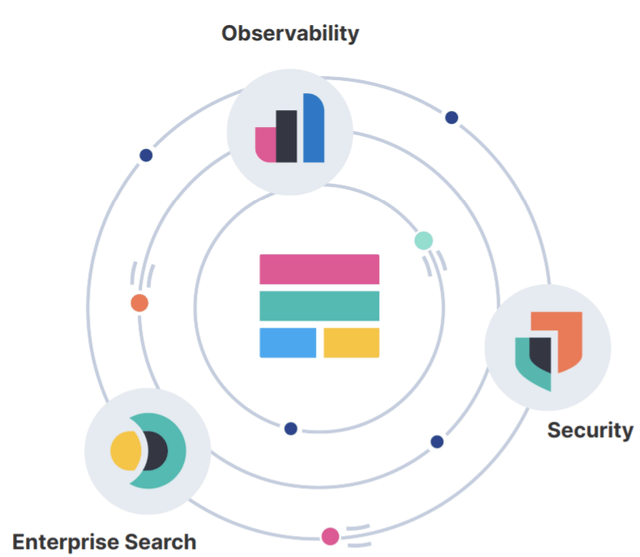 As you can see above, Elastic has 3 solutions: Search, Observability, and Security.
The heart of Elastic is a search company. It's aimed at enterprises that seek insights from large amounts of data.
Its Observability solution is used to track and monitor the availability of hosts and websites.
While Security is focused on threat prevention and detection.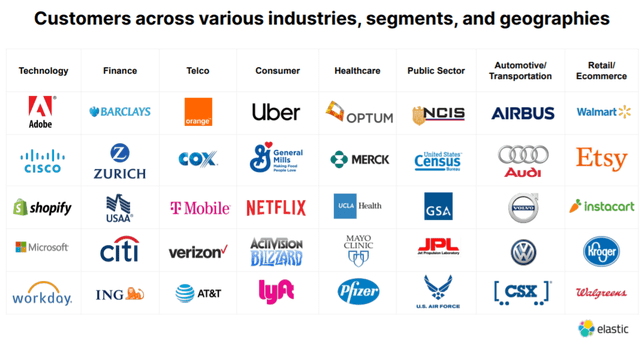 Being able to get insights from enterprise systems and applications within a siloed IT infrastructure is critical for modern companies. Note above Elastic's customers.
Elastic gets data insights from structured (think databases) or unstructured data (website or application). The ability to ingest and store data from any source is a powerful tool for developers.
Now, let's discuss its profitability profile.
Still Some Time Away From Solid Profitability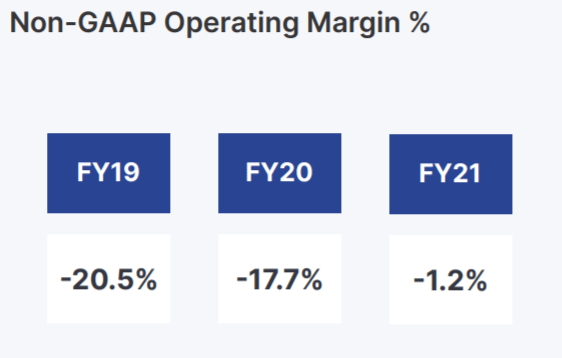 On the one hand, Elastic is moving in the right way as its non-GAAP operating margins have gone from negative 21% in fiscal 2019 towards negative 1% in fiscal 2021.
However, as we look ahead for fiscal 2022, Elastic is expecting to see its profit margins remain negative around 3%. This is obviously compelling, as it implies that Elastic is coming incredibly close to be non-GAAP profitable.
On yet the other hand, the fact that its non-GAAP operating margins remain negative impacts the multiple that investors are willing to pay for the stock. Thus, let's now discuss its valuation.
Valuation - Why ESTC Stock is Attractive
As a rule of thumb, you want to pay a multiple to sales that's half the revenue growth rate.
For example, Elastic is expected to grow at approximately 35% to 40% CAGR over the coming twelve months, so you don't want to pay more than 18x forward sales for the stock.
For its part, Elastic is valued at 14x next year's revenues (its fiscal year is misaligned with the calendar, so I've adjusted for this). This clearly affords investors plenty of margin of safety.
For reference, I've compared Elastic to MongoDB (MDB). You may remark that MongoDB is more of a pure-play database search platform and that it doesn't compare with Elastic's other solutions, Observability, and Security. And while that's a fair comment, I would counter that by declaring that Elastic's Search is its main driver, making these two companies indeed comparable. Nonetheless, MongoDB is priced at approximately 30x forward sales.
In this light, Elastic is expected to grow even faster than MongoDB and its priced at approximately half the multiple for MongoDB. Once again, reinforcing the investment thesis that Elastic is cheaply valued.
The Bottom Line
In sum, Elastic is growing faster than investors realize. Over the next 18 months, Elastic Cloud will account for nearly half of its underlying business. One detraction from the bullish thesis is that its profitability is still some time away.
However, at 14x next year's revenues, this company is surprisingly cheap, particularly given investors' enthusiasm for SaaS stocks, with solid growth rates.
All that being said, I'm finding even better investment opportunities elsewhere and I'm deploying my capital into those stocks right now. Good luck and happy investing.