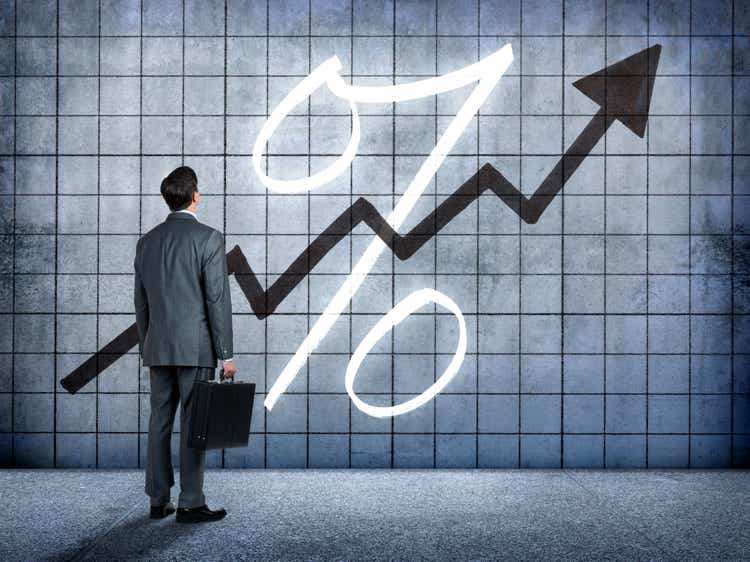 About VNQ
The Vanguard Real Estate ETF (NYSEARCA: NYSEARCA:VNQ) is a passively managed, low expense investment fund that tracks the performance of the MSCI US Investable Market Real Estate 25/50 Index. The ETF comprises primarily of REITs - Real Estate Investment Trusts. A real estate investment trust is a company that owns (and typically operates) income-producing real estate, ranging from office and apartment buildings to warehouses, hospitals, shopping centers, hotels, and more. VNQ has a measly 0.12% expense ratio compared to the real estate ETF average of 0.38%. Currently boasting 174 total holdings and $41.7B net assets under management, VNQ is an excellent way to diversify your exposure to the lucrative real estate industry. Below, you can observe the ETF's top 10 largest holdings, which make up ~45% of total net assets. VNQ has returned 23% YTD compared to the S&P 500's 16% return.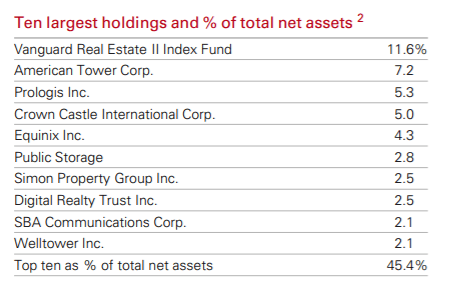 Source: VNQ Fund Fact Sheet (6/30/2021)
Rising Interest Rate Environment
The benchmark 10-year treasury yield ended just under 1.50% in the third quarter. Earlier in 2021, the 10-year yield commenced the first quarter under 1% and concluded slightly under 1.75%. This was a repercussion of new fiscal stimulus and positive momentum surrounding the COVID-19 vaccination that drove strong economic and corporate-profit growth. The newest rise in treasury yields stems from recent data surrounding the Delta variant. The data indicates that the worst of the latest wave is behind us, causing many investors to re-enter their positions in tech stocks and other high growth equities. We forewarn investors of taking that approach, as we believe there is too much uncertainty surrounding the broader market moving forward.
The 10-year treasury hit a four-month high of 1.57% on Tuesday, October 5th. A recently released private payrolls report helped strengthen expectations that the Federal Reserve would soon taper its immense bond purchases program. United States private payrolls jumped by 568,000 jobs in September as Delta variant cases receded, which is 140,000 more than expected by economists. Many people await the Fed's announcement in November concerning its quantitative easing program of buying treasury bonds, with expectations that it will be completed by mid-2022. Likewise, U.S. inflation currently sits at 5.3%, streets ahead of its 2% target. The Fed will likely have to increase interest rates to lower inflation. What does this mean for equities? Rising interest rates will presumably squeeze the valuation multiples of stocks, more specifically high growth names. Because the S&P 500 is dominated by growth stocks, the rising of interest rates will also pull down the broader market.
REITs Outperform When Interest Rates Rise
During intervals of economic growth, REIT prices tend to rise adjacent to interest rates. This is because in a growing economy, the demand for financing increases, consequently resulting in higher rates. While it is certainly plausible that the Fed's decision to increase interest rates could hurt the performance of REITs, we believe it will be a very short-term negative effect compared to equities. The Federal Reserve's decision to increase rates is usually an acknowledgement (not always) that the economy is expanding. A Cohen & Steers report reveals REIT total return data after an increase in interest rates over a 20-year period. The data indicates, per the graph below, that three months after modification of the Fed Funds Rate, U.S. REITs outperformed stocks by 1.5%. One year after interest rates expanded, REITs outperformed stocks by nearly 8%.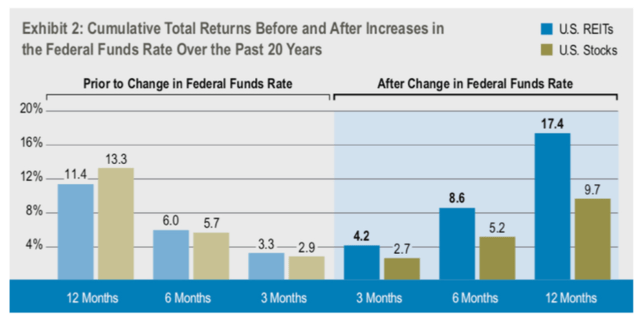 Source: Cohen & Steers Research Report
Alternatives
There are several other alternatives to hedging against rising interest rates. Many investors will move into fixed income investment vehicles provided they are fearful that equities will take a hit. Given their historical success and better rate of return, we believe REITs are a better (and still safe) investment. The graph below compares VNQ to three popular fixed income ETFs and the S&P 500. The three fixed income ETFs are the following: iShares 20+ Year Treasury Bond ETF (NASDAQ:TLT), Vanguard Short-Term Bond ETF (NYSEARCA:BSV), and iShares Floating Rate Bond ETF (BATS:FLOT). You can see that VNQ has returned >204% (~20% average annual return) over the 10-year period and that each of the three bond ETFs returned less than 60% each. Sure, this is because VNQ is considered a more risky investment; however, we view the ETF as a secure, higher-return investment product in the long run.

Source: Seeking Alpha
Moreover, if you compare VNQ's ETF grades computed by Seeking Alpha, it is evident that VNQ is the most well-balanced investment opportunity. Given VNQ's historical performance and low expense fees, we believe the ETF has a favorable risk-reward profile, especially in the present case of rising interest rates.

Source: Seeking Alpha
Conclusion
Whether or not it is too soon for an interest rate hike by the Fed is a great debate right now. Regardless of what you think, we believe that VNQ is a worthy investment opportunity both in the short and long term. We are not here to predict the future and say that an interest rate hike will transpire; however, VNQ offers a solid hedge in the event that it does. Irrespective of the stock market environment, we believe VNQ would deeply compliment any investor's long-term portfolio.