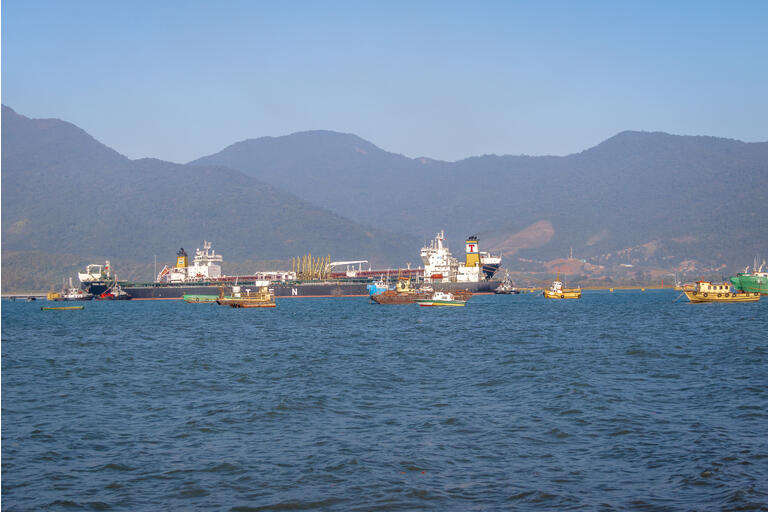 Looking for a niche high yield income play? One interesting place to look is in the shuttle tanker industry, where one of our long term holdings, KNOT Offshore Partners LP (NYSE:KNOP) is an industry leader. To give you an idea of the size of this tiny industry, there are only 90 vessels in the worldwide shuttle tanker fleet, which is less than 1% of the world's total shipping fleet.
It may be a tiny industry, but shuttle tankers perform a vital service for offshore oil producers, who utilize them to get their product to the mainland. Shuttle tankers service a growing proportion of all offshore production, recently surpassing 90% in Brazil. Management estimates that there are ~12 customers and ~3 suppliers in this sub-industry.
These are specialized vessels take 2.5-3 years to build, which helps support KNOP's re-contracting efforts, as its customers typically utilize the extension options on these vessels. The vessels have a lifespan of ~25 years. Fleet utilization has also been steady and strong, with an average of ~99.7% since KNOP's 2013 IPO, which has resulted in steady revenues.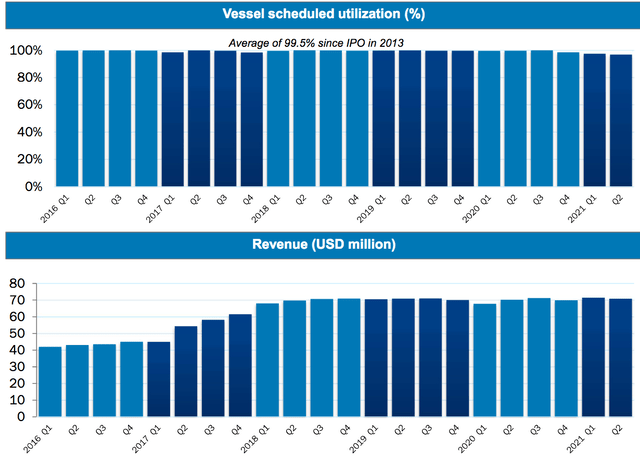 (KNOP site)
This niche industry doesn't have a lot of speculative building - newbuilds are based on long term contracts to customers who have committed major resources to deepwater projects. One thing in KNOP's favor is that its fleet is an average of 7.5 years old, which is younger than the entire shuttle fleet's average age.
KNOP has expanded by making accretive acquisitions of Shuttle Tankers from its parent/sponsor, Knutsen NYK, in the main operational areas of the North Sea, Barents Sea and Brazil.
KNOP's parent/sponsor Knutsen NYK has been involved in the design and construction of shuttle tankers for over 30 years, and was involved with the developments of the design and the pioneering days of the industry. The sponsor has put its youngest assets into KNOP.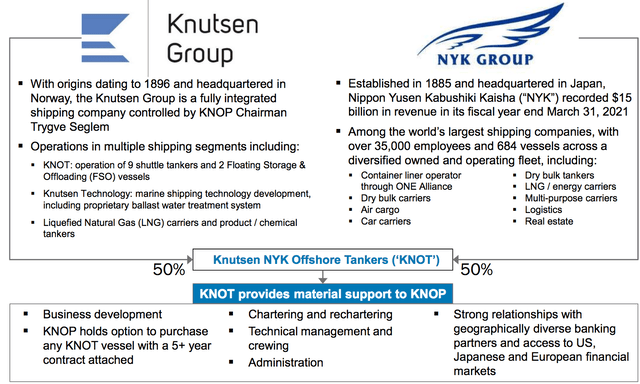 (KNOP site)
Due to the nature of its fixed rate contracts, KNOP is mostly insulated from crude oil price swings, as seen in this chart of its Adjusted EBITDA vs. Brent Crude historic prices: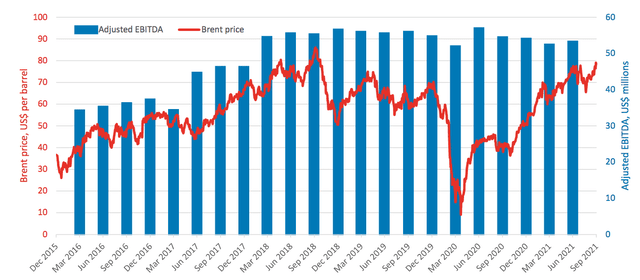 (KNOP site)
Risks:
The main 2 things that can pressure KNOP's earnings are vessel downtime/drydocking for maintenance, which is a short term issue, and recontracting, which can have more long term negative effects on earnings, depending upon how long the vessels might be without work, and how the ultimate recontracting rate compares to expiring rates.
Recent effects of COVID on KNOP's customers' Capex schedules have created headwinds for shuttle tanker demand, but other than Windsor Knutsen (expected charter start date in Sept. 2021), Bodil Knutsen and Tordis Knutsen (planned drydock to commence in 4Q 2021), its fleet remains fully contracted for remainder of 2021.
Looking ahead to 2022, KNOP has 4 vessels, the Bodil Knutsen, the Tordis Knutsen, the Vigdis Knutsen, and the Lena coming off charters at various times next year. As such, recontracting them is a top priority for management.
As of 6/30/21, KNOP had $642M of contracted forward revenue remaining, excluding options held by its customers, with an average remaining charter period of 2.3 years, in addition to customers having options to extend these charters by a further 2.8 years.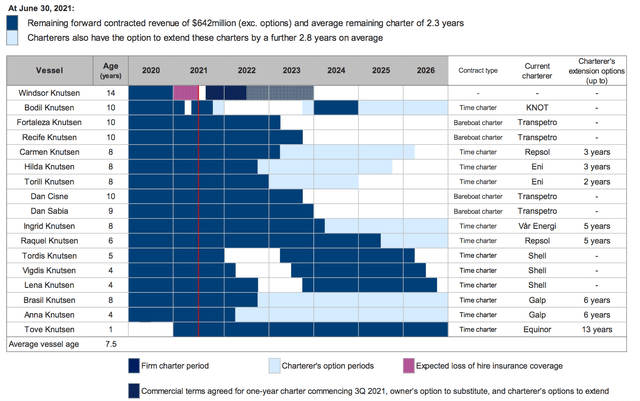 (KNOP site)
Dropdown Pipeline:
KNOP's sponsor KNOT has 6 vessels that could be acquired by the partnership with an average fixed contract period of 5.3 years and with an average of a further 7.3 years extension options. However, management doesn't see any new dropdowns happening until 2022.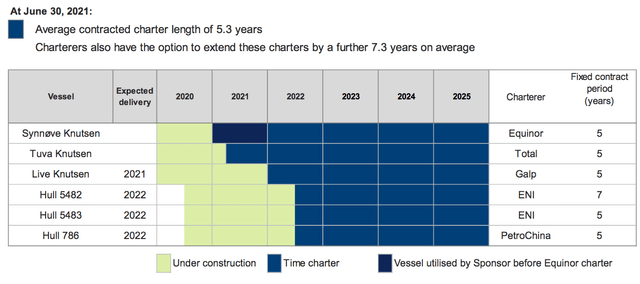 (KNOP site)
Earnings:
As noted in the previous revenue and EBITDA charts, KNOP's earnings are pretty steady from quarter to quarter. Maintenance Capex, interest costs and realized derivative hedging gains or losses can push Distributable Cash Flow up or down in some quarters, while non-cash writeoffs can throw a wringer in quarterly Net Income figures.
The sequential increase in Q2 '21 Distributable Cash Flow was mainly due to lower operating costs for the fleet and lower interest costs in the second quarter due to the refinancing of the Raquel Knutsen and decreased unrealized losses on derivative instruments.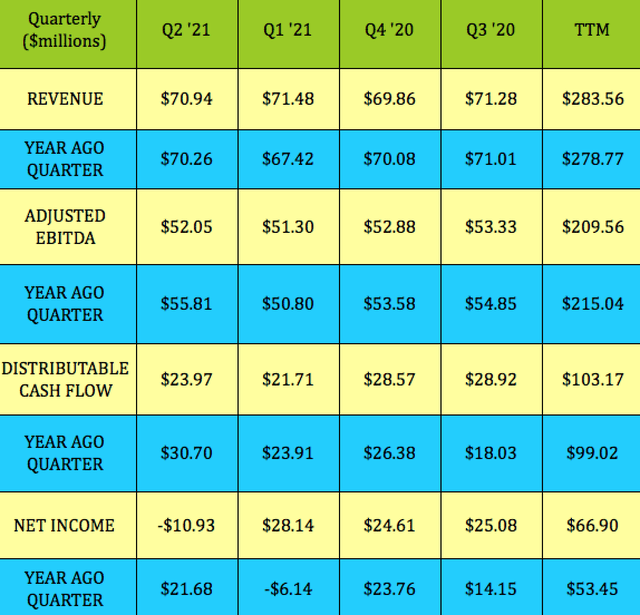 Q2 '21 saw a big year over year drop in Net Income, due to a $29.4M non-cash write-down on the Windsor Knutsen, in order to bring the carrying value of the vessel down to its fair value. This was a result of the vessel's unusually higher carrying value, which is the result of it being the sum of both the purchase cost and the cost of conversion of the vessel to a shuttle tanker from a conventional tanker. This is a non-recurring issue, as there are no other similar converted vessels in KNOP's fleet.
Q2 '21 DCF dropped ~$6.7M vs. Q2 '20, mainly due to $2.5M in additional maintenance Capex, and ~$2.6M in lower unrealized derivative hedging losses.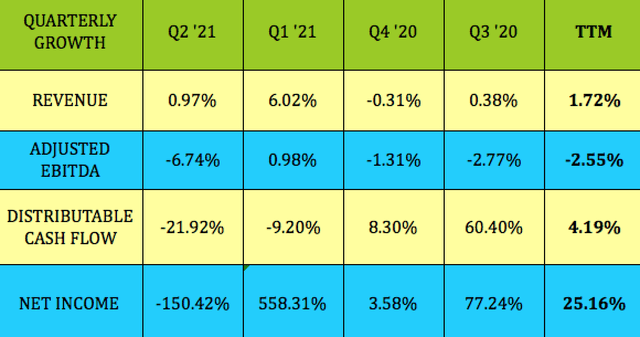 Although the pandemic crashed oil prices in 2020, KNOP's business model carried it through the year in stable fashion, with single digit declines in revenue and EBITDA, while DCF actually grew 5.46% vs. 2019.
Q1-2 '21 has 3.4% revenue growth. But EBITDA is down -3%, while DCF is off by -16%, due to the reasons noted above.
IDR Deal:
In September, KNOP completed an IDR swap deal with NYK Knutsen, which eliminated NYK's Incentive Distribution Rights, in exchange for 673K common units and 673K Class B units. Management feels that this "cash flow neutral elimination of KNOP's IDRs better aligns the interests of our sponsor and our common unitholders and enhancing the attractiveness and accessibility of KNOP as an equity investment opportunity." (KNOP site)
The Class B units are a new class of limited partner interests which will not be entitled to receive cash distributions in any quarter unless common unitholders receive a distribution of at least $0.52 for that quarter.
At the current quarterly common unit distribution level of $0.52, the total combined quarterly distribution for the newly issued common units and Class B Units is equivalent to the quarterly distribution to the IDRs prior to the IDR Exchange.
For each quarter (starting with the quarter ending September 30, 2021) that the Partnership pays distributions on the common units that are at or above the Distribution Threshold, one-eighth of the Class B Units will be converted to common units on a one-for-one basis until such time as no further Class B Units exist. The Class B Units will generally vote together with the common units as a single class.
Following the IDR Exchange, and on a Class B Unit fully-converted basis, Knutsen NYK will beneficially own 10,004,028 common units, which would represent approximately 29.2% of KNOP's outstanding common units.
Distributions:
At its 10/8/21 $19.34 closing price, KNOP yields a very attractive 10.75%. Management has held the $.52 quarterly distribution steady since Q4 2015. KNOP should go ex-dividend next on ~10/29/21.

Distribution coverage fell to 1.2X in Q1 '21, as a result of the Windsor Knutsen being out for repairs, (90 days), and the scheduled drydocking of the Bodil Knutsen (38 days). but it improved to 1.32X in Q2 '21. KNOP's trailing coverage factor is 1.43X, lower than its full year 2020 1.55X coverage.

KNOP has paid out 78% of its $21.00 IPO value in distributions since its 2013 IPO: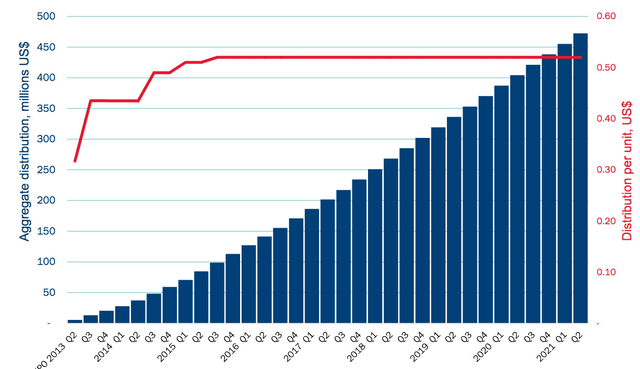 (KNOP site)
Taxes:
KNOP may be an LP, but like some other shipping companies, its management has elected for the company to be treated as a C-Corp:
The Partnership has elected to be treated as a C-Corporation for tax purposes (our investors receive the standard 1099 form and not a K-1 form).

Distributions we pay to U.S. unitholders will be treated as a dividend for U.S. federal income tax purposes to the extent the distributions come from earnings and profits ("E&P") and as a nondividend distribution or a return of capital ("ROC") to the extent the distributions exceed E&P. (Source: KNOP site)
66.01% of KNOP's 2020 distributions were characterized as qualified dividends, with the remainder reported as non-dividend distributions, (Return of Capital).
Performance:
Although KNOP has lagged marine shipping industry average performance, which was off the charts over the past year, due to the 2020 pullback, it has still outperformed the S&P 500 by wide margins in 2021 and over the past year, and in the last month.
Valuations:
KNOP's P/Book, P/Sales, and EV/EBITDA are roughly in line with marine shipping industry averages. However, it looks much cheaper on a Price/Distributable Cash Flow basis, at 3.81X vs. a 6.11X industry average.
It's 10.75% yield is also twice the industry average of 5.34%. The marine shipping industry is volatile, and has seen many companies cut or eliminate their dividends in recent years, due to various problems, such as inadequate financing.
Profitability & Leverage:
KNOP's trailing ROA and ROE both improved over pre-pandemic figures in Q2 '21, while its Debt/Equity leverage and EBITDA/Interest coverage also improved. Its Debt/Equity and EBITDA/Interest coverage figures are both stronger than industry averages.
Debt & Liquidity:
As of 6/30/21, KNOP had available liquidity of $101.6M, which included cash and cash equivalents of $51.6M. The average margin paid on its debt in the quarter was 2.04%. KNOP has ample access to the capital markets, with an extensive banking portfolio, and several key lender relationships. Management targets a debt paydown of $90M/year.
Management entered into a new senior secured credit facility to refinance the existing term loans related to the Tordis, Vigdis, Lena, Anna, and the Brasil Knutsen vessels. The term loans for these vessels otherwise expired between November 21 and July 22. The new facility has a balloon payment of $219M maturing in September 2026, with interest at LIBOR plus the margin of 2.05%.
In the quarter, they also extended KNOP's $25M unsecured revolving credit facility with NTT Finance Corporation at August 2023 on the same terms. And as a result of these refinancings, KNOP has no further significant refinancings due until the third quarter of 2023.
KNOP also entered into a sales agreement with B. Riley Securities for an ATM program, whereby the partnership may offer and sell up to $100M of common units from time to time.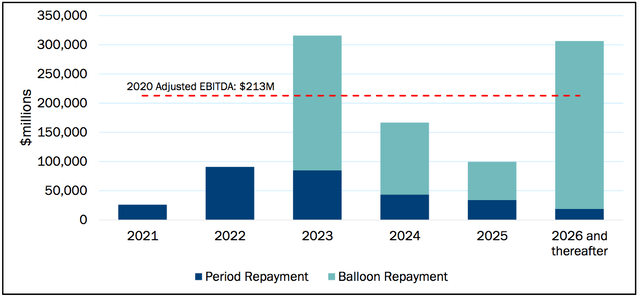 (KNOP site)
Options:
KNOP does have options available, which we've utilized through the years in our DoubleDividendStocks.com service to enhance its income.
Parting Thoughts:
KNOP's biggest challenge will be the recontracting of its 4 expiring chartered vessels in 2022. Management sees potential market softness in 2022, but oil production in Brazil and North Sea from shuttle tanker serviced fields is expected to grow significantly in the coming years.
We rate KNOP a long term BUY, based upon its strong position in the vital shuttle tanker industry, its attractive, well-covered yield, and its ample access to capital.
All tables by DoubleDividendStocks.com, except where noted otherwise.