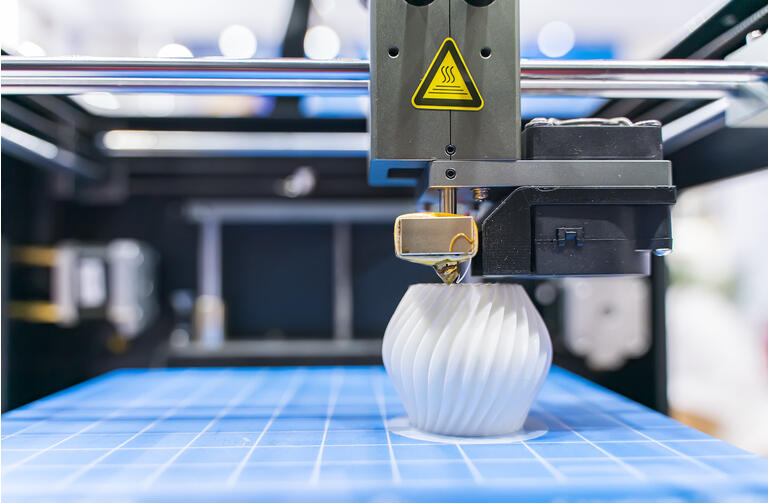 On February 23, additive manufacturing company Markforged (NYSE:MKFG) officially announced its merger with special purpose acquisition company one (yes, the SPAC was named 'one'). Investors liked the deal: three days later, what was then AONE stock closed at $12.75, a healthy premium to the $10 merger price. But seven and a half months later, with the merger now closed, Markforged stock trades for roughly half as much.
What's interesting — and attractive — about the lower price is that as far as Markforged itself goes, nothing really seems to have changed. Unlike a number of companies that went public through so-called de-SPAC mergers, Markforged has reiterated its guidance, at least for 2021. The novel coronavirus pandemic has hit results both this year and last, but on that front there's been progress, if uneven progress. The opportunity for additive manufacturing still seems immense, and there's been no apparent change to suggest a dimming outlook for growth in that end market.
That leaves really only one explanation: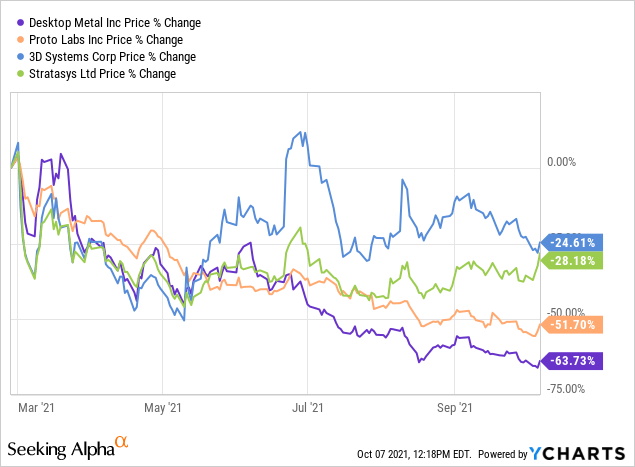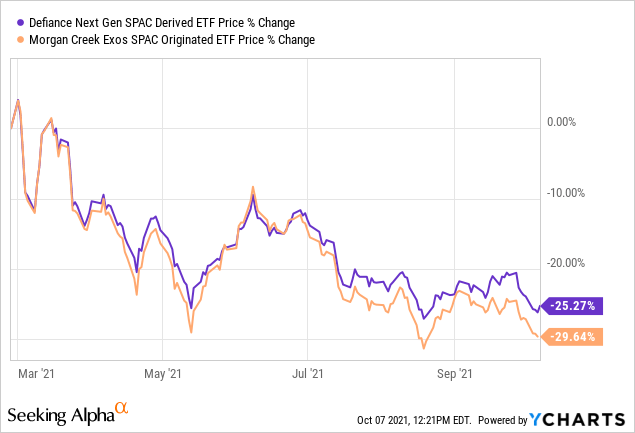 charts since Feb. 26
Since Markforged and one announced their merger, the SPAC trend has cooled significantly. On a not-unrelated front, investors have dumped additive manufacturing/3D printing stocks over the same stretch.
MKFG stock clearly has been caught up in the selling. The core question is whether it should have been.
The Quiet Bubble
From late August through the end of February, there was clearly a flood of retail buying in the market that led to huge rallies in a number of sectors.
Most of those stocks created echoes of the late 1990s Internet bubble in that the bull cases were seemingly simple (and in retrospect, simplistic): the market obviously is going to grow, and so this stock is going to soar. Sectors like electric vehicles, renewable energy, online gambling, and cannabis saw huge gains over a roughly five-month stretch. The pandemic no doubt was a contributor, with the late August timing likely a result of the combination of prospective investors still facing lockdowns, while also receiving stimulus checks and/or realizing that their personal financial situations were better than might have been feared just a few months earlier.
With seemingly little fanfare, that bubble has burst. A quick screen of stocks ranked by how far they've fallen from their 52-week highs shows a number of precisely these seemingly 'easy' growth stocks. Some have disappointed; some have simply fallen back to Earth, perhaps as some of those new investors took profits on their way back to some semblance of normalcy.
There's little doubt additive manufacturing stocks were part of this quiet bubble, with Desktop Metal (DM) fitting the trend to a 'T':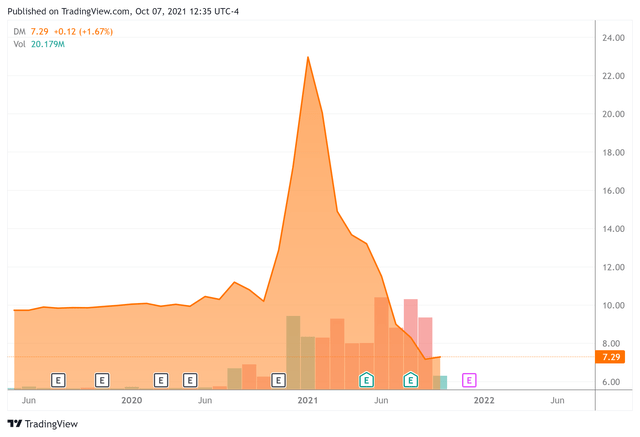 source: TradingView via Seeking Alpha
That trading seems particularly relevant to Markforged, given that in its February merger presentation Markforged itself called out Desktop Metal as a peer, and a reason to see upside going forward: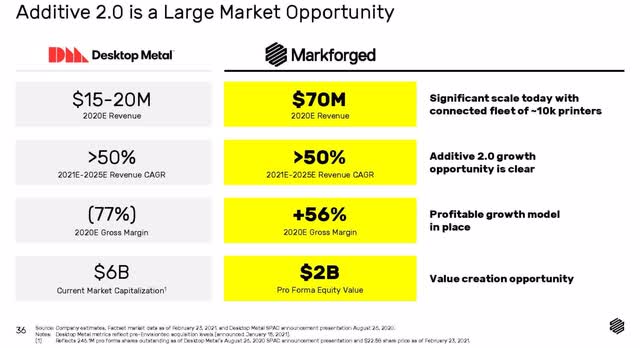 source: Markforged/one merger presentation, February 2021
The ~$6B market cap figure cited for Desktop Metal was based on its stock price at the time ($22.58 according to the footnotes here). With DM stock now near $7, the market cap has shrunk to $1.75 billion. That's almost exactly equal to the $1.7 billion equity value assigned Markforged in the SPAC deal.
Certainly, trading in peers doesn't on its own argue that the decline in MKFG stock is wholly deserved, or that the stock should fall even further given the 70%-plus drop in Desktop Metal shares. Desktop Metal, after all, is making a reasonably large acquisition of ExOne (XONE), and below-consensus Q2 results in August sent its stock lower. (There too, however, sector dynamics might be at play, as the entire group continued to fade over the same stretch.)
But the pressure on the sector does highlight two key risks. First, the equity market may be signaling some change in expectations toward the additive manufacturing market — a market for which Markforged itself highlighted incredible growth. Third-party estimates cited at the time the merger was announced project that $100 billion in revenue will be added within a decade: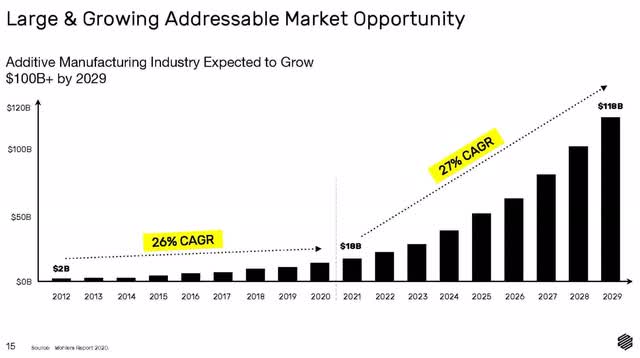 source: Markforged/one merger presentation, February 2021
Conversely, it may be more simple: in early 2021, as the merger details were being negotiated (one submitted its initial, non-binding, letter of intent on December 29) additive manufacturing stocks simply were trading at bubbly levels. The 50% decline in MKFG stock (from a peak close, no less) thus is a logical correction, not a buying opportunity.
Indeed, the current enterprise value of about $900 million (based on the share count figure from the 10-Q and the cash balance at July 31 cited on the Q2 call) still appears to be above private market valuations. Markforged reportedly raised capital at a $300 million valuation in 2017. A 2019 offering almost certainly done below the current enterprise value, given Markforged's then-chief executive officer Gregory Mark's reluctance to call his company a unicorn.
To repeat: this discussion is not dispositive. This is a company that expects to generate ~$70 million in sales this year while serving a market that is going to grow 6-7x in a decade to $118 billion. Pegging the fair value of that kind of company is an exceedingly inexact science. At this point, an investor could be equally confident in valuing MKFG at $4 or $8 or $12; the range of outcomes is enormous.
But the point is that MKFG stock should not be seen as cheap simply because it's cheaper. Even setting aside the risk of anchoring bias, any relative valuation method of MKFG is going to result in a sharply lower estimate of fair price in October than it did in January and February. Markforged's own merger presentation shows as much.
One More Concern In The Business
The current de-SPAC sell-off is going to create some opportunities (which is why I'm currently sifting through the group). But it will create plenty of traps as well. The persistent nature of anchoring bias, and the sheer number of 'low' prices is one reason: when PIPE investors paid $10 in March for a stock now worth $5.50, it's hard not to be at least a little intrigued.
But a second reason is that so many of these mergers included companies like Markforged with minimal history and massive end markets. For a number of reasons, the commentary (and financial projections) from those companies at the time of the merger and after thus wind up being exceedingly optimistic. Yet without history, without Street coverage, without even some basic level of understood expectations, it's difficult to get the contrary story, unless an activist short steps in as has been the case with Hyzon Motors (HYZN), Nikola (NKLA), and others. Proxy statements do include risk factors, but those are almost always too general to be useful.
For Markforged, even through the mostly bullish commentary from management, there is one apparent risk that peeks through. In the presentation and elsewhere, Markforged has pointed to having "over 10,000 happy customers," as current CEO Shai Terem put it on the Q2 call.
That figure is presented as good news (and to some extent it is), proof that Markforged already has some kind of established business, as opposed to more speculative (and occasionally pre-revenue) de-SPAC plays. But it also highlights a key concern for the company and its space.
From its founding in 2013 to the end of this year, Markforged is likely to generate about $340 million in cumulative revenue, based on figures from the investor presentation and 2021 guidance. That 10,000-plus customer figure thus suggests cumulative revenue per customer of $34,000 at the most.
Markforged's cheapest printer, the Onyx One, appears to cost about $4,500; the highest-end product, the Metal X, can cost $150,000-$200,000 according to Markforged itself. Materials used in printing add recurring sales as well. Yet the $34,000 average (which, again, is cumulative over eight years) strongly implies that most customers are buying a single unit and not using it terribly often.
To be clear, this isn't to suggest that Markforged is being dishonest. But the simple takeaway from the SPAC presentation, in particular, might be that all of these customers are already using Markforged products regularly, and more might be on the way. So far, at least, the revenue and customer figures don't suggest that's the case.
Terem emphasized at a May conference that Markforged is "not a prototyping company. We are, today, already reinventing manufacturing with our customers..." To some extent, that's probably true. In the merger presentation, the company also highlighted several case studies of companies significantly and quickly expanding their purchases. But most are not, meaning that at the least Markforged still has a lot of work left to do.
The Good News for MKFG Stock
There are some reasons for skepticism here. But there's good news as well. The price is cheaper, with the enterprise value under $1 billion. The merger created a strong balance sheet; cash burn is more than manageable, and Terem said in May that his company was unlikely to focus too heavily on an acquisition as it grows.
And while per-customer figures need to get better, the fact is that Markforged does have an interesting portfolio and potentially transformative products. The most attractive seems to be the CFR (continuous fiber reinforcement) composites, which are far stronger than plastic while offering the benefits of 3-D printing. Over 70% of customers have used CFR so far.
Anecdotally, at least, reviews seem to be solid from buyers; Glassdoor reviews look reasonably positive, particularly given (per the S-4) Markforged undertook layoffs last April. New products are on the way, with a series of launches as the company uses the SPAC funds to invest behind the business and in product development.
Results have looked somewhat disappointing of late, with revenue growth decelerating to 18% in 2019 before a 1% decline last year. A rebound to an expected $88 million this year (+22%) still leaves the 3-year compound annualized rate at about 12%, below market growth figures cited by the company.
But Markforged's specific end markets probably have seen relatively large pandemic impacts: two key markets are aerospace and automotive. Supply chain problems likely are leading customers to defer decisions that might change their manufacturing processes. Most Markforged sales are done in-person, and that avenue has been curtailed for the past 18-plus months. There's certainly a "glass half full" perspective to take toward recent results, in that Markforged still is driving double-digit growth despite an unfavorable external environment.
Meanwhile, MKFG stock still is vastly cheaper than DM (revenue sharply higher, enterprise value ~35% higher before the effect of the ExOne acquisition). While the company is going to have to compete with giants (HP (HPQ) and even General Electric (GE) are in the space, among many others), the market should be more than large enough for multiple winners. Particularly after the sell-off, Markforged stock does not require massive success or top market share to see reasonably significant upside. Profitability still is a bit in the future, but as current investments fall away operating margins will improve. Gross margins have expanded as management has promised, and consumables sales (more than 20% of revenue in 2020) should help on that front. Terem said in May the company had hopes to build a revenue stream from software which should boost profitability as well.
And it bears repeating: as far as Markforged itself is concerned, nothing has changed. Guidance has been reiterated, the market is still there in some size (whether or not that size is precisely $118 billion), and new products have been launched as promised. There's still some very cool tech here, and a clear pathway to adoption.
So there are some things to like here, and some reason to at least consider MKFG stock after this big decline. Personally, trading in the space leaves me a bit cautious in the near-term, particularly with a lockup still a couple of months away; there's no reason that Markforged stock can't keep falling (though it did see a 3% bounce on Thursday). Beyond that, I'd like to see more evidence of significant penetration at individual customers; $34,000 in revenue per customer simply doesn't come close to driving the scale needed to get Markforged to significant profitability. That's required at some point given an enterprise value that's still not far from $1 billion.
But this is a stock that reasonable and/or more aggressive investors admittedly can see quite differently. And it's a stock that absolutely could in retrospect look like a steal at these levels. Markforged still has a long way to go — that's a reason to stay away, but also a reason to buy.