Entire trading systems are built on stocks making new 52 week highs. A couple market-beating forces assist this strategy in achieving excess gain. The first relates to momentum or relative strength - stocks producing market excess gains over the past quarter, half and full year generally produce excess gains over the following year. The second effect has to do with investor under-reaction when stocks reach up to the psychological anchoring point of the 52 week high. This is followed by a spurt of gain when prices finally break through.
Below are 3 stocks making new highs which have produced market excess gains over the past 3 and 6 months. Based on value, I only consider 1 of the stocks to be a good buy at this moment.
Ball Corporation (NYSE:BLL) - This supplier of metal packaging products is an analyst favorite. What do I like about this stock? For me it is the revenue growth trend. Year over year sales growth dipped into negative territory in 2008 and 2009, but has popped back into positive growth of 13.7% in 2010 and 13.1% in 2011. Sustainable earnings growth needs to come from solid revenue growth.
That being said, I don't find any compelling reason to buy this stock at current valuations. Price to earnings are well above its three, five and seven year averages. Price to book ratios are 50% higher than its 5 year average. While prices have recently popped past prior resistance of $40.50 and may travel higher on positive momentum, I don't foresee long-term gains continuing at this accelerated pace until fundamentals play a little catch-up. This is the right kind of stock I like to buy, but if I want to invest based on valuation I would wait until later in the year to see if fundamentals and share prices come closer together.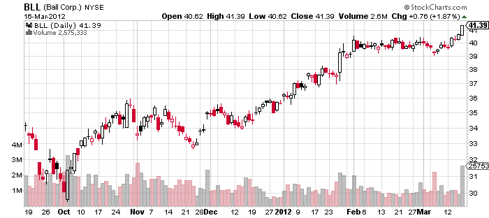 Microsoft (NASDAQ:MSFT) - Compared to Apple (NASDAQ:AAPL), is Microsoft a has-been well past its prime? If you missed out on the trading action during the 90s, there may be another opportunity presenting itself for the lower-risk/lower-gain investor. Microsoft is now a value play with average revenue growth at 10% over the past five and seven years. Earnings growth has roughly been twice as high as sales growth over the past three, five and seven year time frames.
What makes this a compelling stock for me to consider right now? When it comes to dividend stocks, I take the 'what if' approach.
What if this stock experienced zero percent growth over the next 5 years or into perpetuity - what sort of income stream is theoretically possible?
Based on free cash flow they could pay a 7.5 - 8% dividend yield and even a bit higher based on net income. This makes a favorable backstop to a company that still expects to grow earnings at an average 8% annually over the next 5 years.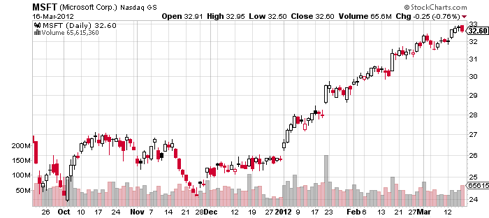 Chipotle Mexican Grill (NYSE:CMG) - This Mexican food restaurant is a trading favorite, with prices up over 250% over the past two years. Do I recommend this stock to buy and hold investors at this time? Let's look at a few numbers.
CMG is estimated to earn $10.84 per share in 2013 which gives a forward price to earnings ratio of 38. The next 5 years are expected to grow at 21.39% per annum. Unless prices stay fairly static and earnings rocket to play catch-up, I would have a hard time recommending this high-growth stock. Based on the numbers that are available today, a PEG ratio of one would only give this stock an attractive buy rating around $250.
The company may very well be a huge success story going forward, but I have a hard time justifying these high valuations based on current data. Note that volume seems to be tapering off since last fall despite a strong upwards price move.
Are you a technical price action trader? Then playing the bounces on the daily chart using the 10 EMA or using Bollinger Bands when prices are more volatile is one method to actively trade this stock. If you want to hold for the next year I would suggest picking a stock with stronger valuations to back up the technical price strength or waiting until expected earnings growth is closer to forward PE ratios.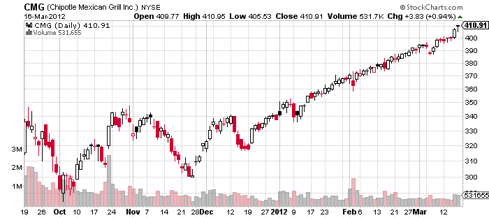 Investing in 52 Week Highs
Whether I am considering stocks on the 52 week low or high list, I always find it beneficial to consider value ratios compared to the firm's longer-term averages (relative to itself) and on an absolute basis (just plain low). I find the adage of Graham quite useful that the market is a short-term voting machine but it is a long-term weighing one. While I am both an investor and a trader, you need to differentiate between the two. While all three stocks might be profitable with the right technical trading signals, I'd only recommend investing in Microsoft at this time based on value.
Disclosure: I have no positions in any stocks mentioned, but may initiate a long position in MSFT over the next 72 hours.