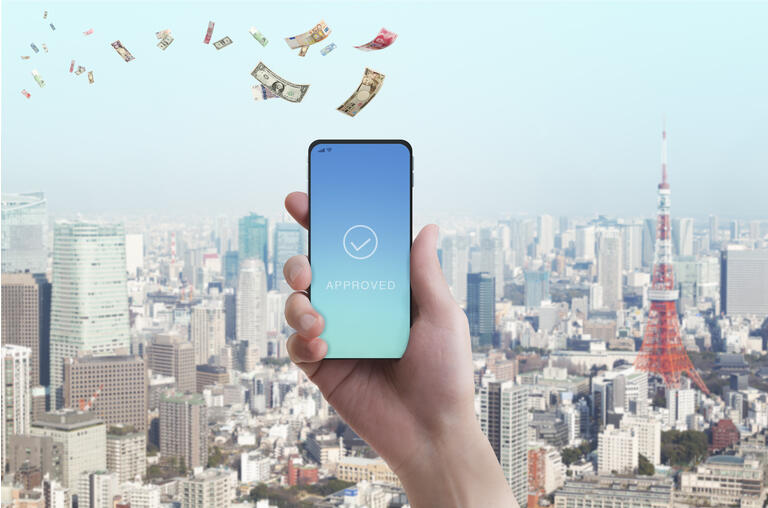 Investment Thesis
I recently received an email from one of my followers hoping to touch base on MVB Financial (NASDAQ:MVBF) before its third quarter earnings rolled around. While I continue to be very bullish on the bank, I would suggest any new readers to take a glance at my previous article which helps explain how MVB differentiates itself in the FinTech banking environment.
Not to use the overplayed baseball analogy, but I view MVBF to be in the very early innings of what is likely to be a secular change in community banking. While not all banks are likely to adopt digital markets as an area of growth, for the ones that do, I would guess their respective stocks would have a much better chance of outpacing both the industry and broader market indexes. MVBF not only uses digital as a source of growth, but as the backbone of its long-term core growth strategy.
To get people up to speed as fast as possible, I believe borrowing a few key sentences from my original article is helpful for understanding why MVBF is in a significantly better operational position when compared to nearly every other community bank.
While depositors want the best return they can from excess cash, borrowers want the best rate – pitting the banking industry to be competitive on both sides of the equation to be successful. That is where MVBF comes in, as it has solved most of the deposit demand requirements via its FinTech franchise.
From a valuation perspective, MVBF looks to be slightly more expensive than peer banks. That said, when compared to other FinTech focused banks, it appears quite cheap. As one can see from the chart below, MVBF currently trades at 2.1x price to tangible book value per share. When looking at other peer FinTech banks, it should give investors solace that there is no imminent ceiling to how high the valuation metric can run.
To get to the bottom line, I continue to be bullish on the stock for a couple reasons. First, the growth trajectory continues to remain robust. Its recent investment into more personnel should be a leading indicator for the rate of growth. Also, recent loan growth trends have outpaced consensus estimates and bottom line results look to be ramping higher. Finally, its valuation, when compared to other FinTech-focused banks, appears rather cheap, providing fodder for sustainable above-trend stock appreciation.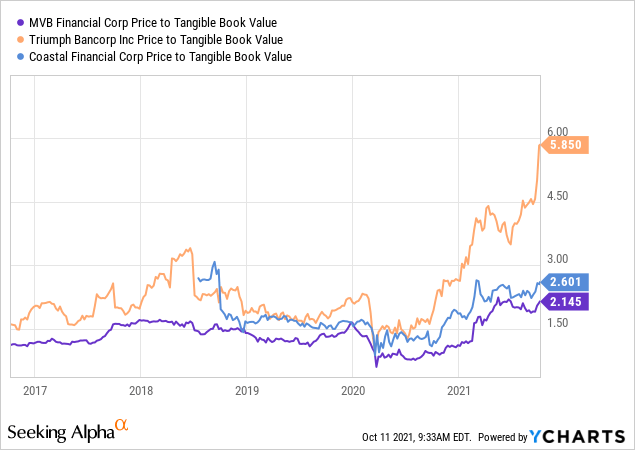 Strong Momentum Is Likely To Continue
When looking back at second quarter results, the reported performance was a little ahead of consensus expectations as negative provisioning and a stronger top-line more than offset an elevated expense base. Recall, the expense base increase is actually just the bank investing in itself by hiring additional talent. Core loan growth trends were once again stronger than what I originally had anticipated too, and I think there is solid momentum (from a growth perspective) heading into the back half of the year and into 2022.
Overall, I remain positive on the name and believe the strong second quarter results paint a clear picture of the long-term potential of the franchise and its more recent investments. I continue to think parts of the story are underappreciated, particularly with the ongoing build-out of its gaming ecosystem.
When digging a little deeper into its GRAND product (i.e., the gaming ecosystem), which provides lower cost, faster payments through a dedicated wallet for gaming companies, one would see that it helps facilitate the transfer of funds across various integrated platforms nearly instantaneously. An important aspect of GRAND is that it allows for the deposits to remain within the bank in its digital wallet relative to the would-be gambler moving funds in-and-out of a particular gaming app to an outside bank account. Said differently, greater usage will help with the retention of non-interest-bearing deposits stay with MVBF rather than multiple banks all being a small piece of the puzzle.
In my opinion, this is the crux of the entire investment thesis, MVBF has the right "mouse-trap" to gather nearly free deposits. In turn, it can lend those low-cost deposits out and retain a higher margin (and profitability level). The bottom line here is I think the recent investments along with its ability to adapt to the changing landscape has MVBF well-positioned for meaningful growth over the next several years.
While MVBF has experienced exceptional growth in its core FinTech (gaming deposits) over the past year, I would note the slightly slower pace of growth in the second quarter was somewhat related to timing and seasonality of onboarding new states that recently legalized sports betting. That said, I continue to see a tremendous opportunity for further growth within this segment as more states allow for sports betting, and I expect to see the pace of growth bounce back in the third quarter as the football season has recently started.
One thing to point out, the expense base increased to ~$23M (or +20% linked quarter), but the increase was driven by 53 new hires which were part of the build-out of the FinTech vertical. Going forward, I expect the expense base to move a higher in the third quarter as these recent hires will see one full quarter of employment. However, as we work into the fourth quarter, I am expecting a fairly stable expense base for the foreseeable future (using whatever 3Q is as the new base).
Concluding Thoughts
When it comes to FinTech being a source of growth, I think investors would be wise to ask more questions than usual. I think everyone realizes that buzzwords can carry a lot of attention, but don't necessarily mean anything.
Since "FinTech" is likely the future of the financial landscape, it makes sense to really understand what each bank is doing. More importantly, determining whether it is an "area of growth" or the "entire strategy for growth" is likely to differentiate eventual winners from losers.
MVBF is a solid FinTech bank, in my opinion. The bank is not looking to drastically change how banking work, but rather it is looking to enhance the deposits portion of the puzzle. It still operates with the typical dueling forces of matching loans with deposits, the only difference is that it looks to use technology as being the core deposit gathering mouse-trap.
While I am optimistic on the bank, I would note that most FinTech banks typically carry a higher valuation (as seen in the chart above). With that elevated valuation level, comes more volatility. While I think this bank would be a solid addition to most long-term, appreciation-focused portfolios, I think would-be investors need to be comfortable with higher levels of short-term trading volatility.