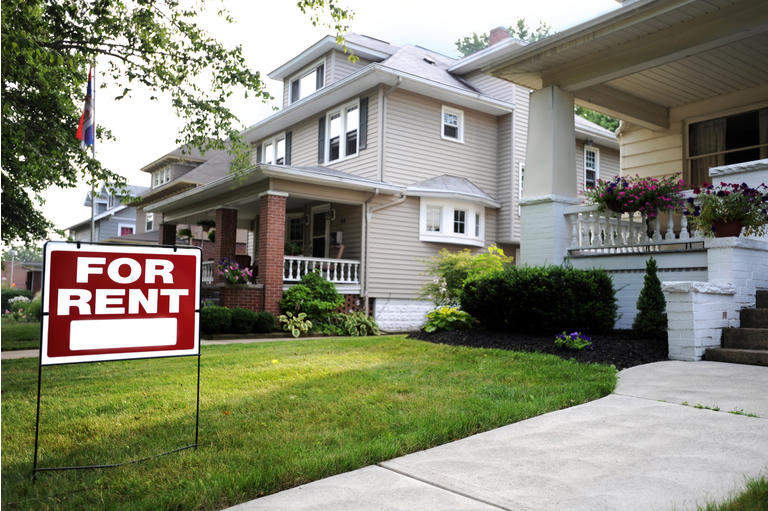 Real estate is a proven asset class for generating high levels of passive income and building long-term wealth. There are many reasons for this, including:
1. Limited Supply
As the saying goes: "buy land, they aren't making more of it." There is only so much real estate, and as the currency supply goes through the roof, the value of land - and in particular single-family rental property - is bound to continue surging higher: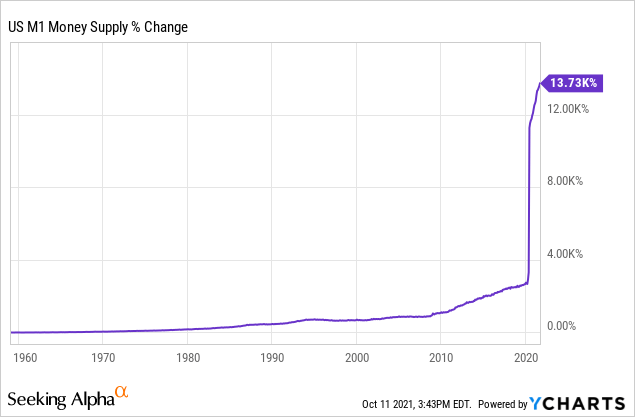 2. Essential Service
Everyone needs a roof over their heads. As a result - no matter how advanced our technology gets - it is very unlikely that we will be able to innovate our way out of needing housing. As a result, buying rental properties is considered a pretty conservative long-term investment.
3. Cash Flow
While investing with the hope that something will be worth more tomorrow than you paid for it today is generally very speculative, as it depends on the wildly unpredictable sentiment of the market, investing in cash flowing assets is much more of a sure thing. This is because - regardless of the market price for the asset - as long as you do not need to sell it, if it generates cash flow, you are getting a tangible return on your investment that you can live off of indefinitely and can therefore be agnostic to the market price of your asset. Rental properties are excellent at generating cash flow with each rent check you receive.
4. Appreciation
While cash flow is a more stable and reliable source of return on investment, appreciation is still nice, obviously. Even if you never sell your rental property, it is still nice to have something of significant value that you can pass on to your heirs. Real estate has proven to be an exceptional inflation hedge over the long term and - in the right markets - has significantly outpaced inflation in terms of appreciation. Therefore, real estate can provide the best of both worlds: consistent, attractive cash flow to pay the living expenses as well as long-term appreciation to not only preserve, but grow your wealth.
5. Depreciation
Thanks to advantageous tax laws in the United States, real estate also has great tax advantages. You can depreciate your property each year which can essentially allow you to enjoy a tax write-off from your cash flow each year in order to delay paying taxes on it. Then, if you sell your property, you can use a 1031 exchange to avoid having to pay capital gains tax on the property assuming you reinvest the proceeds into another qualified asset in a timely manner.
6. Leverage
Real estate also benefits from the easy use of cheap and conservatively structured (i.e., non-callable) leverage that can significantly enhance both cash flow and appreciation, assuming the market moves higher over time.
While this all makes rental property sound like the best possible investment, there are actually several reasons why high yield stocks (SPYD) (DIV) are even better investments:
#1. Better Risk-Adjusted Cash Flow
While with aggressive leverage and through purchasing higher risk assets you can generate double-digit cash flow return rates on rental properties, there are several opportunities in publicly traded high yield stocks that offer similar or even better opportunities. For example, by purchasing highly diversified, excellently managed, and BBB+ credit rated midstream businesses (AMLP) like Magellan Midstream (MMP) and Enterprise Products Partners (EPD), you can generate distributable cash flow yields between 10% and 13%. These businesses own tens of billions of dollars worth of assets with massive geographic diversification, play a mission-critical role in our nation's energy supply chain, and derive virtually all of their cash flow from fixed-fee take-or-pay contracts with mostly investment grade counterparties.
To achieve a similarly stable risk profile with rental properties would require acquiring far more rental properties than the typical investor can afford. Furthermore, the massive amount of leverage or amount of property risk required to generate comparable cash flow yields on equity would put the risk profile of rental property investments considerably higher than what is enjoyed by these midstream blue chips.
#2. Better Risk-Adjusted Returns
In addition to merely generating superior risk-adjusted cash flow, high-yield stocks also typically generate superior risk-adjusted returns.
In a recent study published in August 2021, investments in publicly traded real estate investment trusts (REITs) (VNQ) significantly outperformed 375 private real estate investment funds by nearly 2% annually.
Other studies by EPRA and Cambridge show similar results: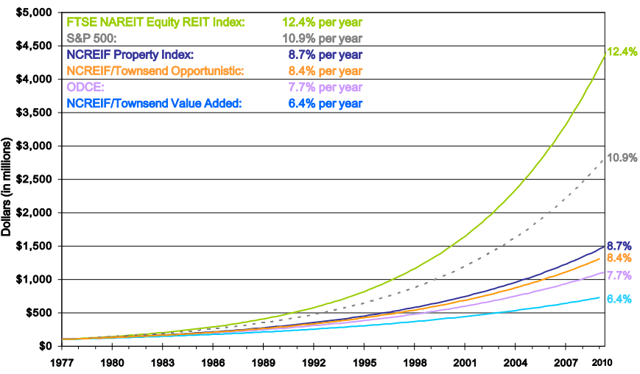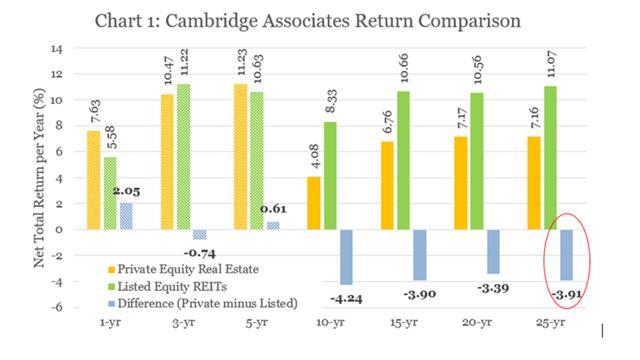 While this may be surprising at first, the reasons are actually quite straightforward. On average:
1. High Yield stocks have greater growth capacity than an individual investor's rental property portfolio.
Given that they are publicly listed, high yield stocks have much better access to capital than an individual private investor, whose access to capital is largely restricted to his own bank account, friends, family, and whatever the bank is willing to lend him. In contrast, publicly traded companies can easily and efficiently generate per-share intrinsic value growth by repurchasing shares when they are undervalued and selling shares when they are overvalued.
Furthermore, given their superior scale, expertise, and access to capital, publicly traded companies are much better positioned to pursue external growth opportunities via developing new assets and/or businesses as well as through mergers and acquisitions. For example, high-frequency trader Virtu Financial (VIRT) is moving aggressively into options and cryptocurrency to drive strong organic growth.
Even publicly traded high yield real estate investments like multifamily REIT AvalonBay (AVB) do this on a regular basis by developing new assets at higher yields than they would get by purchasing an existing stabilized asset. The average rental property investor lacks the scale, access to capital, and know-how to engage in such value add/growth pursuits.
2. High Yield stocks have better management than an individual investor's rental property portfolio
High yield publicly traded companies are run by large and professionally trained management teams with decades of experience and expertise in their target industry. The typical rental property investor is not a full-time residential real estate professional and instead pursues it on a part-time basis.
While this certainly does not preclude individuals from succeeding at rental property investing, it does increase the risks of making a mistake and/or achieving results that are lower on a risk-adjusted basis than ventures managed by full-time professionals with decades of experience.
For example, would you rather have the likes of Bruce Flatt and his team at Brookfield Asset Management (BAM) managing your portfolio of infrastructure and renewable energy assets (BIP)(BEP), or yourself? In 99.9% of cases, I think Bruce Flatt and his team would do a better job. Just look at their track record of absolutely crushing the S&P 500 (SPY):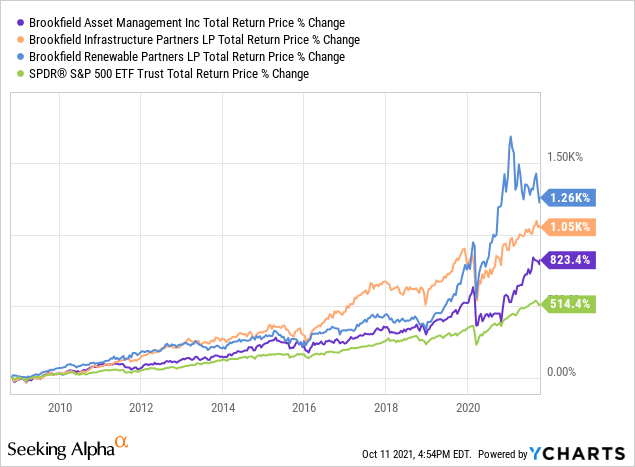 3. High Yield stocks are more cost efficient than an individual investor's rental property portfolio.
Due to the principle of economies of scale, large multibillion-dollar publicly traded high yield companies have much lower management costs than the typical individual investor's rental property portfolio. For example, the G&A is just 0.3% of total assets at Realty Income (O). That would be equivalent to paying an asset management fee of $1200 per year on a $400,000 rental property. However, most rental property management companies charge 6%-8% of monthly rent plus other fees, so assuming a 7% total monthly asset management fee on a property like that which brought in $3,500 in rent would bring the annual G&A to $2,940, or nearly 2.5x what O pays.
Furthermore, large multibillion-dollar publicly traded high yield companies typically enjoy a much lower cost of capital due to their significantly greater diversification, business model strength, reputation of management, and access to public markets compared with individual rental property investors. As a result, high yield stocks typically enjoy much better risk-adjusted use of leverage than individuals using leverage to purchase rental properties. For example, triple net lease REIT W. P. Carey (WPC) recently issued €525 million aggregate principal amount of 0.950% Senior Notes due 2030. There is virtually nowhere that a private rental property investor can access debt at such an incredibly low fixed interest rate that does not mature for 9 years.
Bottom Line
While rental properties are a time-tested and very attractive investing method for retirees looking to combine long-term appreciation with sufficient current income to cover living expenses, we believe they can do better. By skillfully picking a well-diversified portfolio of quality undervalued high yield stocks, you enjoy truly passive, professionally managed investing that can generate better risk-adjusted cash flow and better risk-adjusted total returns over the long term.