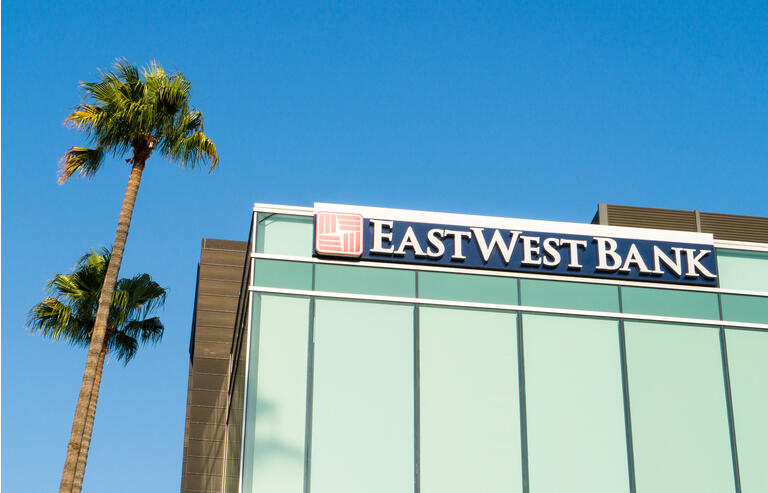 Investment Thesis
Since the third quarter earnings season is quickly approaching, I feel like it is prudent to revisit some of the more popular community banks I have written on in the past. When I was reviewing some of my older investment recommendations, I got the senses that some of the theses were rather stale, especially if it involved a deeply discounted valuation (at the time).
A prime example of this is my previous article on Pasadena, California based East West Bancorp (NASDAQ:EWBC) in which I took a bullish stance. The past article was published on October 1st, nearly one year ago and from the time of publication to today, EWBC has returned nearly 150% (or 5x that of the broader stock market). After a sizable run, it makes sense to revisit the thesis and re-examine the operating fundamentals.
Overall, I continue to feel confident in the company's ability to generate higher than peer loan growth for the foreseeable future, which is distinctive in the current environment where other banks seem to be struggling. In my mind, I continue to believe that EWBC deserves a premium valuation to peers given the expectation of strong loan growth, pre-provision net revenue growth, and a superior return profile.
When looking at the bank's valuation today, one can see from the chart below that it is 2.2x price to tangible book value per share. While not nearly as cheap as it has been in the past few months, when looking at its valuation over the past half decade - it continues to look fairly discounted. While the bank itself has grown in size and profitability, I believe there is more to come which should more than justify a higher valuation. While the bank does has minor headwinds, like a slight uptick in its efficiency ratio, the long-term growth and profitability potential remains better than peers. In my mind, I would not be shocked to see EWBC's valuation multiple approach that of its already set high-water marks (~2.7x).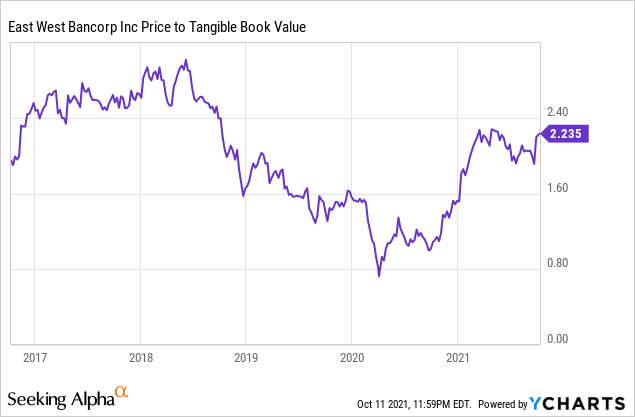 Operational Strategy and Near-Term Outlook
Based on the commentary from the last two earnings calls, it seems like EWBC is committed to generating loan growth across the entire loan portfolio. Fundamentally, I believe that it is increasingly important for momentum in commercial lending to continue as single family loan (standard mortgage loans) growth is expected to soften going forward. From the second quarter call, it sounded like management has made key hires over the last two years, which have bolstered commercial loan growth in California along with adding growth potential in the Texas and Chicago markets.
As the company grows into its larger asset base, there appears to be no change in the strategy to grow loans at a faster pace than peers. In turn, I view this to be based on a greater potential penetration of EWBC's core Asian American customer base and cross border business. Moreover, investments into the treasury management platform and wealth management have resulted in a greater value proposition to customers and should lead to an increasing wallet share going forward. Equally as important, since it is based on existing customers, the bank should already know the credit profile and understand the potential lending risks.
In fact, EWBC was one of the few banks to raise loan growth guidance in the second quarter, increasing the full year 2021 loan growth guidance from 8% to 9% - 10%. If third quarter loan growth continues to remain robust, I believe there is a strong likelihood of EWBC achieving loan growth at the top end of the range. Additionally, the momentum in commercial growth gives me confidence in a sustainable level of higher than peer loan growth in 2022.
Also, EWBC is one of the more asset sensitive banks and is likely to see a better than peer outcome when rates do eventually rise. In the event of an immediate 100 bps rate hike scenario, net interest income is estimated to increase 7.4%. In fact, the loan portfolio doesn't have any material amount of loan floors in place, which should give EWBC greater leverage with rising rates compared to other banks. On top of that, stronger C&I loan growth should lead to more operating deposits which are less rate sensitive compared to retail CDs.
Turning to expenses, the adjusted expense growth guidance of 5% in 2021 is largely related to higher employee compensation and bonus accruals from higher loan production, which is a welcomed trade-off for long-term investors.
Historically, EWBC has been able to achieve a much lower efficiency ratio compared to peers with an average of 45% since 2010, compared to the banking average of 55%. While this is mostly attributed to a lower proportion of fee income generation compared to peers, the company's ability to deliver higher loan and revenue growth is a more important factor of efficiency ratio stability and improvement.
While fee income is not a major driver to the shares, the company has made continuous investments in technology and products over the years that are coming to fruition through total fee income growth. In particular, improvements in the treasury management platform has provided more opportunities to attract customer deposits from larger competitors. While not a thesis changer, I believe that deposit account fees and wealth management have the most upside with an increase in customer wallet share.
Concluding Thoughts
When one looks to the next five years of banking, I feel like EWBC is planting the seeds for what will be better than average growth with limit amounts of credit risk. While the bank today is more expense than in my last article, I continue to view the shares as being a solid investment opportunity.
Since the bank is so large but also niche focused, its hard to see a major acquisition causing a potential downshift in the stock price. Also, since the bank has seen solid growth rates over the past few quarters, while peers have struggled, its hard to image management changing from a strategy that is clearly working wonders.
While the bank does carry increased "geopolitical noise" risk, I don't view it to be subject to any major national agenda pivots. In fact, whenever there is geopolitical sabre-rattling, the stock typically does trade lower and opens the door to "buying the dip". Since there has been no subsequent shift in operations post the geopolitical grandstanding, the stock has typically performed well in the days and weeks after the dust settles. In my mind, this bank is a great long-term investment and should fit will with most any appreciation focused portfolios.