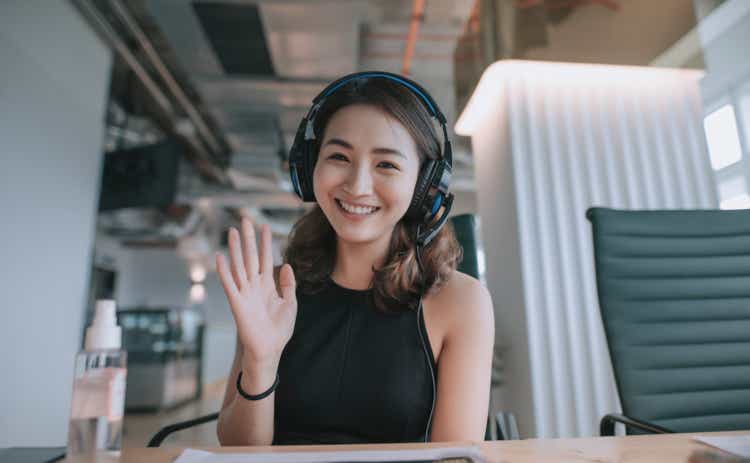 At the end of September, Zoom (NASDAQ:ZM) announced that it has terminated its merger agreement with Five9 (FIVN). This came after its stock showed some of its weakest relative performance in recent times. Has its "zoom" upwards come to an end? In this report I look at what's ahead for ZM as it moves beyond this failed merger agreement. I explain why I am upgrading the stock to a buy rating in spite of widely expected deceleration in growth rates.
Zoom Stock Price
ZM is trading around $257 per share, down around 40% from all time highs.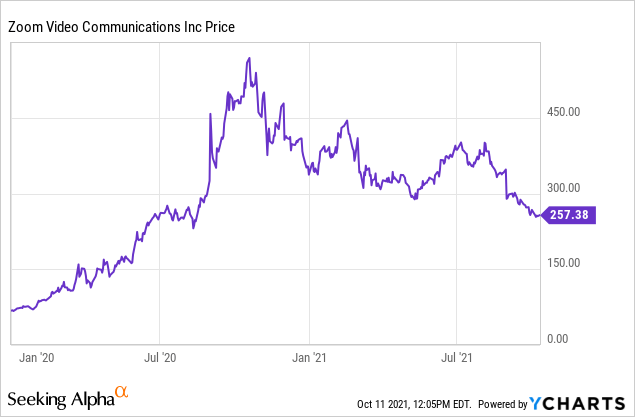 As a long term investor, I am typically unfazed by near term volatility (though I am not a shareholder in ZM), but the falling stock price has had implications for its underlying business because it has led to a fall out in its merger agreement with FIVN.
Why Did Zoom Want to Acquire Five9?
At first glance, the merger with FIVN would have made a lot of sense. ZM would have been able to significantly increase its total addressable market ('TAM') to at least $86 billion and that is even prior to accounting for TAM from automation.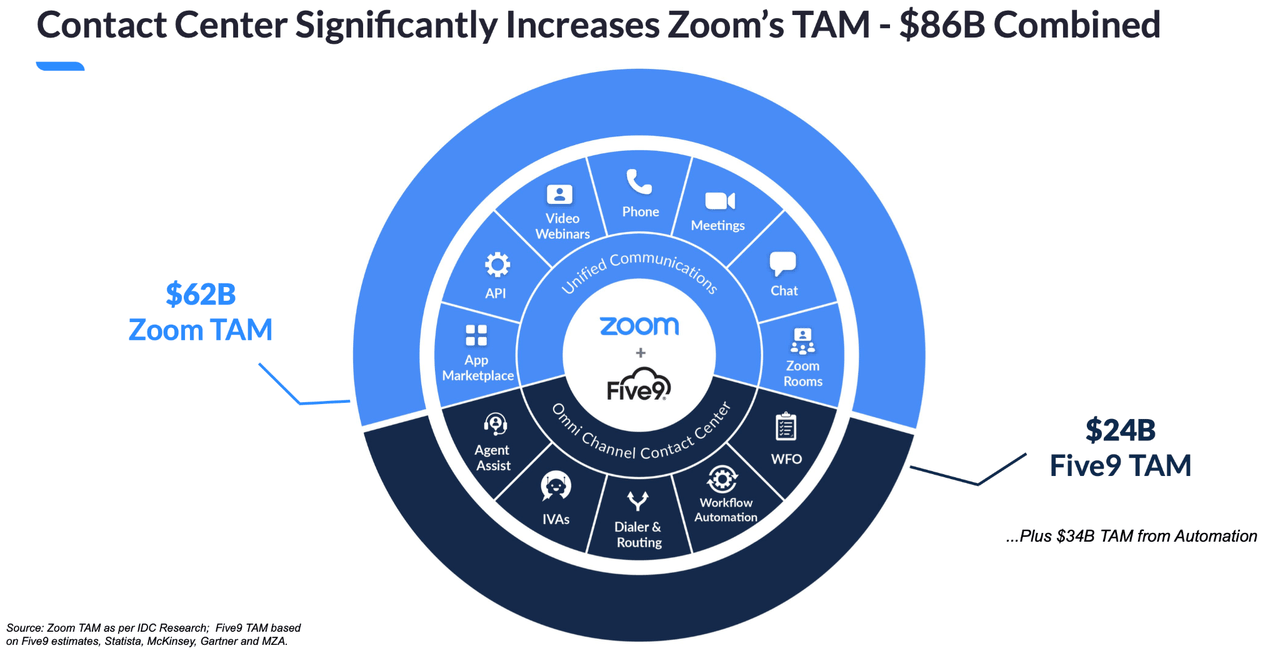 Together, the combined company would have been a more comprehensive omnichannel engagement platform offering, which would have likely helped accelerate growth as compared to the individual companies themselves.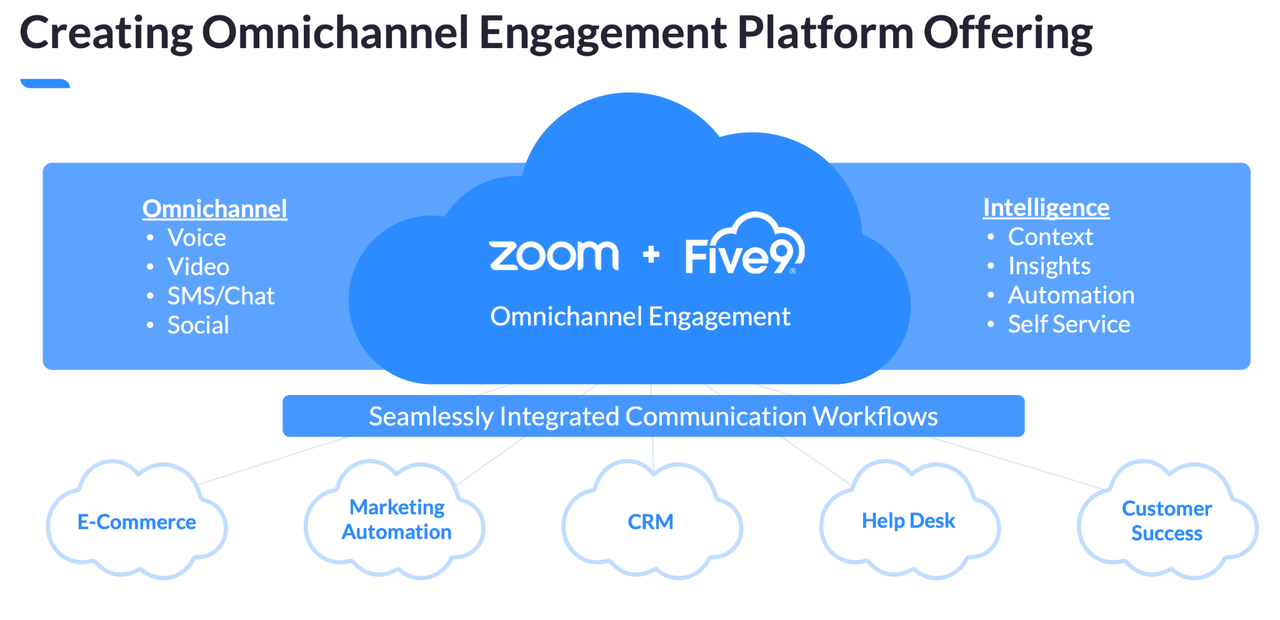 (Zoom and Five9 Presentation)
Unfortunately, the merger was just not meant to be. When the merger was announced back in mid-July, ZM traded at a material premium to the price to sales multiple of FIVN. That premium has all but disappeared as ZM stock performed quite poorly.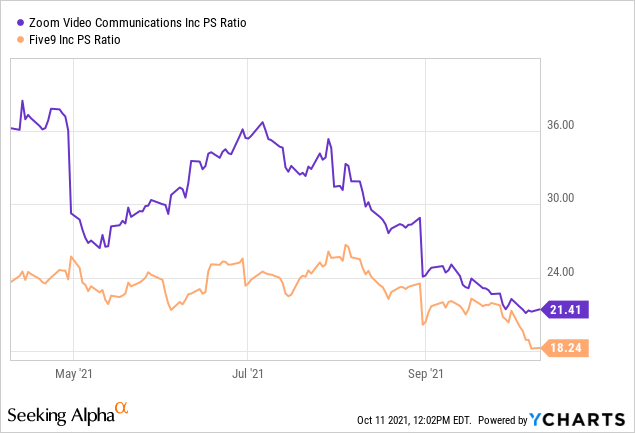 What's Next For Zoom After Five9?
I wouldn't count ZM out just yet. Even without FIVN, ZM has performed quite strongly, having grown its topline by a triple digit compounded rate over the last three years and even breaking through with healthy profit margins.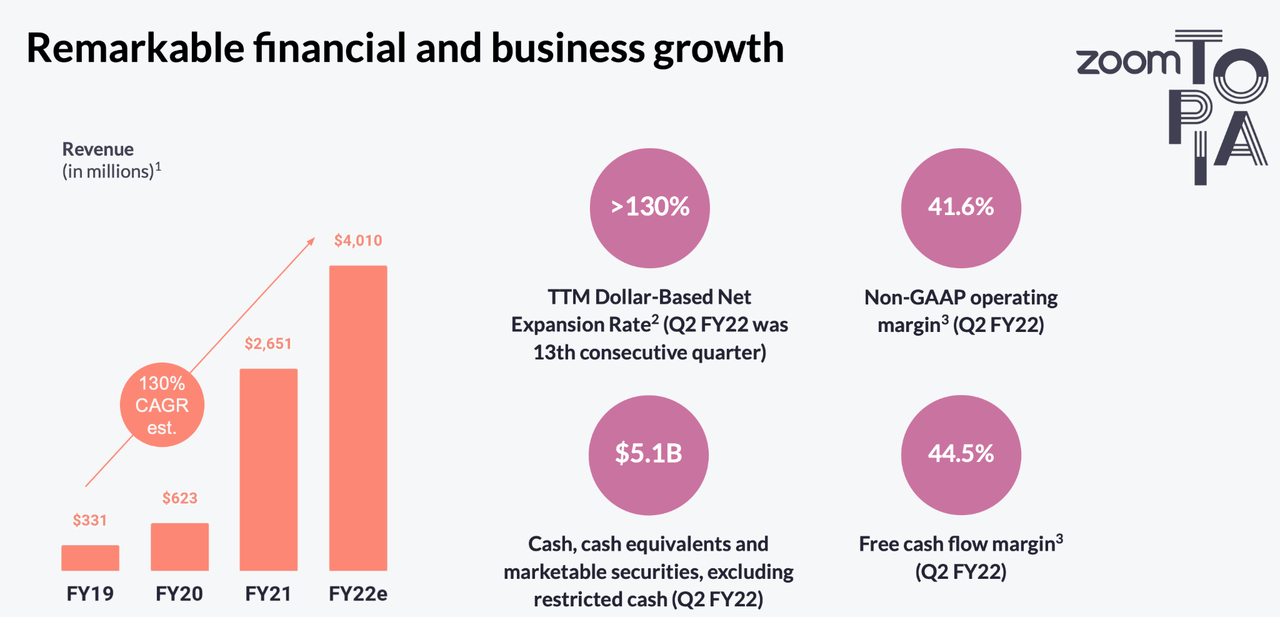 (Analyst Day Presentation)
But perhaps investors are wondering what the future might hold as we move beyond the pandemic? I expect growth to slow down significantly as it is unreasonable to expect forward growth that resembles anything like that of the past. However, I consider ZM to be the de-facto leader in the video conferencing space, and that distinction should enable it to continue churning out healthy growth rates. ZM expects future growth to come from three pillars. First, ZM makes it easy for third party integrations to use the ZM video conferencing tool within external apps.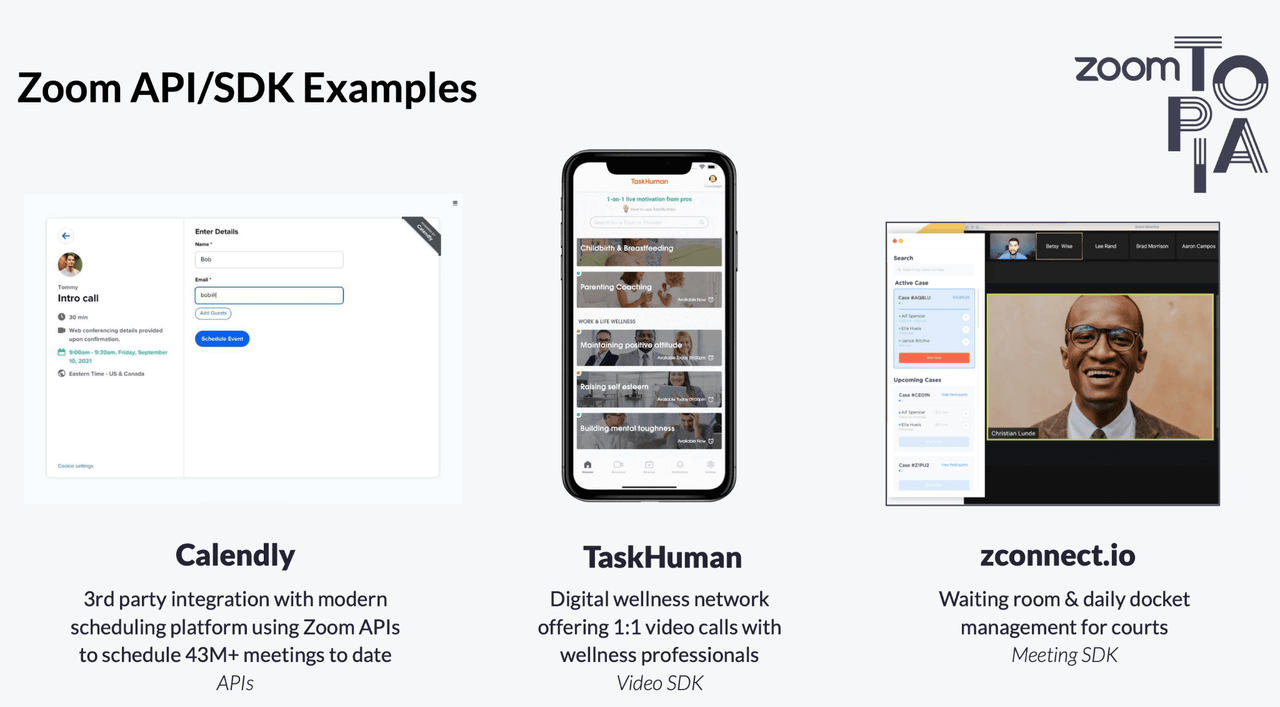 (Analyst Day Presentation)
Second, there are also "Zoom Apps" which refer to external applications being available within Zoom video conferences.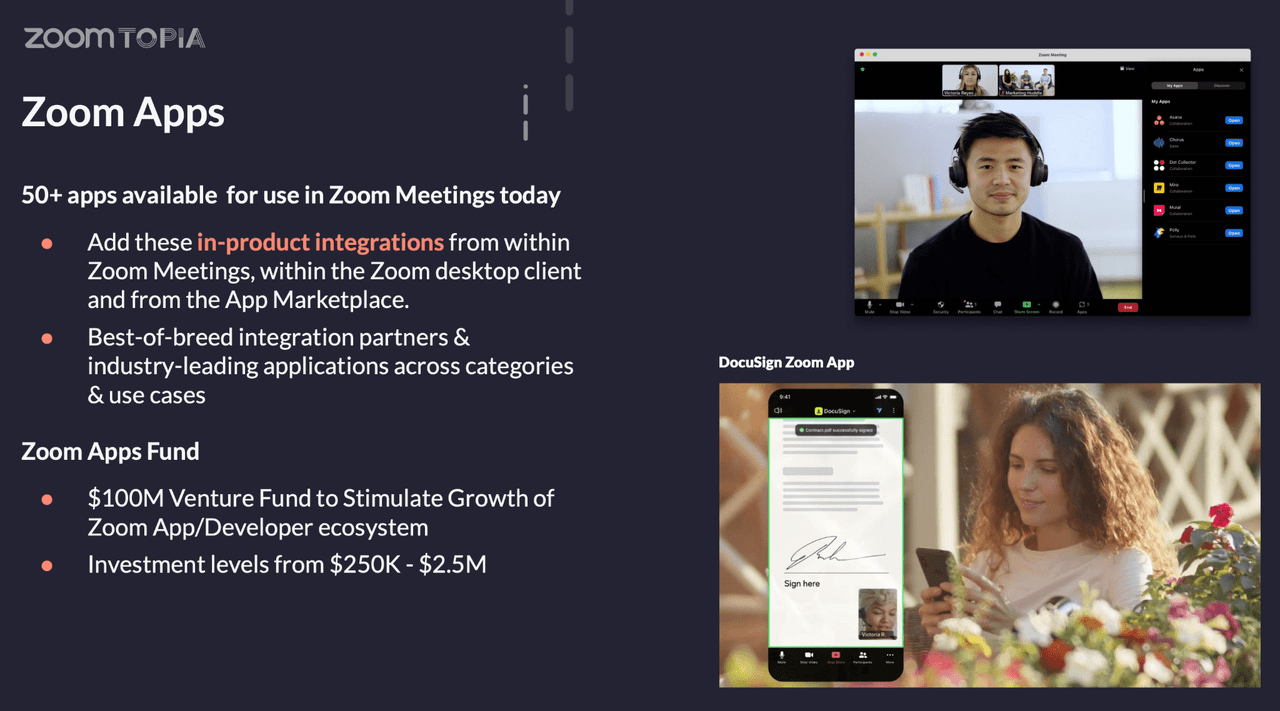 (Analyst Day Presentation)
Today, there are over 1,500 third party integrations and 50 apps available for use within Zoom meetings. ZM aims to build on those numbers through the formation of a $100 million venture fund.
Finally, ZM expects future growth from the ability to upsell its Zoom Rooms and Zoom Phone products, which have minimal penetration as of present day.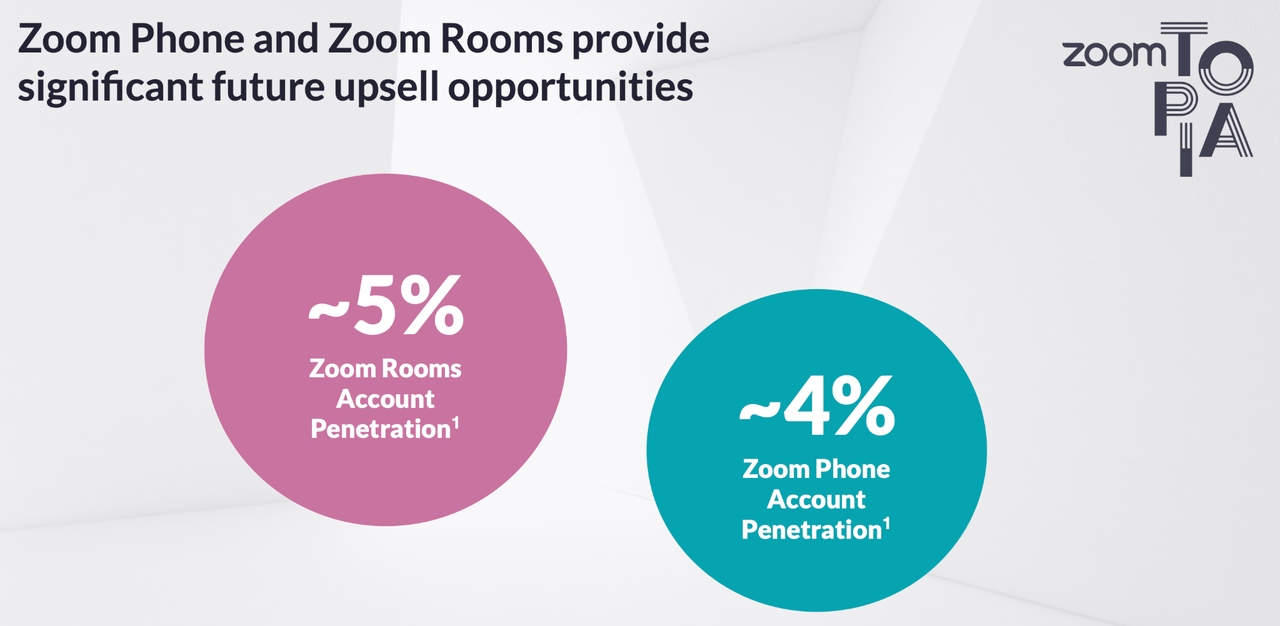 (Analyst Day Presentation)
Is ZM Stock A Buy, Sell, or Hold?
Putting it all together, Wall Street consensus calls for healthy double-digit growth over the next decade.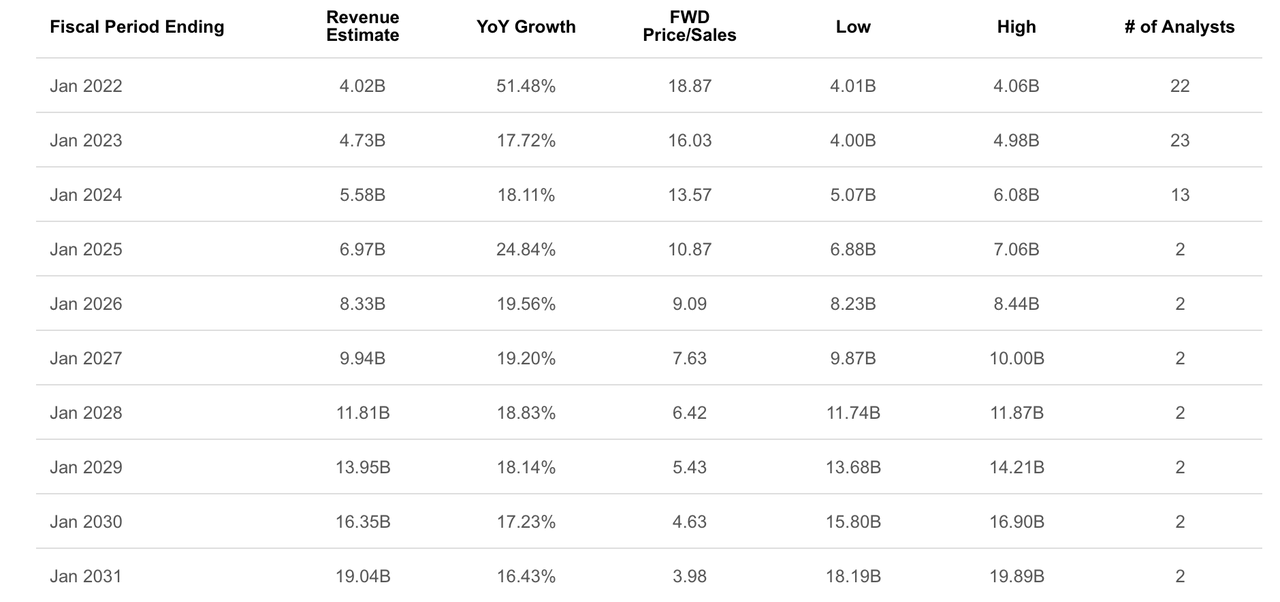 It helps that ZM already has healthy cash flows - the latest quarter saw the company generate 28% net margins (that is after adjusting for gains on strategic investments). The company is trading at roughly 71x annualized earnings. I previously had a neutral stance on the company. The stock has since fallen around 9%, but I am now changing my view. Pandemic or no pandemic, video conferencing is here to stay, and ZM should be able to capitalize on that secular growth story. This isn't a company facing secular headwinds, and that is an important distinction in assessing the risk profile of the stock. If we take Wall Street consensus at face value, then ZM should earn around $19 billion in revenues by the end of 2030. I assume 40% long term net margins, which seems conservative in light of the 28% present-day net margins. While there may be some shareholder dilution from equity-based compensation, I expect that to be more than offset from annual earnings. To be conservative, I do not assign any value to the $5 billion of cash on the balance sheet. That suggests that the current stock price represents a 10x earnings multiple in just over nine years. I wouldn't be surprised if ZM traded between 25x to 35x earnings, especially if it is really growing at a 16% clip in 2030. That would place ZM at anywhere between $642 and $900 per share, representing annual returns between 10.7% and 15%. Downside risks to this estimate are an inability to achieve estimated growth rates, while upside risks come from upside to my estimate for long term margins. ZM is not the cheapest tech stock even after its steep drop from all time highs. However, it looks priced to deliver satisfactory returns in light of what appears to be one of the lower risk growth stories available today.