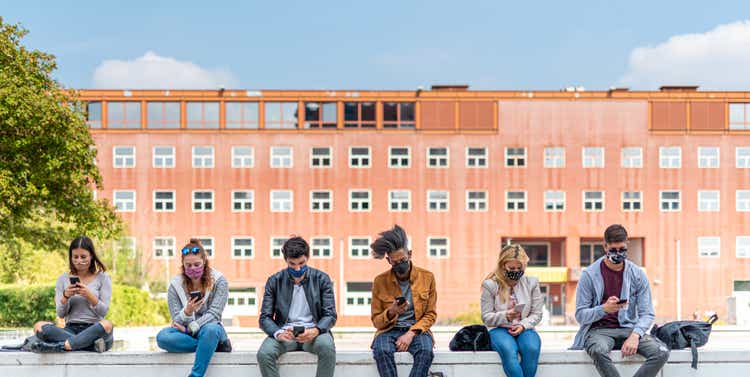 Introduction: Two Hands
I loved college. I loved learning in communal settings and expanding my mind. Just for fun, I minored in philosophy. The classes, though challenging and often esoteric, fed into a deep desire in me to understand, to flex my mental muscles, to form logical progressions and rational arguments.
One of my philosophy professors once said, "If there's an 'on the one hand,' there has to be another hand." If I remember correctly, he said it in reference to a student who mentioned the phrase "on the one hand" in a presentation but never said "on the other hand."
What he meant (I think) is that it is not enough to understand your own argument. You must be aware of the fact that a contradictory argument exists and understand it as well as you understand your own position. That is not an easy task for anyone, myself included, because our minds are prone to intellectual laziness, confirmation bias, and a host of other mental behaviors that feel right but may not be.
For years after I graduated college, I thought philosophy was utterly useless in my career, albeit a lot of fun at the time. But today, I look back on it and realize that it has made me a better investor, precisely because it taught me that there is always an "other hand" to consider.
Thesis: The "Other Hand" Is More Compelling
I'm reminded of a debate that has been going on in my own head of late about a certain real estate investment trust.
The debate concerns American Campus Communities (ACC), a REIT that develops and owns on-campus apartments and dormitories at universities across the United States.
On the one hand, student housing is generally a stable, recession-resistant asset class (aside from the occasional pandemic, of course), and the combination of a robust rebound in in-person enrollment and supply constraints should result in strong growth in occupancy and rental revenue for a number of years.
On the other hand, like so many other commercial real estate sectors, student housing is seeing cap rates compress as institutional investors flood the space with capital. What's more, the favorable demographic backdrop for college enrollment should peak in 2025 and decline thereafter, and a full recovery of Chinese student enrollment could take a very long time, if it ever happens.
So which of the "hands" is more appealing as a potential investor in ACC — the "one hand" or the "other hand"? Well, if ACC traded at a sufficiently low valuation, the bullish "one hand" case would be compelling. But since ACC's valuation is rather rich, I find the "other hand" more compelling.
Let's dive in to get a fuller picture of ACC right now. Perhaps you will disagree with my assessment.
Student Housing Emerging From COVID-19
Let's take a brief tour of ACC's beautiful campus — er, portfolio.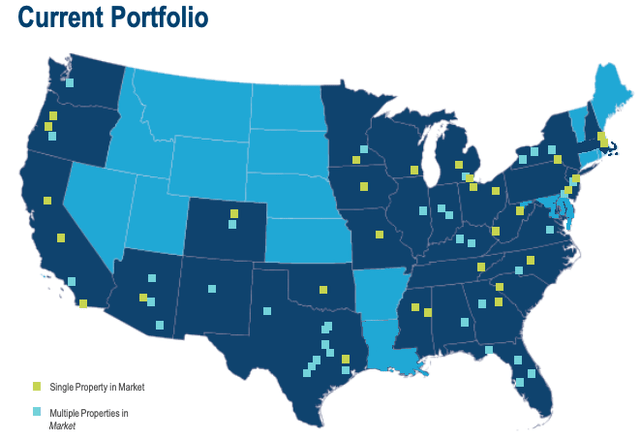 Source: ACC NAREIT Presentation
ACC owns student housing properties at universities all over the country. Over 90% of net operating income is derived from properties on or directly adjacent to campus.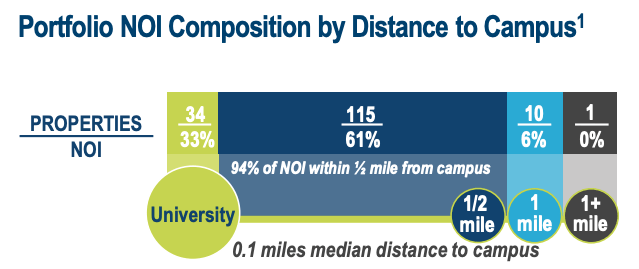 Source: ACC NAREIT Presentation
Last year witnessed a substantial drop in university enrollment due to pandemic-related social distancing, and many of the students that were enrolled had no need for on-campus housing as most of their classes were online. Occupancy at on-campus housing sunk to 67% in the Fall of 2020.
In ACC's portfolio, during the worst period of the pandemic, rent collection hovered around 94-95%, while same-store revenue and FFO per share plunged by double-digits.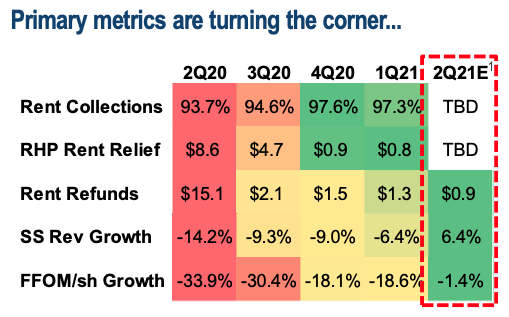 Source: ACC NAREIT Presentation
This year, however, the situation has reversed. College students want the normal college experience, and enrollment for in-person classes has surged for the 2021 academic year. Total applications surged 11% year-over-year, while total unique applications (because applicants can apply to multiple schools) rose 2.3% YoY.
In general, life is returning to normal on college campuses, especially the ones ACC serves. I attended a packed-out SEC football game recently. If not for stadium staff wearing masks, the experience would have lulled me to forget COVID-19 ever happened.
Management recently reported that Fall 2021 lease-up has been robust enough to increase ACC's modified FFO ("FFOM") per share guidance by 4% from a midpoint of $2.00 to a midpoint of $2.08.
On top of that, management expects another 12-15% rise in FFOM per share in 2022. That would put ACC's 2022 FFOM around $2.36 per share and its price-to-2022 FFOM (as of this writing) at 21.6x.
Universities are now facing a student housing shortage. The Fall of 2022 is expected to see the lowest amount of new student housing units completed in over a decade.
Moreover, the supply of new off-campus housing, which competes with on-campus housing to some degree, is expected to fall to its lowest level since 2011 in 2022.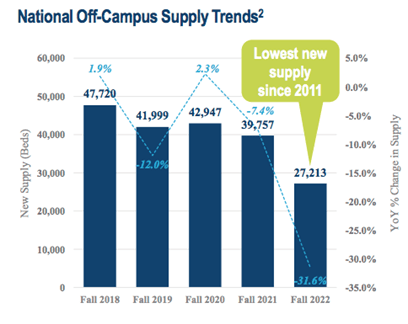 Source: ACC July Presentation
In order to expand or upgrade its on-campus housing stock, many universities will choose to increase their partnership with private companies by offloading some of their properties to them.
This backdrop should prove beneficial to ACC, which partners with universities to develop and manage on-campus housing. Even if it didn't lead to additional development projects or acquisitions, though, it would surely boost rent rates at ACC's existing properties.
Management has issued guidance for revenue growth between 5.1% and 7.6% and occupancy between 92% and 94% for the 2021 academic year (Fall 2021 through Summer 2022). But COVID still lingering, and some students (or their parents) are still reluctant to return to compact dormitories. ACC expects to see a fuller recovery in occupancy in the Fall of 2022.
Lastly, I would be remiss not to mention that ACC's cash flows are remarkably stable and recession-resistant since college enrollment tends to rise during economic downturns.
On The Other Hand...
There's always an "other hand." In this case, I'll make two simple points: one demographic and the other about international relations.
US college enrollment is facing a demographic cliff. You do not need to understand arcane philosophy to understand this demographic problem. All you need to do is look at US births by year and think 18 years ahead.
US births hit a peak in 2007 at 4.32 million but began to decline fairly steadily thereafter. After 2015, the decline really began to accelerate. By 2020, total US births had slumped to 3.6 million, down 4% from 2019's number.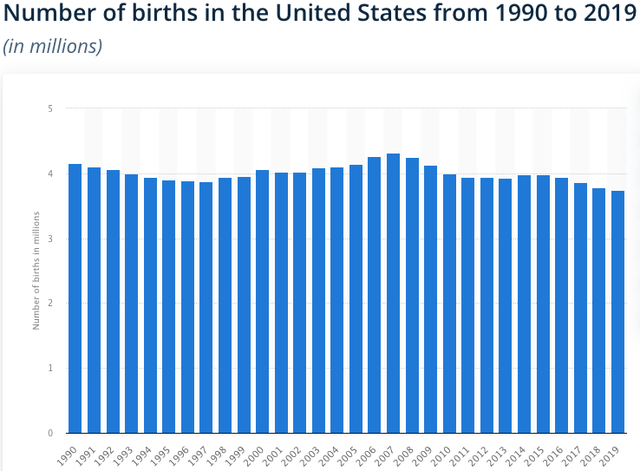 Source: Statista
What is 2007 plus 18? Answer: 2025.
Sure enough, a report recently put out by the Western Interstate Commission for Higher Education projects that collegiate enrollment should peak in 2025 and decline thereafter until at least 2037. But as long as the birth rate continues to fall, the decline in college enrollment should continue to extend.
Here's a projection of the forecasted growth and decline of college enrollment in various regions of the US from a 2019 study: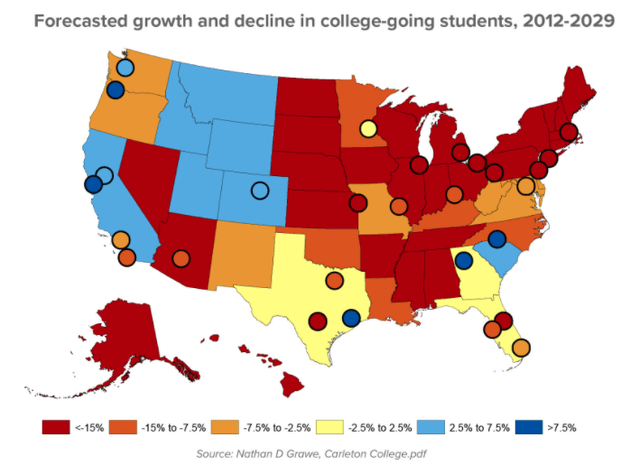 Source: The Looming Higher Ed Enrollment Cliff
To quote the study:
Many higher ed institutions will face declining or stagnant student enrollment beginning in about six years, a reality which will require a thoughtful, strategic approach to ensure the viability and sustainability of those institutions.
And then there's the increased competition from online degree programs (perhaps exacerbated by the pandemic) to think about. To quote a recent article from Inside Higher Ed:
Enrollment in online programs has continued to increase while overall higher ed enrollments have declined each of the past dozen years.
Now consider the eroding relationship with America's largest importer of higher ed students: China.
China is by far US universities' largest source of international students, representing 35% of foreign enrollees at American universities during the 2019-2020 school year, according to Fortune Magazine. But the number of Chinese students studying at American universities declined by one-fifth for the 2020-2021 school year.
Despite a 9% YoY bounce in applications from all international students this year, Chinese student applications declined by 18%. This is largely attributable to eroding relations between the US and Chinese governments. To quote Fortune:
The waning interest from Chinese students is a result of U.S. visa restrictions on Chinese students, an increase in anti-Asian racism in the U.S. amid the pandemic, and rising tensions between the U.S. and China.

...In May 2020, former U.S. President Donald Trump banned Chinese graduate students in fields like science and technology with ties to the Chinese military from studying at U.S. universities. American officials allege that such students may pose a national security threat and could steal state secrets from the U.S. President Joe Biden's administration has continued to impose Trump's order.

...The ban targets only a small number of students, but it sends a message that the U.S. is no longer a welcoming place for Chinese students.
Is this a temporary, pandemic-related setback? There's some evidence that it is more of a sea change. Here's Rebecca Tan writing for the Washington Post:
Many families are already switching their children from the educational track that prepares them for U.S. college applications to the one that girds them for China's rigorous gaokao exams, tutoring agencies say. Education firms have ended classes taught by foreign teachers amid a wave of new regulations. And last week, Shanghai banned English tests for elementary school students, sending some parents into panic over whether English language skills were being deprioritized.
And by the way, as if American demographics look poor for the future of US universities, Chinese demographics are worse. The Chinese birth rate has fallen every year since 1988. And if the current real estate crisis leads to a drop in Chinese consumption, then it would likely also spur a drop in Chinese consumption of American higher education as well.
It should go without saying that fewer American-born 18-year-olds and Chinese students will likely result in lower demand for student housing.
Bottom Line
ACC is currently trading at 24.5x 2021 FFOM and 21.6x 2022 FFOM.
The two questions in my mind are:
Will ACC experience enough growth in the next four years to make up for the likely stagnation or slight decline in demand for its housing thereafter?
Is the valuation attractive given the complex mix of short-term strength and probable long-term weakness?
The way I would answer both of those questions is, "No." I do not think that ACC will experience enough growth in the next four years to make up for the indefinitely decline in demand for its housing properties thereafter. And neither do I think that the current valuation is attractive in the face of a looming enrollment cliff in half a decade.
As such, I choose to avoid ACC. But I am happy to hear the arguments of those more bullish than I. I've presented my own "on the one hand," but perhaps I could be persuaded by someone else's "other hand."