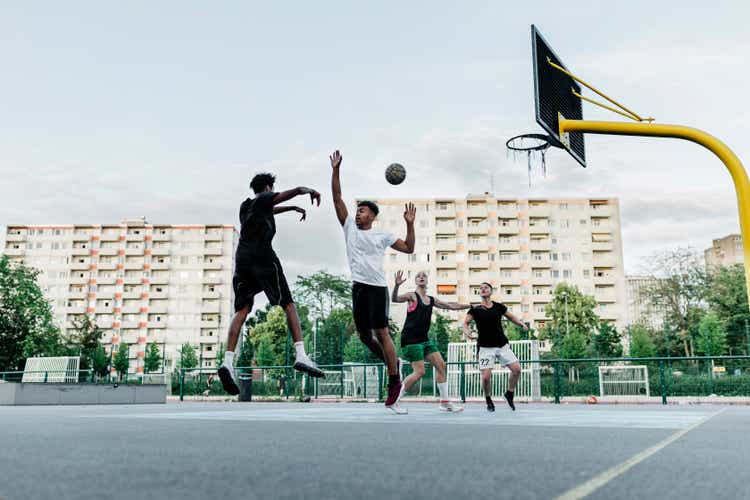 Though the athletic and fashion retail space may not look all that attractive from a macro scale, there are some players in it that are doing exceptionally well. One company that has exhibited attractive growth recently and whose shares are trading at a low level is Hibbett (NASDAQ:HIBB). Though investing in the company does carry with it some uncertainty, if management is correct about its near-term future, then upside potential could be significant. What's more, with negative net debt, the overall risk to shareholders is remarkably low. The worst aspect of the business is dealing with the fact that it exhibits volatility on its bottom line. This can prove unnerving for some investors.
An interesting footprint
At its core, Hibbett is an interesting business for a number of reasons. For starters, you have the fact that it is currently a company in transition. In light of current industry conditions, the company continues to shift in the direction of fashion-oriented products. However, it is focused on all things in the retail and athletic category such as athletic shoes, and other products. The company is also focusing more each year on transitioning to a digital footprint. In fact, in its 2021 fiscal year, the company generated $237.4 million in revenue from digital sales. This was nearly double the $123.6 million generated a year earlier and it is up from just $32.6 million achieved in 2018. From 2018 through its 2021 fiscal year, the company has grown its e-commerce business from 3.4% of its revenue to 16.7%.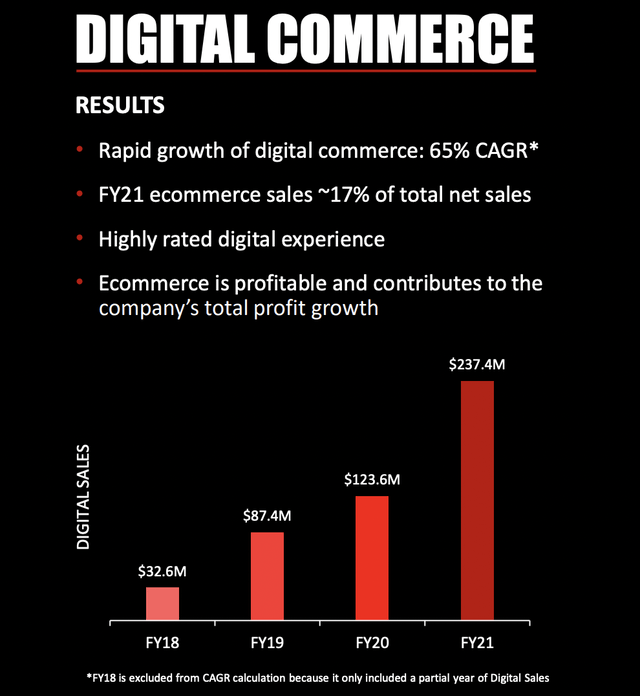 *Taken from Hibbett
Another interesting thing about the company is that it relies heavily on its loyalty members. In all, it has 14 million of these and they collectively account for over 50% of the company's revenue. Not only do they buy online, they also acquire goods through the 1,080 stores the company has located across 35 states. 888 of these fall under the Hibbett brand, with 174 under the recently acquired City Gear name, and the remaining 18 under Sports Additions. Although the company did acquire City Gear, with the deal closing in 2019, it has simultaneously focused on closing certain stores. After peaking at 1,163 locations in 2019, the company saw its store count drop to 1,067 by the end of its 2021 fiscal year. It only increased its store count recently.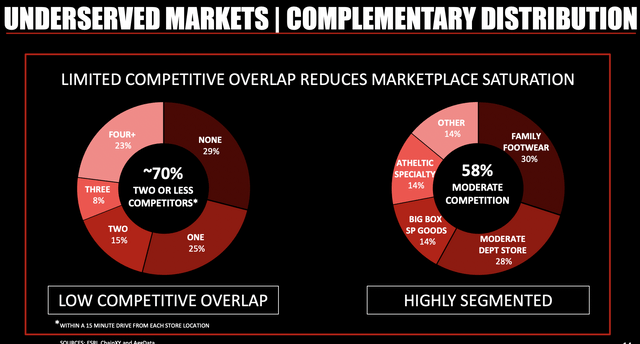 *Taken from Hibbett
Management appears to be engaging in all of these openings and closings and its acquisition is an effort to transform the enterprise into a healthier business. It claims, for instance, that only 232 of its stores are located today in enclosed malls. 32 are freestanding and remaining 816 fall under strip centers. What's more, an impressive 69% of its stores have two or fewer competitors within a 15-minute drive. And 29% have no competitors within this drive. This implies the company is repositioning itself and that it is keeping in mind how it can minimize exposure to competition. Of course, this does come at a cost. Management has also claimed that it largely emphasizes mid-tier markets. This means that it is not getting the best markets that it could, but this is hopefully made up for by the lack of competition and the new store designs the company is rolling out that it claims will soon affect over 100 of its locations.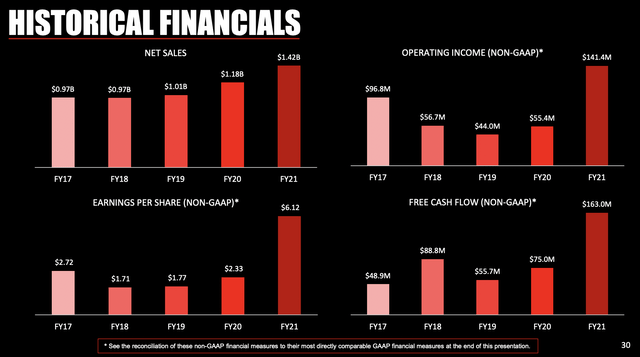 *Taken from Hibbett
Over the past few years, the financial performance of the business has been generally positive. Revenue increased from $0.97 billion in 2017 to $1.42 billion in 2021. Much of this growth came from the 20.3% increase in revenue the company experienced between 2020 and 2021. In addition to benefiting from the surge in digital sales, the company also saw its comparable store sales climb by 22.2%. For the current fiscal year, meanwhile, things are a bit more confusing. If you look at only the first half of the year, then revenue has risen by 30.2% from $711.4 million to $926.1 million. However, this masks the fact that sales in the second quarter of the year declined by 5% compared to the same time a year earlier.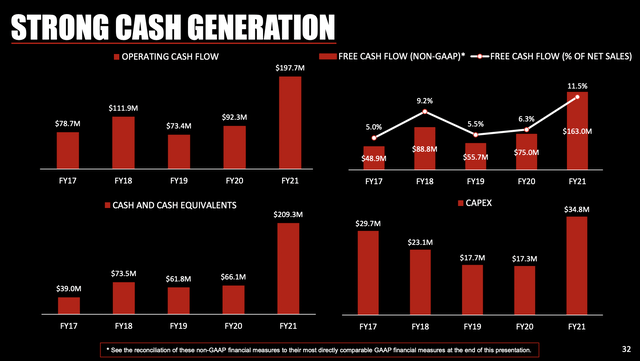 During that quarter, comparable store sales dropped 6.4%, with e-commerce revenue plummeting 20.4%. Management chalked this drop up to a strong quarter in 2021, driven by pent up demand, the closing of stores of its competitors, and the temporary impact associated with stimulus payments aimed at propping up the economy. Fortunately for investors, this decline will likely be short lived. I say this because management is currently targeting sales climbing to $2 billion per year by 2025.
On the bottom line, things have been rather volatile. Profits have been all over the place, but it has been consistently positive. In its 2021 fiscal year, the company reported profits of $74.3 million. This compares to the $27.3 million achieved a year earlier. Operating cash flow followed a similar path as net income. The same can be seen of free cash flow and even of EBITDA. For the current fiscal year, the same kind of volatility and uncertainty continues.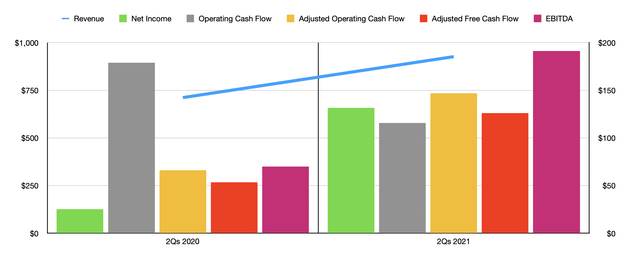 *Created by Author
The company went from generating a net profit in the first half of its 2020 fiscal year of $25.1 million to generating a profit the same time this year of $131.5 million. On the other hand, operating cash flow dropped from $178.9 million to $115.5 million, showing that these two figures do not always go hand in hand. If we adjust for changes in working capital, however, operating cash flow would have risen from $66 million to $146.8 million. This would have brought free cash flow up to $126 million compared to the $53.5 million achieved previously. Meanwhile, EBITDA grew from $70.1 million to $191.3 million.
Volatility makes valuation difficult
When it comes to pricing the company, the process can get tricky because of the volatility. Normally, I would be inclined to go back and look at results from its 2020 fiscal year because of how good its 2021 fiscal year was. However, the guidance provided by management that calls for sales to climb to $2 billion by 2025 leads me to be more comfortable using more recent figures. Using the 2021 figures, the company is trading at a price to operating cash flow multiple of 5.8. Meanwhile, the EV to EBITDA multiple of the company is only slightly higher at 6.4. If we take expected earnings this year of $182.25 million, and try and use that to estimate other profitability metrics, then the company would be trading at a forward price to operating cash flow multiple of 2.4 and at a forward EV to EBITDA multiple of 2.6. Meanwhile, the forward price to earnings multiple of the company looks to be about 6.3.
To put this all in perspective, I decided to compare the company to the five highest rated of its peers as defined by Seeking Alpha's Quant platform. On a price to operating cash flow basis, these companies ranged from a low of 2.9 to a high of 8.5. Using the forecasted figures for its 2022 fiscal year, our prospect was the cheapest of the group, while the 2021 figures resulted in two companies being cheaper than it. I then did the same thing using the EV to EBITDA approach, ending up with a range of 2.7 to 5.4. On a forward basis, Hibbett was the cheapest of the group. And using the 2021 figures, it is the most expensive. It is also worth noting that the company has no debt on hand and has cash of $176.84 million. That significantly reduces the risk profile of the firm.
Takeaway
Based on the data provided, it seems to me as though Hibbett is on a nice growth path. The company seems to be a story of contradictions, as evidenced by the changes in store count, the recent decline in revenue, and the volatility of earnings and cash flows. However, the absence of debt makes the company low risk in nature and shares are cheap on an absolute basis no matter how you look at them. All in all, this makes me believe that Hibbett should be a good prospect for investors who are interested in this space.