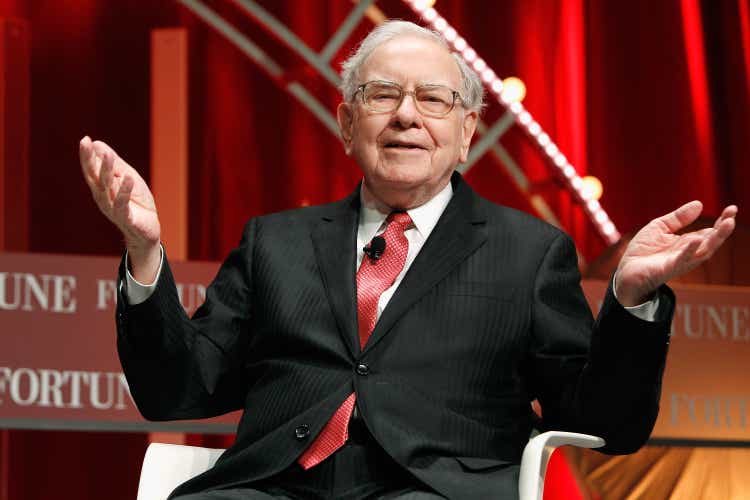 Co-produced with "Hidden Opportunities"
There is a significant advantage to being a dividend investor. We can feel good during times of volatility, knowing that the next dividend payment is right around the corner. Volatility and corrections are a dividend investor's ally. They give opportunities to buy quality yields at a cheaper price.
This is the one thing I can never understand. To refer to a personal taste of mine, I'm going to buy hamburgers for the rest of my life. When hamburgers go down in price, we sing the 'Hallelujah Chorus' in the Buffett household. When hamburgers go up, we weep. For most people, it's the same way with everything in life they will be buying--except stocks. When stocks go down and you can get more for your money, people don't like them anymore. - Warren Buffett
A RetailMeNot survey showed that two-thirds of consumers had made a purchase they weren't originally planning to make, solely based on finding a discount. Mr. Buffett describes the stock market as perhaps the only institution where declining prices or "discounts" cause widespread pessimism and doubts. Emotion is ever-present in the stock market, and it affects amateurs and professionals. Mr. Buffett is among those financial professionals who have proved that staying calm during times of chaos is the key to long-term wealth building.
At times of volatility, dividend stocks add much-needed stability to your portfolio. Not only have they shown to be less volatile during periods of uncertainty, but investors can also collect regular cash payments from these cheaper securities. So with a diversified portfolio of income stocks, investors - particularly retirees - can sleep well at night, knowing that their income is protected, regardless of hurricanes, geopolitical tensions, or which party has a majority in the Senate or the House. This article discusses three picks with an average yield of 7.4%. Let us now examine these picks: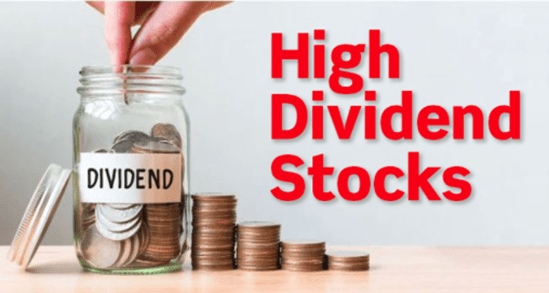 Source: Shutterstock
Pick #1: AbbVie, Yield 4.8%
The healthcare industry is among the cheapest sectors in today's market, and this pandemic has validated its importance for the economy and overall well-being.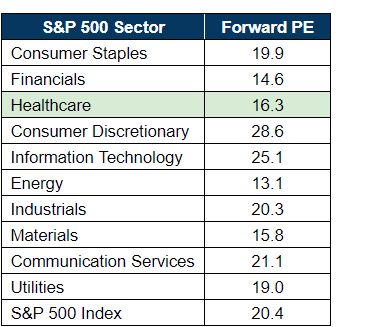 Data Source: Yardeni Research
Over the next decade, we will see money pour into the healthcare sector to improve vaccines, therapeutics, public health infrastructure, and to enhance remote care and real-time monitoring capabilities.
AbbVie Inc. (ABBV) has been a high-yielding superstar in the biopharmaceutical industry since its 2013 spin-off from Abbott Laboratories (ABT). It retains its parent company's dividend history and qualifies as a Dividend Aristocrat. Not just that, but Mr. Buffett has AbbVie in Berkshire Hathaway's (BRK.A) (BRK.B) portfolio. With a position of over $2.3 billion, AbbVie is Berkshire's second-largest Dividend Aristocrat holding.
AbbVie has substantial exposure to immunology, oncology, and neuroscience with a portfolio of more than 30 products and a robust pipeline of 56 drugs in development.
The company's blockbuster drug Humira, which accounted for ~37% of the top line in 2020, began losing patent protection in 2016. As a result of the Allergan acquisition completed in 2020, AbbVie was able to diversify its drug portfolio further and reduce its dependency on Humira. Humira's biosimilars are among the most highly anticipated products, expected to hit the market in 2023. AbbVie projects Rinvoq and Skyrizi as its leading drugs with over $15 billion in sales by 2025. Rinvoq is at its inception stages, with $731 million in 2020 sales.
AbbVie currently yields 4.8%, with a reasonably low payout ratio of 41%. Looking into Fierce Pharma's top pharma companies by 2026 drug sales, AbbVie is among the cheapest and has the highest yield*.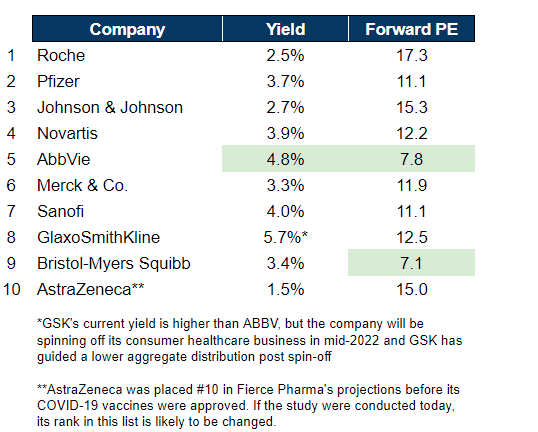 Data Source: Finviz and Seeking Alpha
Looking at this data, it comes as no surprise that the Oracle of Omaha initiated positions in Pfizer (PFE), AbbVie, and Bristol-Myers Squibb (BMY) earlier this year. AbbVie's cheap valuation, robust portfolio, and high yield make it a fantastic addition to a retirement portfolio.
Pick #2: ATAX, Yield 7.2%
America First Multifamily Investors (ATAX) invests in MRBs (mortgage revenue bonds) that are acquired through state housing agencies and are secured by apartment buildings with a "low income" component. Essentially, states are using these instruments to incentivize the construction of low-income housing.
ATAX's largest investment is in these bonds, which sailed through the COVID-19 crisis without a single default. The best part is that the interest from these bonds is tax-exempt, a benefit that is passed through to investors thanks to ATAX's partnership structure. As a result, a portion of the distribution you receive from ATAX will be tax-exempt (approximately 40% in 2018 and 2019, 100% in 2020).
ATAX's other core business is what they call their "Vantage" properties. This is a joint venture where ATAX builds new apartment complexes with their partner, and when the construction is complete, and the apartments are leased, the property is sold. Last year, the company held back from selling these properties to avoid selling at bad prices. With recovery being strong, Vantage properties are now being sold. The latest property sold in August will produce $0.13/unit of CAD (Cash Available for Distribution) in Q3, in excess of its current distribution of $0.11/unit.
The partnership had to reduce its distribution in 2020 due to uncertainty during the early days of the pandemic. But the reduction only lasted three quarters. As Vantage property sales commenced, the distribution was raised to $0.09 and then to the current $0.11 distribution.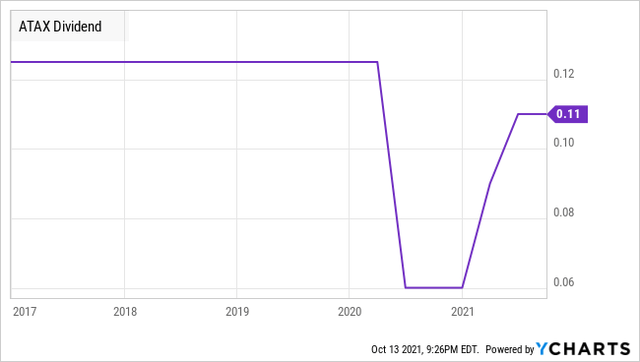 Properties on which ATAX granted forbearance on principal and interest payments in 2020 are now being reported as close to fully leased and have almost at-par collection rates, indicative of a return to pre-COVID situations for the partnership. We expect the distribution also to return to pre-pandemic levels soon.
Recently, ATAX announced the issuance of new equity. ATAX will be selling 4.75 million new units for $6.10/unit. This created a short-term headwind, with the stock dropping 13% since mid-September.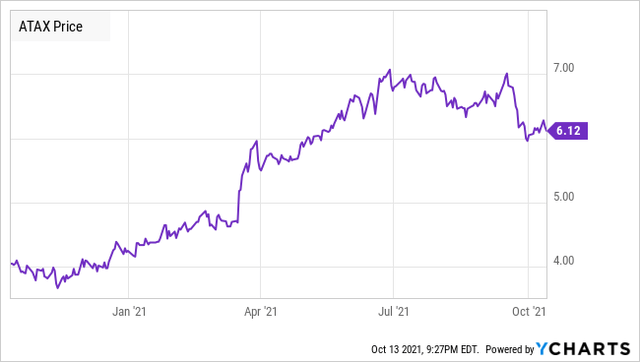 The near-term impact on price is simply a result of the increased supply of units in the market. This is a fantastic buying opportunity. ATAX is raising this equity to grow. They will put this new capital to work, buy more MRBs and build new properties for sale. In the long term, this will result in higher cash flow for all shareholders.
Pick #3: Annaly Capital, Yield 10.3%
Annaly Capital (NLY) is an "Agency mREIT" with a 10.3% yield that is covered 130%+ by earnings available for distribution. NLY's core business is investing in agency MBS (Mortgage-Backed Securities). These are mortgages that Fannie Mae or Freddie Mac (the agencies) buy, and then guarantee them and resell them to investors.
If a mortgage defaults, these government agencies buy back the mortgage at par. This makes for investment with minimal default risk and is very popular among banks, insurance companies, foreign governments, and other entities looking for a very liquid and low-risk investment.
NLY buys these low-risk securities and takes advantage of their highly liquid nature. With over $11 trillion in agency MBS outstanding and an average daily trading volume of over $200 billion, agency MBS is one of the world's largest and most liquid markets, second only to U.S. Treasuries. Since the market is so liquid and the underlying investment is low risk, there is no shortage of borrowers willing to accept agency MBS as collateral for loans at meager interest rates.
NLY buys MBS, then uses MBS as collateral to borrow up to 95% of the value. Thus, using relatively little equity, it acquires large amounts of MBS. The result? NLY receives a very high yield from a portfolio of very low-risk securities. The key to how profitable NLY is has little to do with the MBS itself; NLY is profiting from the difference between the interest payments it receives from the MBS and the interest rate it pays on its debt. Therefore, the risk that NLY takes on and determines how profitable it is lies with the movements of the interest rate curve.
NLY borrows short-term funds, usually 30-90 days, and the MBS it buys typically are expected to survive for 5-7 years. In short, NLY benefits from a "steep" yield curve when longer-term rates are higher, and short-term rates are near zero. There is frequently a strong correlation between NLY's share price and the spread between the 10-year Treasury and 2-year Treasury rates.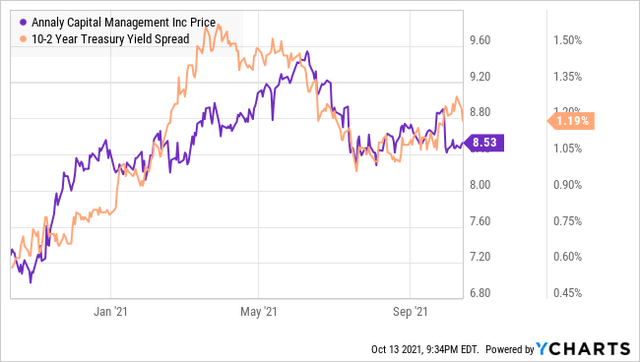 The 10-2 year spread compressed from June to July, and NLY's share price came down. This is not a coincidence. Over the past couple of months, the combination of the excess liquidity in the financial system, the Federal Reserve actively buying treasuries despite the excess liquidity, and perhaps some fears stoked by the Delta variant kept Treasury rates low. During the last week of September, 10-year Treasury yields hit their 3-month high as investors believe the Fed will remove the stimulus to keep inflation under control. Looking forward, rising rates seem inevitable and will drive the 10-year Treasury rate higher, resulting in greater profitability for NLY.
In addition to the macro-tailwinds for the entire mREIT sector, NLY in particular will be closing on the $2.33 billion sale of its Commercial Real Estate division. This will free up more capital for deploying into the Agency MBS business. This means more cash distributions on the horizon, making NLY a fantastic addition to an income portfolio!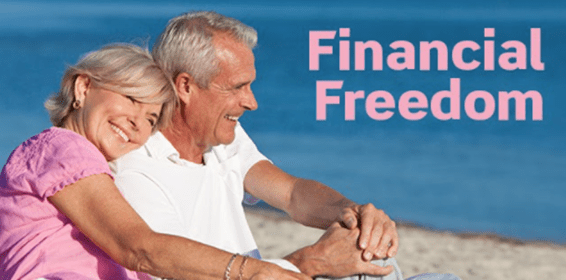 Source: Shutterstock
Conclusion
Warren Buffett doesn't panic when the markets are volatile or when stocks go through a sell-off due to some short-term phenomenon. This is what he said during Berkshire Hathaway's 1994 Annual Meeting:
We are going to be buyers of things over time. And if you're going to be buyers of groceries over time, you like grocery prices to go down. If you're going to be buying cars over time, you like car prices to go down. We buy businesses. We buy pieces of businesses: stocks. And we're going to be much better off if we can buy those things at an attractive price than if we can't. - Warren Buffett
At HDO, we are buyers of the quality yield with 45 "super high yielders" in our model portfolio. When our high-yielding securities drop due to market volatility, we buy with both hands. We look forward to buying bargains when stock prices fall, yields go up. You get to buy a richer cash flow for your retirement. In this report, we have discussed three picks with an average yield of 7.4%. In the short term, stocks may go up, and stocks may go down, but our income will go up forever with such quality picks!