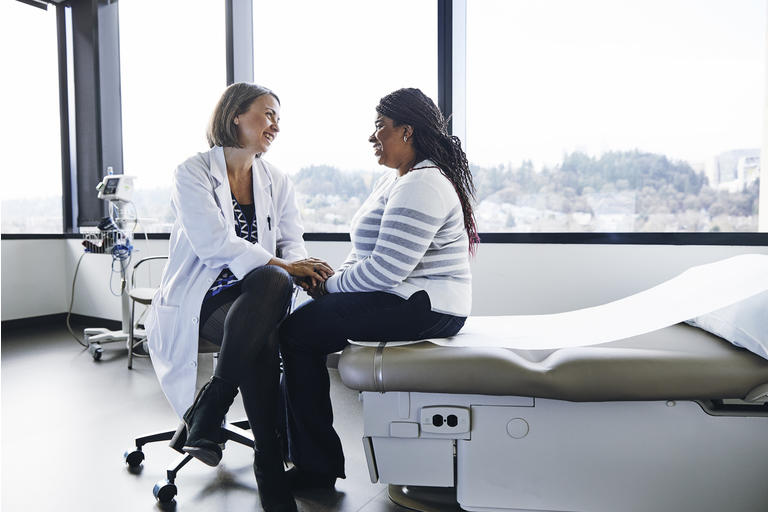 Introduction:
We believe Arena Pharmaceuticals (ARNA) could be an interesting short-term trade during Q4 2021 - Q1 2022 due to several catalysts including CD and UC clinical data coming out soon. Even though the S1P-R class as a whole may have concerns revolving around its cardiovascular adverse event, we expect the upcoming CD data to be positive and may provide a positive catalyst of 20-30% to the upside.
Arena Pharmaceuticals' stock has rebounded sharply after FDA's recent decision to add an additional black box warning to JAKi as a class. This is because the clinical attractiveness of JAKi declined as its position is set as 3rd or 4th line in ulcerative colitis and CD due to concerns related to VTE and infections.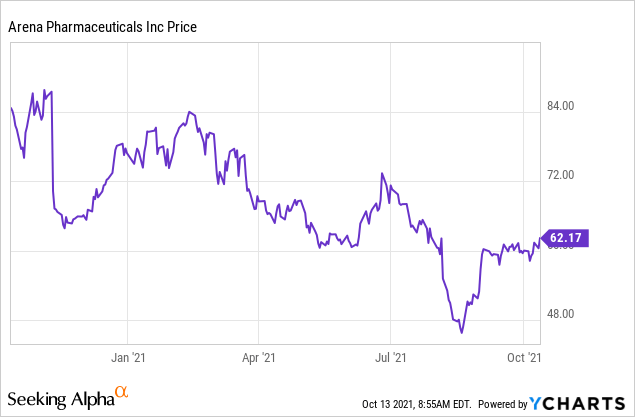 We believe Etrasimod drives a big chunk of Arena Pharmaceuticals' value, and in this article, we will explore our view on Etrasimod and several upcoming catalysts.
Etrasimod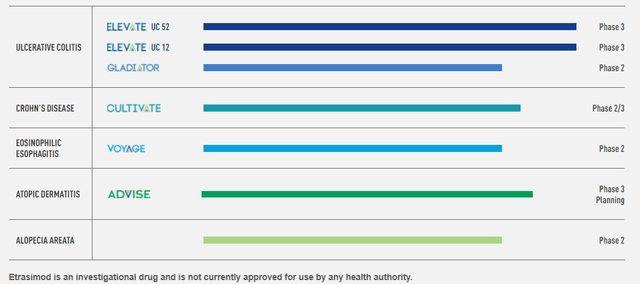 Source: ARNA Website
Arena Pharmaceuticals is developing a once-daily oral selective S1P receptor modulator called Etrasimod. Etrasimod is currently being studied for various autoimmune conditions, including ulcerative colitis, Crohn's disease, and atopic dermatitis. The drug works by partially and reversibly decreasing the lymphocyte levels and therefore reducing the problematic inflammation that is causing the disease.
The key for biotech investing is understanding the upcoming catalysts that the company will publish in the near future and predicting the result.
Between Q4 2021 - Q1 2022, there are four catalysts for the company and Etrasimod:
Crohn's disease - Phase II/III top-line data - Q2 2022
Alopecia - Phase II top-line data - Q4 2021
Ulcerative colitis - Phase 3 - Elevate UC - Top line data Q1 2022
Esophagitis - Phase IIb - Top-Line results Q4 2021
We believe the two most pivotal catalysts are Crohn's disease and ulcerative colitis data, considering the clinical development status and attractive market size.
As such, we will focus on ulcerative colitis and Crohn's disease and share our view on the current UC data and our predictions in upcoming Crohn's disease readouts.
Ulcerative Colitis Phase 2 OASIS trial data: what we like and what we don't like
Etrasimod has shown some impressive data in the ulcerative colitis space.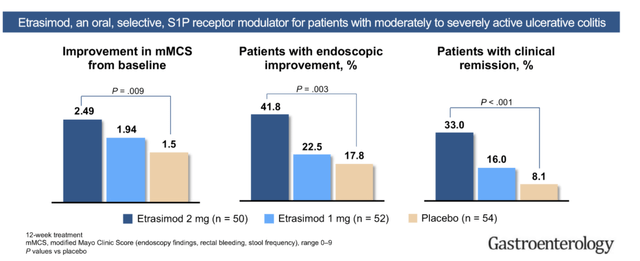 Source: Gastroenterology - Efficacy and Safety of Etrasimod in a Phase 2 Randomized Trial of Patients With Ulcerative Colitis
In the Phase 2 OASIS trial, Etrasimod has shown a clinical remission delta of 24.9% during the induction phase (12 weeks) and a clinical remission rate of 50% during the OLE portion of the trial (34 weeks).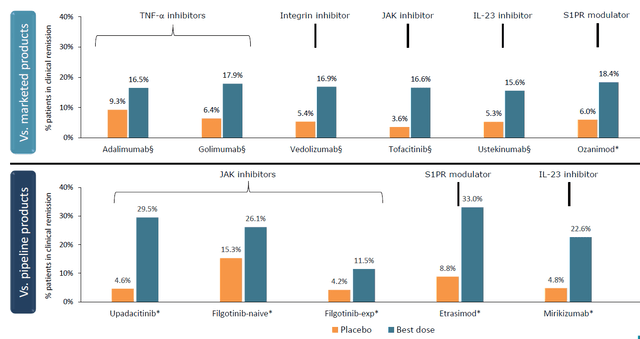 Source: Comparison table - InDex Pharmaceuticals Pareto Securities Health Care Conference
As shown in the comparison table above, we believe this efficacy data (modified Mayo score) of Etrasimod seems to be the most superior amongst all oral-UC agents and as effective/or more effective compare to anti-TNFs. However, since anti-TNFs' primary endpoints were full-MAYO score and Etrasimod's endpoints were modified-MAYO score; therefore, a direct head-to-head comparison of the data may not be appropriate.
Another point that we like is that the study population included the patient population who previously tried anti-TNFs (28.1%), meaning Etrasimod showed some efficacy benefit in the harder-to-treat refractory population. This gives the Etrasimod the optionality for it to be used as a second or third-line agent after anti-TNF.
Potential cardiovascular adverse event? Another potential black box warning?
What we don't like is the side-effect profile. Etrasimod has a very interesting safety profile where it looks like it is safe on paper as the grade 3+ (severe - life-threatening degree) of adverse events were 3.8-4.0% vs. placebo rate of 9.3%. However, we believe the devils are in detail.

Source: Gastroenterology - Efficacy and Safety of Etrasimod in Phase 2 Randomized Trial of Patients With Ulcerative Colitis
If we look closely at the safety data, there were several cases of AV blocks and bradycardia (decline in heart rates) in the Etrasimod 2mg group. As the incidence of cardiovascular adverse events was 2% of the total population, one may argue the risk maybe not be clinically significant. We disagree with this view as cardiovascular adverse events are notorious for getting detected in late-stage, especially during large-scale phase 3 trials or in post-marketing surveillance trials. This is why cardiovascular trials have an extremely large patient sample size. Also, it is important to keep in mind that the most frequent safety concerns preventing approval were clinical adverse events that occurred in phase 3 trials, particularly those affecting the cardiovascular system. As such, if further evidence of cardiovascular side-effects gets detected in the larger-scale trial, FDA may shut down the clinical development of the whole class. In the best-case scenario, even if FDA gives a stamp of approval for Etrasimod as no catastrophic cardiovascular adverse events were detected in the late-stage trial, we believe FDA will mandate physicians to test patients for EKG before taking the first dose, like J&J's S1P1 modulator Ponvory that is already approved for MS. This monitoring standard defeats the "convenience benefit" of Etrasimod being an oral agent.

Source: J&J website - Ponvory
We view Etrasimod as more of a safer JAK than an oral anti-TNF. Cardiovascular side-effect risk notwithstanding, we believe S1P-R class has a place in the UC and CD clinical landscape, mainly on anti-TNF and JAK refractory patients. However, we do not think it will be able to replace anti-TNFs due to class-wide cardiovascular and pulmonary adverse events and potential cumbersome monitoring concerns. This doesn't mean that the stock will go down from here. We believe phase 2 CD results to be safe considering the small sample size and the data that was shown in Etrasimod's phase 2 trial.
Conclusion: My strategy
After JAKi's black box warning, the value of non-JAKi has increased, causing Arena Pharmaceuticals' share prices to rebound sharply. We believe the recent phase 2 UC data was impressive in terms of efficacy and safety. Moreover, we believe the convenience advantage that Etrasimod has over BMS's Zeposia, Zeposia needs cumbersome titration before starting the first dose, puts Etrasimod as the best-in-class S1P-R agent for IBD. However, unlike what some proponents of the S1P-R class are claiming, I do not see the S1P-R agent becoming the replacement for anti-TNFs due to the potential cardiovascular and pulmonary adverse events. Looking at the safety profile of various S1P-R agents that they have delivered in phase 2, we do not think the phase II/III Crohn's disease data will include catastrophic cardiovascular adverse events that may wipe out the whole S1P-R class. In fact, we believe it may deliver decent positive data. As such, accumulating an option size position may be a viable strategy for investors at this point in time.