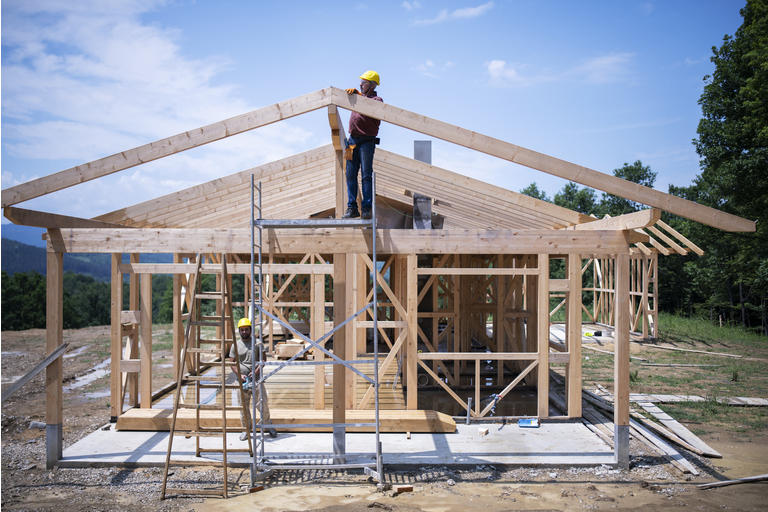 In the eight months or so since I wrote my bullish piece on Louisiana-Pacific Corporation (NYSE:LPX), the shares are up just under 50%, against a gain of ~11% for the S&P 500. I like the company a great deal, but a stock trading just under $66 is by definition more risky than the same stock when it was trading at $45. For that reason, I want to determine whether it's a good idea to maintain my long position here, or whether it makes sense to take some gains off the table.
I'll make that determination by looking at the financial history here, and by looking at the stock as a thing distinct from the business. Finally, we Seeking Alpha writers absolutely love to tout our successes, while papering over our mistakes (please don't read my stuff on Advanced Emissions). Given that, I'll be reviewing the options trade I recommended in copious detail below. I think this exercise does have an important purpose beyond the obvious need to appease my childish ego. I continue to think short put options are a great way to enhance returns and reduce risk, and I'll describe how below.
I imagine that you're a busy group of people, dear readers. I picture you inking deals of mind-numbing complexity. It might be the case that you're discovering new species of spider in a never explored patch of the Amazon. Maybe you're ziplining in Costa Rica with the women of the Moscow ballet. Whatever fascinating and fun activities take your attention, I assume that my missives don't make it into the top 100 compelling things you're getting up to.
For that reason, I'll come right to the point, so you can get back to beating the world speed record, or whatever. I think Louisiana-Pacific is a great company, and management has done a great job in building wealth for owners. As is frequently the case, the problem is the stock. The market seems to be of the view that this is not, in fact, a cyclical company and that we're in a relatively permanent state of housing growth.
In my view, the weight of evidence suggests that housing starts will be on the decline in future, and thus the cash flows of this company will trough after having peaked. Like they've done every time. For this reason, I'm selling my shares while leaving my puts to either expire worthless or "force" me to buy this wonderful business at a net price of ~$30 per share.
Financial Snapshot
I've written a great deal about the financial history here, and see no need to repeat myself about the sustainability of the dividend, or the fact that the company seems relatively insulated from the negative effects of a global pandemic. Rather, I'll focus in on the most recent half year as I think it is largely responsible for the current stock price. That said, I'll include the long-term financial history for your enjoyment and edification, dear readers. Feel free to pore over these data sets at your leisure.
I think the financial history here indicates that this is a cyclical company. The problem is that 2020 was such an "atypical" year, that comparisons to it may drive us to false conclusions about how much of an outlier the strong 2021 has been so far. For that reason, I'll also compare the current half year to the first part of 2019. When making that comparison, it becomes obvious that 2021 has been uniquely strong and that 2019 and 2020 were more alike than not.
This year is the "outlier." Specifically, LPX's revenue is up 106% and 100% when compared to 2020 and 2019, respectively. The same could be said of net income, up 1178%, and just under 1850%, respectively! In addition, we see the capital structure continue to improve here, with debt down just under 1.5% from 2019. In sum, the first half of the year has been spectacular in my estimation. The obvious question is whether the good times will continue, or whether this cyclical company will, as it's done in the past, go into a slowdown.
I'll state my bias at this point, as it's going to inform my analysis going forward. I'm someone who believes in mean reversion, especially in regard to housing starts. In my view, this perspective is borne out by data on housing starts. I'm also quite concerned by the fact that housing starts are expected to be down over the longer term.
The result is that I have to have the discipline to try to buy at the cycle bottom at the point of maximal despondency and sell near the top at the point of maximal optimism. At the moment, one of the obvious "cons" of this approach is that I can be premature in selling. That's not normally a problem, though. I promise. Practically speaking, it means that I'll need to see the stock trading at a very significant discount in order to hold my position here. The reason being that I don't think the future will resemble the past in this case.

Source: Company filings
The Stock
Since I don't believe the future will resemble the past here, I'll need to see a stock trading at a significant discount relative to trend in order to become interested in adding to my position. I'm in agreement with the analyst community here that earnings are heading lower after early 2022, and thus I'll need to see valuations that reflect that perspective.
As my regular readers know, I think there's a strong negative relationship between price paid and subsequent returns. Put another way, the more an investor pays for something, the lower will be their subsequent returns. We can demonstrate this relationship fairly easily by looking at Louisiana-Pacific as an example. The investors who bought in early May of this year are sitting on an 8% loss. The investors who bought identical shares a mere two months later are sitting on a 31% gain. The company didn't change that significantly from these two periods, but the outcomes of these two groups of rhetorically convenient investors are vastly different. This result demonstrates the need to never overpay for a stock.
I try to determine whether the shares are overpriced or underpriced based on a variety of tools, both simple and more complex. On the simple side, I look at the ratio of price to some measure of economic value, like earnings, free cash flow and the like. As I've stated many times, I want to see a stock trading at a discount to both the overall market and to its own history. On that basis, Louisiana-Pacific is hardly cheap, per the following: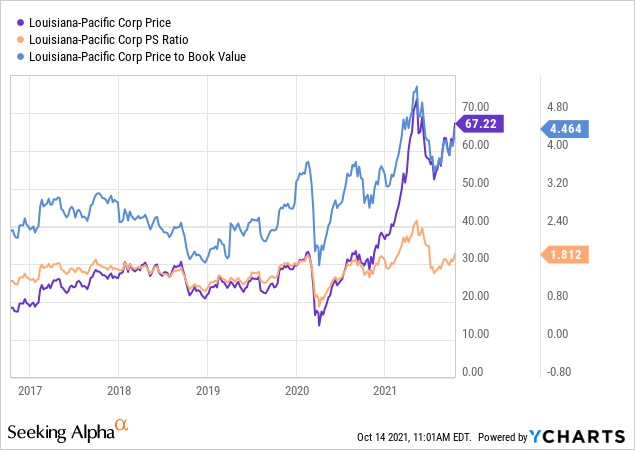 In addition to looking at simple relationships between price and value, I want to try to uncover what the market is "thinking" about a given company. In order to do this, I turn to the work of Professor Stephen Penman and his book "Accounting for Value." In this very insightful tome, Penman walks investors through how an investor can isolate the "g" (growth) variable in a standard finance formula to work out what the market is currently forecasting in about long term growth.
Applying this approach to Louisiana-Pacific suggests the market is currently forecasting a growth rate of ~3.5% for this cyclical company. While not the most optimistic forecast I've seen, it's certainly a bit rich in my view. For these reasons, I think discretion trumps greed at the moment, and I recommend selling the shares.
Options Update
In my previous missive, I recommended investors sell the January $32 puts. At the time, these were bid at $2.35 and I sold 10 of them. They are currently bid at $0, and last traded hands at $.55. In many ways, this performance was superior to my long stock position, given that the price of these puts collapsed by ~77%, against the gain of 50% for the stock. Additionally, this return was achieved at a much lower level of risk, given that the $32 strike was ~23% below the then current price. While fewer dollars were put in my pocket on my short puts, the trade was in many ways a superior one. I think the outcome of this trade offers yet more evidence that investors should consider short puts as a way to enhance risk adjusted returns.
While I normally like to repeat success, I don't think premia on offer for reasonable strike prices are worth it at the moment. For instance, the October 2022 puts with a strike of $30 are only bid at $.10. In my view, that's not sufficient for taking on the risk. Further, since I believe the path of least resistance for the shares is currently down, there's an argument to be made for waiting until the market adjusts the shares downward. When that happens, the premia on offer will be more compelling, and I'll review at that point.
Conclusion
I this Louisiana-Pacific is a great business in many ways, but I think cash flows will likely be lower in 12 months. For that reason, I think it's prudent to take gains off the table. In my view, this is especially the case in light of the relatively high valuation here. It's an emotionally challenging thing to sell near the peak of a cycle, and it's likely that doing so will cause me to miss out on some future short-term gains.
That said, the market giveth and the market taketh away, and I think it's better to lock in what we have rather than risking it on some ever shrinking gains. I think investors need to remember that "price", and "value" can remain unmoored for prolonged periods of time, but will inevitably meet. I think it would be prudent for investors to sell now before price falls to match value.