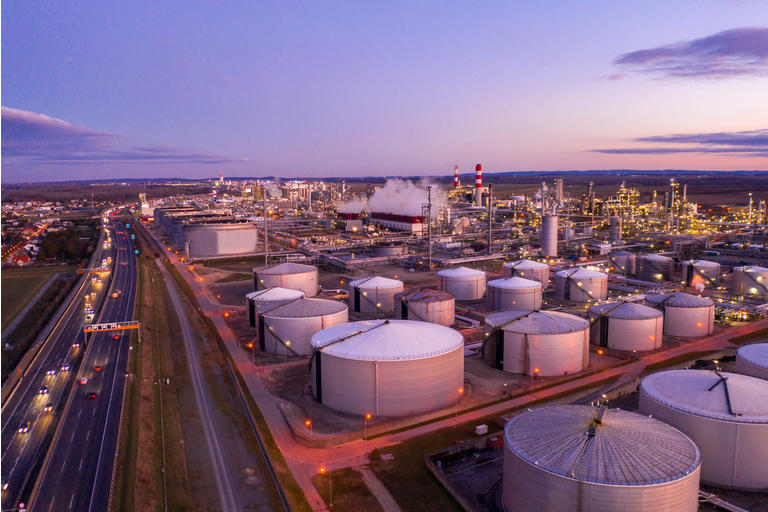 As inflation is picking up and the energy crisis intensifies, risks created by years of underinvestment in the energy space are becoming evident. It is hardly news to anyone that the extremely low return on capital in the Energy space has resulted in the sectors' all time low weighting within the S&P 500.
This also opened a wide performance gap between the oil & gas giants and the rest of the market, which continues to make new all-time highs.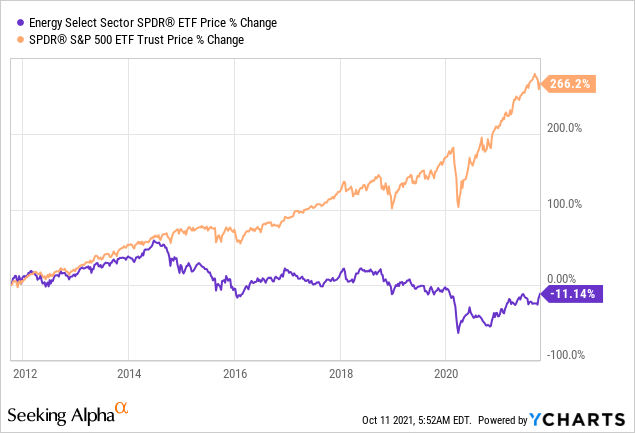 While many consider the likes of Chevron (NYSE:CVX) and Exxon Mobil (XOM) as companies heading for extinction, the reality is that large and integrated oil & gas companies are crucial for the smooth transition to a carbon-neutral world. Not only that, but these companies have a prominent role to play in renewable fuels, hydrogen and carbon capture & storage solutions of the future.
Disappointing returns in the oil & gas space over the past decade seem to support the narrative that legacy energy companies have an ever-declining role to play. However, stronger inflationary pressures over the coming decade will likely lead to a more careful planning of bridge fuels and increased investment in green technologies, beyond wind & solar.
In my view, this significantly increases the probability of a mean reversion of return on capital in oil & gas. A stark example of this mean reversion process has been the relative performance of the ex-dog of the Dow Jones - Exxon Mobil and the high flyer of Silicon Valley - Salesforce (CRM). While the two companies operate in two vastly different sectors, the relative share price performance over the past year has been at odds with the narratives of the two businesses.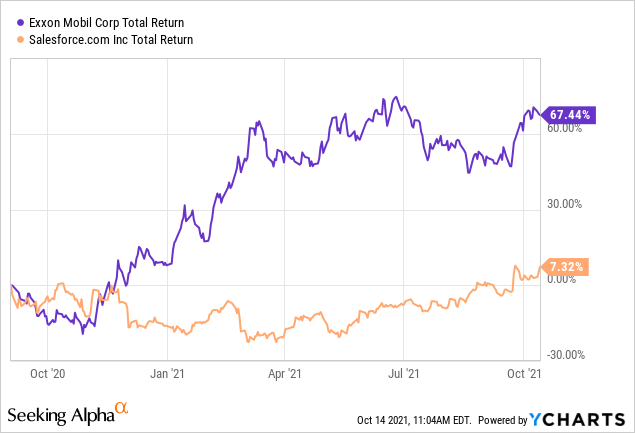 This dynamic might seem like a fluke, however, I explained why this is highly likely to happen back in September of last year in my thought piece - 'Exxon Mobil Vs. Salesforce - The Most Likely Scenario Ahead'.
A couple of months later I also covered my reasons for taking a long position in Chevron over XOM and although returns since then have been less pronounced, it still outperformed the broader market on an absolute basis.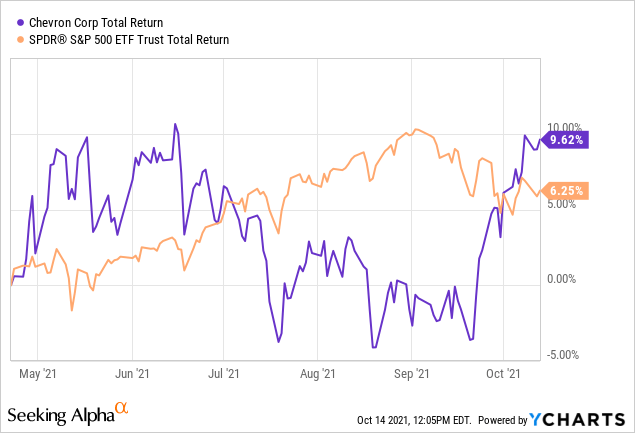 Six months later and I am now planning to add to my position in CVX due to the reasons mentioned in my last article and the analysis that follows.
The fallacy of predicting the future
Making long-term predictions is often a futile effort as end results are quite often proven very inaccurate. Nevertheless, valuations often reflect these long-term views, especially in a near zero interest rate environment when a larger proportion of future expected earnings are brought forward.
This is the reason why the rise of the tech giants in the information age has been so prominent, while Oil & Gas majors, as measured by Energy Select Sector SPDR ETF (XLE), have seen their valuations hit rock bottom. This resulted in the XLE to Invesco QQQ ETF (QQQ) ratio falling to all-time lows.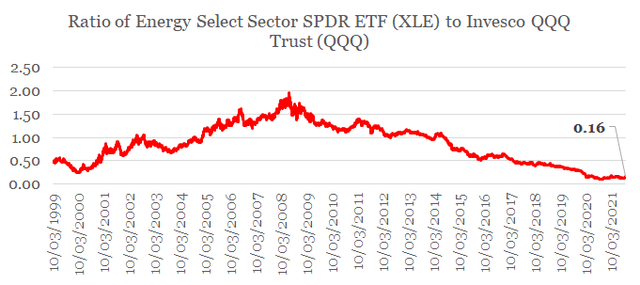 Source: Prepared by the author, using data from Yahoo!Finance
However, as I said earlier, long-term forecasts are often wrong and sometimes by a very wide margin. A good example in the energy space has been the forecast of future nuclear generating capacity in the 1980s .Back then, nuclear was expected to become the predominant energy source and grow in a linear fashion.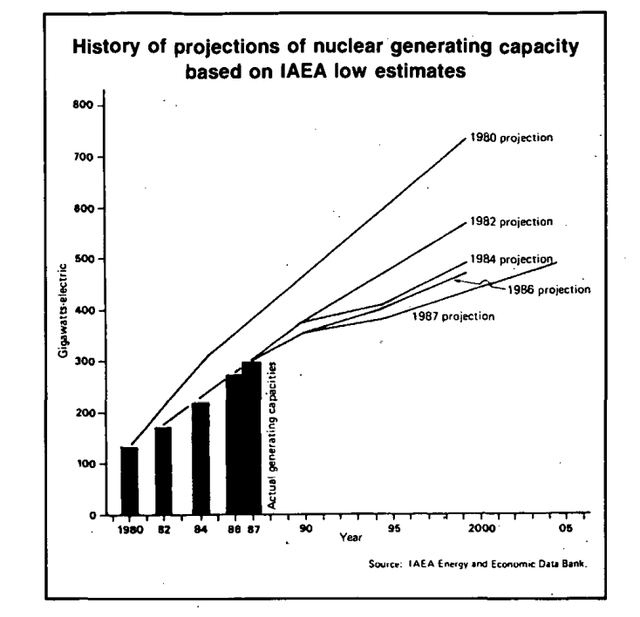 Source: iaea.org
In hindsight, this turned out to be an utterly wrong extrapolation of medium-term trends. As we see down below, global nuclear capacity has actually stayed relatively flat since then.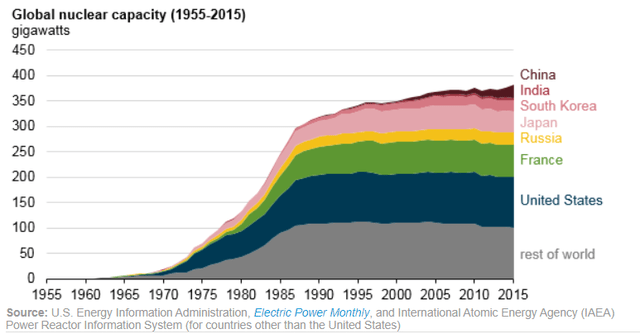 Source: eia.gov
As the saying goes history does not repeat itself, but it often rhymes. Nowadays, we see a similar type of long-term linear extrapolation, which could just as easily prove to be wrong. In that regard, renewable energy will most likely continue to grow, but the share of wind and solar energy in the future energy mix remains largely speculative.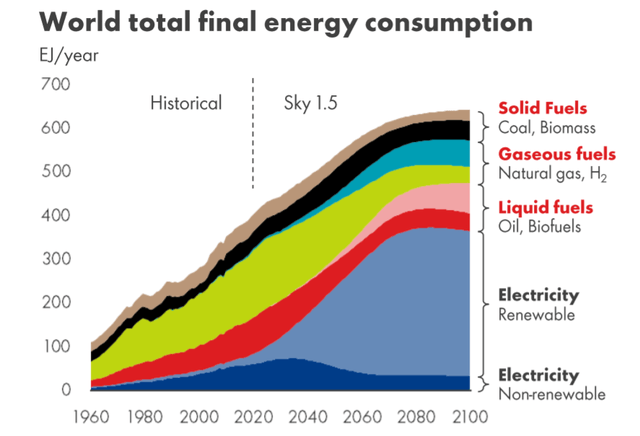 Source: Royal Dutch Shell Investor Presentation
At the same time the lessons from the current energy crisis are already emerging, with natural gas being the most important bridge fuel towards a zero or low-carbon future.

Source: weforum.org
Why Chevron then?
Having said all that, Chevron is well-positioned to:
1) Contribute to a stable energy transition through its high return on capital oil & gas portfolio.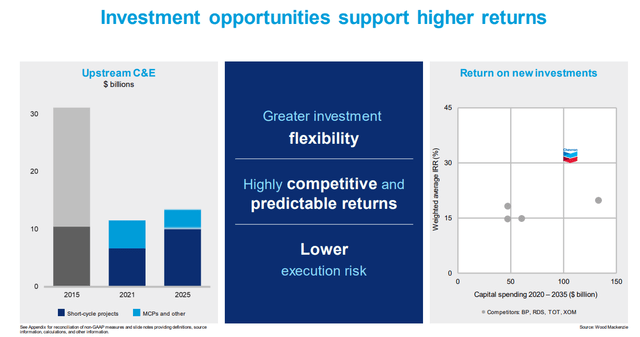 Source: Chevron Investor Presentation
2) Gradually reduce the share of its legacy business in favor of renewable fuels, hydrogen and carbon capture and storage.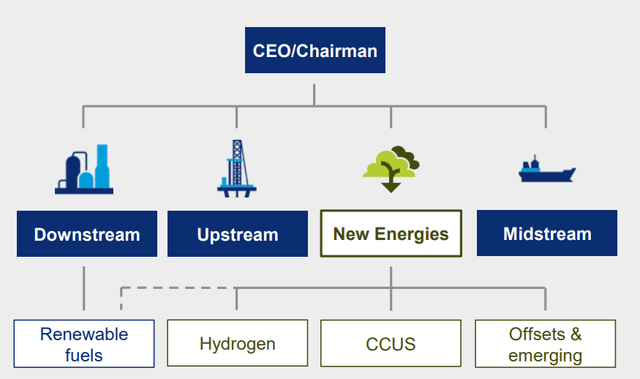 Source: Chevron Investor Presentation
At the same time Chevron's current dividend yield has not been as high since the 1990s.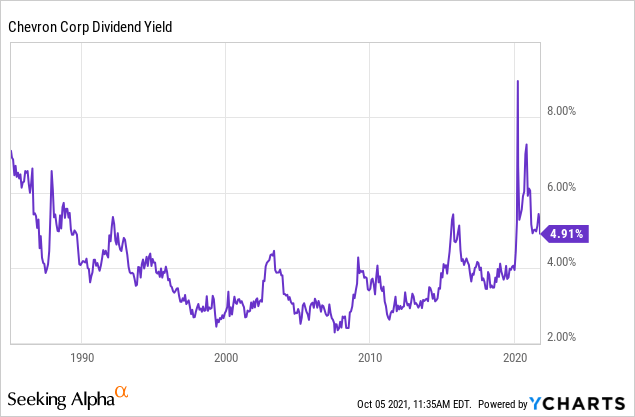 The dividend yield one of the highest among its peers (see below) and as I showed in my last analysis from April of this year - in my view it is one of the safest within the peer group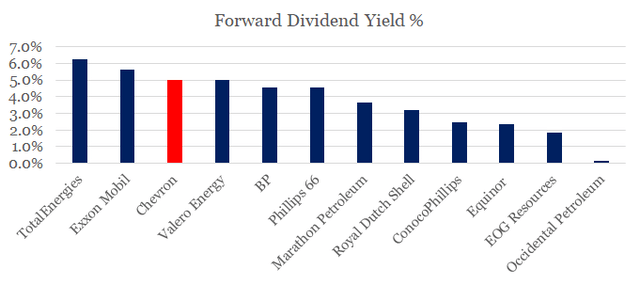 Source: Prepared by the author, using data from Yahoo! Finance
Integrated oil majors, such as CVX, are also far less risker to pure upstream or downstream competitors and thus are able to invest more heavily during the bottom of the cycles when assets are cheap. I show why this is the case in my analysis called 'Exxon Mobil: When Short-Term Markets Meet Long-Term Industry Cycles', which I highly recommend you to read, if you haven't done so already.
Chevron's more conservative capital allocation policy is also one of the reasons why the company achieves the highest dividend safety score of C+, when compared to the other integrated oil majors mentioned above.

Source: Seeking Alpha
We should also recognize that CVX's attractive dividend yield will always be at an elevated risk due to the highly cyclical nature of the industry. It will never be as safe as those paid by consumer staple companies for example, however, the potential reward from an upward multiple repricing is substantially higher in the case of CVX.
How attractive is Chevron's valuation?
Providing a long-term valuation for the company is hardly a straightforward question to answer, as it largely depends on prices of oil and natural gas, crack spreads and last but not least the future of renewable fuels, hydrogen and carbon capture & storage. Nevertheless, the company is still trading very conservatively relative to current fundamentals.
Earnings of Chevron's upstream segment, which has also been the largest in terms of profits, is almost entirely dependent on oil prices as we could see in the graph below.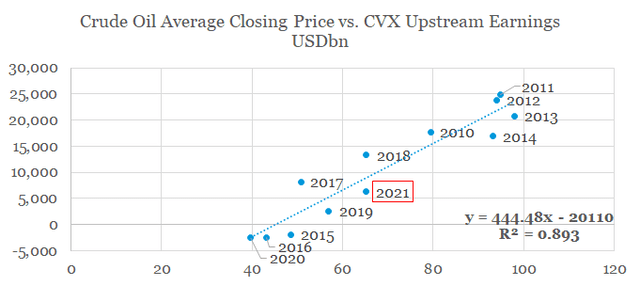 Source: Prepared by the author, using data from Chevron Annual Reports & macrotrends.net
Using the current West Texas Intermediate (CL1:COM) price of around $81 and the relationship shown above, we could estimate upstream earnings for the coming twelve month period of around $16bn or $8.3 on a per share basis (should oil prices remain stable). The current EPS estimates for the years ahead still fall short of this number.

Source: Seeking Alpha
Similarly to upstream, downstream earnings have also recently reached a bottom and are now likely to reverse the downside trend.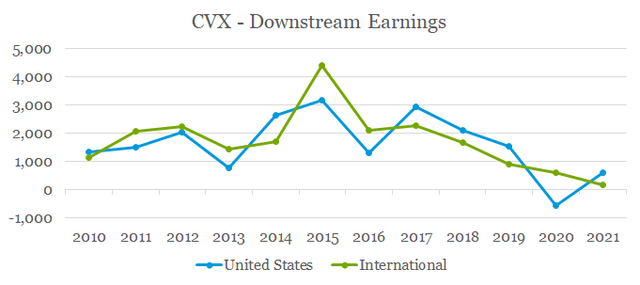 Source: Prepared by the author, using data from Chevron Annual Reports
The reason for the reversal being the crack spreads, which are breaking above the average range of the past few years (see below). With that downstream earnings of around $800m over the past twelve months are likely to improve considerably.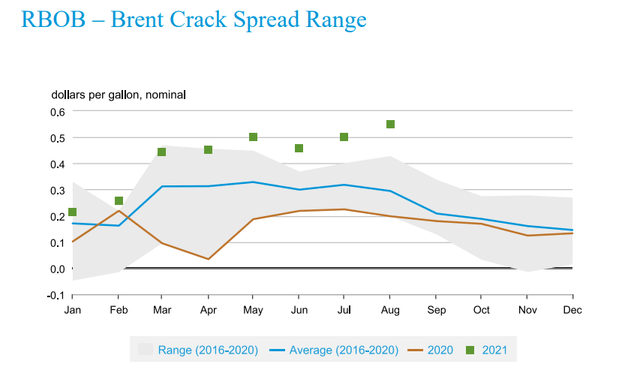 Source: eia.gov
With all that in mind, Chevron's return on capital should grow at a much faster pace compared to what the company's management was expecting in 2020 with the assumption of crude oil prices of $50.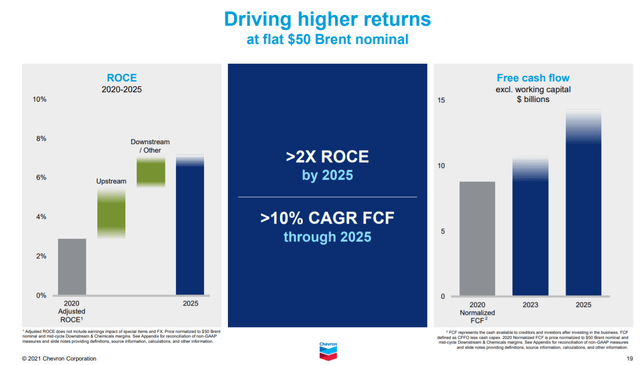 Source: Chevron Investor Presentation
As a result, CVX current Price-to-Book ratio of x1.5 appears quite cheap, based on its relationship with return on capital. As we saw above both upstream and downstream earnings are heading to levels last seen pre-2015 periods, when both Return on Capital and P/B ratios were hovering well above the current levels.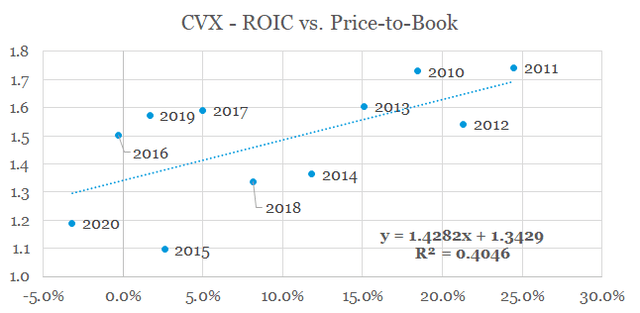 * ROIC - Net Income / (Net Debt + Book Value of Equity)
Source: Prepared by the author, using data from Chevron's annual reports and Yahoo!Finance
At the same the denominator of the ROIC equation above will continue to decline as Chevron's management:
deleverage its balance sheet;
As you say, with prices above $70, our debt levels should head below the range I've talked about of 20% to 25%. That 20% to 25% net debt ratio range is really over the cycle, kind of implies prices between 40 and 60, like we talked about during our Investor Day, but again with prices well above that, we should head below the bottom of that range.

(...) with prices above 70, our debt -- net debt ratio should be below 20%.

Pierre Breber - CFO

Source: Chevron Q2 2021 Earnings Transcript
continue with its share buyback program;
And with oil prices well above our dividend breakeven, and an industry-leading balance sheet, we will resume share buybacks, sharing part of the cash upside with our investors. With that, I will turn it back to Roderick.

Pierre Breber - CFO

Source: Chevron Q2 2021 Earnings Transcript
Conclusion
All that creates a significant opportunity for a further multiple repricing going forward, while the company is still having exceptionally high dividend yield. In the meantime, CVX is ramping up its investments in renewal fuels, hydrogen and carbon capture and storage which are all key for the sustainable transition to a low to zero-carbon world. With all that in mind CVX appear as an attractive long-term investment in a world that is likely to be characterized with higher inflationary pressures and stronger emphasis on energy price stability and sustainability.