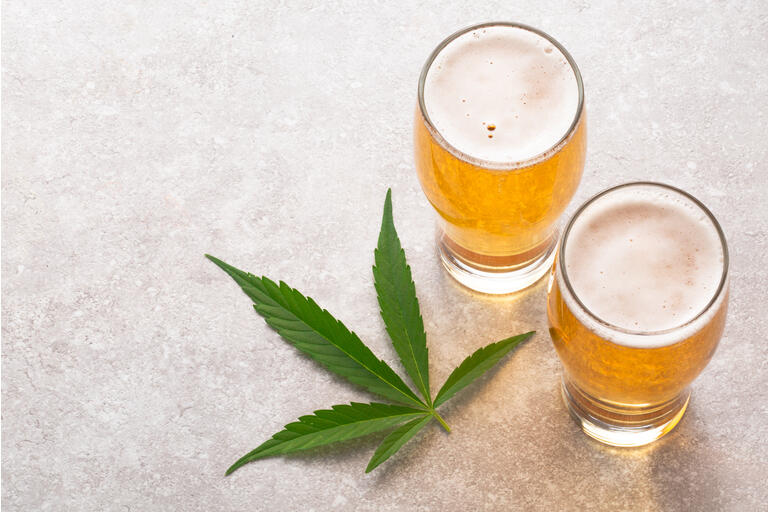 Beer is a very popular drink in many countries around the world. It's a staple drink for celebrations, after a long day of work or even just getting through the week. As can be seen in the graph below, the pandemic had a significant impact on the US beer industry, with overall sales volume of the beer market falling by 2.9%.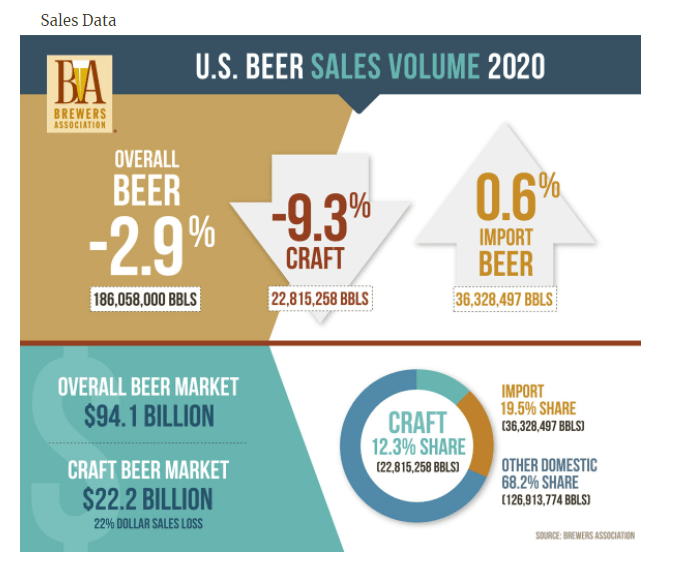 Concentrating on its beer segment will ensure long-term success for Constellation Brands (NYSE:NYSE:STZ), while the eventual repeal of the federal ban on marijuana use will enable its Canopy segment to capitalize on a multibillion-dollar opportunity in cannabis-infused beverages. STZ is currently trading cheaply at forward P/E of 21.1x.
STZ is one of the leading alcoholic beverage manufacturers in the US, with operations in four divisions: Beer, Wine and Spirits, Corporate Operations and Other, and Canopy. Despite the pandemic's negative impact, its revenue continued to grow in a positive and unwavering manner as can be seen in the graph below.

Source: Seeking Alpha, Prepared by the Author
This is due to the company's sustained excellence in high-end beer with their Modelo Especial, which is the #1 high-end beer brand and the top brand share gainer in the whole US beer industry category in IRI dollar sales. Corona Extra, the second-largest importer by market share and third-largest brand in the high-end IRI market, also contributed to the company's revenue growth.
In contrast to its robust beer segment, STZ's Wine and Spirits segment has experienced inconsistent growth over the last five quarters.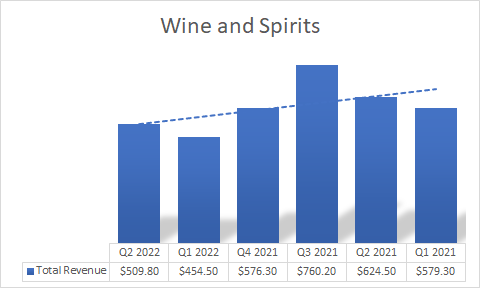 Source: Company Filings, Prepared by the Author, Amounts in Millions
Because of this unappealing trend, STZ is performing a divestiture strategy to shed its underperforming segment. The purpose of divestiture is to reduce the size of a company while increasing its competitive advantage by having a better focus on its core business.
As shown in the image below, a portion of its Wine & Spirits business was already divested in January 2021:

Source: STZ's Q4 2021 Report
In September 2021, STZ announced a multi-year partnership with the New York Giants, the New York Jets, and MetLife Stadium in East Rutherford, NJ, to enter the New York football market.
Additionally, another value adding catalyst is that three US senators have drafted a plan to lift the ban on marijuana use. If that ensues, it will boost the growth of STZ's Canopy segment and could potentially give the company multi-billion TAM in cannabis-infused drinks. To provide some context for its Canopy segment, STZ owns 36.2 percent of Canopy Growth (NASDAQ:CGC) as equity investment, which operates in the recreational and medical marijuana industries.
Q2 Financial Overview
Income Statement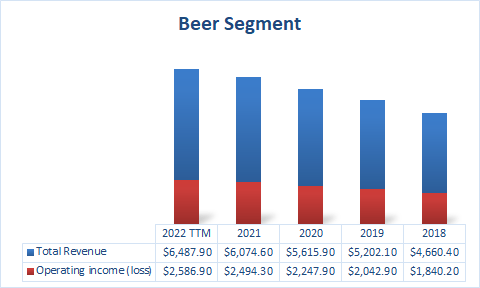 Source: Company Filings, Prepared by the Author, Amounts in Millions
The beer's revenue is expected to grow at a rate of 9 to 11%, while 4 to 6 percent on its operating income at the end of 2022. Increased shipment volume in the second half of 2022 will be the primary driver of this growth. STZ's beer segment is currently exhibiting a consistent upward trend across both metrics as depicted in the graph above.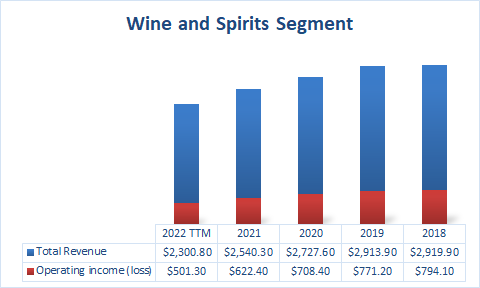 Its Wine and Spirits' total revenue is expected to decrease further by 22 to 24 percent and corresponding 23-25 percent on its operating income. It is in STZ's best interest to continue the segment's divestiture.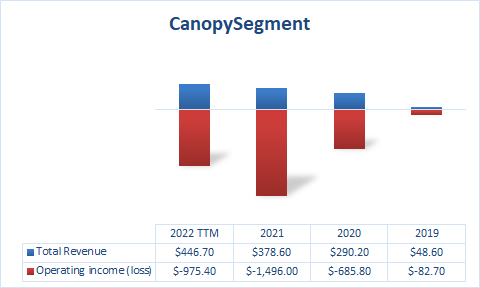 Canopy's current total revenue and operating loss as a percentage of revenue improved by 18 percent and 45 percent, respectively, from last year.
STZ's total revenue in Q2 2022 is $2,371.1 million, up 17% sequentially and 5% year over year. Its gross margin percentage is 52.46 percent, up from 50.54 percent on a four-year average basis.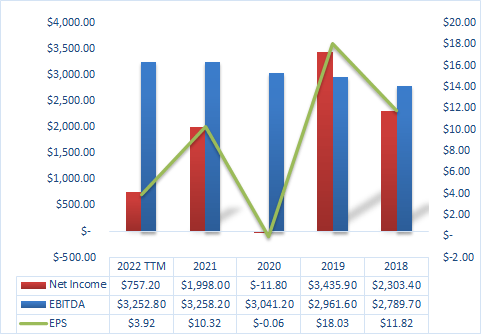 Its bottom line is significantly lower than in previous years, at only $757.20 million, and has snowballed to its EPS of $3.92. The lower Net Income is primarily due to unconsolidated investment losses, particularly in its Canopy. A positive catalyst from the continued acceptance of cannabis legalization will help boost the company's bottom line. However, without such a catalyst, this remains a risk for STZ, as evidenced by the deteriorating trend of its Net Income.
Balance Sheet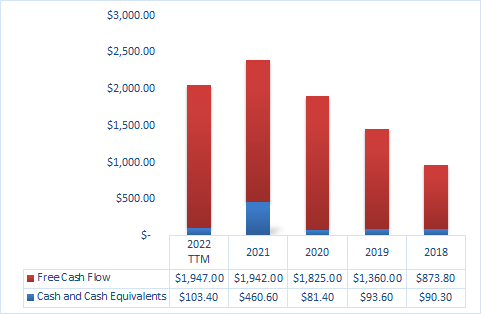 Source: Same as Source3
STZ's cash and cash equivalents TTM are $103.40 million lower than last year, owing to the company's massive share repurchase and debt repayment in the second quarter.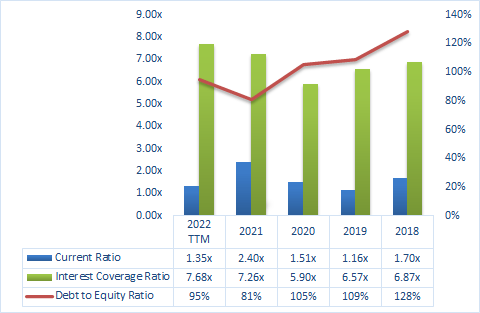 Source: Same as Source2
STZ continues to be liquid today, owing to its substantial free cash flow and current ratio of 1.35x. Its interest coverage ratio increased to an all-time high of 7.68, due to increased EBITDA. STZ was able to reduce its debt-to-equity ratio to 95%. Overall, it managed to improve its liquidity.
DCF Analysis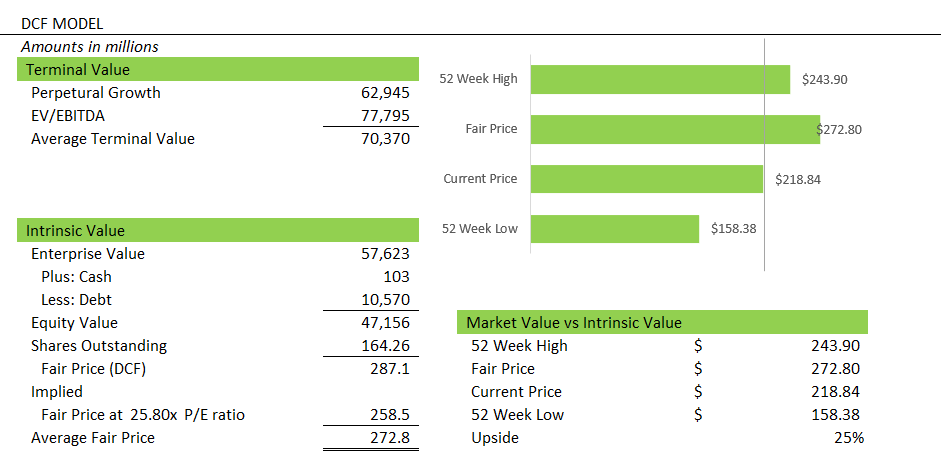 Source5: Prepared by the Author
STZ is currently trading below our average fair price of $276.3, with an upside potential of 25 percent, based on a ten-year DCF model.

I developed my DCF model using the analyst revenue forecast. I expect STZ's operating margin and accrued income tax expense to grow to 39.5% and 33.1%, respectively. I also assume that it will continue to invest in its core working capital and expand its fixed assets by -1.0% and 11.2% YoY, respectively, throughout the model.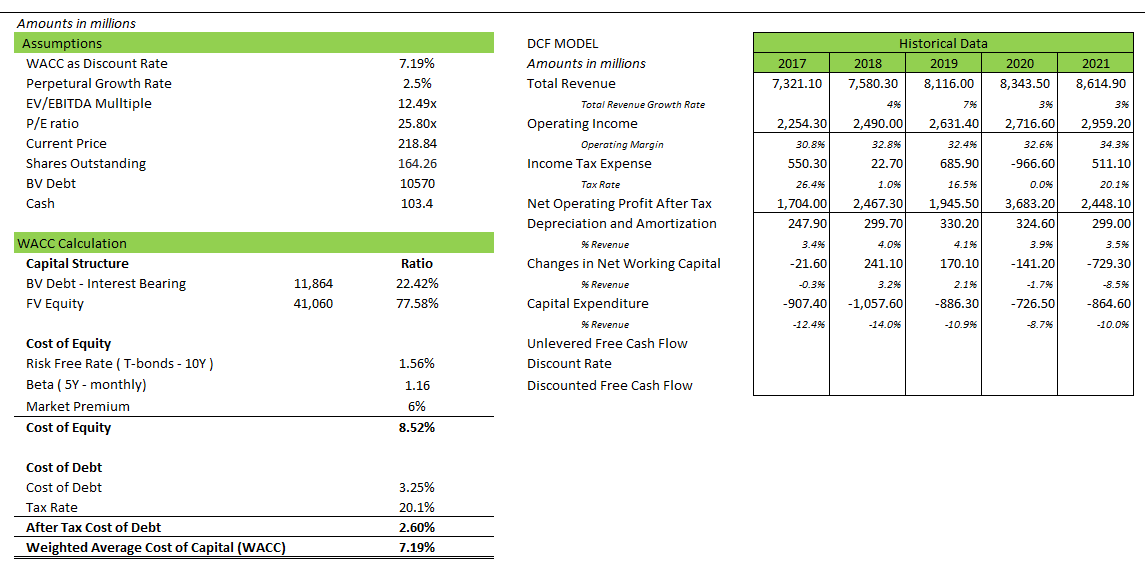 The image above illustrates the historical data and assumptions for STZ that I used to complete my DCF model.
STZ's Cheaper Peer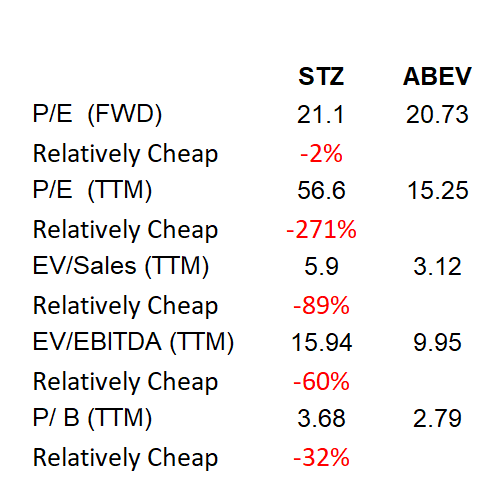 Source: Same as Source2
Ambev S.A. (NYSE:ABEV) is currently more enticing. STZ's catalyst for its Canopy segment, on the other hand, will deliver a significant boost and justify the company's current valuation.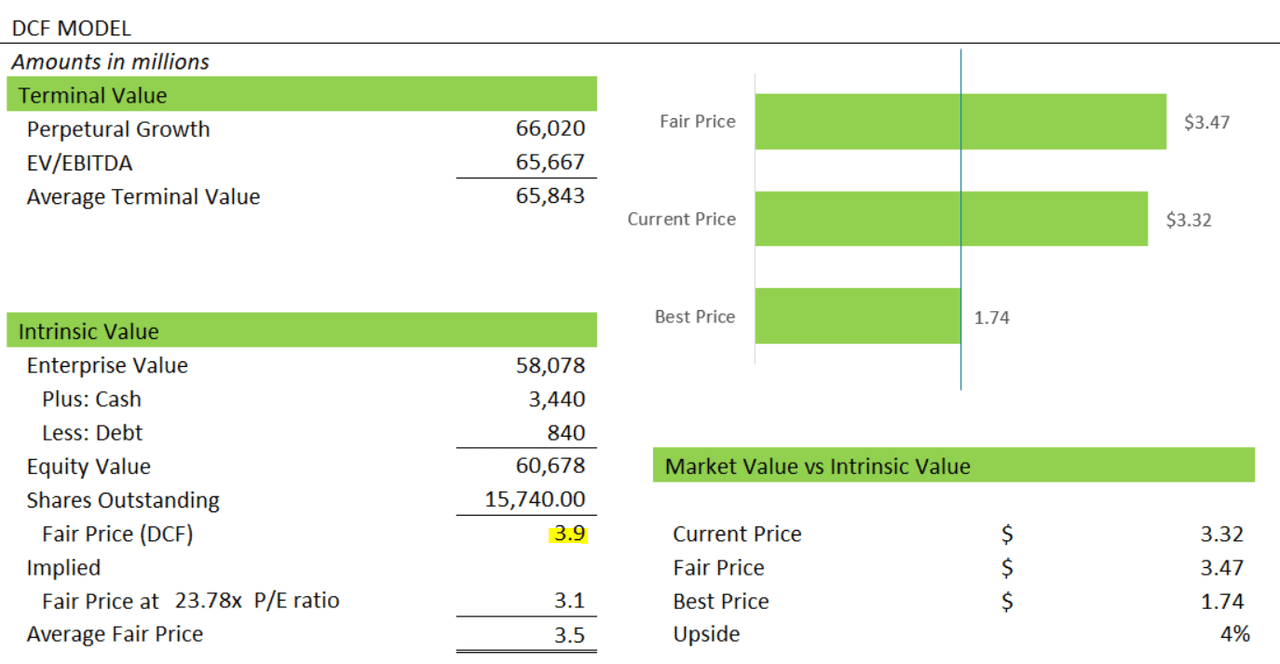 Source6: Ambev Accelerating Its Core Plus Segment
As of this writing, ABEV has a 44 percent upside potential compared to its current price of $2.7 based on a DCF model.
Price Action: Potential MACD Crossover, Pullback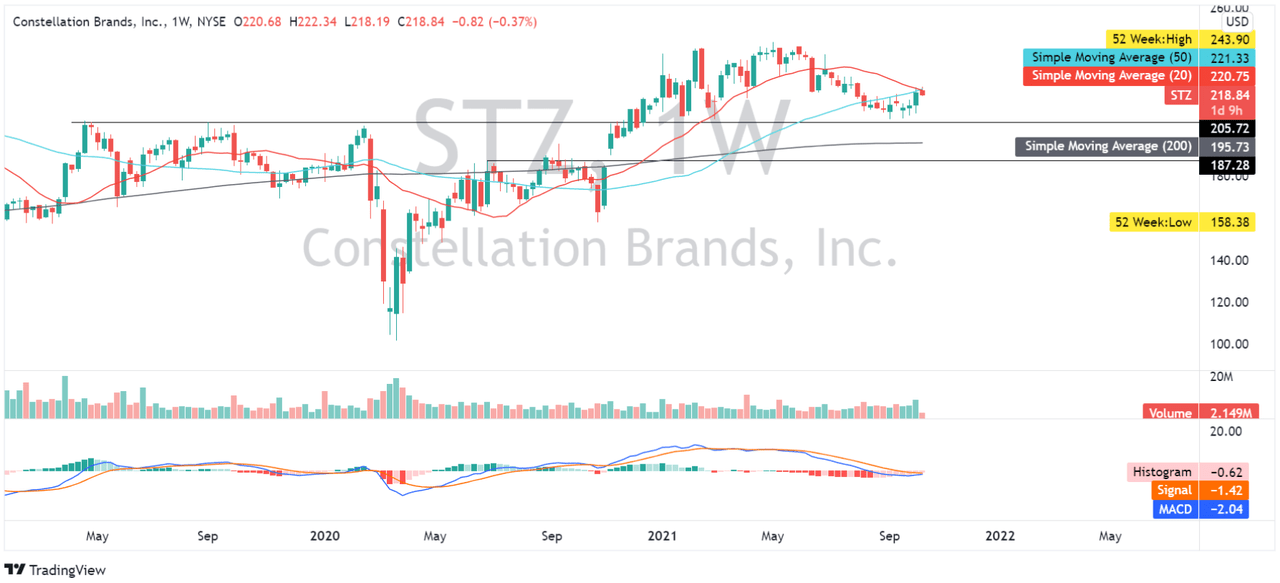 Source7: TradingView
STZ's price action is currently retracing its steps back to its previous breakout point of $205. Its MACD is on the verge of completing a bullish crossover, implying bullish price action. Investors can use STZ's simple moving average as a reference point to forecast pullbacks.
Final Key Takeaways
STZ's financial performance is outstanding despite the pandemic. Aside from its Canopy catalyst, it has a target to repurchase its own shares worth $1.4 billion this fiscal year 2022. This stock is trading cheaply at a forward P/E of 21.1x compared to its TTM counterpart of 56.60x earnings. STZ's products in the beer industry are worth drinking and should be a stock added to your watchlist.
Thank you for reading and have a great weekend ahead. Cheers!