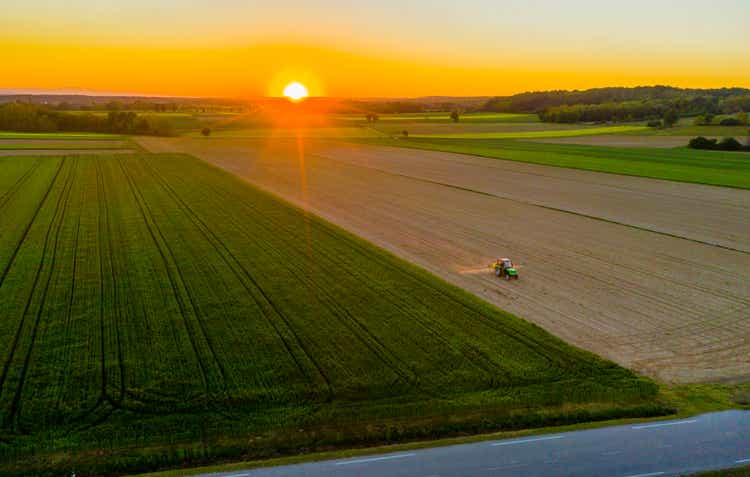 Introduction
Gladstone Land Corporation (NASDAQ:LAND) is a unique REIT focused on farms across the United States. Farmland supply is decreasing in the United States despite a growing population and agricultural demand. LAND is uniquely positioned to capitalize on a differentiated asset class while offering investors scalable access.
Shakespeare once said, "I would give a thousand furlongs of sea for an acre of barren ground." Land is one of few truly limited assets. As we've all heard, they aren't making any more of it. Such advice is often spoken in real estate investing. Real assets have provided investors with strong returns for generations. Truthfully, real estate is more than likely one of the oldest forms of investing altogether. That said, conventional real estate only exists in limited scarcity. Geography can limit certain markets such as Manhattan but there is plenty of room in the United States for new construction. However, land exists in a truly finite quantity.
LAND is uniquely positioned to take advantage of this scarcity. By investing in agricultural land, LAND accesses an asset class suffering from perpetually decreasing supply. However, demand for farmland and agriculture will inevitably persist given that people need to feed their families. Plus, the United States remains the largest global food exporter, more than doubling Germany who came in second.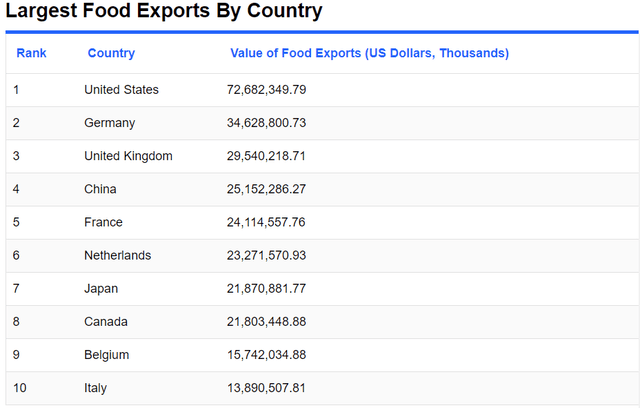 Source: World Atlas
As a result, domestic farmland will invariably remain a staple to the United States economy and global function. LAND is a REIT dedicated to investing in this untraditional space and we believe Gladstone offers the management capability to implement a successful strategy. Let's dive into LAND and see where the future may take this REIT.
Who is Gladstone Land Corporation?
LAND is a publicly traded, externally managed real estate investment trust focused on the acquisition and management of agricultural land across the United States. LAND is managed by Gladstone Companies, a well-established firm led by private equity titan David Gladstone. Without going into too much history, Gladstone's firms have successfully navigated economic cycles. Other offerings from the firm include Gladstone Capital (GLAD), Gladstone Commercial (GOOD), and Gladstone Investment (GAIN). The three funds offer unique exposure to private lending, net lease real estate, and private equity, respectively. All funds have performed well, pointing to a successful management recipe stemming from Gladstone.
Gladstone Land is the newest offering in the lineup as the manager looks to capitalize on growth opportunities. LAND has maintained an acquisitive strategy, using financing advantages to secure large acquisitions. LAND acquires new farms through three different pathways. First, LAND acquires farms through traditional sale leasebacks. Existing farms may choose to sell underlying real estate to finance new equipment, expansions, or just take money out of the business.
Second, LAND partners with farmers to identify new acquisitions. LAND finances the purchase of the target farm and subsequently structures a lease with the partner operator. Third, LAND acquires existing leased farms from other owners/investors. These options allow LAND to target a large portion of the farmland supply, a substantial portion of which remains family owned. In fact, the USDA estimates that roughly 97% of existing farms remain family owned. With a total value of $2.7 trillion, this leaves a large opportunity set for a dedicated firm such as LAND.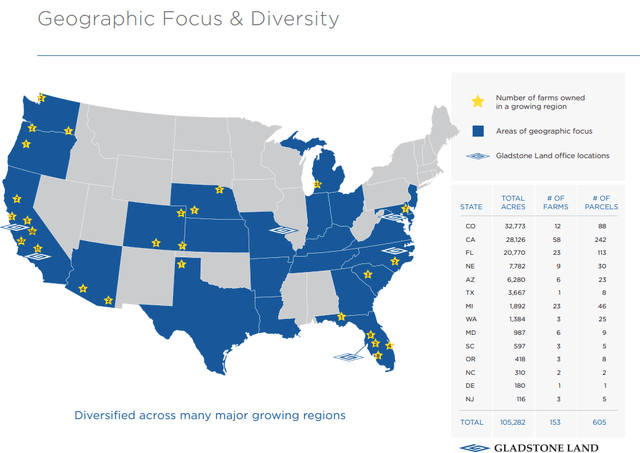 Source: LAND
As it stands today, LAND has benefitted from aggressive acquisitions. LAND owns 153 farms in 14 states, covering approximately 105,000 acres. Gladstone Land has targeted annual fresh product and permanent crops as their primary focus, while grains and other crops remain secondary in the strategy. To supplement farms, LAND owns water rights in the state of California. Recently, LAND closed on the acquisition of an $84 million nut orchard in California, which was structured as a ten-year sale leaseback. Since IPO, LAND has acquired over $1 billion in new farm assets. Given the low penetration for institutional investors, we would expect LAND to continue acquiring aggressively without facing high levels of competition.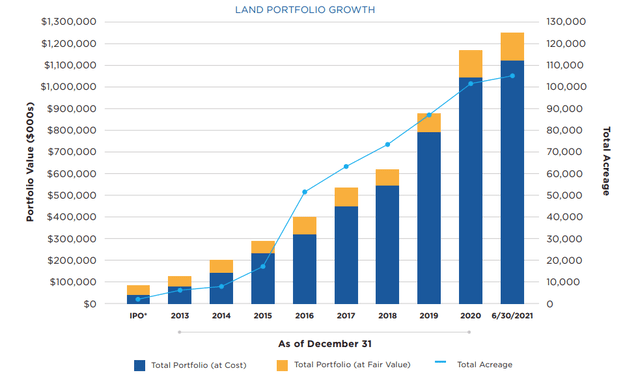 Source: LAND
LAND is a smaller company in terms of market capitalization, currently trading around $718 million. While the small size may come at the cost of overall portfolio strength, it provides enhanced upside opportunity in acquisitions. LAND's strategy has paid off as FFO growth has been consistent and strong over the past five years.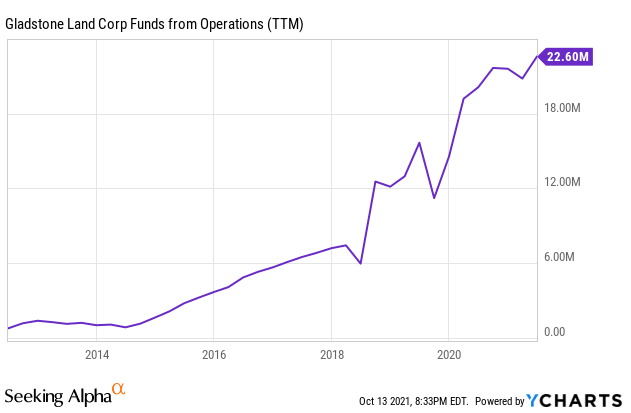 We have established that LAND is an experienced and capable player in a limited space. Getting to the bottom line, how has agriculture fared in terms of shareholder returns?
Performance and Dividend
The firm has produced solid total returns stemming from strong underlying performance in agricultural real estate. Farmland has reliably produced strong returns with limited volatility. The necessity for food production has resulted in limited risks at an industry level. The absolute necessity for food is reinforced by capable lobbying groups which has resulted in advantageous market dynamics for farmers. According to Gladstone, farmland has beaten both broader REITs and S&P 500 in annual return over a period of two decades.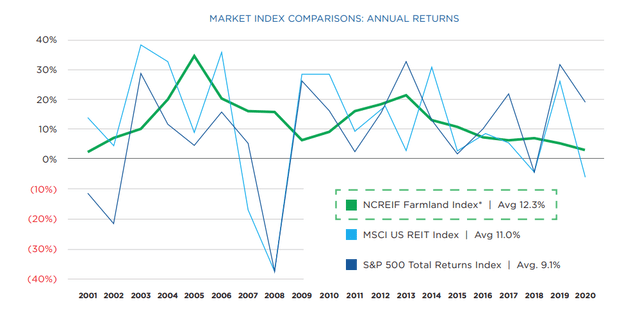 Source: LAND
In terms of relative performance, the fund has outperformed the Vanguard Real Estate ETF (VNQ) since inception, albeit by a small margin. LAND has produced remarkably similar performance to GOOD, the commercial REIT managed by Gladstone. Consistency in dividend increases and annual acquisitions continue to propel share growth as the market heats.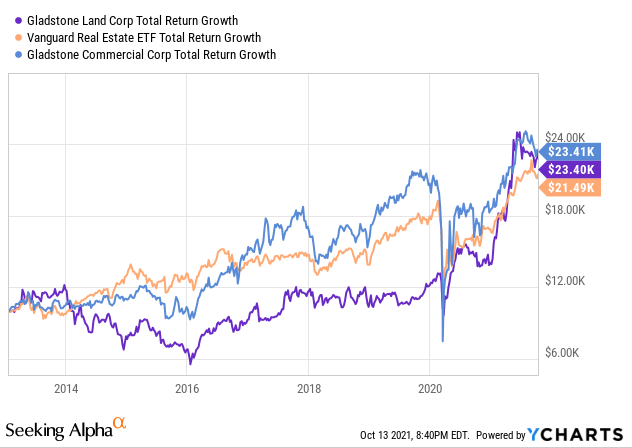 LAND's performance comes through a combination of rent collected from clients and underlying growth in land value. Unsurprisingly, land values have appreciated over all time periods, driven by scarcity and basic value. Additionally, land is an excellent tool to fight inflationary pressure, which has become exceedingly relevant as the current rate of inflation remains stubbornly high.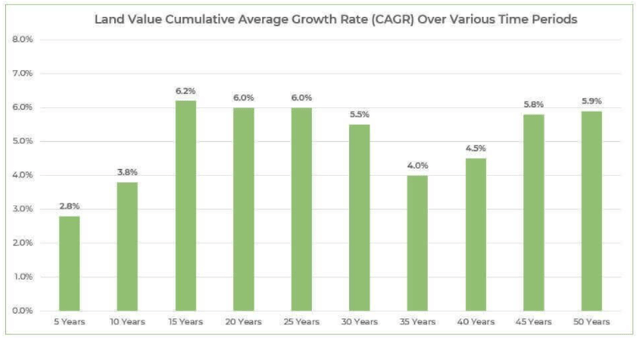 Source: Acretrader
LAND has taken a consistent approach to raising its dividend. As David Gladstone is a notorious fan of dividends, LAND distributes monthly income to investors which has increased regularly since the company's inception. Based on current share prices, LAND has a dividend yield of 2.30%. For several years, the growth has remained small equating to $.0001 per share per quarter. This growth correlates to a five-year CAGR of 2.06%.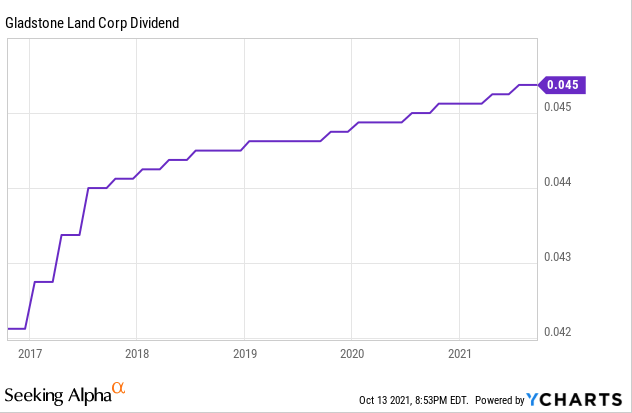 These small dividend increases stem from LAND's acquisition-focused growth strategy. Farmland is acquired at remarkably low cap rates due to low underlying volatility. For example, LAND acquired a wheat farm at a cap rate under 2.25%. What agriculture lacks in yield, it has made up for with consistent price appreciation as illustrated above.
Outlook
As we mentioned, farmland is scarce in a unique way. While the United States sits on a finite 2.26 billion acres of total land, the population continues to expand. As a result, undeveloped land and agriculture have experienced pressure resulting in consistent declines in total supply. Over the past 20 years, farmland supply has fallen by 50 million acres, a decrease of over 5%. This shrinking supply will inevitably drive-up value of existing farms given the necessity of food production. The simple necessity provides underlying tailwinds for land's success as an asset class.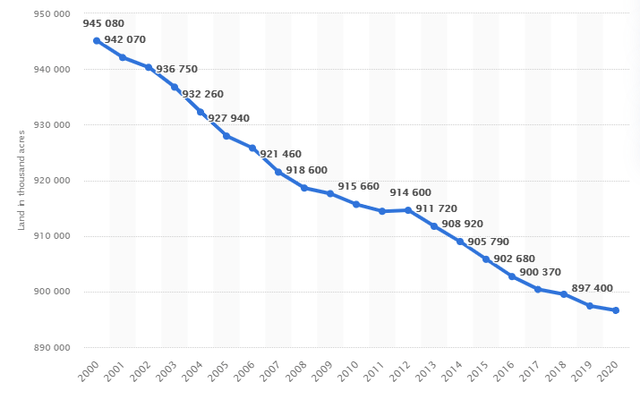 Source: Statista
Combine the decreasing supply with an untapped market and LAND's acquisitions begin to make sense. Many of the country's best operators remain family owned, providing new, high-quality opportunities for specialized REITs. Compare this phenomenon to other categories such as retail where Realty Income (O) and other blue-chip REITs are forced to go to battle over a limited supply of assets. To a certain extent, each firm targets the same pool of high-quality tenants.
The firm's outlook remains strong as lease expirations remain well laddered. The firm has limited exposure to expiring lease in the immediate term as approximately 70% of rental revenue expires 2026 or later. Given LAND's strong relationships with clients, re-leasing should go smoothly. The limited use of land and scarcity provide a strong pool of replacement operators, should negotiations fall through. In either scenario, the land and associated water rights will provide Gladstone a strong position from which to negotiate. We will reinforce Gladstone's ability by mentioning the portfolio is currently 100% occupied and occupancy has never dipped below 99.5%.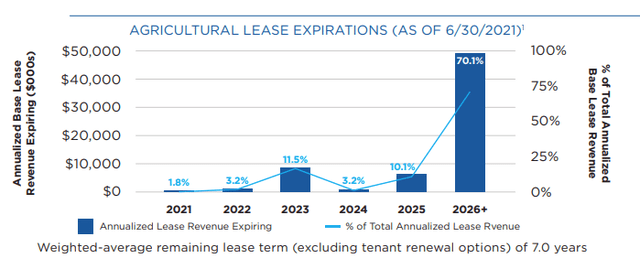 Source: LAND
We believe the outlook is bright for LAND. Experienced management and an asset class with strong fundamentals should continue to propel LAND's performance. Ideally, we will see the performance translate back into strong dividend growth.
Risks
We have established that LAND occupies a unique position in its respective ecosystem. The firm specializes in agricultural land, with a concerted focus towards specific crops. As a result, the firm has attracted eyes from investors who have identified the opportunity. Recent increases in share price have left LAND in a position with limited remaining upside in the near term.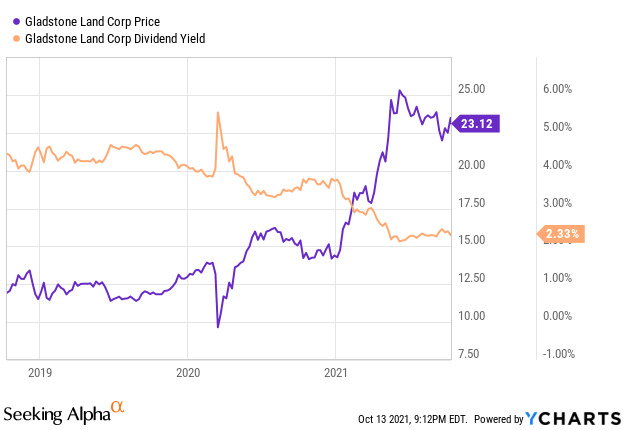 The growth has compressed LAND's yield dramatically. Today, LAND trades with a dividend yield far below its average since inception. While we believe this compression comes in anticipation of stronger dividend growth, normalizing the yield would require substantial growth per share.
Looking at underlying fundamentals hints that LAND may be overvalued as well. REITs trade in the public market as any other share or stock. However, the underlying assets which comprise the portfolio have an independent and disconnected value. Net asset value is the combined value of the portfolio's constituents. As of the second quarter, LAND reported an NAV per share of $13.16. Based on today's share price of $23, LAND is trading at a 77% premium to underlying net asset value. A premium this high represents a substantial risk, but as LAND continues to make accretive acquisitions the spread could compress. However, given the size of the premium, investors need a long runway for this to take place.
Our next issue stems from the firm's external management structure. LAND is an externally managed REIT meaning it does not have an internal corporate structure. The firm is managed by an external advisor who maintains control over implementing the investment strategy, distributing dividends, and shaping the portfolio. With external management comes a management fee as opposed to salaries established by a board of directors. As a result, conflicts of interest may arise in compensation policies and fund strategies, resulting in adverse shareholder impact.
For example, a management fee based on assets under management incentivizes the manager to increase portfolio size even at the expense of quality. We avoid externally managed funds such as Global Net Lease (GNL) for this reason. This categorical avoidance is supported by data as internally managed REITs have outperformed their external competition.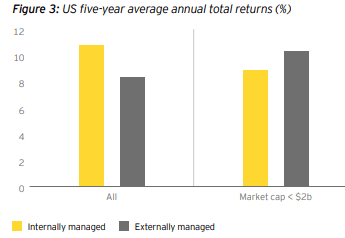 Sourced by author with data from Ernst & Young
Having aired our grievances about external management, we should acknowledge what Gladstone has accomplished. Gladstone Companies is parent to four publicly traded, externally managed investment companies. The firm is managed by David Gladstone, who has immense industry experience. The parent company's attachment to the four underlying funds mitigates some of the external management risk in our opinion. Gladstone has established a reputation of delivering shareholder returns while applying a traditional fee structure. Management fees often leave us feeling frustrated because shareholder return is net of every dollar charged by the manager. That said, Gladstone's ability to deliver strong total return across each of its four funds appeases us.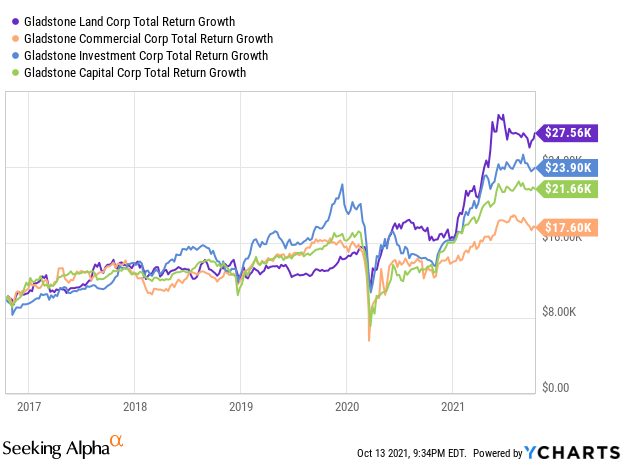 Conclusion
LAND is a unique REIT which has successfully capitalized on an underappreciated asset class. Shareholders can benefit from tailwinds to underlying asset values including inflation and decreasing supply. These opportunities combined with Gladstone's experienced management are a recipe for continued success. Investors have recognized the opportunity and the result has been strong year to date performance. The resulting premium to NAV presents a threat to share price in the short term. For long-term investors, LAND is worth keeping on a REIT watchlist as monthly dividends continue to grow.