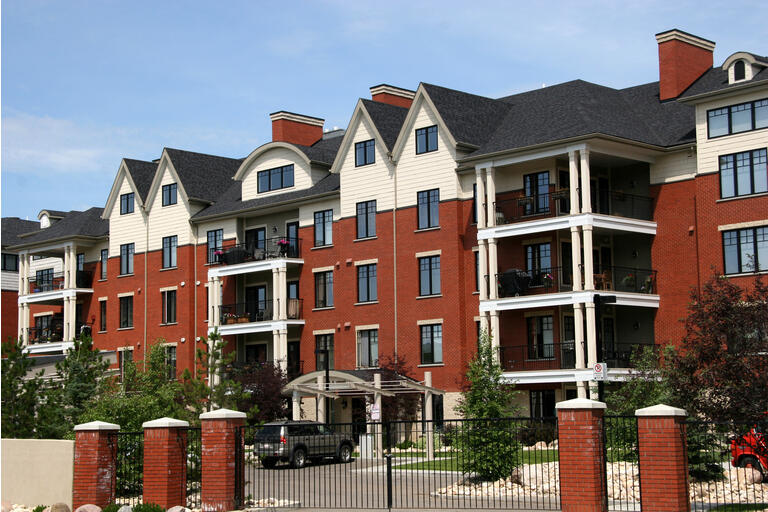 Thesis: The Fallout From Mission Creep Won't End Soon
Preferred Apartment Communities (NYSE:APTS) is a classic case of investment mission creep. Obviously, based on the company name, the real estate investment trust was founded with a focus on multifamily properties.
The Atlanta-based REIT mostly owns relatively new apartment communities in rapidly growing Sunbelt states — primarily Florida, Georgia, and Texas. It has the youngest multifamily property by average age (6.6 years) in all of public REITdom. Occupancy in this multifamily portfolio reached ~97% in the second quarter of this year.
It's no wonder that, for a number of years, APTS was the darling of the REIT space, rising over 250% in six years.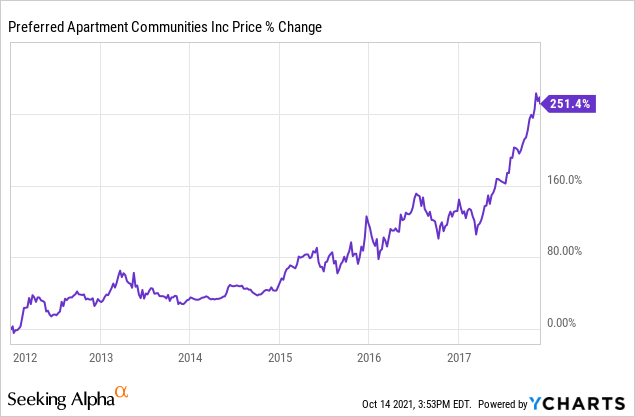 Then the mission creep began to set in. APTS began ramping up acquisitions of a lot of non-apartment properties like grocery-anchored shopping centers, office buildings, student housing, and even some raw land used for nothing but surface parking.
By mid-March 2020, for example, APTS owned 54 grocery-anchored retail centers, where the number remains today. In addition, APTS' portfolio consists of 41 apartment communities, 2 office properties, and 19 multifamily investment loans.
Combine this lack of focus or specialization with the REIT's persistently high payout ratio and debt levels, probably due largely to misaligned interests between shareholders and the formerly external management (APTS's management was internalized last year), and we end up with abysmal total returns for investors over the years.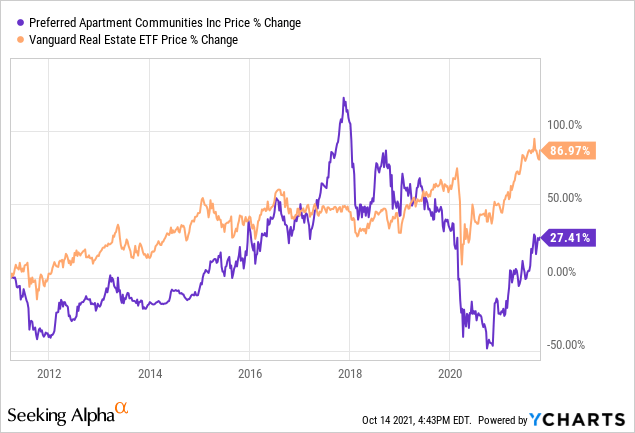 It's a shame, because I was hoping to find in APTS a cheaply valued play on Sunbelt apartments, which are incredibly hot right now.
Sadly, as we'll see below, the fallout from management's previous mission creep and misaligned interests far overshadows any positives relating to this REIT. As such, I'm avoiding it.
Recent Performance And Developments
APTS' core property segments of multifamily and grocery-anchored retail centers actually held up pretty well through COVID-19: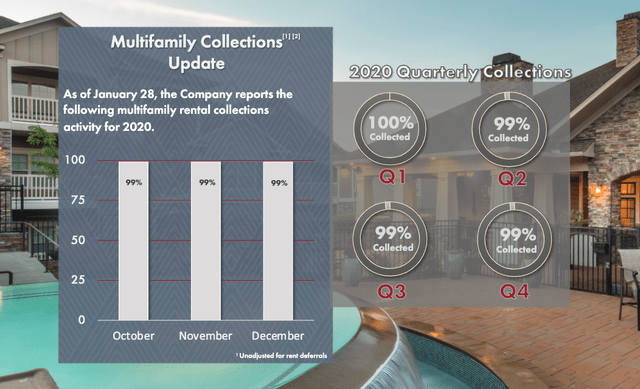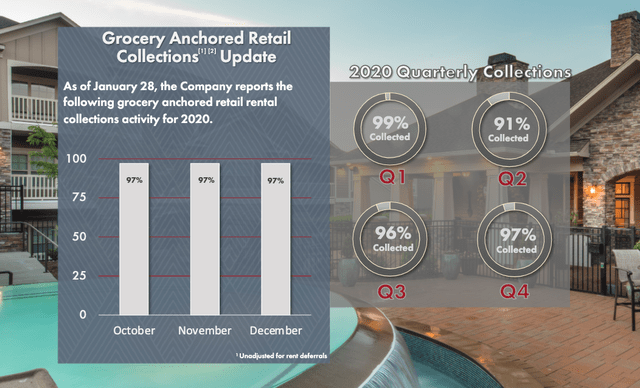 Source: January 2021 Presentation
And this year, the apartments in particular have shined.
In the second quarter, APTS' Sunbelt-concentrated multifamily portfolio enjoyed same-store revenue growth of 5.5% and same-store NOI growth of 6.4% YoY. In July (the first month of Q3), rates on renewal leases increased by 7.5% YoY, and rates on new leases soared an incredible 21.3%! That is phenomenally high rent growth.
What's more, APTS recently took a major step toward simplifying its business by selling a large chunk of its office property portfolio (five properties and an investment loan) to a REIT that actually specializes in offices, Highwoods Properties (HIW). Total proceeds were $645.5 million, and closing took place on July 29th. Additionally, APTS recently sold another two office properties to a private investment company, leaving the REIT with only two stabilized and two development office properties remaining in the portfolio.
The proceeds of the complete office sale were used, in part, to redeem the remaining $221 million of the REIT's 6.00% Series A preferred equity. This was almost definitely the most accretive use of funds.
Presumably, the rest of the proceeds will go toward acquisitions of properties in APTS' new core focus of Sunbelt apartments and grocery anchored retail centers, which trade at much lower cap rates. In fact, unless APTS buys properties with serious problems, it's virtually certain that the acquisition cap rates for future acquisitions will be at least 2-3 points lower than the disposition cap rates of its office properties.
All else being equal, this should reduce cash flow, unless and until the effective yield on new acquisitions rises the same yield as the dispositions due to rent growth. I doubt, though, that rent will grow enough to make the effective yield on upcoming acquisitions similar to disposition cap rates anytime in the foreseeable future.
This is largely why analysts project another year of declining FFO in 2022 — from $0.97 of FFO this year to a consensus $0.91 for next year. Now, FFO is not the same as AFFO and is not as useful for valuation or payout ratio purposes. But we'll come back to that.
Partially as a result of this portfolio restructuring, revenue and cash flow have taken a hit this year. In the first half of 2021, rental revenue was down 6.2% and total revenue down 7.7% YoY. In the second quarter, rental revenue was down 5.7% and total revenue down 3.5%.
And yet, management has been awarded more equity-based compensation for this dismal performance this year. In the first half of 2021, equity-based compensation surged to $1.5 million, more than three times the $476K awarded in the first half of 2020.
General & administrative expenses likewise rose 10.6% YoY in the first half of 2021. Compared to 5.4% G&A to revenue in the first half of 2020, the G&A to revenue in the first half of this year ticked up to 6.5%, both because of higher G&A and lower revenue.
The Dividend
Even in the midst of relatively strong rent collection stats in 2020, APTS cut its quarterly dividend from $0.26 to $0.175 in the second quarter of last year. This is largely due to the foolishly high payout ratio the REIT has consistently maintained. It should tell us something about how the management team manages company finances.
In 2019, AFFO per share came in at $1.02, while the dividend was $1.05 — a 103% payout ratio.
In 2020, AFFO per share slumped 18.6% YoY to $0.83, while dividends amounted to $0.79 — a 95% payout ratio.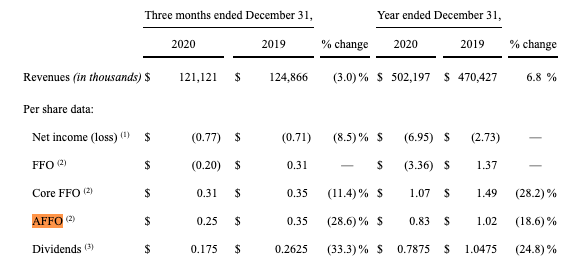 Source: APTS 2020 10-K
In the first half of this year, APTS brought in $0.34 of AFFO per share. Compare that to dividends per share in the first half of the year of $0.35. That marks a payout ratio of 103%.

Source: APTS Q2 Supplemental
Nothing seems to have changed at APTS.
Management has given guidance of $0.90 to $1.00 for core FFO for 2021, but that is not the same as adjusted FFO, or AFFO. If the same share of core FFO translates into AFFO in the second half of the year as in the first, APTS is looking at AFFO per share of $0.56 for the full year of 2021. That compares to a full-year dividend of $0.72, representing a payout ratio of 129%.
To be fair, though, APTS does include a few non-cash items in its AFFO calculation that make it less useful than the standard way most REITs calculate it. For instance, they include equity-based compensation and depreciation & amortization of non-real estate assets. Even so, I find it a better overall cash flow measurement because it takes out amortization of straight-line rents and deferred rents.
Heavily Levered Balance Sheet
Total debt to gross (undepreciated) real estate assets (similar to loan-to-value) was 63.8% at the end of Q2. That is a large percentage of asset value capitalized with debt. For REITs, I generally prefer to see total debt to RE assets around 30-40%.
Total debt to TTM EBITDA sits at a lofty 8.53x, while net debt to TTM EBITDA is a bit lower at 8.05x. Interest coverage at 2.7x, while not terribly worrisome, is not terribly comfortable either.
The debt, which consists entirely (aside from the credit facility) of amortizing and non-amortizing mortgages, is fairly well-laddered, though with the vast majority of debt maturing this decade: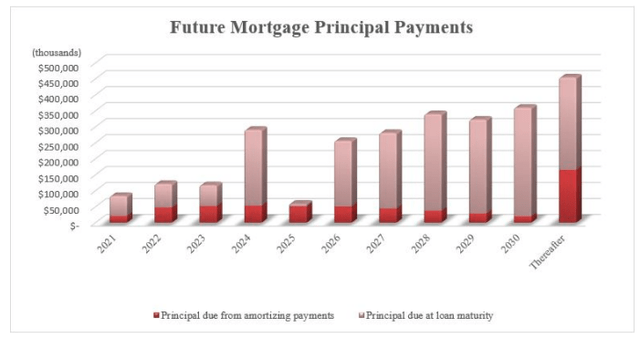 Source: APTS Q2 Supplemental
Given that APTS is paying out all or almost all of its free cash flow, it is unlikely that the REIT will be able to deleverage anytime soon.
Bottom Line
At the current price of $12.48 as of this writing, APTS is trading at 13.1x core FFO and 22.3x my guesstimate of full-year AFFO.
Worse, if the same FFO to AFFO translation happens next year, then AFFO should come in around $0.53 for 2022. That would indicate a price to 2022 AFFO of 23.5x and a one-year forward payout ratio of 132%.
This is a dangerously high payout ratio, probably being paid in part with disposition proceeds, which is an unsustainable situation.
Moreover, APTS is not at all cheap if you take out straight-line rent and the amortization of expected future deferred rent payments using AFFO instead of core FFO.
If one could just own the Sunbelt multifamily segment of the portfolio, it would be a very attractive investment. Then again, that portion of the portfolio on its own would also be valued much more highly than APTS as a whole.
But one does not have the option of buying just the strong parts of APTS' portfolio, just the diamond in the rough. There's just the common stock. You have to buy the "rough" to get the diamond, and that ruins the investment.
Given the step-down in cash flows APTS will experience by exchanging its higher yielding non-core assets for lower yielding core assets, growth is not likely to pick up anytime soon, no matter how good the multifamily properties look.