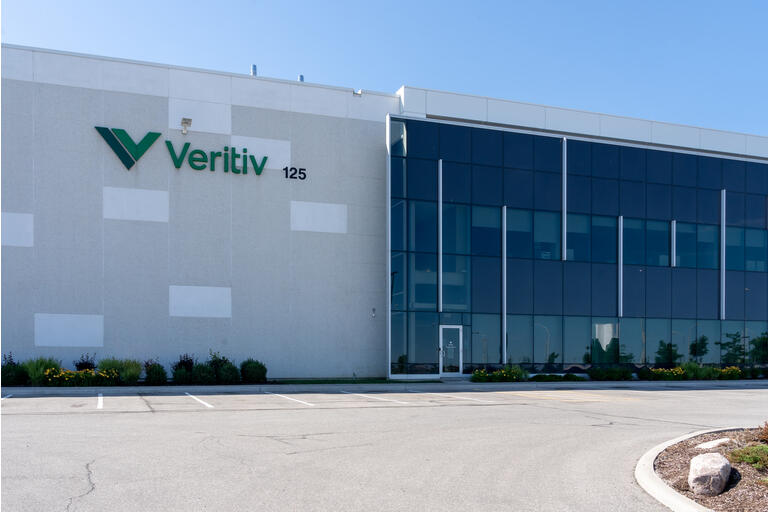 These days, the packaging industry is not seen as a particularly interesting space for investors to buy into. However, this does not mean that good opportunities do not exist. In recent years, one company that has exhibited some pain on its top line is Veritiv Corporation (NYSE:VRTV). Over the past three years, revenue at the company has been declining. However, cost-cutting initiatives by management have proven beneficial and the bottom line of the company has fared well as a result. Add in attractive growth for the current fiscal year, and while the company is probably not the best prospect in the packaging space, it does make for an interesting one that could offer some nice returns down the road.
A diverse company
Veritiv describes itself as being a business-to-business full-service provider of packaging products and solutions. The company also provides various facility solutions and provides print and publication production and services offerings. It also provides logistics and supply chain management solutions for its clients. As you will see, this menagerie of offerings makes the company a diverse prospect for investors to consider.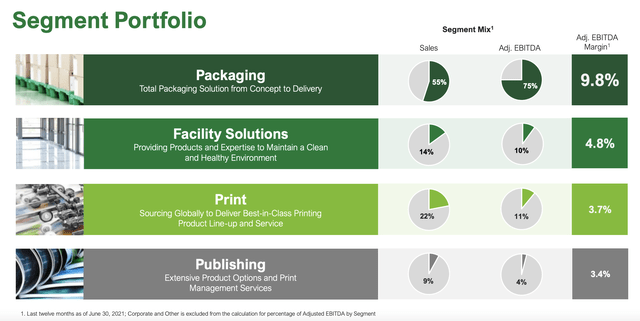 *Taken from Veritiv Corporation
Based on current data available, an estimated 55% of the company's revenue and 75% of its EBITDA comes from its Packaging segment. Through this, the company provides custom end standard fiber based, flexible, and rigid packaging options. For the most part, the company focuses on clients in the manufacturing, food processing and services category, as well as other attractive markets. Another area of concentration is what management calls Facility Solutions. This includes providing hygiene and facility solutions, products, and services to clients. Examples include cleaning, break room, and other related products like towels, tissues, and cleaning chemicals. This particular segment accounts for 14% of the company's overall revenue and 10% of its EBITDA.
Another important segment for the company is its Print unit. This involves the selling and distribution of commercial printing, copying, digital, specialty, and other related products. It also offers paper conversion services to commercial customers. This segment is responsible for 22% of the company's revenue, but only 11% of its EBITDA. Lastly, we have the company's Publishing unit. This involves the selling and distribution of coated and non-coated commercial printing papers to publishing retailers for products like magazines, books, etc. This segment is responsible for just 9% of the company's sales and a paltry 4% of its EBITDA.
Operationally, the company has a fairly large footprint. In all, it has 125 distribution centers in operation. 117 of these are leased, while the remaining eight are company owned. In total, these distribution centers amount to 17.1 million square feet of space and they are located between the US, Canada, and Mexico. In terms of client focus, the company is fairly diversified. Its top ten suppliers, for instance, account for just 30% of its overall revenue.
It is important to note that in recent years management has undergone a number of initiatives to improve the company's position. Take, as an example, the exposure of its EBITDA to both the Print and Publishing units that it runs. Back in 2014, these two accounted for 30% of the profitability of the business. Today, that number has dropped to only about 14%. This has been part of a long-term plan for the company to focus more on higher margin areas and less on those that are subject to replacement by digital means. You can create an e-book to replace a physical book, but you cannot create an e-package to ship your goods.
Other initiatives by the company have been more recent. For instance, in 2020, the company announced a $100 million share repurchase program aimed at replacing a previous $25 million plan. Management believes that this plan will be completed by the end of this year, meaning that it will buy back a rather significant amount of stock. Also, in 2020, the company initiated a restructuring plan aimed at cutting down costs. This is also expected to be completed by the end of this year. This particular plan involves a 15% reduction in the company's salaried workforce in the US. It also involves the closure of some of its warehouse facilities and retail stores. In all, this plan will cost the company between $70 million and $87 million. However, it will help to drastically cut costs moving forward. Another thing that would help is a continued shift in the direction of private label products. This is because these products often have higher margins than white label alternatives and third-party brands. However, any progress on this front appears limited. At present, only 9% of the products that it sells are private label.
In recent years, the financial performance of the business has been questionable. After seeing revenue increase from $8.33 billion in 2016 to $8.70 billion in 2018, it then declined, eventually falling to $6.35 billion in 2020. Fortunately for investors, things are looking up. Revenue in the first half of this year totaled $3.22 billion. That represents a modest increase of 3.4% over the $3.11 billion generated the same time a year earlier. This was driven entirely by an 18.1% increase in revenue in the second quarter this year compared to the same time last year. Recent performance has been driven mostly by volume. Increased volume in the first half of this year accounted for $159 million in increased sales. The company also benefited from foreign currency fluctuations and a favorable price and product mix.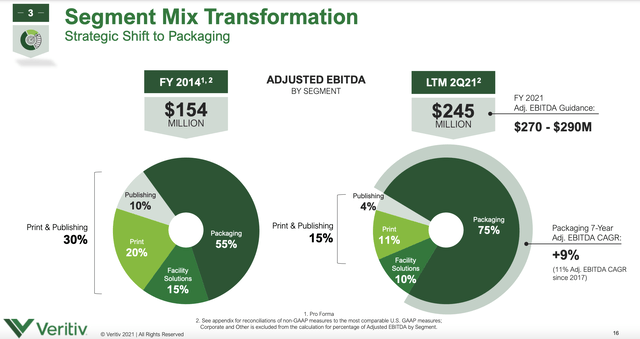 *Taken from Veritiv Corporation
On the bottom line, things have been rough as one might expect for a packaging company. In three of the past five years, the company generated net losses. However, in 2020, its net gain was $34.2 million. That makes it the highest seen in at least five years. Operating cash flow has been similarly volatile, but it hit a five-year high of $289.2 million last year. However, if we adjust for changes in working capital, we can see something of a trend. After dropping from $113.5 million in 2016 to $50.9 million in 2017, adjusted operating cash flow grew each year, climbing eventually to $102.2 million in 2020. No such trend could be seen when looking at EBITDA, but it has moved within a fairly narrow range over the time horizon we are looking at.
For the current fiscal year, the general trend for profitability has been positive as well. Net income in the first half totaled $47.7 million. This compares to the $18.9 million loss experienced in the first half of 2020. Operating cash flow did drop from $226.5 million to $50.1 million, but the adjusted figure grew from $35.7 million to $79.1 million. EBITDA performed similarly, climbing from $76 million to $133 million. It is also worth noting that for the current fiscal year, management does have some expectations. They anticipate that EBITDA will range between $270 million and $290 million. Net income should be between $100 million and $120 million, while free cash flow should be $110 million. Given the expectation for capital expenditures of $35 million, this implies operating cash flow of $145 million. However, these numbers are after taking into consideration $30 million in restructuring costs. Naturally, these should be added back to the cash flow figures when evaluating the business since they should be one-time in nature.
Current conditions make Veritiv appealing
When it comes to pricing the company, there is some uncertainty because of its historical figures. So I have taken a dual approach to pricing the business. If we use estimates for 2021, shares of the business are trading at an adjusted price to operating cash flow multiple of 8.2. Though this figure does increase to 14.1 if we use the 2020 figures instead. Meanwhile, the EV to EBITDA multiple of the company stands at 6.9. And this increases to 10.3 if we use the 2020 figures.
As part of my analysis, I decided to compare the company to the five highest-rated of its US peers that I could find on Seeking Alpha's Quant platform. Of the group, on a price to operating cash flow basis, with a range of 3.2 to 11.7, three of the five were cheaper than our prospect, while four of them are if we use the 2020 figures. I did the same thing using the EV to EBITDA multiple, finding a range of 2 to 12.8. Only one prospect was cheaper than our target if we use the 2021 figures, while three are if we use the 2020 figures.
Takeaway
Based on the data provided, it seems to me as though Veritiv is an interesting prospect. The company has experienced some downward pressure in recent years, but this year is looking up. Add in the obvious benefits already seen from cost-cutting over the past few years and it is understandable why investors would be optimistic about the firm. There is uncertainty over whether the strong demand we have seen as of late will represent a new norm for the business. If it does, shares look quite cheap at this point in time. However, even if we see performance revert back to 2020 levels, shares don't look all that pricey and would probably offer investors reasonable upside.