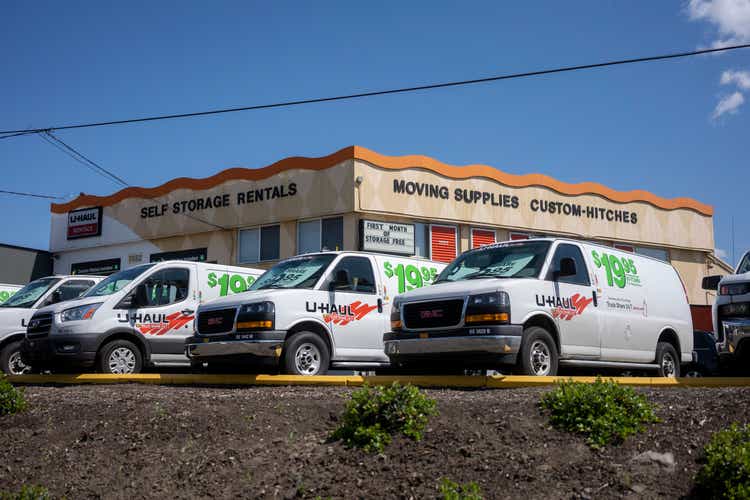 Investment Thesis
Amerco (NYSE:UHAL) is the largest "do-it-yourself" moving and storage company, more commonly known as U-Haul. I believe UHAL presents a great investment opportunity for a shorter-term timespan (~2 year), but is an uncertain bet over a long time horizon, because:
1. While I do expect a large tailwind from pandemic-related moves, migration away from urban centers, and the digital nomad trend to continue for the next couple of years, I also anticipate that it may calm down afterwards.
2. UHAL has very strong cash flow from operations and a large pile of cash in their balance sheet to support expansion.
3. Their valuation metrics show that they are undervalued at this point.
Large tailwinds, but it may slow down in a couple of years
UHAL, and self-moving companies in general, have been experiencing a huge tailwind since the pandemic started. In the past year and a half, a larger than average number of people have moved for various reasons: job loss, fatigue of densely-populated areas, and upswing of the digital nomadic lifestyle. Thanks to these trends, UHAL revenue jumped from 6.35% (5 year average) to 29.35% (TTM).
Their margins have also improved: net income margin from 13.65% (5 year average) to 17.27% (TTM) and EBITDA margin from 32.51% (5 year average) to 38.35% (TTM). Given that a large number of people are still switching jobs and relocating away from big cities, I expect UHAL's growth to stay strong for the next couple of years, but then return to pre-pandemic levels as the relocation trend subsides. Relocation may thus peak in the near future and then start to decrease as people find a preferred location and choose to settle into their new lifestyles. There is significant uncertainty in what "normal" relocation levels will look like several years from now.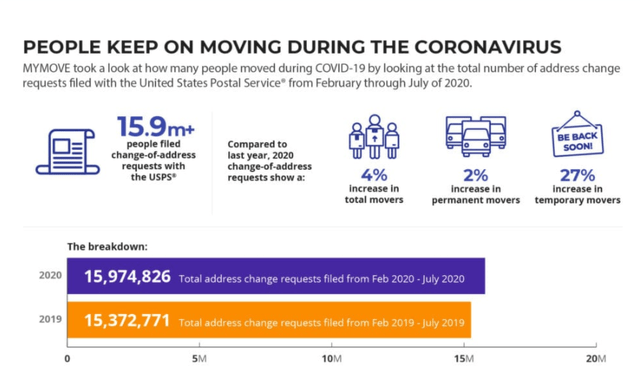 Source: Graph from MyMove Article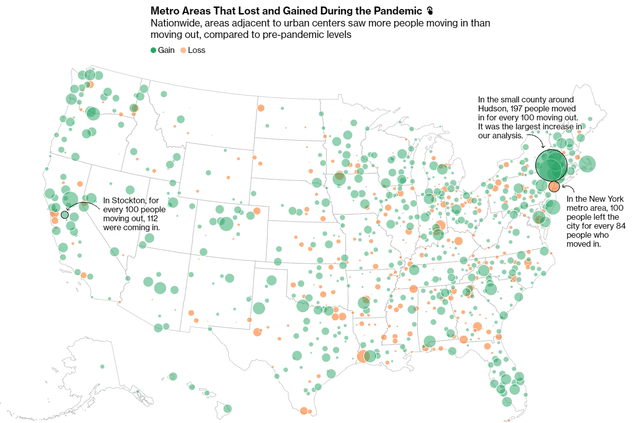 Source: Graph from Bloomberg Article
Strong Cash Flow and Pile of Cash
UHAL has always been strong at generating cash. Cash from operations grew from $669 M in 2012 to $1.5 B in 2021, and this positive trend will likely continue for the next couple of years. Thanks to this strong cash generation, their Cash & Short-term investment accounts grew from $407 M in 2012 to $1.2 B in 2021. Also, this large influx of cash provides strong liquidity (current ratio of 1.8 and covered ratio of 7.96), and UHAL is in a good position to expand their fleet of trucks and number of storage units to meet the growing demand. Their operating cash flow trend is shown below.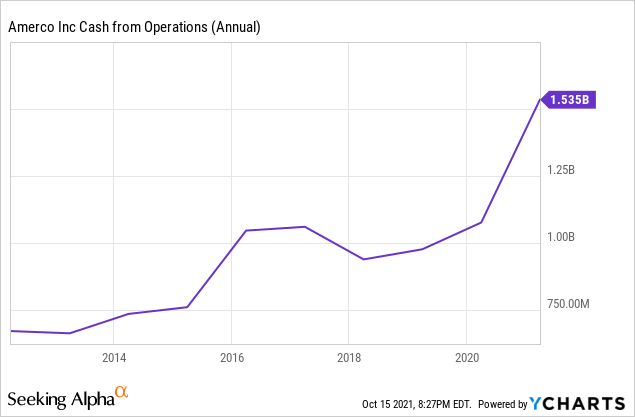 Reasonable valuation even with strong recent growth
Even with this strong tailwind and pile of cash, the valuation of UHAL remains more than fair at this point. Their P/E ratio (16.08) and EV/EBITDA (8.69) are below sector median. Combining a strong growth trajectory, pile of cash, and low valuation, I believe UHAL stock is undervalued at this point, even despite the uncertainty in long term growth. I expect UHAL stock to continue upward for the short term until the valuation is on par with the sector and peer group.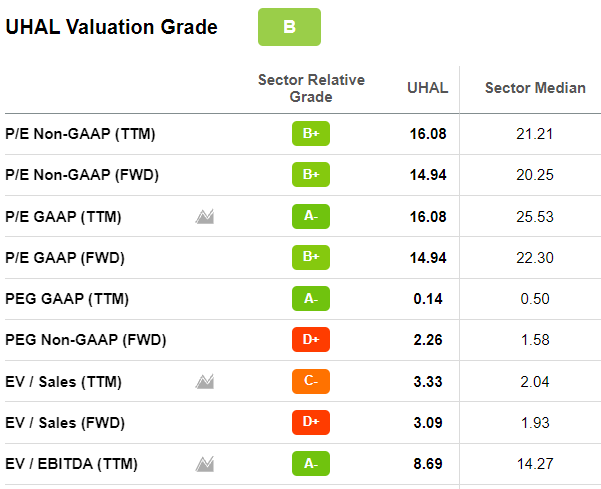 Source: Table from Seeking Alpha
Intrinsic Value Estimation
To estimate the intrinsic value of UHAL, I utilized a DCF model. I used the 2021 EBITDA ($1,587) as the cash flow proxy and current WACC of 7.2% as the discount rate. Since I expect cash flow to grow over the next couple of years but then start to decline, the model used the following schedule (given in the table below) as the cash flow trajectory with zero growth afterwards. I believe this constitutes a conservative assumption (year 1 growth of 14% is about half that of the most recent YoY growth, 29.35%).
| | | | | | | |
| --- | --- | --- | --- | --- | --- | --- |
| Year | 0 | 1 | 2 | 3 | 4 | 5 |
| EBITDA | $ 1,587 | $ 1,784 | $ 1,942 | $ 1,587 | $ 1,587 | $ 1,587 |
| | % Increase YoY | 14% | 9% | -19% | 0% | 0% |
Source: Table created by author to demonstrate cash flow trajectory assumption
The DCF estimation revealed that the current stock price of UHAL represents an upside of 15-25% (target price of $887.57). The ongoing trends toward remote work environments and migration away from large cities will certainly bring positive revenue growth and profitability for UHAL over the next couple of years, so I believe this upside is warranted.
Risk
As mentioned previously, I don't foresee population migration to continue indefinitely, but there is significant uncertainty as to "when" the trend will start to subside. Given that a large number of people have recently quit their jobs, I believe it is safe to assume that significant relocation will continue for the next couple of years, but then probably return to more historical levels afterwards. Since UHAL's revenue is likely to peak and then decline, the long-term uncertainty may limit the stock price upside, and possibly even cause a hard fall-off when moving volume drops.
The nature of the business requires significant capital to purchase land for storage units and trucks for rental, so UHAL carries a large debt on their balance sheet. Therefore, increasing interest rates in the future may negatively impact the business. However, the operation has the ability to generate large amounts of cash and the business sits on a pile of cash. This will carry them through short-term periods of hardship and potentially higher interest rates.
Conclusion
I believe UHAL is a great business with a strong outlook. They are the largest "do-it-yourself" moving and storage operator in the country, and have powerful cash generation. I expect the current tailwind for UHAL to continue for the next couple of years, and their stock price to rise accordingly. However, the migration surge will likely subdue after a couple of years, which may limit the upside of UHAL.
Whether the shift towards remote work will have the long-term effect of elevating the frequency of moves, or whether it will merely redistribute demographics, is unknown. I think UHAL is a good opportunity for a shorter-term investor with a sub-2-year time span, and worth a watch list consideration for a longer-term investor.