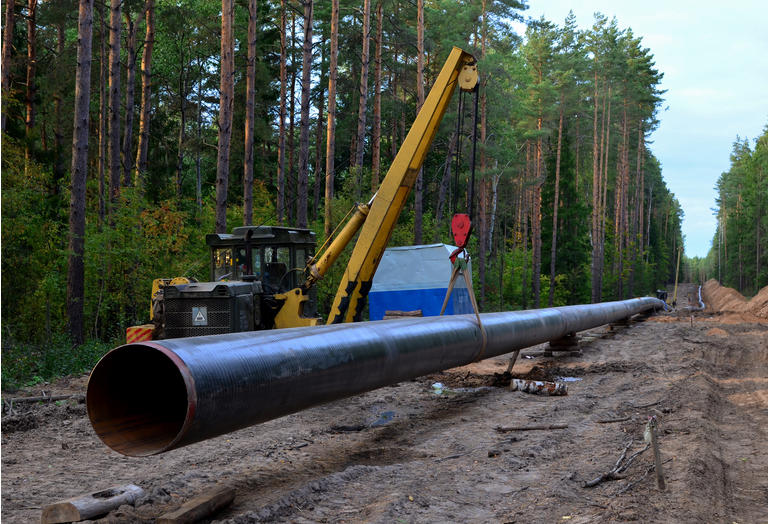 One of the most popular investment vehicles among income-focused investors has long been energy infrastructure firms. This makes a lot of sense since these companies tend to have exceptionally stable cash flows and high yields. Unfortunately, the sector took some major damage during the crash in energy prices that accompanied the pandemic-driven lockdowns, although their cash flows held up reasonably well. As energy prices have since recovered, the sector as a whole has generally seen a recovery in its market prices, although admittedly not every single firm in the sector as a whole has seen its market price recover to the levels that it had prior to the pandemic. It can be difficult to put together a portfolio of these companies though, particularly if capital is limited so one option is to employ a professional management team and purchase a closed-end fund specializing in the sector. In addition to providing a diversified portfolio with one easy trade, these entities can frequently deliver a higher yield than the underlying companies. In this article, we will look at one of these funds, the Fiduciary/Claymore Energy Infrastructure Fund (FMO), which currently yields 8.40%. I have discussed this fund before but several months have passed so obviously a few things have changed. As such, this article will focus on these changes and provide an updated analysis of the fund's finances.
About The Fund
Note: This fund recently announced an intention to merge with the Kayne Anderson Energy Infrastructure Fund (NYSE:KYN). This merger is still pending shareholder approval and will not close until sometime in the first quarter of 2022. As this is still several months off, this article focuses on the Fiduciary/Claymore Energy Infrastructure Fund as it is today. I will provide an updated analysis once the merger is officially approved and the date becomes closer.
According to the fund's web page, the Fiduciary/Claymore Energy Infrastructure Fund has the stated objective of delivering a high level of after-tax total return with an emphasis on current distributions paid to shareholders. This is not exactly a surprise as most funds that invest in energy infrastructure have a similar objective. The fund's strategy to achieve this objective is somewhat more unique but it is very much in-line with what we would expect by looking at the name of the fund. The fund invests its assets primarily in energy infrastructure master limited partnerships and corporations. These are the midstream companies that have long been favorites of income investors. These companies are typically very stable entities that boast very high yields and as such are able to provide much income to the fund that it pass through to the shareholders. As followers of the industry know, these entities frequently issue both common and preferred equities in order to finance their operations. This fund invests in both but has a marked preference for the common equities. This actually makes a great deal of sense since both types of security have remarkably high yields but the common equities have much more capital gains potential so can overall contribute more to the fund's total returns.
As my long-time readers are likely well aware, I have devoted a great deal of time and effort towards discussing various energy infrastructure companies on this site over the years. As such, many of the companies that comprise the largest positions in the fund will likely be reasonably familiar. Here they are: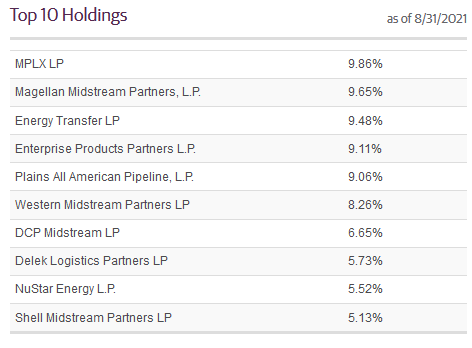 Source: Guggenheim
I have discussed every one of these companies numerous times over the years, with the notable exception of Western Midstream Partners (WES). Overall, we see a good selection of many of the largest and most high-quality midstream partners in the industry. I very much like the management's choice of MPLX (MPLX) as the top pick in the fund. MPLX weathered through the challenging conditions last year better than many of its peers did, which may partly be due to its dominant position in the natural gas-rich Appalachian region. Unlike companies such as Energy Transfer (ET) or DCP Midstream (DCP), it did not have to cut its distribution in the face of the industry's troubles. These may have also contributed to the stellar performance that the company's units delivered once energy prices recovered earlier this year.
Many of the companies are the same as what we saw the last time that we looked at the fund, although the weightings have changed a great deal. In fact, the only notable change here is that Cheniere Energy Partners (CQP) was replaced with Western Midstream, although the order in which the companies fall on the list has changed significantly. This could be due to the buying and selling of various companies in order to adjust the weightings or simply one partnership's units outperforming another's in the market. The fund's relatively low 45.00% annual turnover suggests that the latter is playing a significant role though. As I have pointed out in various previous articles, a low turnover is generally nice to see because it helps to keep the fund's trading expenses down. All else being equal, this should mean that more money is able to make its way down to the shareholders, boosting our returns. It should be fairly obvious why this is a good thing.
As my regular readers on the topic of closed-end funds are no doubt well aware, I do not generally like to see any single position in a fund account for more than 5% of the fund's assets. That is because this is approximately the point at which that asset begins to expose the portfolio to idiosyncratic risk. Idiosyncratic, or company-specific, risk is that risk which any asset possesses that is independent of the market as a whole. This is the risk that we aim to eliminate through diversification but if it is too heavily-weighted in the portfolio, then this risk will not be completely diversified away. Thus, the concern is that some event may occur that causes the price of a given asset to decline when the market itself does not and if the asset accounts for too much of the portfolio, then it may end up dragging the entire fund down with it. As we can see above, all ten of the largest positions in the fund exceed that 5% threshold, with five of them almost being double it. Thus, any potential investor should ensure that they are willing to be exposed to the risks of these assets individually before taking a position in the fund. With that said, it is not uncommon for midstream funds to be heavily exposed to only a few names but I have never seen this much concentration before.
There are several different kinds of midstream company, differentiated by the products that they carry through their pipelines. This fund is invested in all of the different types, although it is most heavily concentrated in crude oil:

Source: Guggenheim
This is important because each of these different fossil fuels has different fundamentals. We saw this quite recently during the pandemic-related lockdowns as the demand for crude oil fell much more than the demand for natural gas. This makes sense since even people under a state of lockdown needed natural gas to heat their homes and cook their food. In addition, natural gas is used to produce most of the electricity consumed in the United States so it continued to enjoy strong demand from utilities. Crude oil, in contrast, is used mostly in transportation so it was not needed nearly as much during the lockdowns. As such, the industry saw larger production cutbacks in crude oil-producing basins like the Bakken shale than it did in the Marcellus. These differences in fundamentals extend into the future as well. As we will see in just a moment, the forward fundamentals for natural gas are better than those for crude oil. As such, I would prefer to see those midstream companies focused on natural gas weighted heavier than those focused on oil in the fund. With that said though, oil is a bit a recovery play right now.
Fundamentals Of Midstream
Overall, the long-term fundamentals for midstream companies are strong than many believe. This is particularly true for those companies focused on the transportation and processing of natural gas. Perhaps surprisingly, one of the reasons for this are the global fears with regards to climate change. As everyone reading this is no doubt aware, these fears have caused governments all around the world to take a variety of steps, such as imposing incentives and mandates, that are intended to reduce the carbon emissions of their respective nations. One of the more popular of these incentives is to encourage the retirement and replacement of old coal- and oil-fired power plants with natural gas ones. This is because natural gas burns much cleaner than either coal or oil and is more reliable than renewables with today's technology. The International Energy Agency expects that this trend will continue and cause the global demand for natural gas to increase by 29% over the next twenty years: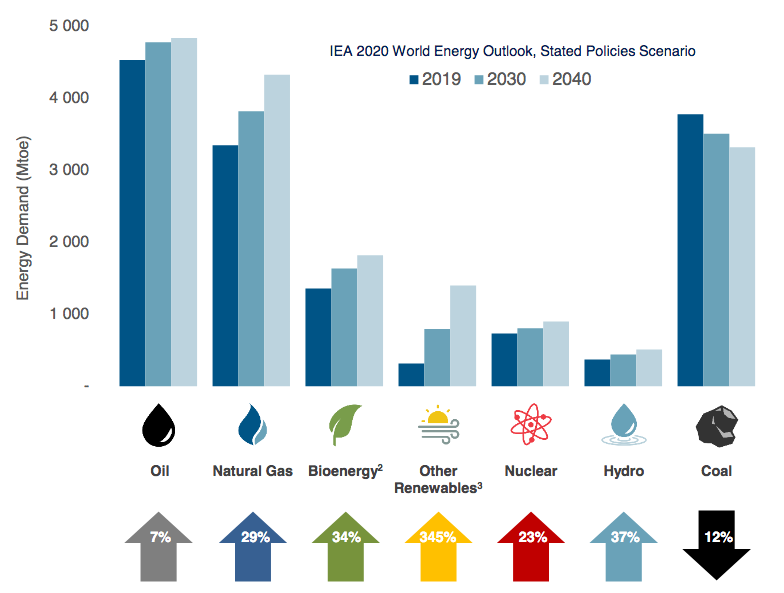 Source: International Energy Agency, Pembina Pipeline (PBA)
We can clearly see that the global demand for crude oil is expected to increase over the period, albeit by much less than the demand for natural gas. This may be surprising to many investors considering that attempts that we are seeing in North America and Europe to move away from crude oil. This demand growth will be driven by the various emerging markets around the world, which are expected to see very strong economic growth over the period. This economic growth will cause the citizens of these nations to become increasingly wealthy and they will enter the middle class. As these people become wealthier, they will begin to desire a lifestyle that is much closer to what their counterparts in the developed nations enjoy than they have now. This will require growing energy consumption, including the consumption of crude oil. As the populations of these nations are much higher than that of the developed nations, the rising crude oil demand here will more than offset the stagnant to declining demand in the various emerging markets.
These trends will benefit the nation's various midstream companies even though they do not actually produce any resources. This is because the United States is one of the only nations in the world that has the ability to significantly increase its fossil fuel production due to wealth of regions like the Permian basin and the Marcellus shale. Thus, it makes sense that the country's various upstream producers will grow their production in order to meet this demand. It is impossible to do this if they cannot get the resources from the fields where they are produced to the market where they can be sold. This is exactly the business that midstream companies are in. Midstream companies make their money based on the volume of the resources that they transport and not on the value of them. As this scenario results in growing volumes, we can see how it should produce growth for midstream companies.
Distribution Analysis
As mentioned earlier, the Fiduciary/Claymore Energy Infrastructure Fund has the stated objective of delivering a high level of total return with an emphasis on current distributions to its investors. As such, we might expect it to pay out a regular distribution. This is indeed the case as the fund currently pays out a quarterly distribution of $0.2450 per share ($0.98 per share annually), which gives it an 8.40% yield at the current price. The fund's distribution has varied quite a bit over the years and unfortunately it had to cut it severely last year: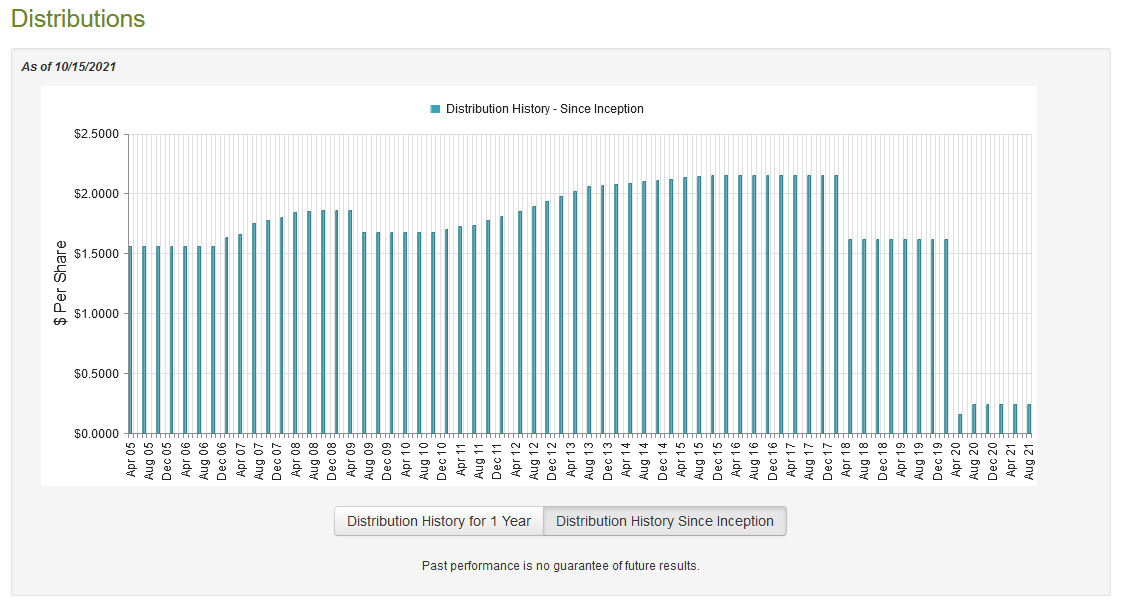 Source: CEF Connect
The fund was certainly not alone in cutting its distribution last year. Indeed, most closed-end funds focused on the midstream sector were forced to do the same thing. This is something that could certainly prove disheartening to those investors seeking a stable source of income, however. With that said, someone buying today would receive the current yield and would not really be hurt by the fact that its distribution used to be significantly higher. There are many investors that may be concerned by the fund's distributions being classified entirely as return of capital:

Source: Fidelity Investments
The reason that this may be concerning is that a return of capital distribution can be a sign that the fund is returning the investors' own money back to them. This is obviously not sustainable over any sort of extended period. There are other things that can cause a distribution to be classified as return of capital, however. This includes the distribution of unrealized realized capital gains or of money received from partnerships. These are both things that this fund may be doing. As such, we should investigate exactly how it is financing these distributions in order to determine how sustainable they are likely to be.
Unfortunately, we do not have an especially recent report to consult for this purpose. The fund's most recent financial report corresponds to the six-month period ended May 31, 2021 so it will not include any information about the fund's performance since that date. The report should be current enough to provide us with a great deal of insight into how well it performed during the strong recovery in energy prices that we saw in the months following the presidential election. During that period, the fund received a total of $113,280 in dividends and $208 in interest off of the assets in its portfolio for a total of $113,488 in income. It paid its expenses out of that amount, leaving it with a negative $600,115 available for the shareholders. It is important to note though that the money received from partnerships is not classified as income to the fund, but rather as return of capital or as capital gains. The fund received $3,948,123 in such income from that source during the period. If we factor this in, the fund had $3,348,008 available for the shareholders after covering its expenses. This was almost enough to cover the $3,473,195 that it actually paid out in distributions over the period. The fund was more than able to make up the difference through capital gains. It had $902,588 in net realized losses but this was more than offset by the $37,405,195 in net unrealized capital gains that it produced during the period. Overall, it easily covered its distributions through money that it received from the various partnerships and unrealized capital gains. The distribution appears to be quite secure.
Valuation
As is always the case, it is critical that we do not overpay for any asset in our portfolios. This is because overpaying for any asset is a surefire way to generate a suboptimal return off of that asset. In the case of a closed-end fund like the Fiduciary/Claymore Energy Infrastructure Fund, the usual way to value it is by looking at the fund's net asset value. The net asset value of a fund is the total current value of all of the fund's assets minus any outstanding debt. This is the amount that the shareholders would receive if the fund were immediately shut down and liquidated.
Ideally, we want to purchase shares of a fund when we can obtain them at a price that is less than the fund's net asset value. That is because such a scenario implies that we are purchasing the fund's assets for less than they are actually worth. As is the case with most midstream funds, that is true here. As of October 14, 2021 (the most recent date for which data is available as of the time of writing, the Fiduciary/Claymore Energy Infrastructure Fund had a net asset value of $13.11 per share but only trades for $11.67 per share. This gives it a 10.98% discount at the current price. This is relatively in-line with the fund's 10.88% average discount over the past month. Thus, the price looks right here.