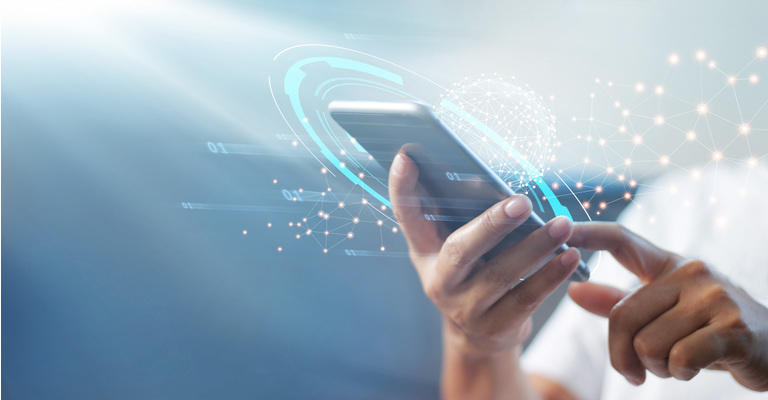 By Nick Grous, Analyst; and Andrew Kim, Analyst Intern
In 1994, the first online retail transaction involved a Sting CD that cost $12.48 plus shipping. That transaction catalyzed the global e-commerce market which since has scaled to ~19% of global retail sales, or $4.9 trillion. During the past year, the COVID crisis accelerated the shift from brick-and-mortar retail to online shopping, a shift that surveys suggest will be sustained, as shown below.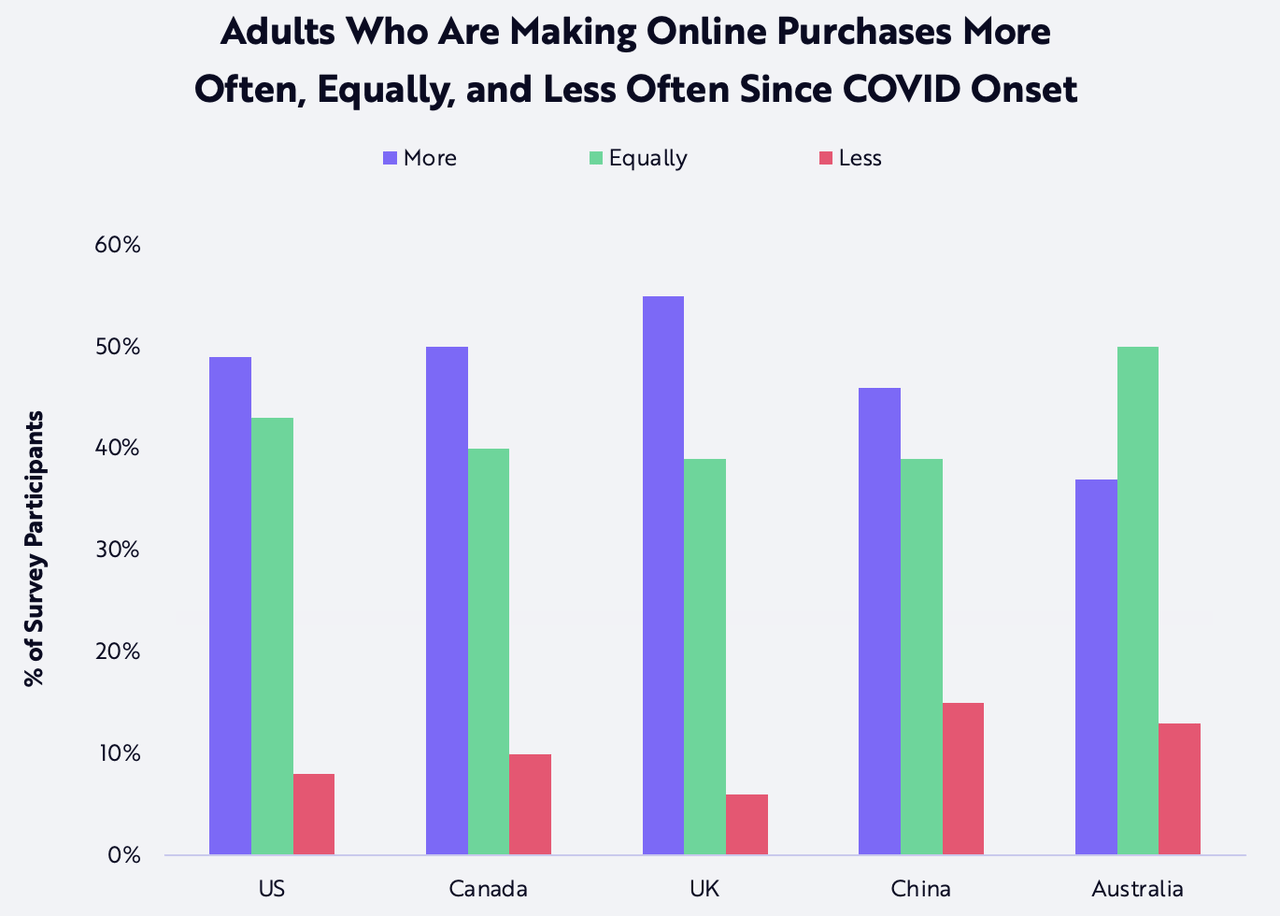 Sources: ARK Investment Management LLC, 2021; eMarketer, Ipsos. Survey conducted in December 2020.
In our view, e-commerce has substantial room for growth thanks to digitally native consumers who view it as the norm instead of a convenient substitute for brick-and-mortar shopping. Now that both e-commerce and social media occupy an increasing share of consumer waking hours, platforms are experimenting with blends of the two: social commerce, or transactions with social features on social media, as shown in survey results below.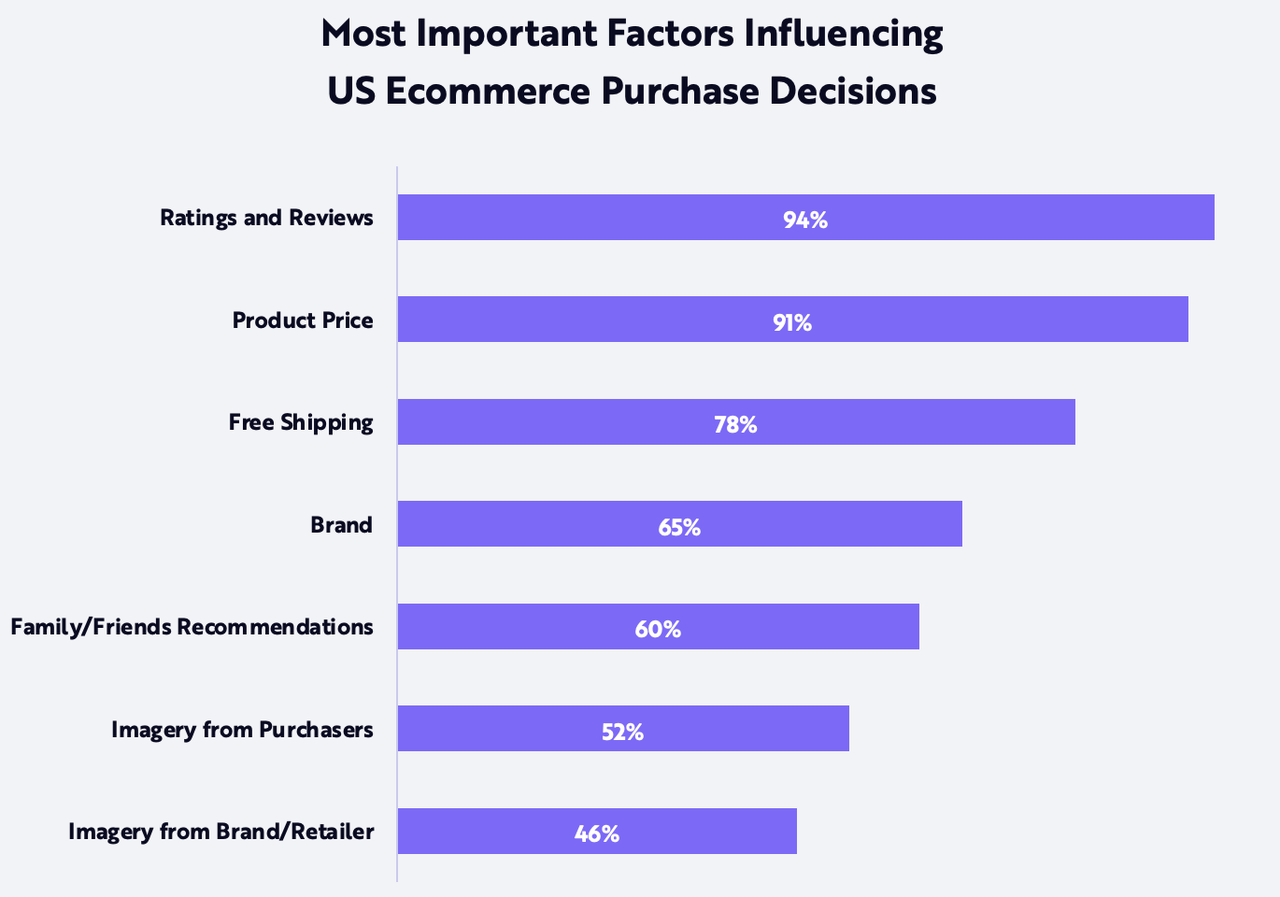 Sources: ARK Investment Management LLC, 2021; eMarketer, PowerReviews. Survey conducted in April 2021.
Trust is the primary pain point in e-commerce. How do I know this product does what its company claims? In an attempt to solve the trust problem, platforms are creating solutions ranging from user-generated reviews to platform-sponsored products. If Amazon (AMZN) says a good product is good, for example, the product must be good. As seen in the chart above, the most significant influences on US consumer purchasing behavior are ratings and reviews. That said, trust in online ratings and reviews has deteriorated during the past five years, as shown below. While platforms have improved the quality of user-generated reviews by monitoring for unverified purchasers and bots, we believe in the absence of a radical improvement in ratings and reviews, customers are likely to default increasingly to proxies like brands and recommendations as gauges of quality.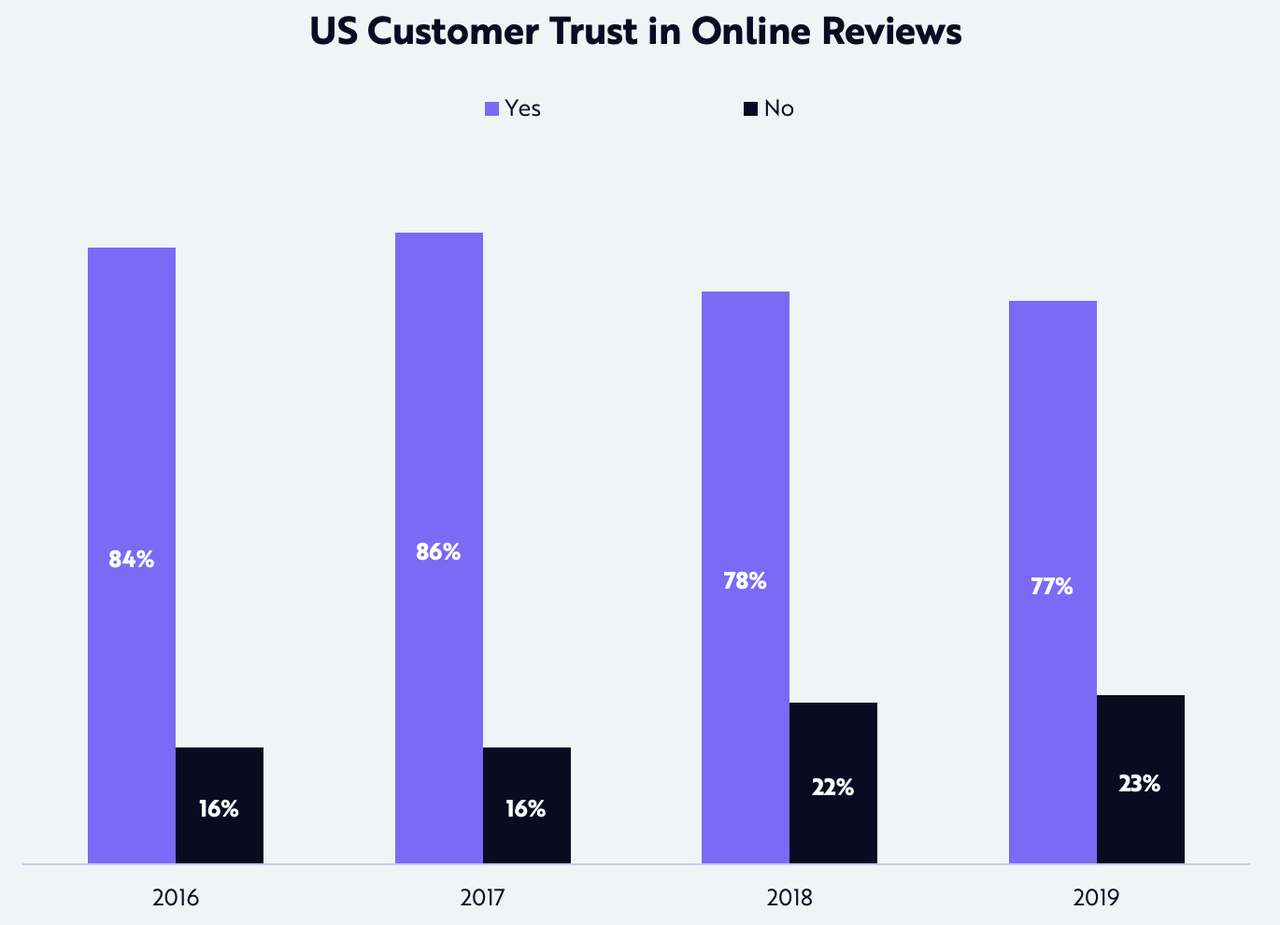 Sources: ARK Investment Management LLC, 2021; BrightLocal, 2021.
The Opportunity
Implemented correctly, social commerce combines the convenience of online shopping with the network effects of social media, resulting in a powerful growth driver. As a consequence, many social media platforms are likely to adopt e-commerce solutions at the same time that traditional e-commerce sites embrace social features. Based on ARK's research, as more platforms transition from pureplay to social, the ecommerce market could scale 50% at a compound annual rate, from approximately $390 billion last year to nearly $3 trillion by year-end 2025. In other words, social commerce could increase from roughly 7% to 17% of the $17 trillion projected global e-commerce market by the end of 2025. As is the case now, China is likely to dominate the category, as shown below.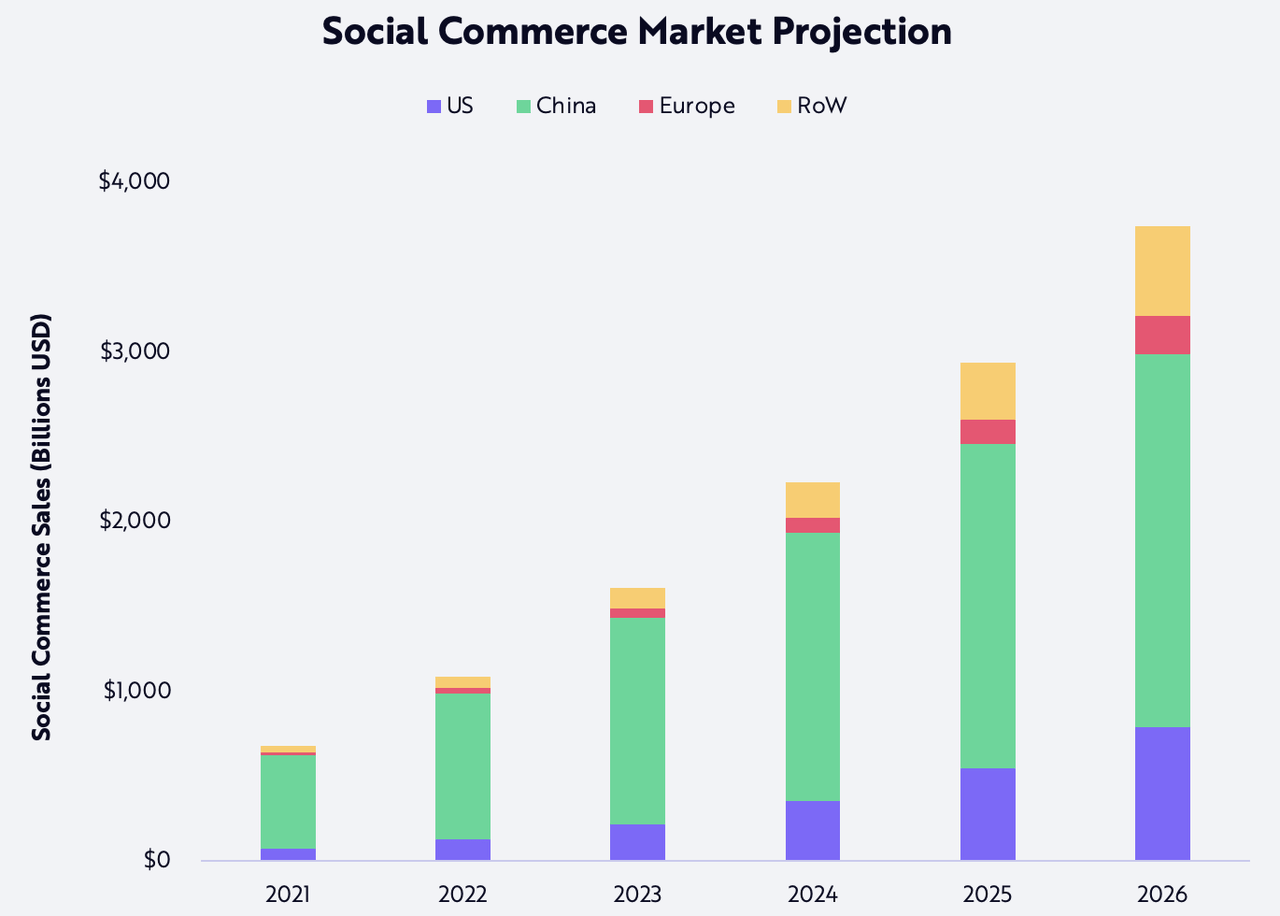 Source: ARK Investment Management LLC, 2021
China
To understand the potential of social commerce, the behavior of early adopters in China is instructive. Home to the largest e-commerce market in the world, China generated $1.5 trillion in online shopping sales last year, 25% of total retail sales and well ahead of the 14% share in the US, as shown below. Given the maturity of its market, startup e-commerce players in China have resorted to social connections, adding a new dimension to shopping: social commerce.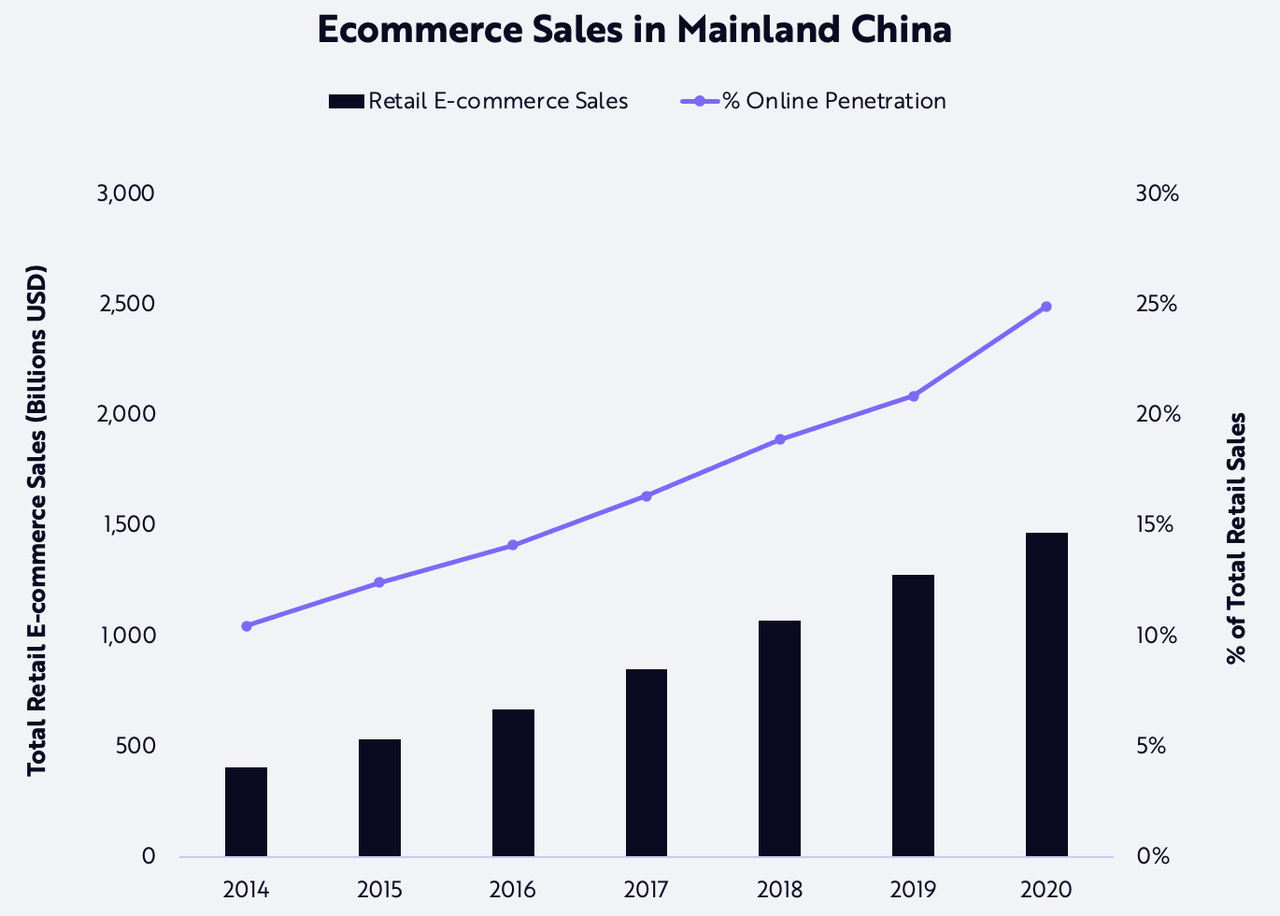 Source: ARK Investment Management LLC, 2021; China Renaissance, The NPD Group
Founded in 2015, Pinduoduo (PDD), for example, has mushroomed into the second-largest e-commerce company in China, attracting more than 780 million annual active buyers, as shown below. Leveraging China's most popular messaging app, WeChat, Pinduoduo offered teams of buyers highly discounted bulk-buying opportunities both on its platform and on WeChat. Unlike traditional ecommerce players, Pinduoduo also powers its marketplace with advertisements and recommendation algorithms, an active strategy compared to the more passive search-based model. Combining low prices with speed in a game-like social interface, Pinduoduo created the world's first viral shopping platform.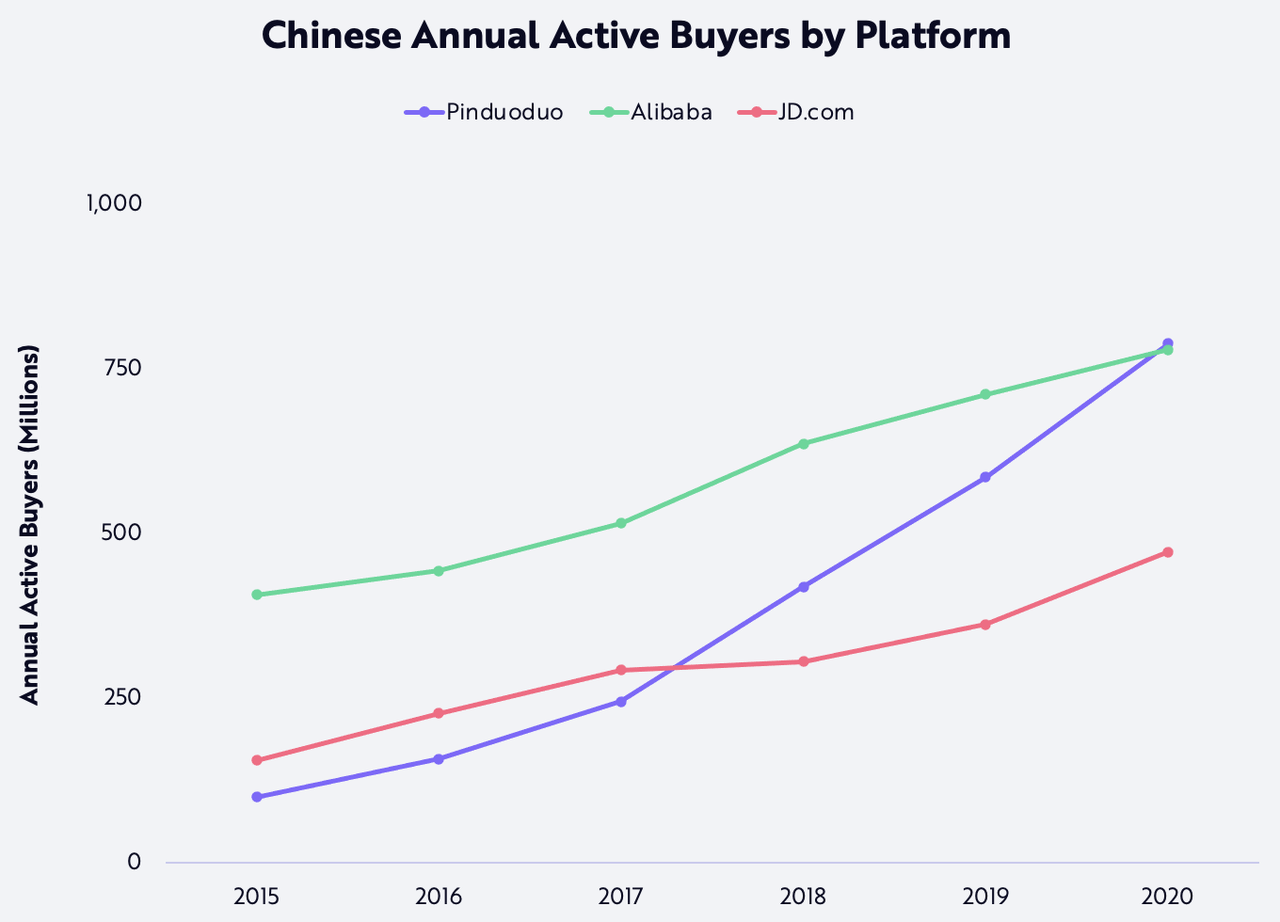 For informational purposes only and should not be considered investment advice, or a recommendation to buy, sell or hold any particular security.
Source: ARK Investment Management LLC, 2021; Company filings.
Given Pinduoduo's success, competitors like Alibaba (BABA) and JD.com (JD) followed quickly with copycat features, adding social features to their more conventional platforms. As result, according to our estimates, $390 billion or 22% of all e-commerce sales in China were social commerce sales in 2020. By contrast, in the US social commerce barely registered 1% of total ecommerce sales.
Livestreaming
Given its success in China, livestreaming is likely to play an important role in the evolution of e-commerce globally. In the US, livestreaming and social commerce could cannibalize linear TV shopping channels like QVC and the Home Shopping Network. Often hosted by category experts, influencers, and other trusted individuals, livestreaming offers product reviews and sales pitches that epitomize social validation, as shown below.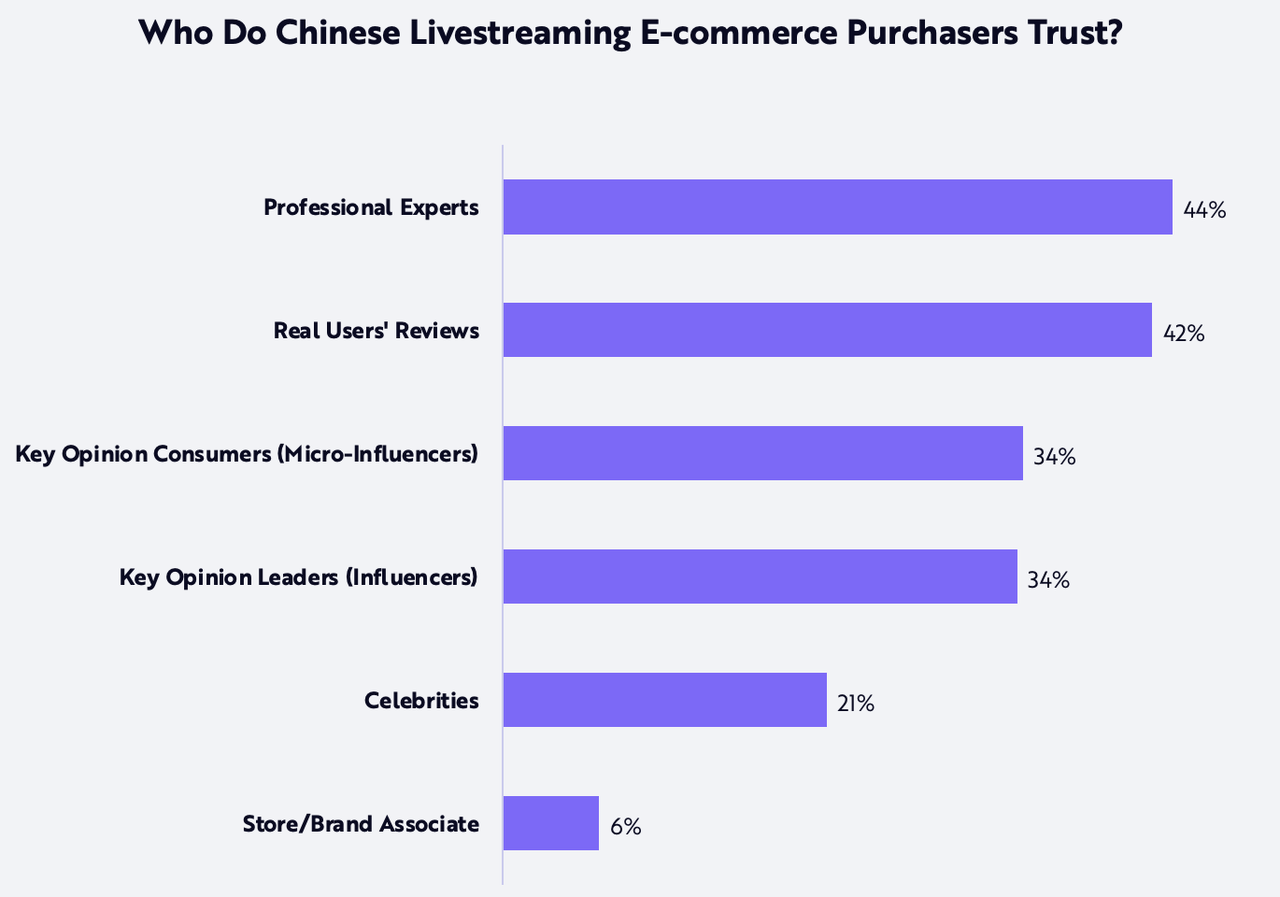 Source: ARK Investment Management LLC, 2021; eMarketer, C2 Global
In 2016, Chinese e-commerce platforms began to experiment with livestreamed e-commerce: Alibaba's Taobao, Mogujie, and JD.com all launched real-time video features in an attempt to increase engagement on their platforms. Between 2017 and 2018, video streaming platforms such as Douyin (BDNCE), Kuaishou (OTCPK:KUASF), Xigua Video, and Meipai joined the movement, adding e-commerce to their social platforms. By 2019, livestreamed e-commerce had become so competitive that large players like Taobao, Pinduoduo, Douyin and Kuaishou began to consolidate the space, catapulting Key Opinion Leaders (KOLs) such as Viya and Jiaqi Li to fame and fortune: in the three months from July to September 2020, for example, Viya sold approximately $890 million in products and, on Single's Day in 2020, Jiaqi Li – better known in China as "Lipstick King" for selling 15,000 lipsticks in under five minutes – generated sales of more than $145 million on Taobao.
Now the rest of the world is experimenting with livestreaming e-commerce. While Amazon Live is trying to capitalize on the trend shift, TikTok, Popshop Live, and social incumbents like YouTube or Instagram have been much more visible and successful. If its adoption were to follow that in China, we believe global livestreaming e-commerce sales could scale 54% at a compound annual rate during the five years ended 2025, from $100 billion in 2020 to $890 billion, as shown below.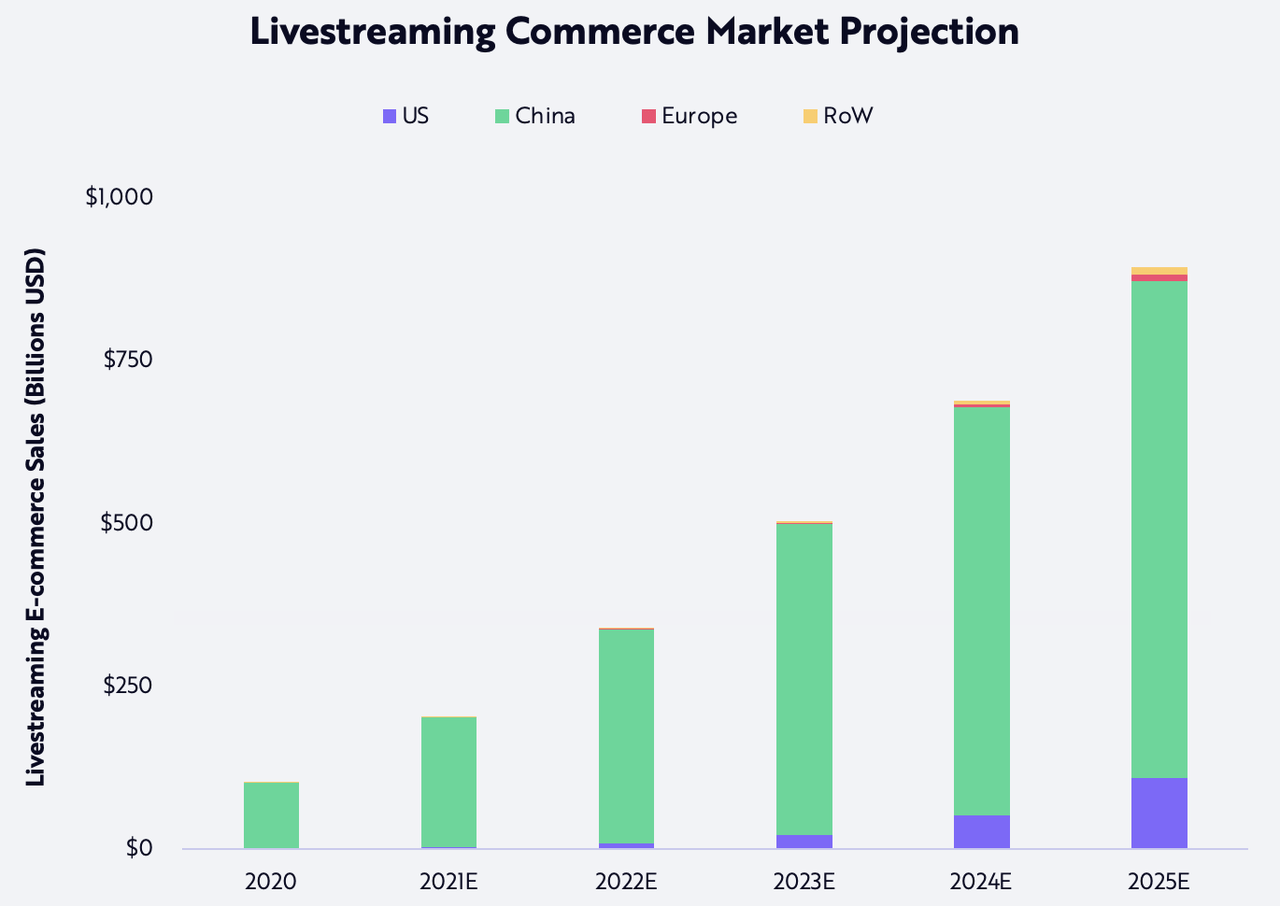 Forecasts are inherently limited and cannot be relied upon.
Source: ARK Investment Management LLC, 2021
Why Is Social Commerce Scaling Now?
As usual, history offers a guide. In 1997, Six Degrees, arguably the first social media company, debuted 15 years ahead of the first e-commerce company, Boston Computer Exchange. Each platform type has matured during the last 20 to 40 years while social commerce seems to have hit escape velocity only recently. Mass adoption of the Internet and mobile devices propelled both e-commerce and social media. In the US, the correlation between retail e-commerce sales and social media monthly active users (MAUs) has been almost exponential, as shown below.
Social commerce is likely to accelerate the convergence between the two markets. Three paradigm shifts are evolving simultaneously, suggesting that social commerce will continue to stimulate growth in both e-commerce and social media.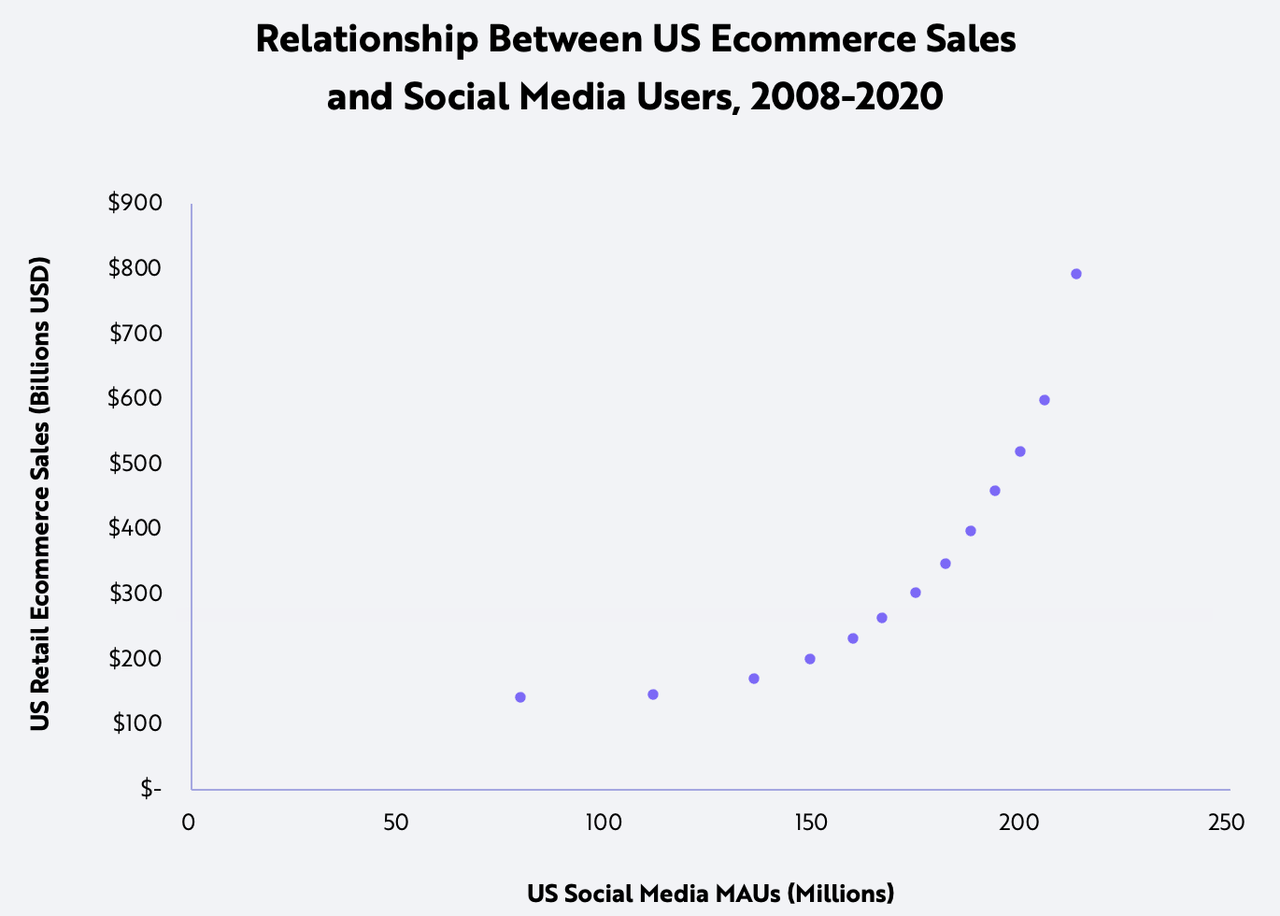 Source: ARK Investment Management LLC, 2021; eMarketer
1. Lower Payment Friction Thanks to FinTech Solutions
Payment solutions like those from PayPal (PYPL), Square (SQ), and Stripe (STRIP) are democratizing finance and lowering not only the cost to process online payments but also the barriers to entry. Any social platform or business now can incorporate commerce solutions on its website.
2. Off-the-Shelf Infrastructure
Backend services connecting inventory management, logistics, frontend user interfaces, and third-party integrations have cut the capital, expertise, and R&D necessary to set up e-commerce operations. Fulfilment-as-a-Service solutions such as Amazon, Shopify (SHOP), and BigCommerce (BIGC) all allow their customers to create and scale online businesses easily, lowering the cost of entry to the point that some vendors never see the products they sell. This business model is called dropshipping.
3. Accelerated Adoption by Traditional Social Media Platforms
The adoption of social commerce is accelerating now that the traditional social platforms – Facebook (FB), Twitter (TWTR), Snapchat (SNAP), and Pinterest (PINS) – are integrating commerce features. Facebook offers merchants live shopping features, and Instagram engages users with extensive e-commerce features. In July 2021, Twitter launched a pilot program to showcase products on business profiles. With investments in mini-apps and augmented reality (AR) shopping, Snapchat could become the WeChat of the western world as it rolls out in-app shopping and try-on features during the next few months. Meanwhile, Pinterest continues to attract KOLs like creators and influencers with monetization tools such as Idea Pins.
Thanks to in-app shopping, we believe social media platforms are likely to transition from lead generators at the top of the funnel to full stack commerce providers. The goal of every online platform in the world, funnel compression, could also mark the next strong leg of growth in social commerce.
Disclosure: ARK's statements are not an endorsement of any company or a recommendation to buy, sell or hold any security. For a list of all purchases and sales made by ARK for client accounts during the past year that could be considered by the SEC as recommendations, click here. It should not be assumed that recommendations made in the future will be profitable or will equal the performance of the securities in this list. For full disclosures, click here.
Disclaimer: ©2021, ARK Investment Management LLC ("ARK" ® "ARK Invest"). All content is original and has been researched and produced by ARK unless otherwise stated. No part of ARK's original content may be reproduced in any form, or referred to in any other publication, without the express written permission of ARK. The content is for informational and educational purposes only and should not be construed as investment advice or an offer or solicitation in respect to any products or services for any persons who are prohibited from receiving such information under the laws applicable to their place of citizenship, domicile or residence.
Certain of the statements contained on this website may be statements of future expectations and other forward-looking statements that are based on ARK's current views and assumptions, and involve known and unknown risks and uncertainties that could cause actual results, performance or events to differ materially from those expressed or implied in such statements. All content is subject to change without notice. All statements made regarding companies or securities or other financial information on this site or any sites relating to ARK are strictly beliefs and points of view held by ARK or the third party making such statement and are not endorsements by ARK of any company or security or recommendations by ARK to buy, sell or hold any security. The content presented does not constitute investment advice, should not be used as the basis for any investment decision, and does not purport to provide any legal, tax or accounting advice. Please remember that there are inherent risks involved with investing in the markets, and your investments may be worth more or less than your initial investment upon redemption. There is no guarantee that ARK's objectives will be achieved. Further, there is no assurance that any strategies, methods, sectors, or any investment programs herein were or will prove to be profitable, or that any investment recommendations or decisions we make in the future will be profitable for any investor or client. Professional money management is not suitable for all investors. For full disclosures, please go to our Terms & Conditions page.
The Adviser did not pay a fee to be considered for or granted the awards. The Adviser did not pay any fee to the grantor of the awards for the right to promote the Adviser's receipt of the awards nor was the Adviser required to be a member of an organization to be eligible for the awards. For full Award Disclosure please go to our Terms & Conditions page. Past performance is not indicative of future performance.
Editor's Note: The summary bullets for this article were chosen by Seeking Alpha editors.