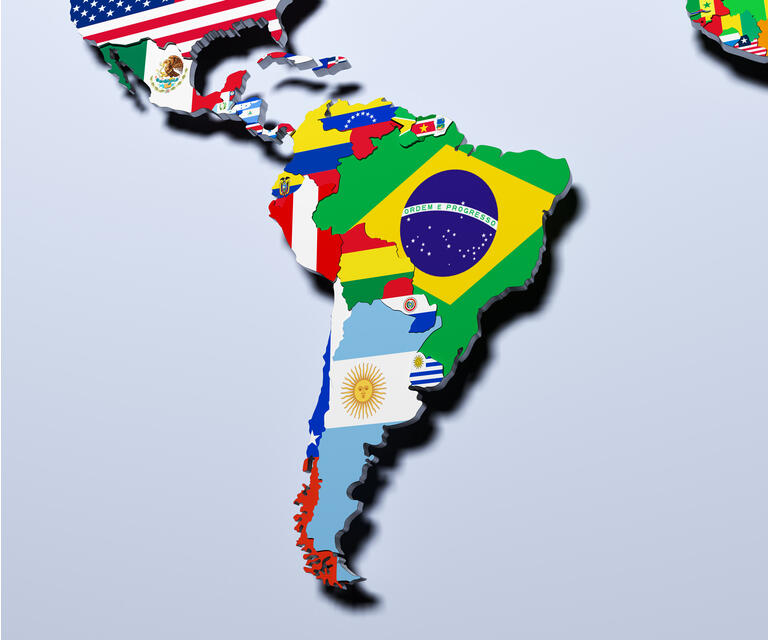 Investment Thesis
MercadoLibre (NASDAQ:MELI) hardly needs an introduction. As LatAm's largest e-commerce behemoth, the stock has been an unequivocal winner for long-term investors. Notwithstanding, the company's growth story is still in the early innings. The region is expected to continue experiencing rapid growth. With a population of 490M and a 2020 GMV of just $60B, there are still plenty of growth opportunities ahead.
We have also covered MELI extensively. In our last article in August, we informed readers that the recovery in its stock momentum looked strong. However, we encouraged investors to wait for a pullback first before adding. The stock has fallen by about 15.5% since our article was published.
MELI's strong leadership in LatAm since its founding in 1999 has positioned it exceptionally well to leverage the region's growth. Investors should understand that the company is already an omnichannel player in LatAm. E-commerce has been the core revenue driver for MELI. However, the opportunities in the FinTech space are expected to be even more massive.
Amazon (AMZN) has been trying to disrupt MercadoLibre's LatAm leadership since 2015. However, till today, MELI remains the undisputed leader in the region. Despite that, the region's e-commerce landscape remains fragmented. Therefore, MercadoLibre must capitalize fully on the region's growth potential. In addition, the company needs to continue leveraging its robust e-commerce and FinTech ecosystem.
The landscape is not without intense competition. Sea Limited's (SE) initial forays into the region have been relatively successful. Even though it's still early days, MELI needs to make sure it continues to execute well to protect its leadership. We are confident that MELI has the tenacity and the execution capability to extend its lead. SE is a formidable competitor. However, MELI is unlike any of its competition in Southeast Asia.
We will discuss MELI's opportunities in LatAm in this article. We also think it's an opportune time to reconsider our rating on MELI since our last neutral rating in August.
MELI Stock YTD Performance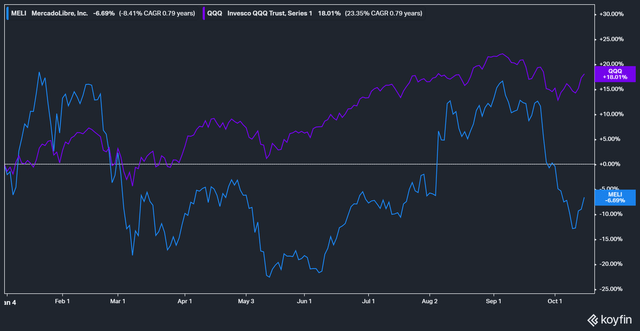 MELI stock YTD performance (as of 15 Oct 21).
MELI stock has had a disappointing year so far. The stock had a promising start in early January. It managed to notch a 20% YTD return by then. However, the stock's momentum quickly fizzled out during the growth-to-value rotation. As MELI stock multiples belong to the growth camp, its performance suffered. It was languishing in the doldrums until June. Then, the stock's momentum recovered strongly. However, the recent retracement pushed its YTD return back into the red. As a volatile stock, investors should not be surprised. Currently, MELI stock's YTD return is -6.7%. Compared to the Invesco QQQ ETF's (QQQ) 18% YTD gain, MELI's stock has significantly underperformed.
LatAm Continues to Offer Massive Growth Opportunities for MercadoLibre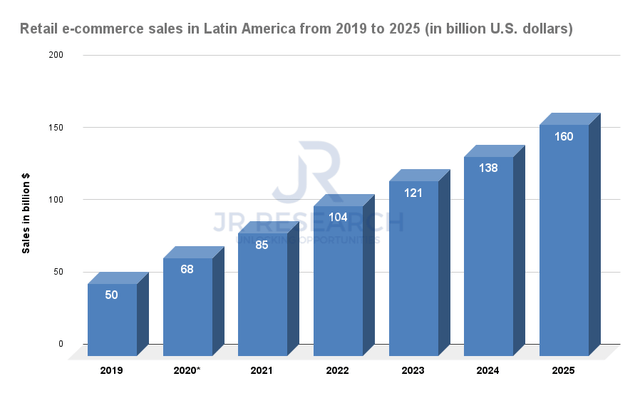 Retail e-commerce sales in LatAm. Data source: Fidelity; Morgan Stanley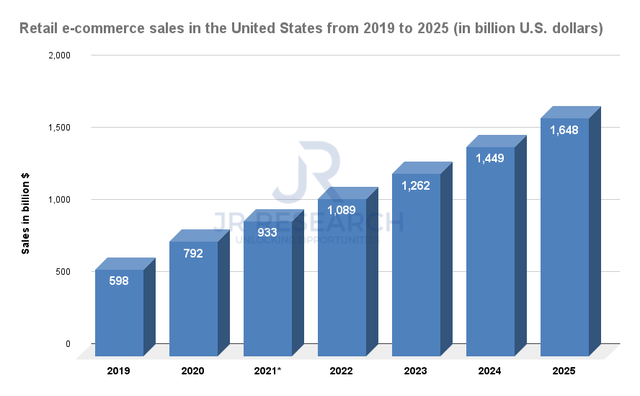 Retail e-commerce sales in the US. Data source: eMarketer
The gargantuan US e-commerce market easily surpasses the size of its LatAm counterpart. Moreover, the US market is still expected to continue growing rapidly. The US market is estimated to reach $1.65T by 2025. It represents a remarkable CAGR of 15.8%. It's no mean feat for a market this large.
On the other hand, the LatAm e-commerce market is expected to reach only $160B by 2025. Notwithstanding, it's expected to grow noticeably faster. Its 5Y CAGR is estimated to be about 18.7%. Therefore, massive opportunities are awaiting the leaders in LatAm.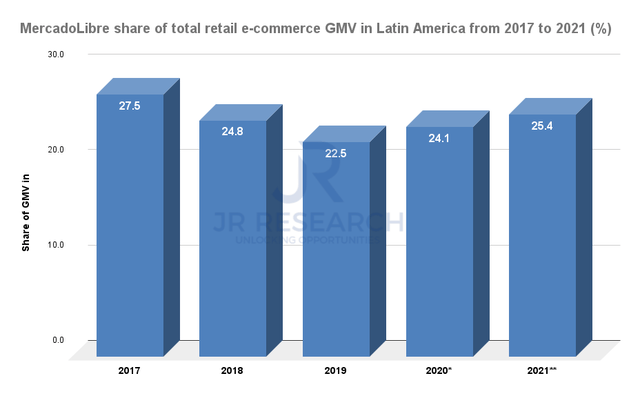 MercadoLibre share of total retail e-commerce GMV in LatAm. Data source: eMarketer; DPL News
We can quickly glean from above that MELI is estimated to account for just over 25% of LatAm's 2021 GMV. Therefore, there are still plenty of opportunities for the rest of its competitors. Moreover, it's different from the US market, where Amazon dominates. In LatAm, the competitive landscape is still fragmented. Therefore, MercadoLibre still has plenty of opportunities to strengthen its grip and extend its leadership.
MercadoLibre Has Continued to Improve its Operating Leverage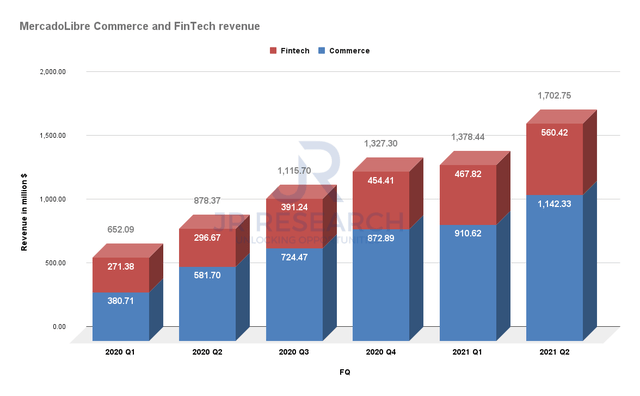 MercadoLibre commerce and fintech revenue. Data source: Company filings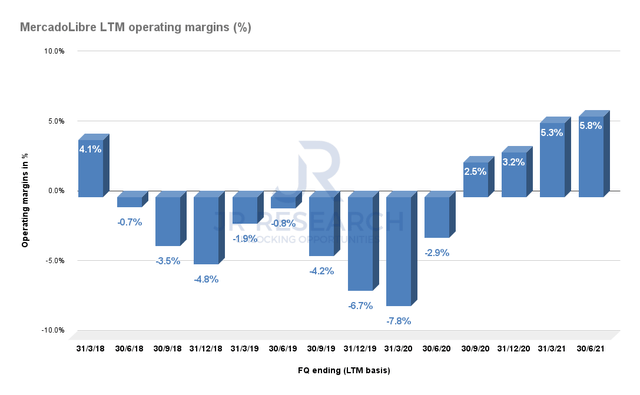 MercadoLibre LTM operating margins. Data source: S&P Capital IQ
We can quickly glean MercadoLibre's much improved operating leverage. MELI increased its revenue by 93.9% year-over-year (YoY) in FQ2'21. Notably, its last twelve-month (LTM) operating margins also improved as it scales. MELI's LTM operating margin of 5.8% in FQ2'21 was a 3Y quarterly high. The company has previously committed to building up its infrastructure and fulfillment networks. MELI believes that it's imperative to build a top-notch logistics and fulfillment infrastructure to scale rapidly. It's critically important considering LatAm's notoriously challenging transport infrastructure and logistics network. Therefore, those previous years of negative operating margins have started to pay off. MELI has been executing very well as it scales up.
There's little doubt that its commerce segment has seen gangbusters growth. Notwithstanding, its FinTech segment has also been growing rapidly. We think the market has not fully appreciated MELI's formidable FinTech business model. We also discussed its FinTech potential in an earlier article. The immense opportunity from serving the unbanked and underbanked in LatAm is tremendous. Importantly, MELI is the emerging leader in a competitive and highly fragmented FinTech landscape. Despite that, the company has managed to grow its FinTech segment rapidly. Notably, the company is already profitable on a combined basis. We think MELI's FinTech segment profitability will likely see further improvement. The company is continuing its move towards higher value-added products. It includes products such as insurance, investments, and wealth management solutions.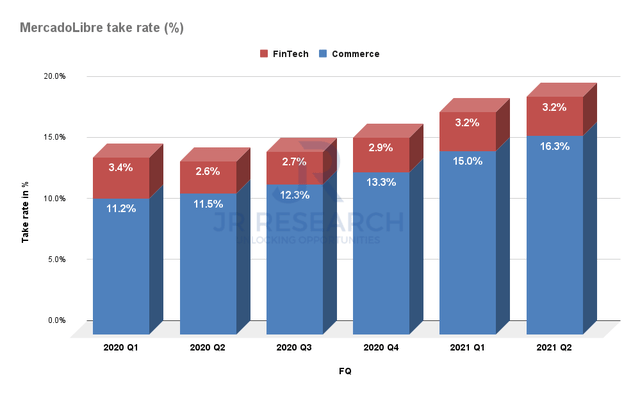 MercadoLibre take rate. Data source: Company filings
At the moment, the e-commerce segment is still the critical revenue and profit driver for the company. MELI has also been increasing its take rate considerably over the last year. It demonstrates the monetization capability of its platform. Of course, Sea Limited has also observed the highly lucrative e-commerce market in LatAm. We also explained in an earlier Sea Limited article that MELI's take rate is much higher. There is little doubt that Shopee poses a significant threat to MercadoLibre's leadership in LatAm. We explained that Sea Limited also understands LatAm very well through Garena. Shopee has also been very successful in Southeast Asia as it swept past Lazada (BABA) and Tokopedia to claim the throne. However, MELI is a hugely different competitor than these two Southeast Asia incumbents. MELI is still founder-led and is very focused on entrenching its LatAm leadership. The company has fended off Amazon's entry earlier on. The company has a logistics network that is second to none in LatAm. Therefore, it will be much more challenging for Sea to overtake MELI in LatAm. Coupled with MercadoLibre's excellent execution so far, we think there are sufficient reasons to retain our faith in MELI's management.
MercadoLibre Stock Valuations are Attractive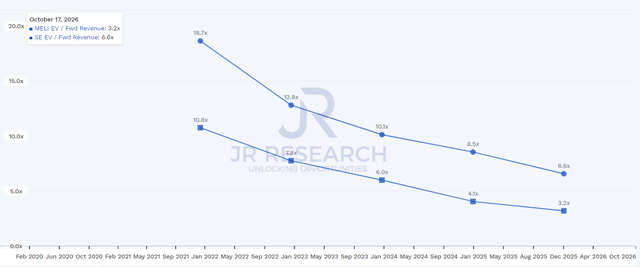 SE and MELI EV/Fwd revenue valuation trend. Data source: S&P Capital IQ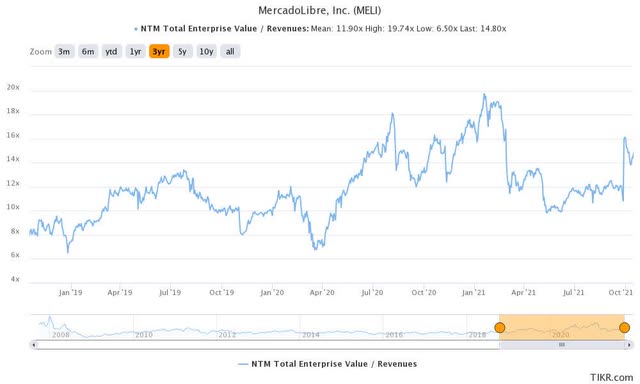 SE EV/Fwd revenue 3Y mean.
Thanks to the recent retracement, MELI stock is looking attractive again. The stock is trading at an EV/Fwd revenue of 10.8x. Its 3Y forward revenue multiple mean is 11.9x. Therefore, one can even argue that MELI's stock might even be undervalued right now. The company is growing faster than it was 3 years ago. The company has also returned to EBIT profitability. The company is rapidly scaling up, and its FinTech segment has also seen gangbusters growth. We think there are many reasons to believe that MELI deserves to trade at a much higher valuation.
Therefore, we are upgrading our rating on MELI to Buy.