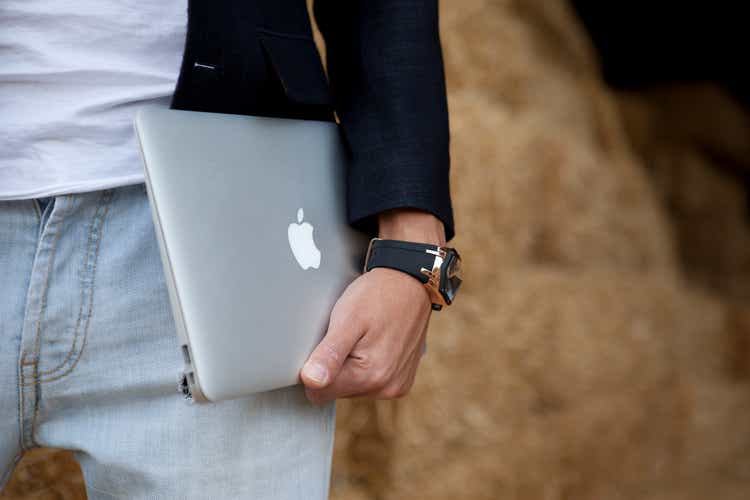 On the day that Apple (NASDAQ:AAPL) unveiled its new set of MacBook Pro devices, shares of the Cupertino-based company jumped from a modest gain of 0.2% earlier in the morning to 1.2% at the closing bell. The obvious reasons for such an intraday spike are not hard to pinpoint: Apple introduced two new chips that, from a processing and graphics performance standpoint, promise to leave the competition in the dust.
But I believe that there are more subtle reasons why Apple investors may have felt particularly bullish on October 18 – and that, maybe, could fuel the rally further as the market slowly prices in the upside potential. Below are a couple of bullish factors that I have identified, which I have not seen any analyst or expert mention in more detail so far.
Apple rules the supply chain
The talk of the town lately has been how the pandemic, more specifically the global economies' messy recovery from it, has been causing disruption to the supply chains. The tech space has been hit particularly hard by the crisis, as component shortages alone have caused some hardware vendors to expect a drop of more than ten percentage points in annual revenue growth this year.
Confronted with the sector-wide challenges, Apple impressed by "flexing its supply chain muscles" during the October product launch event. Ahead of it, I found it plausible that the highly-anticipated new set of MacBook Pro laptops would face production delays. The risk would be even higher, in my view, if Apple boldly introduced not only a new 16-inch device but also rushed to bring to market a 14-inch trim to replace last year's 13-inch model during such a turbulent environment for tech device makers.
In the end, Apple handily topped all my expectations. The 14.2-inch product was, in fact, launched on the same day as its 16.2-inch counterpart. Not only that, but Apple did not retire the 13-inch model, which effectively expanded (and added complexity to) Apple's PC portfolio. Lastly, but perhaps most impressively, all new products, which were fundamentally redesigned to accommodate the new M1 Pro and Max chips, will start shipping as early as next week – well ahead of the thick of the 2021 holiday shopping season.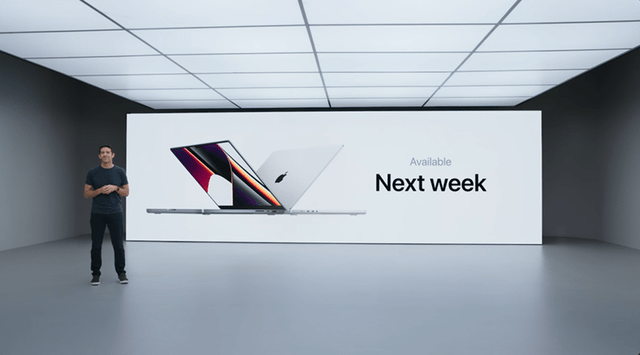 Source: company's video presentation
Apple has reinforced my opinion that the company is, indeed, the king of inventory management. Former COO Tim Cook, a methodical operations manager at heart who has once advocated for "managing [tech inventory] like you're in the dairy business", has proven his value once again as the chief executive. Whether last year's transition from Intel-based (INTC) gear to Apple silicon played a key role or not, I believe that this was the perfect time for Apple to showcase what it is capable of doing within its supply chain, given concerns around the world that are unlikely to be put to rest anytime soon.
Widening the TAM
The second key, yet arguably underappreciated takeaway from Apple's October launch event was the widening of the total addressable market. Apple unveiled a 16.2-inch MacBook Pro with M1 Max chip that retails for as much as $6,100 at the highest configuration (Final Cut Pro and Logic Pro software not included in this number). At the same time, it chose not to discontinue the basic M1-equipped, much cheaper 13-inch device that was launched this time last year, allowing consumers entry into the MacBook Pro family for as little as $1,300.
Apple did not limit the TAM expansion strategy to the Mac segment only. In very similar fashion, the company also announced the third generation of AirPods during the October event, but without discontinuing the second generation device. As a result, Apple now markets its flagship wireless headsets at a starting price of only $129 vs. $159 as recently as a couple of days ago – the company had already reached towards the higher end of the spectrum, when it launched the $550 AirPods Max less than a year ago. On the services side, Apple introduced the Apple Music Voice plan at a rock-bottom price of only $5, in a clear attempt to cater to price-sensitive music lovers.
Apple has done something similar to the iPhone recently. Once upon a time, as recently as 2019, the company carried only a handful of smartphone models at a time. Last year, it widened its product offerings to include the iPhone 11, SE and Mini at the lower end; and the very pricey 12 Pro Max with three hard drive configurations at the higher end. The result was "an iPhone for everyone", a term coined by CEO Tim Cook himself last year – and, of course, an astonishing spike in smartphone sales in the past few quarters (see below).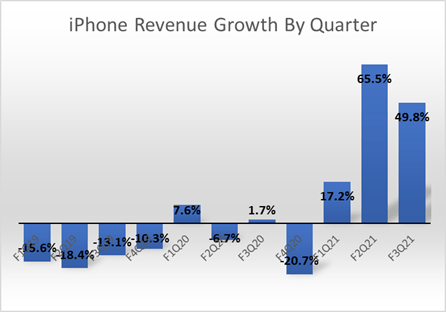 Source: DM Martins Research, data from company reports
In summary
I believe that this Monday's event served to reinforce the bullish thesis on Apple. Call it a super cycle or not, the company's products seem to be hitting the mark and meeting increased demand across nearly all major segments, even without the tailwinds of the stay-at-home economy. Apple has been one of the only top global tech device producers to gain market share in laptops and in smartphones lately, while it remains by far the most dominant player in smartwatches.
I have favored an investment in the stock for as long as I remember, but admit that shares can reach valuations that are a bit hard to justify at times. Now, I believe that multiples are de-risked enough once again, as the chart below indicates. Notice how, on a forward P/E and EV/EBITDA bases, AAPL trades at roughly the same pre-pandemic levels of January 2020, back when interest rates were higher and Big Tech had not yet benefited from the impact of COVID-19 on consumer behavior.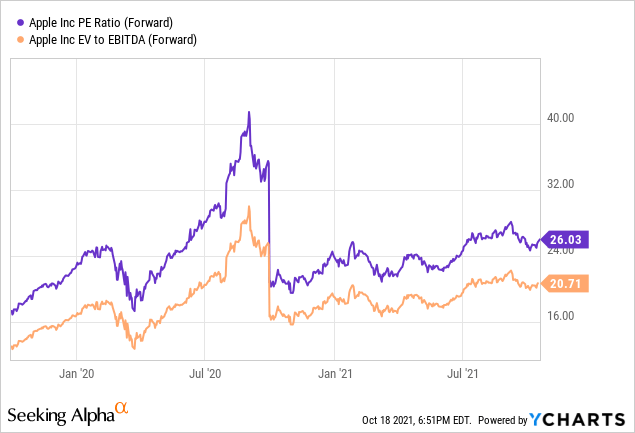 Apple share price is down nearly 7% from its all-time high (to be clear, not a substantial pullback from the peak). But, given robust business fundamentals, I doubt that the stock will remain in this drawdown position for much longer.