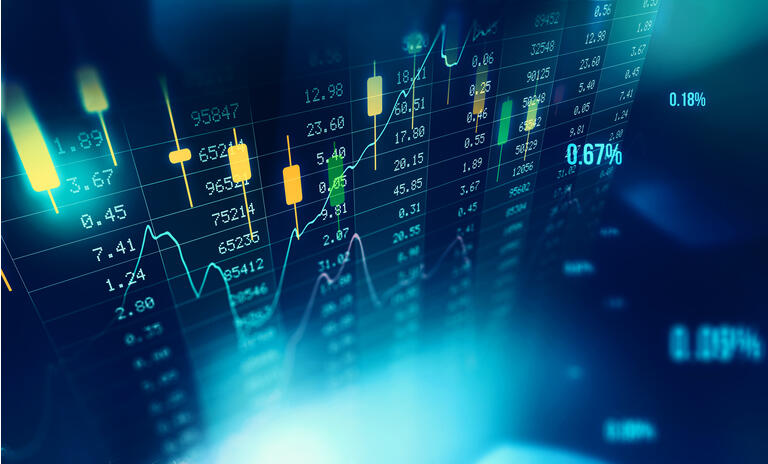 This article was first released to Systematic Income subscribers and free trials on Oct. 12.
In this article, we take a look at the TCG BDC (NASDAQ:CGBD) - a near pure-play credit BDC, trading at an 11.15% total (regular + supplemental) dividend yield and an 84% valuation. Our takeaway is that CGBD can be attractive for investors looking for either a more credit (rather than equity) focused BDC or for a BDC with potential valuation upside.
Be sure to check out our BDC primer, our weekly market BDC commentary as well as the broader income investment space we cover on the service.
Historical Returns In Context
Our first port of call is typically a look at historical total NAV returns. This metric is far from the be-all and end-all of BDC investing but rather a key ingredient. Allocating to BDCs that have delivered decent total NAV returns tends to control for companies focused on credit quality, risk management, and a strong investment process. As we discuss in our primer, most analysts approach returns from either a total price return or net NAV return perspective as it's a lot easier to get your hands on those metrics. However, these metrics can easily go awry.
Investors tilting to BDCs with the highest price returns will typically find themselves allocated to BDCs with highest valuations and, hence, forward returns that are asymmetric to the downside since a BDC trading at a price/NAV valuation of, say, 150% is more likely to drop 50% than to gain another 50%.
Likewise, net NAV returns are poor proxies for total NAV returns because of 1) high one-off special dividends and 2) different dividend policies/coverage levels.
If we look at the total NAV returns of CGBD from the date of its IPO, we see that they are far from impressive - firmly in the second quartile out of the 28 BDCs in the list.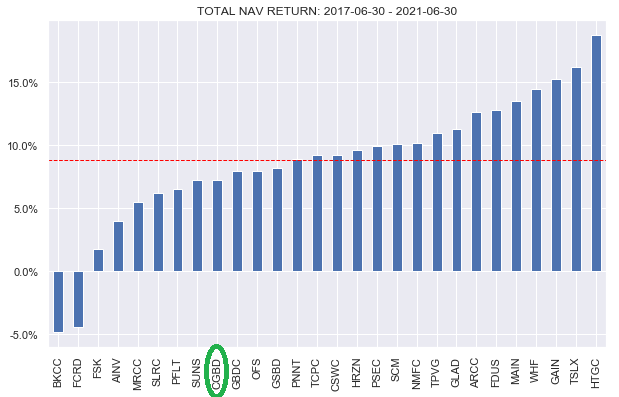 Source: Systematic Income
However, we need to be careful here because BDCs have varying allocations to equities - an asset class that has obviously done quite a bit better than middle-market loans. In other words, BDCs with a historically low allocation to equity should boast lower returns when compared to BDCs with a higher allocation to equity, all else equal. For this reason, we shouldn't take it as a sign that they are "worse" in some way just like we shouldn't treat Tech stocks as "better" investments than fixed-income just because they have outperformed in the past. What is important is to recognize that different BDCs have different investment strategies and some investors will want to tilt to those with a higher equity focus and other investors will want to tilt to those with a higher credit focus.
The chart below presents historical returns (y-axis) relative to the current equity allocation. It's not perfect because we don't know the average historical equity allocation of the BDCs and so have to use their current equity allocation as a kind of proxy. That said, with a few exceptions, BDCs tend to maintain a certain target level of equity in their portfolios so it's not a bad proxy in this case.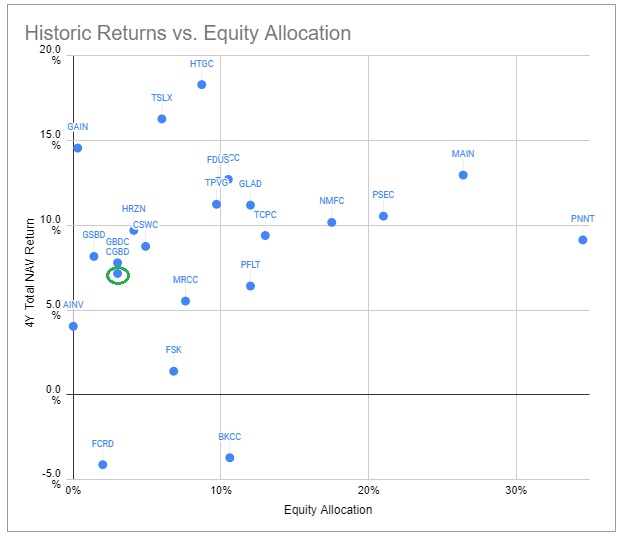 Source: Systematic Income BDC Tool
The chart shows a couple of things. First, if we exclude a few outliers, there does seem to be a positive relationship between higher equity allocation and higher total NAV returns which, of course, makes sense.
The second thing the chart shows is that CGBD has a relatively low allocation to equity and, in the context of BDCs with a low equity allocation, it doesn't look too bad. In fact, it's not a million miles away from the Golub Capital BDC (GBDC) and the Goldman Sachs BDC (GSBD) - two BDCs that also run low equity portfolios and that are trading at much higher valuations than CGBD.
Something else we like to check on is the trend in returns. This can be useful in seeing any significant shifts in the performance of a given BDC relative to the sector. The blue bars in the chart show the quarterly return percentile rank of the BDC, i.e. zero means it was the worst-performing BDC that quarter and 100% means it was the best-performing BDC. The red line is the trailing-twelve-month average.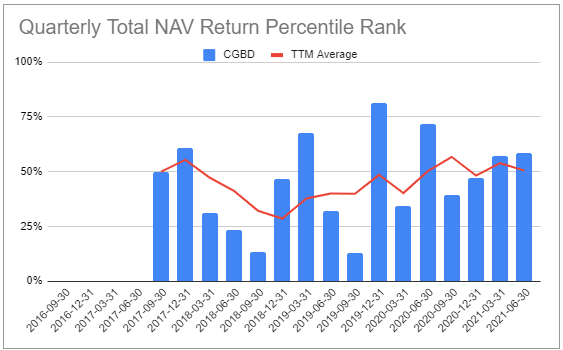 Source: Systematic Income BDC Tool
What the chart shows is that CGBD had a dip in performance pretty much out of the gate after its IPO through 2018. After this period, relative performance became fairly volatile. However, the red line shows that the overall trend has been higher, meaning that CGBD has risen from being an underperformer (in 2018-2019) to generating returns pretty much in line with the sector. And given its lower-equity allocation relative to the sector, this "average" performance over the last couple of years is actually quite impressive. In the last two quarters, CGBD has beaten the sector and has seen a further uptrend in relative performance.
A Look At Valuation
The chart below shows our usual way of looking at valuations - by placing them in the context of historical NAV returns - 4-year returns in this case given the timing of the CGBD IPO.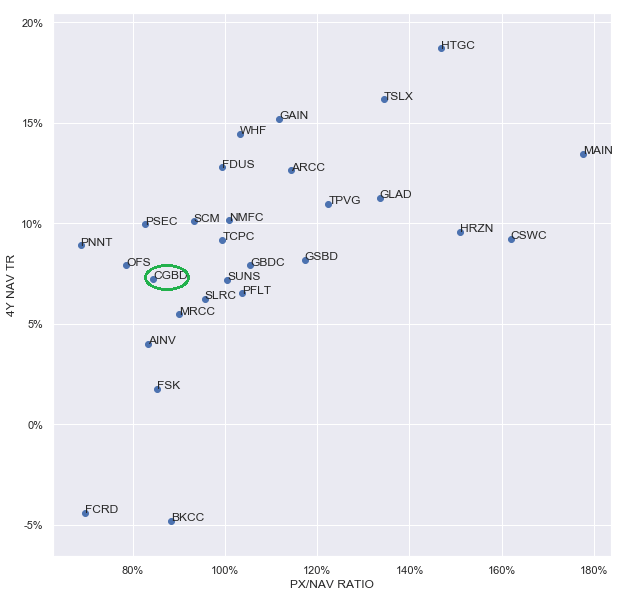 Source: Systematic Income
There are two ways to look at this chart - across the return dimension or across the valuation dimension. Looking across the return dimension (i.e. left-to-right), CGBD is trading at the cheaper end of other BDCs that have delivered a similar historical total NAV return. And looking across the valuation dimension (i.e. up-and-down), CGBD has delivered a relatively high total NAV return among BDCs trading at a similar valuation. In short, across its return and valuation peers, CGBD looks relatively attractive.
If we look at the historical trend in its valuation, we see that CGBD started off trading in line with the sector and actually pushed out to an above-average valuation (seen more easily in the second chart) in 2018. However, since then, its valuation has moved lower and is currently trading close to its lowest level relative to the sector - more than 20% below the average BDC valuation and 17% below the median valuation.

Source: Systematic Income BDC Tool
If we recall the quarterly relative performance chart above, this downtrend in valuation doesn't make sense in the context of strength in relative performance over the past year. In other words, the market seems to be ignoring both the company's strong absolute performance as well as its relative outperformance of the sector. Another way to look at it is that the market put a higher valuation on the company when it was underperforming the sector (in 2018-2019) and a lower valuation now that it is performing in line and even outperforming the sector.
Income And Yield
From a dividend yield perspective, CGBD looks attractive with both a high dividend yield and above-100% coverage as the chart below shows. The company's high dividend yield relative to the sector is largely driven by its low valuation as its adjusted NII NAV Yield is only 0.3% above the sector average.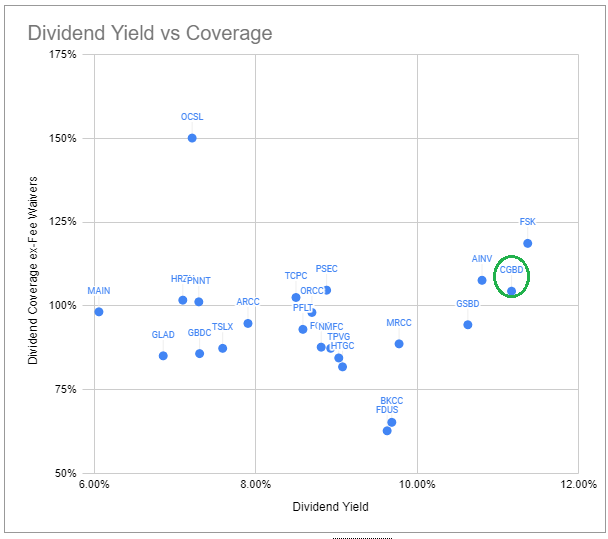 Source: Systematic Income BDC Tool
Historically, CGBD used to make larger (though less frequent) supplementary dividends as we can see from the spikes in the chart below. It also had a larger regular dividend. However, the chart also shows that its trend dividends of roughly $0.36 - $0.38 per quarter have been maintained over the last 5 years.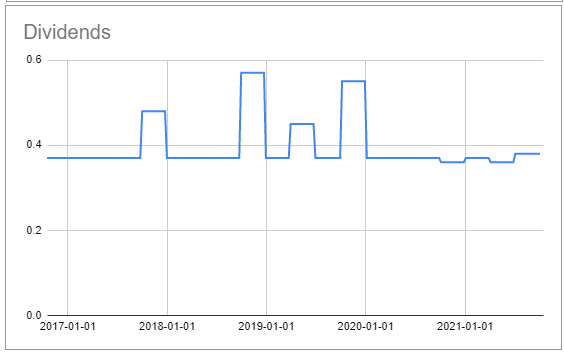 Source: Systematic Income BDC Tool
It's worth noting that the company's regular dividend yield of 9.39% is higher than the average total dividend yield of the sector. In other words, even if the company does away with its supplemental dividends, its yield will still be above the sector average.
On a total dividend yield basis, the company's 11.15% figure is 2.2% above the sector average and 2.3% above the median.

Source: Systematic Income BDC Tool
On the leverage front, CGBD uses net financial leverage (which excludes the preferred - more on it later) for its target leverage of 1.0x-1.4x. Its current leverage sits at the bottom of this range which offers additional upside to income.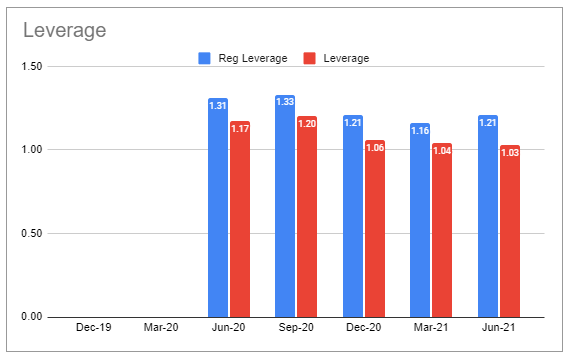 Source: Systematic Income BDC Tool
Net investment activity has been positive in the last two quarters which should support income going forward. However, the large repayments in Q2-20 and Q4-20 are still creating a drag on income.

Source: Q2 Presentation
CGBD has a very low debt interest cost - 3% annualized as of the last quarter versus the average of 4.5% in the sector. This is primarily due to its reliance on floating-rate secured borrowings (on which it pays around 2.4%) over fixed-rate unsecured debt (on which it pays around 4.65%). It is unlikely the company will be able to push this much lower any time soon as the two unsecured notes have 2024 maturities and Libor is unlikely to move lower.
There is one unusual feature of the CGBD balance sheet which is its $50m 7% convertible private preferred stock that was issued to a Carlyle affiliate. The preferred can be converted into 2.634 shares of CGBD which is currently worth $35.90 per share - well above the $25 liquidation preference. The obvious question here is why hasn't Carlyle converted the stock already given it can monetize the 44% conversion premium? And if Carlyle does convert all of the preferreds, the dilution will push net investment income lower by 4.6% per share (lower due to the increase in the share count with a small offset from the 7% coupon liability going away).
The preferred was issued in early May with the justification that the macro picture was highly uncertain and was a "strong sign of support by Carlyle in the darkest days of the global pandemic". Our view is that this is a pretty disingenuous comment - the market situation in early May of 2020 was very far from the "darkest days". The S&P 500 had already bounced higher by about 25% from its drawdown in March and optimism about the macro recovery was increasing. The reality is that this is a sweet deal for Carlyle and not a great one for CGBD shareholders who have to finance a 7% coupon and worry about a potential dilution. The view that common shareholders should view the preferred as just cheap equity also doesn't make a ton of sense as preferreds shareholders don't have to wear the risk of dividend cuts and have the usual priority claim over the common.
That said, the CEO, Linda Pace, doesn't think the conversion (and hence the dilution and the associated drop in NII) is likely to happen. And although the 7% coupon is comically high given where yields are now, the size of the preferred is only $50m which is small in the context of the $1bn debt stack. Finally, CGBD will redeem the preferred in May of 2023 which would provide a 4% boost to NII. The company publishes an adjusted NII metric ($0.38 in Q2-21 versus GAAP NII of $0.397) which takes the preferred coupon into account.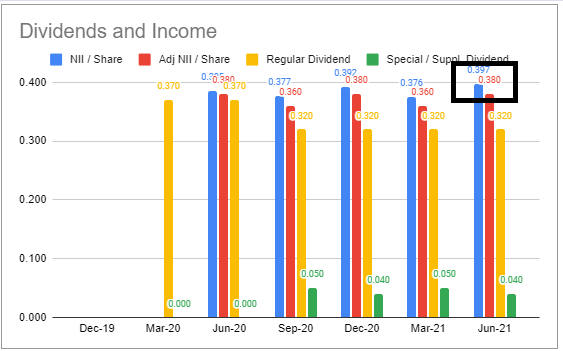 Source: Systematic Income BDC Tool
As of Q2, the company's total dividend (regular plus supplemental) coverage was 106%. CGBD declared total dividends of $0.38 for Q3 which makes its adjusted NII coverage 100% with GAAP (i.e. excluding the preferred dividends) total dividend coverage of 110%.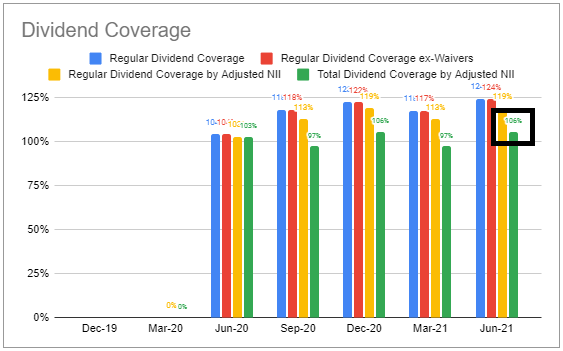 Source: Systematic Income BDC Tool
Bits and Bobs
In this section, we take a look at some of the other considerations and drivers of performance.
CGBD has an active share repurchase program. The program has around $40m of capacity left and is likely to be reauthorized past its current expiration date in November. The company has been buying back stock over the last three quarters though the amounts and, hence, the accretion to the NAV, has been decreasing. It is good to see management act on their repurchase program as it not only supports the share price but is accretive to the NAV as well. It also shows that management is valuing shareholder interests since buying back shares can be a disincentive to management as it reduces fees.

Source: Q2 Presentation
The company's fee structure is relatively shareholder friendly with a 1.5% base management fee which is at the lower end of the sector with a 17.5% income incentive fee above the 7.28% annualized "catch-up" and a 17.5% incentive fee on realized gains which are also on the lower end of the sector. The table below shows that the company's Opex excluding debt interest is below the sector average though above the median. This is likely due to the relatively low starting point of the NII "catch-up" at 6% annualized.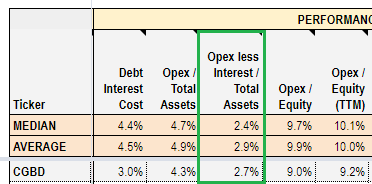 Source: Systematic Income BDC Tool
Arguably, CGBD is an even stronger performer on this front than this data suggests as the Opex of the rest of the sector is skewed lower by the fact that many BDCs continue to waive fees which CGBD isn't doing. This means that the Opex of the rest of the sector will rise relative to CGBD as the fee waivers roll-off.
On the portfolio quality front, we can look at a couple of different metrics. The naive approach will simply look at the proportion of first-lien loans in the portfolio. For what it's worth, CGBD has an estimated 80% of first-lien loans (if we look through the fund allocations) versus sector average of 73%. This is comforting, however, is far from the full story as not all first-lien loans are created equal.
The proportion of the company's internal risk ratings in the lowest two buckets has improved in the last quarter from a run rate of about 4.5-5.5% over the past 12 months to 4% in the last quarter.

Source: Q2 Presentation
The company's value of securities on non-accrual is elevated at 3.3%, which is 3x the sector median and 2x the average. On the plus side, no new loans have been added to non-accrual for a full year and management don't see additional loans at risk for non-accrual.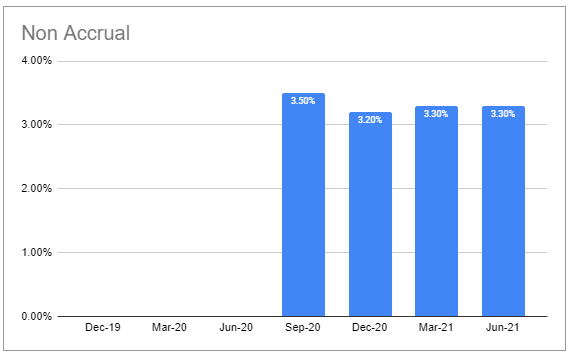 Source: Systematic Income BDC Tool
The percentage of PIK income is in line with the sector average although the trend over the last few quarters is upward - counter to the broader downward sector trend.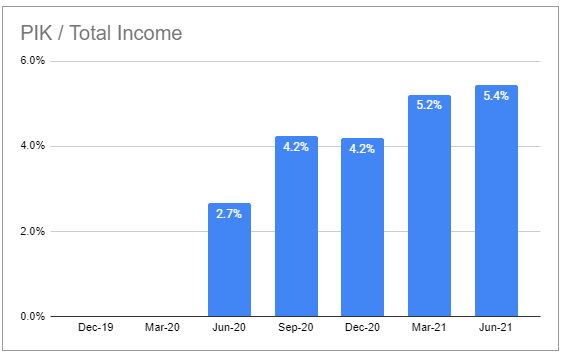 Source: Systematic Income BDC Tool
Takeaways
CGBD is not a BDC that all investors will find attractive. Its low equity allocation means it is unlikely to be a strong outperformer in the sector, particularly if the macro picture and the equity market hold up. That said, it can be an attractive choice for investors looking for either pure-play credit BDC or a valuation-based opportunity.