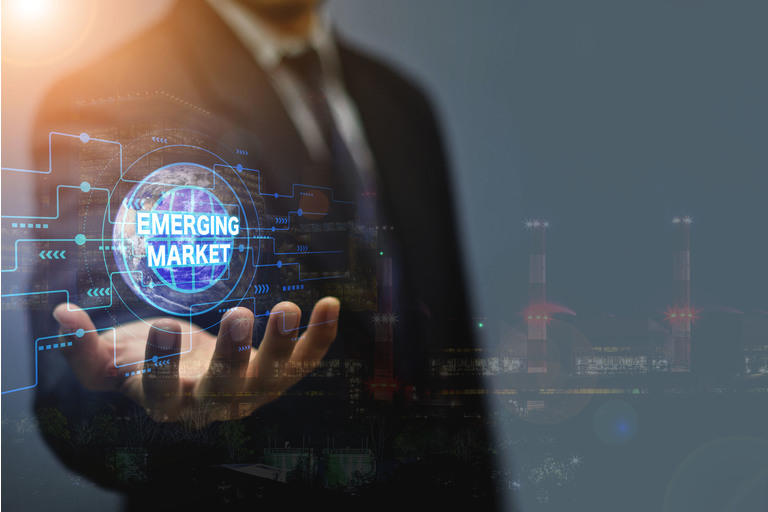 Investment Thesis
Stone Harbor Emerging Markets Total Income (NYSE:EDI) is another EM fund from the boutique asset manager Stone Harbor, albeit a much smaller fund at approximately $100 million assets under management. Its credit and market risk profiles match to a large degree what we see in its sister fund Stone Harbor Emerging Markets Debt Fund (EDF), which we recently covered with a "Sell" rating. The day after our article was sent for publication EDF announced a dividend cut and significantly sold-off on the day. This article highlights how we expect a similar fate for Stone Harbor Emerging Markets Total Income which shares most of the credit, market and distribution characteristics of its sister fund. From a credit profile perspective for example the top holdings in this fund mirror like for like the EDF portfolio, with the fund overweight Argentina at more than 10% of the portfolio. Although the fund does not hold Turkey in its top-20 holdings, its credit profile is overweight below investment grade names. Despite its headline yield of 10%, the fund has an astounding -7.3% annual NAV give-up, bringing actual yearly returns to 2.7%, closely aligned with the fund's trailing yearly total returns of 2.4% when measured on a 5-year basis. EDI has a 0.12 Sharpe ratio and 23.33% standard deviation and exhibits significant cyclicality - i.e., this is not suitable for a buy-and-hold investor, but only adequate to buy post a significant market sell-off. To that point the fund lost money every year from 2012 until 2016, when we saw a credit market rebound post the late 2015 energy risk-off environment. The fund is currently trading at a premium to NAV and buying at this price point would not be an ideal choice. We believe this is a cyclical fund with weak fundamentals, weak historical performance and metrics and is set to follow the same path as its sister fund which cut dividends and sold-off. We rate this fund a "Sell" and would revisit when it would start trading at a discount to NAV and after its dividend eventually gets cut.
CEF Metrics
This section details some CEF metrics and overall fund analytics:
Leverage Ratio: 28%
Average leverage for the CEF space.
Expense Ratio: 2.69%
on the higher side for fixed income CEFs
Manager: Stone Harbor
Yield: 10%
Very high.
Unsupported by underlying assets cash flows
Discount/Z-Stat: 3.73%/-0.63
The fund is trading at a premium.
Portfolio Composition - Credit Risk
In this section, I will discuss in more detail the aspects of the EDI portfolio that relate to credit risk - i.e., the probability of non-timely payment of interest and principal, and generally the risks that arise from the credit quality of the underlying debentures.
EDI invests in both sovereign bonds denominated in local currency and corporate EM bonds. The breakout is as follows: Corporate Bonds 15.61% while the rest is Sovereign exposure.
The fund has 82 holdings, with Argentina being the top exposure: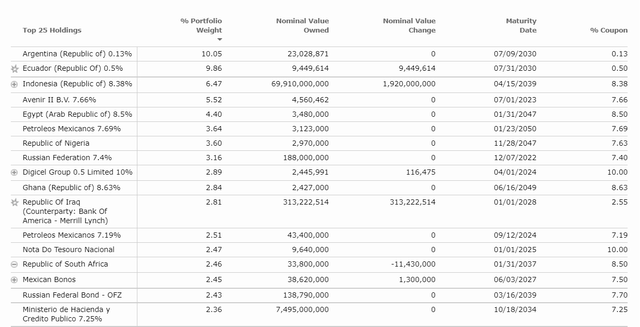 Source: Morningstar
From a credit rating perspective, the fund is overweight below investment grade bonds, thus taking significant credit risk to achieve its returns: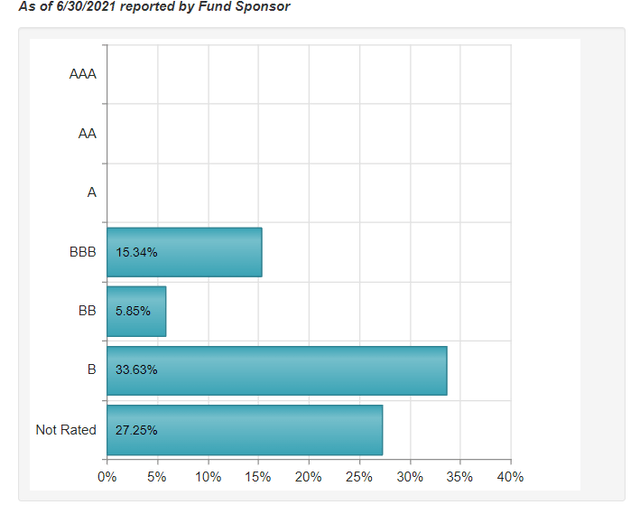 Source: CEF Connect
Also to note that the main focus of this fund is Latin America, with over 40% of the portfolio being composed of credits from jurisdictions which fall in that bucket: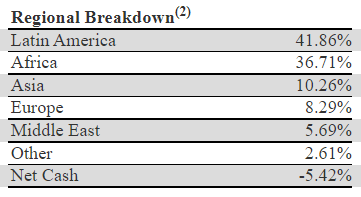 Source: SEC Filing
Returns
The Fund has a low Sharpe ratio (which stands at 0.12 for a 5Y window) and a very poor return profile:

Source: Author
The fund consistently and consecutively lost money from 2012 until 2016 on a total return basis. Many investors get lured by a high dividend but fail to realize that total returns are what matter, and in effect when you get a high dividend but lose value on capital depreciation you are incurring yearly tax liabilities on distributions while in effect losing money.
Similarly, to its larger sister fund EDF, Stone Harbor Emerging Markets Total Income fund is a cyclical vehicle.
The fund has provided positive returns only when bought after a significant market credit event, after which fixed income recovered. Notably we can see a positive performance in 2016 after the oil shock / energy crisis experienced at the end of 2015, and similarly in 2019 post the November/December 2018 market risk-off positioning. The fund has lost money ever since.
NAV Give-Up And Premium
EDI is currently trading at a premium to NAV. That means that investors are willing to pay a higher market price than what the assets are currently worth. As we can see from the below graph, the premium to NAV tends to narrow or even disappear in instances of market sell-offs. The fund also exhibits tremendous NAV slippage per year since it is paying an unsupported dividend. It has lost approximately -7.3% in NAV per year since inception: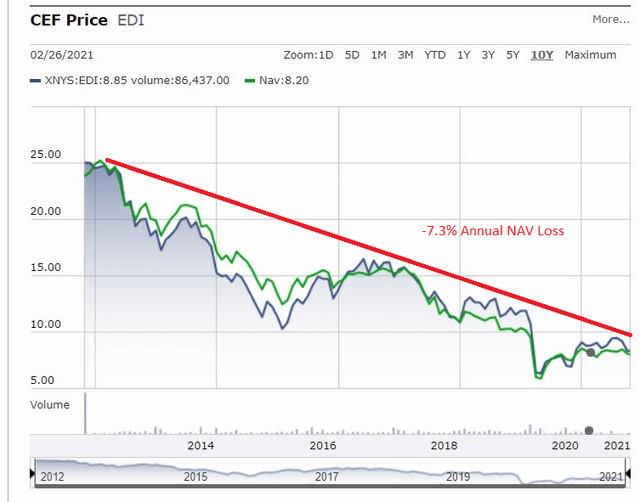 Source: CEF Connect
An ideal entry point in this fund is post a market risk-off event, when the graph is in a "valley". Usually market sell-offs correspond to a narrowing of the premium to NAV.
Distributions
The fund recently announced its upcoming dividend distribution, and it has remained constant. However, the fund has a history of cutting its dividend due to the continuous erosion of NAV (i.e., there is less and less principal to support underlying cash flows):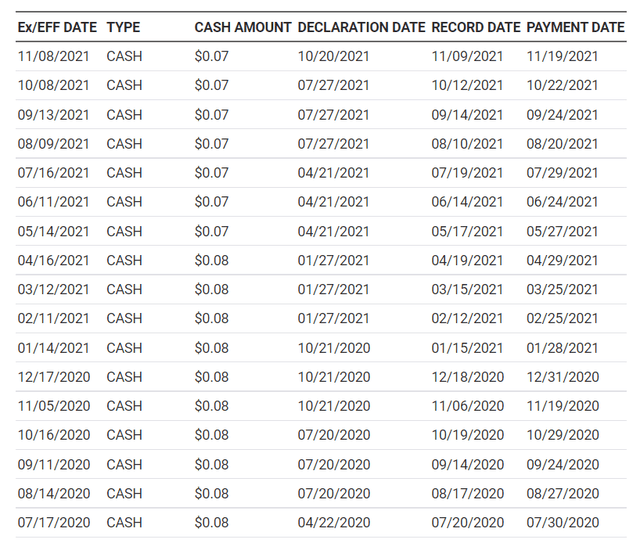 Source: Nasdaq
Its sister fund EDF followed a similar path prior to cutting the dividend for November 2021: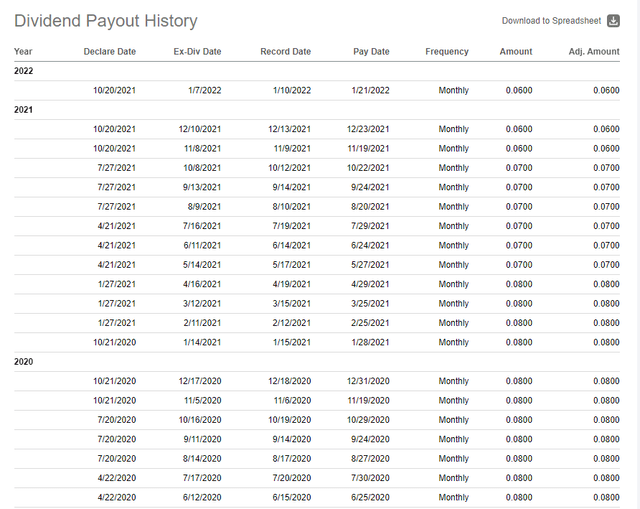 Source: Seeking Alpha (EDF Dividend Payout History Tab)
Conclusion
Stone Harbor Emerging Markets Total Income is a $100 million assets under management EM fund from Stone Harbor. The fund has very poor historic returns and risk metrics, having lost money on a total return basis every year from 2012 until 2016. The fund provides a very high, unsupported dividend that we are forecasting is going to get cut, similarly to what we recently saw for its sister fund EDF. We rate this fund a "Sell" and would revisit when it would start trading at a discount to NAV and it experiences a dividend cut.