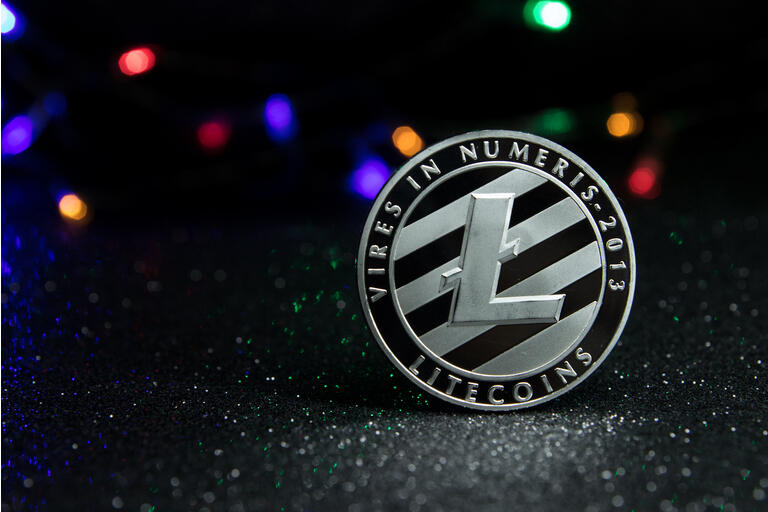 I want to start out by saying I like Bitcoin (BTC-USD). I'm very long Bitcoin. I'm not saying you should sell your Bitcoin to buy Litecoin (LTC-USD). I'm merely suggesting if you want to take a balanced approach to crypto investing and not go all-in on one coin, Litecoin might be one to consider. I bought more Litecoin this week. For a variety of reasons actually. I think crypto is broadly going to rock and roll from now through at least Thanksgiving.
In the past, when Bitcoin does well, other coins have followed and in some instances even outperformed. After thinking about the reasons why I own crypto and why I personally hold the keys for a significant amount of my crypto exposure, I came to the conclusion that coins like Bitcoin and Ethereum (ETH-USD) each serve a tremendous purpose. But neither of them is really great at being a medium of exchange for small value transactions at this point in time. The Lightning Network aims to solve this scaling issue for Bitcoin, but it remains to be seen how well the less technically savvy crypto user adopts the second layer.
After all, the original intended use case of Bitcoin was as a peer-to-peer payment vehicle. While the network fees for on-chain Bitcoin transactions have come down considerably in the last few months, those fees are still high enough to make sending $5 from one self-custody wallet to another cost-prohibitive. So what other options are there? Which alternative cryptocurrencies have been around long enough to have some name recognition and potential staying power but also have low enough transaction fees to justify moving small amounts of value without a custodian?
OG Alt Coins
I wanted to look at some of the first alts that I ever acquired a long time ago to see how they currently stack up in a few different metrics. First, transaction cost on the blockchain. Because again, we want low network fees so it isn't cost prohibitive to send someone $5. I compared Litecoin with Bitcoin Cash (BCH-USD), Dash (DASH-USD), Dogecoin (DOGE-USD), and used Bitcoin as the base for comparison. This is what those fees look like as of 10/20/21.
| | |
| --- | --- |
| Coin/Currency | Avg Transaction Fee (on chain) |
| Bitcoin | $4.167 |
| Dogecoin | $0.554 |
| Litecoin | $0.028 |
| Dash | $0.01 |
| Bitcoin Cash | <$0.01 |
Source: bitinfocharts
I was actually surprised by how expensive it is to send the dog money meme on-chain. Though it clearly wasn't the least expensive currency to move in the sample at just under 3 cents, Litecoin was probably still cheap enough to justify sending $5 to another wallet. Just based on expense alone, I decided to rule out Bitcoin and Dogecoin and just focus on the other three. Next, I looked at active wallets. This is the real story, in my opinion.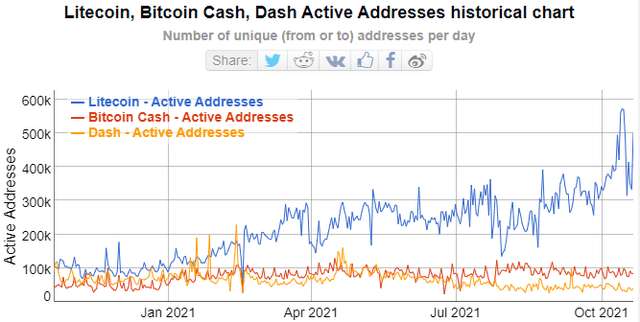 Source: bitinfocharts
Litecoin's active wallet usage has been surging this year. You can really get a sense for how it has distanced itself from BCH and Dash in 2021 from a network adoption standpoint. From a year-over-year pace perspective, Litecoin's growth in active wallet addresses has been better than every other crypto mentioned in this article to this point.
| | | | |
| --- | --- | --- | --- |
| Active Wallets | 10/21/20 | 10/21/21 | YOY Change |
| Bitcoin | 896,346 | 983,214 | 9.7% |
| Ethereum | 613,091 | 842,688 | 37.4% |
| Litecoin | 106,688 | 500,951 | 369.5% |
| Bitcoin Cash | 48,088 | 82,805 | 72.2% |
| Dogecoin | 57,115 | 59,473 | 4.1% |
| Dash | 92,969 | 39,146 | -57.9% |
One metric that I really don't like pertaining to Litecoin is 42.6% of total coins are held by the top 100 addresses. Of the cryptocurrencies discussed in this article, only Doge has a higher concentration of wealth via top holders. Despite the apparent adoption of on-chain wallets in the last year, it hasn't done much to decentralize the wealth held in Litecoin to a significant degree yet.
Something else to consider from a network metrics perspective is the median value of the on-chain transactions. If we compare the low network fee OG alts against Bitcoin as a base again, we get another interesting picture.
| | |
| --- | --- |
| Coin/Currency | Median Transaction Value (on chain) |
| Bitcoin | $840.55 |
| Dogecoin | $346.66 |
| Litecoin | $79.13 |
| Dash | $74.90 |
| Bitcoin Cash | $149.05 |
As of article submission, only Dash has a lower median transaction value than LTC. This would indicate that Dash is also a good low-cost value transfer vehicle on the network. But if we take these three metrics together and assess which coin scores well in all three, Litecoin has the right combination of low on-chain fees, smaller value transaction usability, and strong active address growth. To me, Litecoin is the better bet for wider on-chain value transfer adoption.
Going Long Grayscale
I've shared thoughts on Grayscale funds previously. You can read my opinion on the Grayscale Bitcoin Trust (OTC:GBTC) from January here. One of the biggest reasons why I changed my mind on that particular Grayscale fund was because the NAV premium came down considerably from where it was at its peak. That is true to an even larger degree for the Grayscale Litecoin Trust (OTCQX:LTCN) which had been trading at a mind-bogglingly high premium to NAV up until recently. For a more detailed explanation of what was happening with the NAV premium in the Litecoin fund, you can read Paulo Santos' article from August.

As of 10/21 close, the fund is trading at a 12% discount to NAV. This means the value of the Litecoin under Grayscale's custody in the fund is more valuable than the price of the fund shares. While this clearly isn't ideal for investors who bought at a premium, especially considering the 2.5% management fee Grayscale charges for custody, it presents an opportunity for outperformance from here if the discount tightens up as Litecoin rises.
Keep an eye on what happens with Grayscale's GBTC ETF conversion filing. Grayscale's CEO Michael Sonnenshein is hopeful that a successful conversion of GBTC to an ETF would help solve the discount to NAV problem that is currently plaguing 6 of Grayscale's 9 tradable crypto funds. If the conversion filing is successful and the NAV discount in GBTC shares tightens up, it's possible the other Grayscale funds like LTCN do the same.
Even if LTCN's current discount to NAV doesn't tighten up, fund shares can still serve a terrific purpose in a portfolio if you're buying shares in a tax advantaged account. That's what I have done. I hold some shares of LTCN in my Roth IRA. It allows me the ability to get exposure to any positive move in Litecoin and not have to worry about capital gains taxes when I trade out of the shares. But I want to hammer this point home to be clear, I'm bullish Litecoin because of the ability to actually self custody it and use it. I have Litecoin in my ledger wallet and bought more of the underlying this week. LTCN is just one way you can get exposure to the idea if you don't care as much about actually holding the coin.
Risk factors
This idea probably isn't for everybody. Even those who are already invested in the crypto space might not have any interest in Litecoin. I should probably at least mention that the coin's founder Charlie Lee sold his coins a few years back to take a position with Coinbase (COIN) and avoid a perceived conflict of interest.
Despite the big move in network transaction adoption in the last 10 months, it's entirely possible that Litecoin fails to reach a true critical mass with more casual cryptocurrency buyers. There are numerous other cryptocurrencies that are very cheap to transact on-chain that could provide the same peer-to-peer value transfer use case that Litecoin can provide.
It's also possible that some of the more seasoned alt coins have already seen their tops. In this scenario, it's unlikely we see coins like Litecoin or Bitcoin Cash outperform Bitcoin for a sustained period of time in the next phase of the crypto bull run.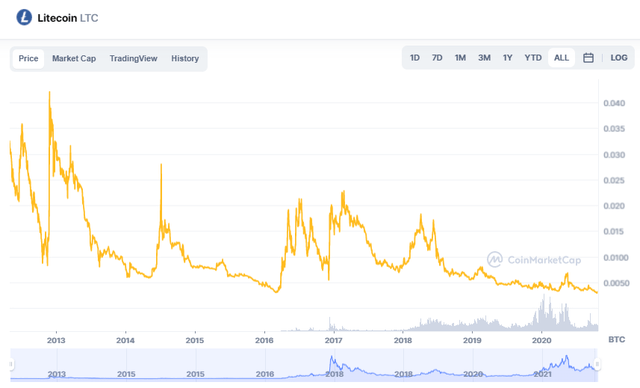 Source: coinmarketcap.com
When I look at the chart above, I see that Litecoin has generally done very well against Bitcoin when the crypto asset class has broadly rallied. That has really not been the case the last two years or so. Litecoin has lagged Bitcoin considerably since early summer. Either that relationship will correct, or Litecoin is simply losing share of the market. If LTC is going to get off the mat against BTC, it's probably now or never.
Conclusion
While I don't know that I'd consider myself a true crypto purist, I do deeply understand the logic behind self-custody and holding your own keys. I believe we're really at the beginning of a financial awakening happening in society and as crypto continues to penetrate the mainstream, more adopters may gravitate toward the seed/key solution as opposed to the exchange/custody solution.
I think in a lot of ways Litecoin can be very useful for people who decide to unbank themselves and preserve their wealth out of dollars. I remember reading years ago that Litecoin could have a similar relationship to Bitcoin as silver historically has had with gold. One is a reserve asset and a store of value. The other works better for smaller transactions between consenting parties without the need for a middleman. I happen to also be a big believer in silver. Going long Litecoin seems like a natural fit.