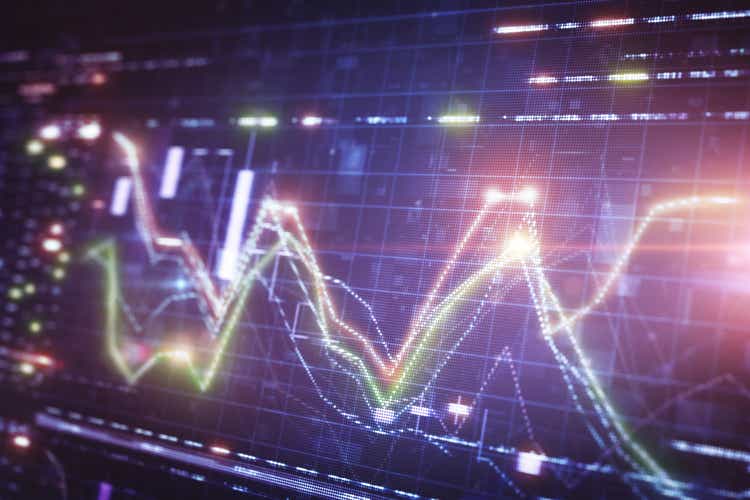 What Is Trading Volume?
Trading volume refers to the number of options contracts buyers and sellers are exchanging during any given period, usually a trading day. It is monitored for individual securities and can be summarized for sectors or entire markets as well.
How To Calculate Trading Volume
Trading volume for options is calculated by totaling the number of contracts that transact within a specific period. For example, if five investors collectively buy 2,000 of a specific put option contract that has the same strike price and expiration date, then the trading volume for that contract that day is 2,000.
How Investors Use Trading Volume
As a metric, trading volume helps investors understand how much activity there is in the market for a particular option contract. While investors typically consult daily trading volume to help them understand the market, looking at monthly and annual trading volumes can also be helpful.
Trading volume helps investors understand the liquidity of an options contract. If an option has a higher trading volume, that means there are currently a large number of contracts actively changing hands and in general, that will make it easier for an investor to open or close a position and obtain a favorable price.
While trading volume helps indicate activity in a security, it only shows the number of contracts and not the number of buyers or sellers. As a result, a single large purchase from an institutional investor might suggest broader activity than is actually occurring on that option. Investors should therefore use trading volume in conjunction with other indicators to interpret past or current price action.
Takeaway: Investors can use trading volume as a measure of an option's liquidity, but should view other metrics as well, and not view trading volume as a predictor of future price action or direction.
What Is Open Interest?
Open interest measures the total number of open contracts for any specific option. That includes all long positions held by investors that have been opened but haven't yet been exercised, closed out, or expired. Open interest is tallied for each option (puts separate from calls) and can be summarized by option type, expiration, exchange, or for the entire listed option market. Open interest is tallied by the options Clearing Corp, updated each night from all transactions, and posted for the next day. Thus, it does not change during the trading day.
Open interest will rise after an option begins trading as investors take on new positions. It will then either rise or decline on any given day as a result of new positions, positions closed, or options exercised the previous day.
How Investors Use Open Interest
In conjunction with trading volume, changes in open interest can tell an investor when a lot of option volume is just trading versus new investors taking positions or existing holders closing positions.
For example, if on a given day, there are 2,350 open contracts on a particular call option and that day 280 new positions are opened, 120 positions are closed, and an investor exercises 75 of those options, open interest the next day will show 2,435.
2,350 + 280 - 120 - 75 = 2,435
Open interest as a metric is more often used by looking at trends over days or weeks. As with trading volume, open interest does not tell investors why the options are being traded and whether those trading them hold bullish or bearish positions.
High Open Interest
If an option has high open interest, it indicates that the option might be particularly liquid, making it easier to get a timely and favorable execution on both buy and sell transactions. For that reason, it can help investors choose which option to select from the hundreds available on a given stock. But it could just indicate that it's an investment vehicle for which options are frequently traded or that there are institutional positions in that option.
Tip: A larger open interest can suggest greater liquidity and changes in open interest over time can help you understand whether new positions are being put on or closed.
The Importance Of Liquidity
Investors can use trading volume and open interest metrics to better understand market movements, identify trading opportunities, or select the optimal option contract to fit your strategy and objectives. Options with significant liquidity and volume can also be more desirable to trade, since you are more likely to find willing sellers and buyers and obtain a favorable price for your transaction.
When an option is not very liquid, the spread between the bid and offer will generally widen and it will be more difficult to get the price you are looking for, thereby forcing you to accept a lower price for a sale or pay a higher price for a purchase than you might want. Furthermore, if your order for an option does not get executed in a timely fashion, the underlying stock might move in price, changing the parameters of your intended strategy. Active option traders view liquidity as a very important criteria in selecting and executing their strategies.
Key Takeaway: Trading volume and open interest are helpful in determining the liquidity of an option, which should be an important consideration in option or strategy selection.
Bottom Line
Options trading volume and open interest are metrics that help investors better understand and interpret market action in both the options themselves and in their underlying stocks. They also provide a gauge on how liquid an options contract is and how easily it will be to favorably open or close a position in it. While both metrics have limitations, when combined with other data, they help investors understand options liquidity better and make better informed trading choices.