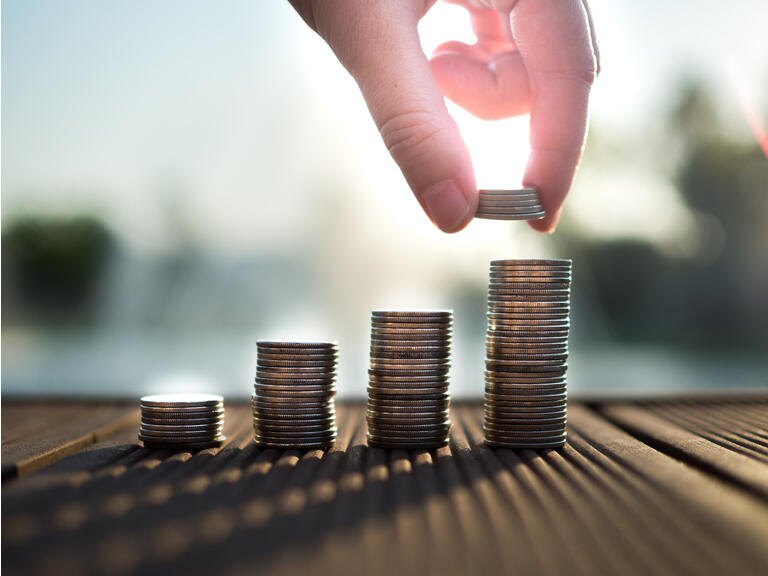 Agree Realty Corporation (NYSE:ADC) is a single tenant, net lease REIT that develops, acquires, and manages retail properties across the United States. The firm distributes monthly dividends and has outperformed competitors over a five-year period.
What is Agree Realty?
Agree Realty Corporation is an internally managed, net lease real estate investment trust focused on single tenant retail properties. The firm was founded by Richard Agree in 1971 as Agree Development Company. Subsequently, the firm converted to a real estate investment trust, thereby starting Agree Realty. Today, ADC is a worthy contender in the net lease sector sitting amongst stiff competition. The firm is large, but still smaller than some competitors, with a $4.9 billion market capitalization.
Agree Realty owns and operates a highly diversified retail portfolio across the United States. As investors may note, the firm launched an initiative dubbed "RETHINK RETAIL" hinting that the firm is proactively looking to an e-commerce influenced future. Much of this initiative is surrounded by the "B.O.P.I.S." concept, which stands for Buy Online, Pick Up In Store. The firm has assembled a strong portfolio with recognizable tenants. Their thesis is reinforced by strong allocations to resistant retail sectors such as Grocery, Home Improvement, and Tire/Auto Service. For reference, these three sectors account for nearly 30% of portfolio rent.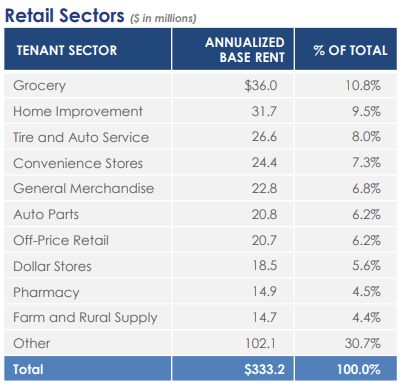 Source: ADC
The firm's top ten clients include recognizable names such as Walmart (WMT), Tractor Supply (TSCO), and Best Buy (BBY). Each of these firms have independently formed strategies to capture growth in e-commerce with high degrees of success. Credit quality within the portfolio is strong as well as 68% of rent is derived from tenants with an earned or implied investment grade rating.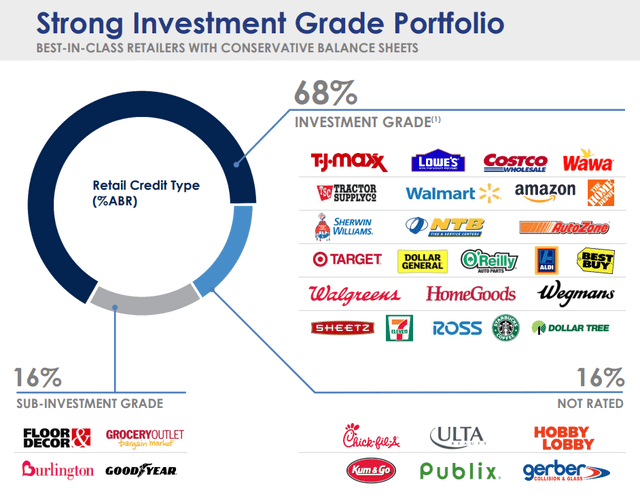 Source: ADC
In summary, ADC operates a strong net lease portfolio which is positioned to thrive in the future. The company owns 1,262 properties spread across geographies with recognizable, successful tenants. The current portfolio is backed by a healthy pipeline of acquisitions. ADC was even able to maintain a strong volume through the pandemic with over $1.3 billion invested in new assets. ADC has provided guidance that 2021 is expected to maintain a similar volume.
One of our favorite aspects of ADC is limited exposure to vulnerable sectors. ADC has positioned its portfolio away from highly impacted industries such as Theaters (1.2%), Health Clubs (2.1%), and Entertainment (0.7%). In fact, ADC began reducing exposure in these areas in 2018, well before the weaknesses appeared during the pandemic. While these industries are resistant to risks posed by e-commerce, vulnerability surrounding the future of health protocol remains.
The firm is well capitalized with a strong balance sheet. The firm is conservatively managed with a current net debt to EBITDA of 4.5x. Debt maturities remain well laddered with substantial maturities occurring in 2028, 2030, and 2033. These maturity dates may help ADC mitigate the near term impacts of rising interest rates. With a total debt to enterprise value of 24.7%, ADC has earned BBB/Baa2 ratings from S&P and Moody's, respectively.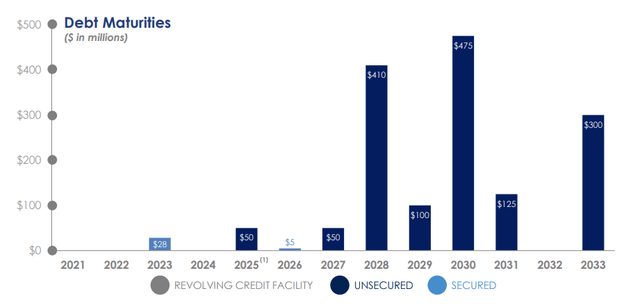 Source: ADC
Outperformance
ADC's acquisition based strategy and competitive advantages have produced strong long-term performance for shareholders. Agree has outperformed net lease peers over a five year time frame by a sizable margin.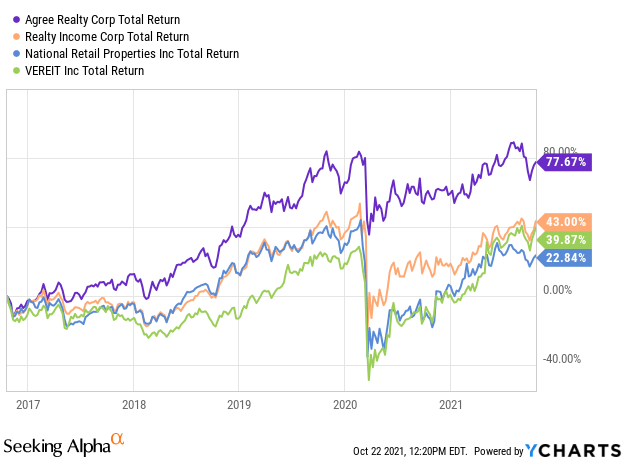 Agree's long history has established close tenant relationships which have helped the firm maintain a healthy pipeline of acquisition and development opportunities. The firm's relationships are a foundation of their three pillar growth strategy. Well-established relationships provide a streamlined process with clients presenting opportunities which may never reach the broader market.
Additionally, ADC is smaller than other net lease peers including Realty Income (O) or National Retail Properties (NNN). The firm's smaller portfolio provides a greater opportunity for ADC to grow through high acquisition volumes. Agree's well-established balance sheet has allowed the firm to take advantage of strong financing opportunities as evidenced by the past two years. Their cost of capital advantage over weaker peers allows for more greater returns in quality assets over the long term.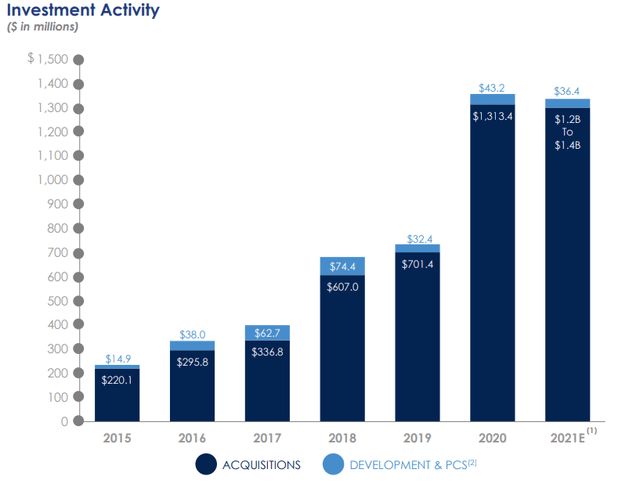 Source: ADC
ADC's strongly growing acquisitions have fueled performance for the company. Given the firm's strong cost of capital relative to competitors, ADC has become a worthy participant in the net lease segment. An advantage in WACC allows ADC to place capital in high quality assets while maintaining necessary investment spreads. The firm's new purchases are strongly accretive as evidenced by FFO per share growth which has outpaced other competitors.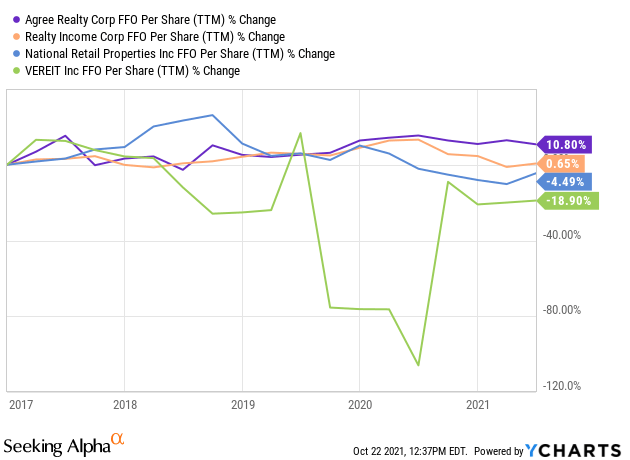 Agree's ability to continue growing its FFO per share under the broadly difficult conditions presented by the pandemic is unusual for the segment. While competitors have been unable to grow FFO per share because of portfolio impairments, ADC has remained unimpacted. We believe this is largely due to ADC's allocation to sectors which have benefitted from COVID-19, such as home improvement. ADC has benefitted from trimming exposure to vulnerable sectors over the two years leading up to the pandemic. More importantly, this current positioning bodes well for the future of ADC as the dust settles.
Dividend
Agree Realty has an impressive history of increasing dividends. The firm transitioned to monthly distributions at the beginning of the year, matching the desirable qualities of competitors including Realty Income and Gladstone Commercial Corporation (GOOD). The firm has an impressive history of growing its dividend, having raised the distribution annually since 2012. Today, the firm distributes a monthly dividend of $0.23 per share corresponding to a 3.87% yield based on current share prices. It is worth noting that Agree cut the distribution by approximately 20% after 2010.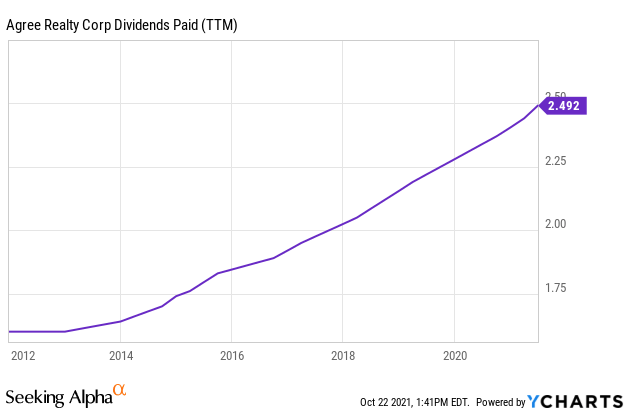 ADC only offers investors an opportunity to receive dependable monthly income backed by a best-in-class portfolio of retail assets. Going a step further, the firm has demonstrated a capability to grow its dividend consistently, outpacing peers and inflation by a wide margin. In fact, the firm has successfully outpaced blue chip competitors such as O and NNN in dividend growth.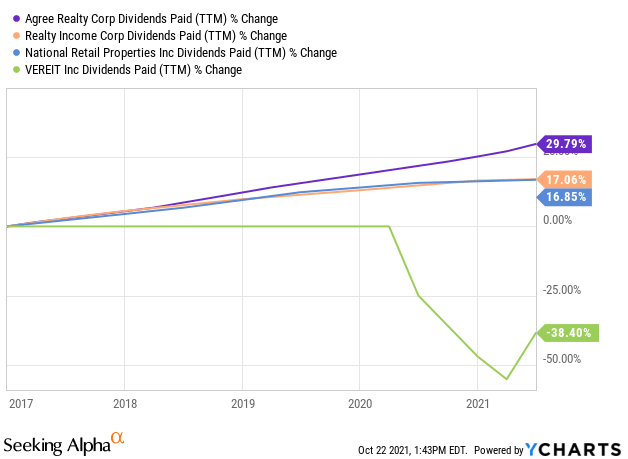 Reinforcing ADC's dividend performance is a conservative payout ratio. Remember, REITs are responsible for distributing 90% of taxable income to avoid corporate level income taxes. Accounting rules allow REITs to manage this distribution slightly, often resulting in payout ratios lower than 90%. Lower distributions generally leave more cash for reinvestment leading to greater NAV growth. A higher payout ratio leaves less margin for error in the dividend and less capital for reinvestment. ADC's current payout ratio is consistent with peers and under 90%, indicating there is sufficient safety and flexibility for a well-established player.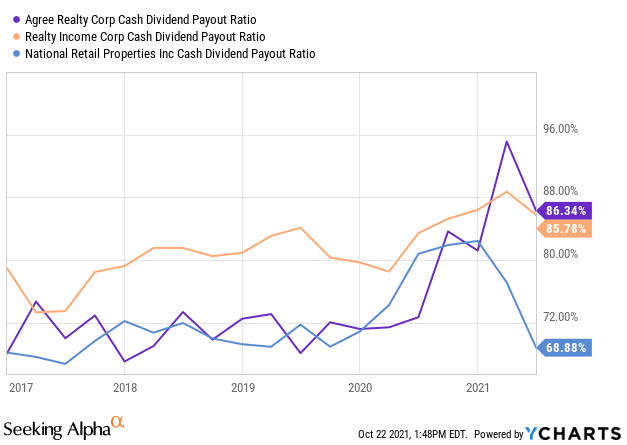 As the net lease sector continues to normalize and grow, we expect ADC to maintain a healthy acquisition pipeline going forward. According to CBRE, investment volumes in the retail sector have rebounded to the third highest quarter on record. This growth comes after four consecutive quarters of decline, due to the COVID-19 pandemic. Keep in mind, these quarters of decline were amongst the best quarters in ADC's history. ADC's relationship network has proven extremely useful for continued dividend growth.
Outlook
We have recently covered a variety of net lease REITs, often pointing out similar risks. At this point, rising interest rates have the potential for meaningful disruption as financing costs increase. Being that REITs operate by investing for spreads over their cost of capital, an increase in financing costs will directly pressure results. As we have previously discussed, sector wide challenges such as rising rates will more heavily impact REITs on the lower end of the totem pole, such as Global Net Lease (GNL).
Other REITs, such as the blue chip funds we have mentioned, are better positioned to fight these forces. ADC's strong cost of capital, distant debt maturities, and superior share price performance give the firm a competitive advantage that will be essential to thrive under stressful conditions.
It is important to note that REITs have not always suffered during periods of rising interest rates. The financing forces in isolation pressure REITs with an emphasis on lower quality firms. However, on a broad level, REITs have been able to historically survive rising rate environments. According to S&P Global, REITs have been able to survive and even thrive during rising rate periods due to other macroeconomic factors that often accompany a rising rate environment. For example, rising rates have historically been associated with inflation, a strong tailwind for real asset values.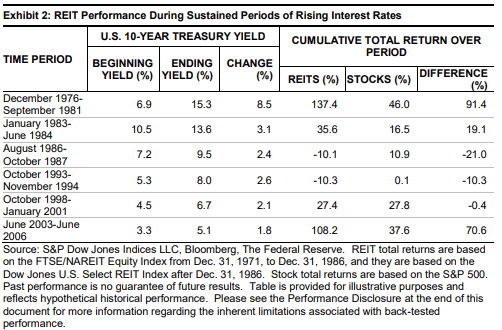 Source: S&P Global
While only time will tell, we believe well capitalized firms pose the least risk in these environments. ADC's continued record of success provides confidence that it will survive a rising rate and inflationary environment. Given the current outlook, we believe long-term investors should pay greater attention to the fundamental aspects of ADC as a real estate company. We believe the "RETHINK RETAIL" initiative is a greater indicator of long-term success than short term movements in interest rates.
Conclusion
Agree Realty offers shareholders access to institutional quality real estate, experienced management, and an attractive financing mix. We believe the company is set to continue its impressive track record of dividend growth as the net lease market continues to attract new tenants and expand. ADC's existing relationships provide a tangible advantage in sourcing new opportunities. The firm has demonstrated its continued ability to capitalize on these opportunities, leading to outpaced growth in comparison to other competitors. We see a bright future for this net lease REIT.