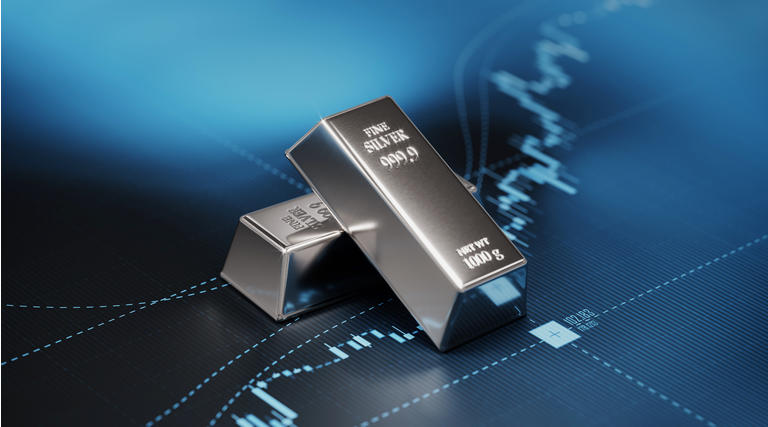 Believe it or not, silver's sentiment setup during October is the most bullish backdrop in several years. Based on the COT report on silver futures positioning, small retail investors are less exposed to future contracts than the March 2020 pandemic panic reversal. In addition, commercial hedgers (like miners and fabrication companies) held the lowest net-short position in the metal, since the important 2019 bottom. Plus, we are entering the best seasonal time to own poor man's gold between October and February. My conclusion: don't be shocked by a rapid advance in silver into February 2022.
I have personally created a leveraged long position in silver through mining stock ownership and purchasing call options on the iShares Silver Trust (SLV). For most investors, in either regular brokerage accounts or tax-deferred IRAs, a simple way to create a more direct silver position with leverage (and somewhat limited risk) is to purchase a stake in the ProShares Ultra Silver ETF (NYSEARCA:AGQ). The product looks to generate 2x (200%) the daily change in silver quotes. And, over the years it has done a fair job of providing leverage to silver. The annual management expense of 0.95% annually is high, but on par with other leveraged metal ETF designs.
AGQ Performance History
Of course, as a buy-and-hold investment over many years, it has performed rather poorly, because of the costs creating leverage through futures and swaps. The upside is daily rebalancing helps to compound rapid and prolonged silver advances into a little more than 2x the performance of an ETF product like the basic SLV design.
To get an idea of what is possible for returns over time when buying ProShares Ultra Silver, we can review some historical charts. I have graphed AGQ vs. the generic SLV silver replica, and the SPDR S&P 500 ETF (SPY) for comparison research, between periods from 1 month to 5 years. Total returns including dividends are charted, although ProShares Ultra Silver does not pay one currently. AGQ can perform positively for a number of years, but generally, I do not recommend it as a buy-and-hold suggestion, with its time-decay characteristics.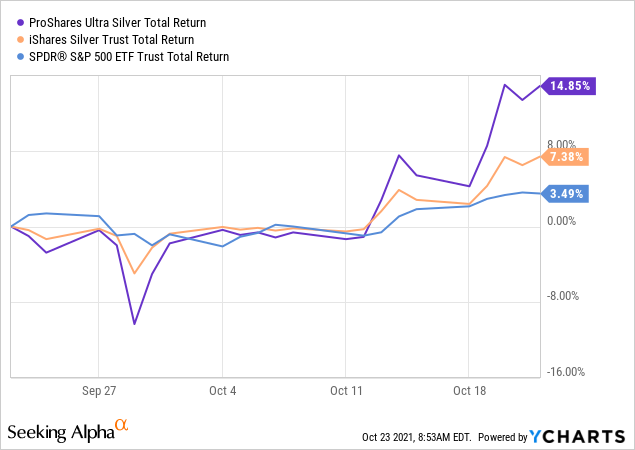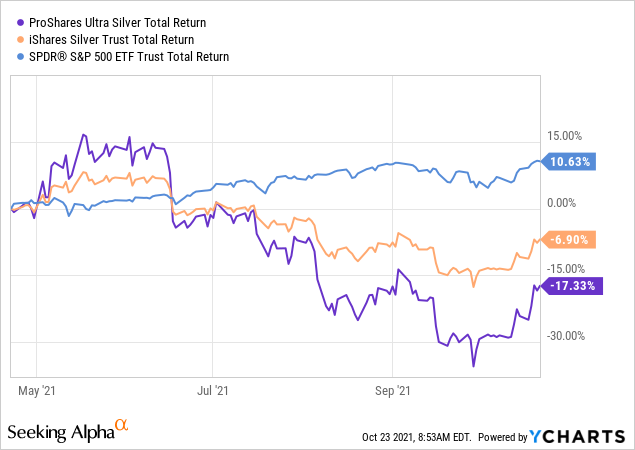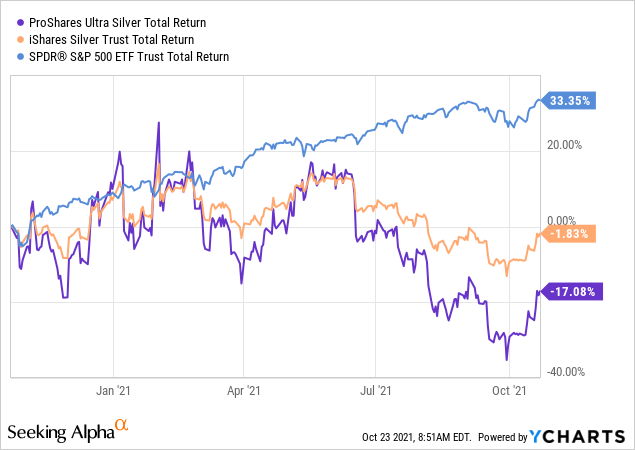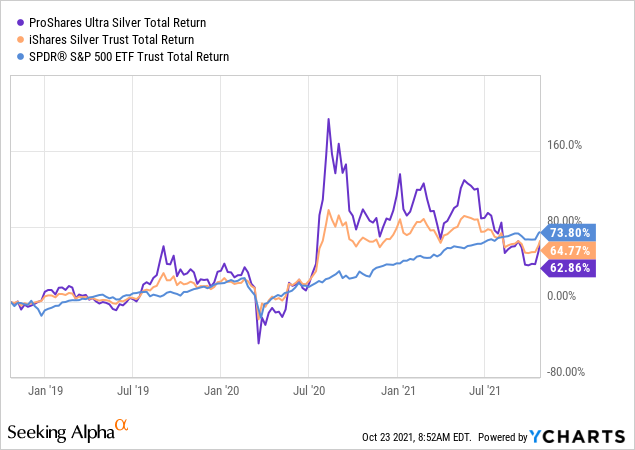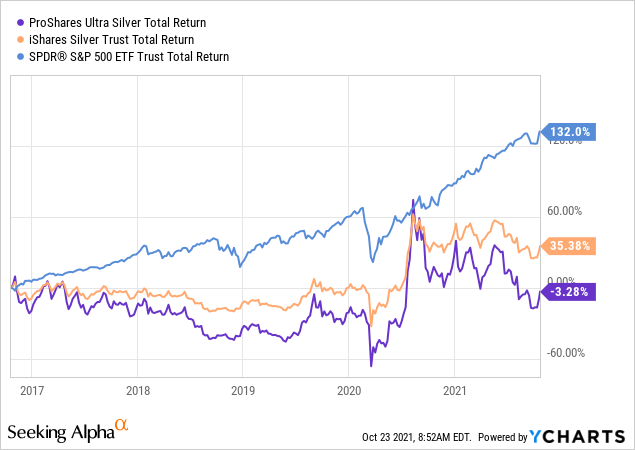 The good news is bullish phases in silver, especially strong ones, can be compounded beyond the 2x design. I have drawn the two best periods to own AGQ since its inception, September 1st, 2010 to April 29th, 2011, and May 4th, 2020 to August 6th, 2020. If you are bullish on silver like I am, now could be the time to ponder the pros and cons of AGQ's 2x silver proposition.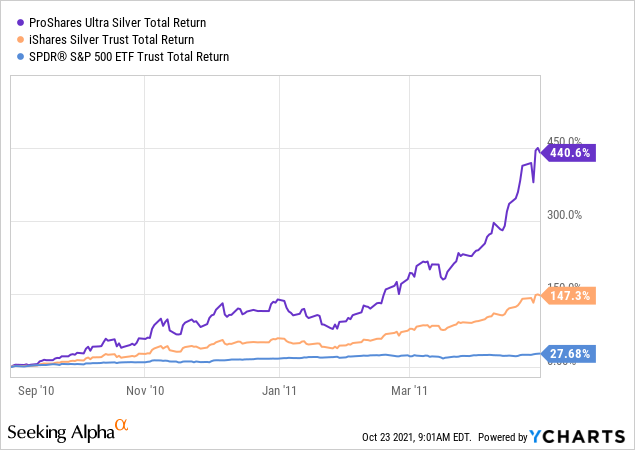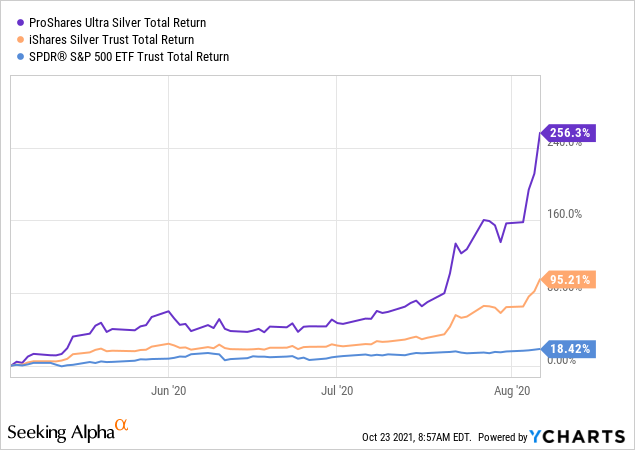 Below is a 3-year chart of daily price and volume changes, alongside some of my favorite momentum indicators. The general long-term momentum trend has been very positive since the middle of 2019.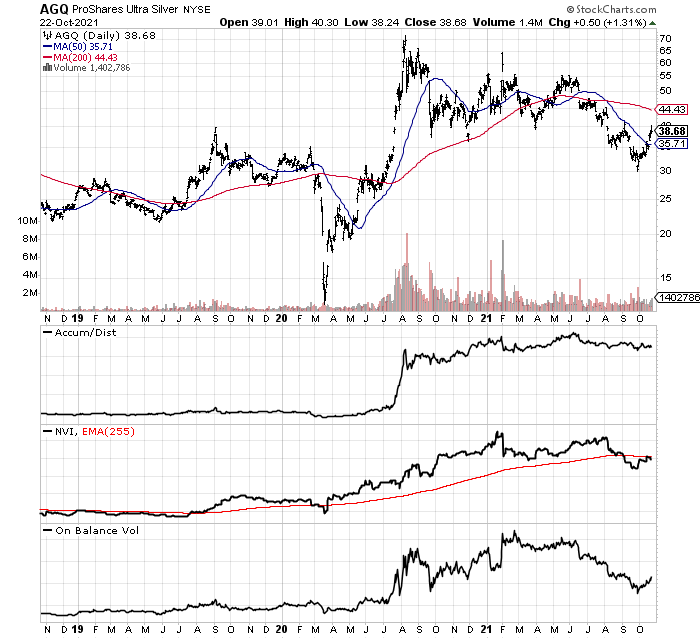 Commitments of Traders Report
The main cyclical reason I am getting more overweight silver in my portfolio is the reemergence of negative/bearish views by investors and analysts regarding this important monetary and industrial metal. As a contrarian thinker, I want to earn gains better than the crowd. So, I have to stay a step or two ahead of the pack. Buying silver when others have sold and moved on is often the best risk-adjusted time to be aggressive.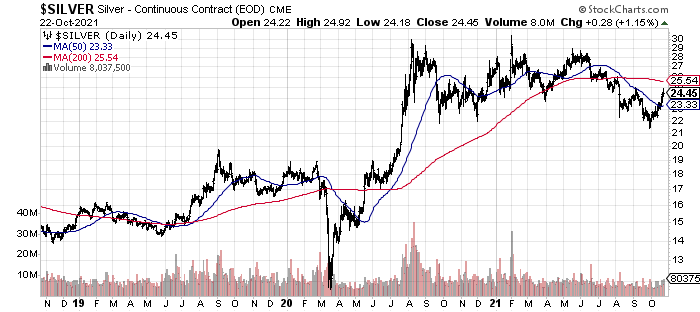 During early October, the COT reported small retail traders in the futures pit were positioned with the lowest net-long setup since 2019. Commercial hedgers, who typically sell short to lock-in pricing for business operations, cut their net-short positioning by 75% between February 2020 and early October 2021. The investment argument is a swing toward bullishness will lead to an oversized price jump. Today's futures configuration for silver pricing is boxed in green below on a 2-year chart. When you go back through decades of historical patterns that mirror current futures trading data, looking to buy silver should be your reasonable conclusion.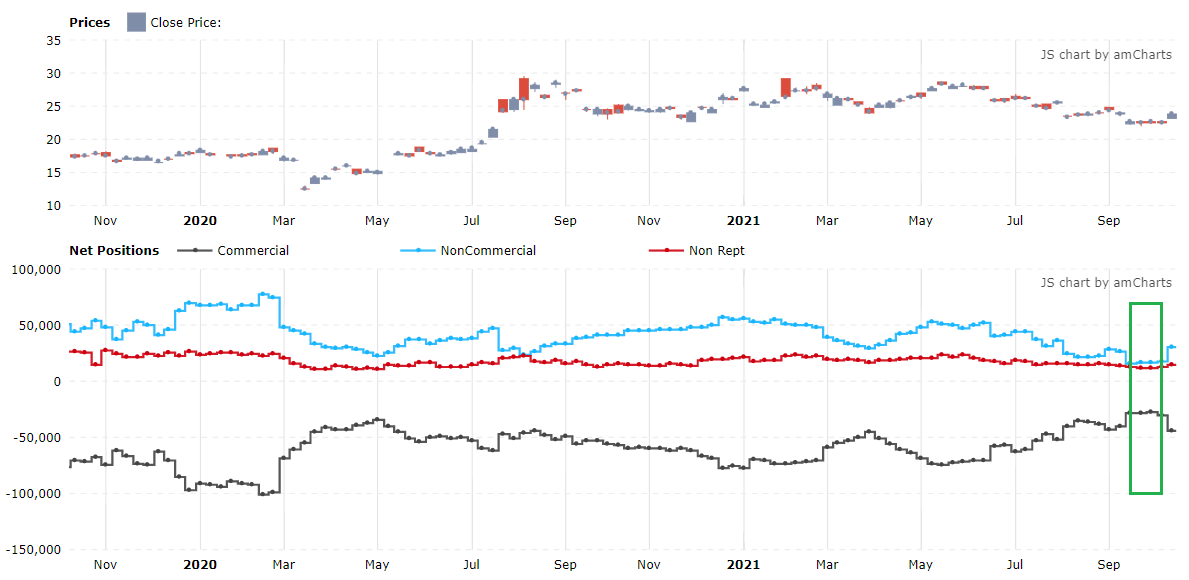 Image Source: Tradingster Website
Approaching Seasonal Strength
But there's more to the bullish case to explain. Over the past 20 years, buying silver in early October and holding until the end of February has generated a net +12% annualized gain on average, equal to the entire yearly advance normally outlined. Statistically, the same percentage gain could have been achieved owning silver for just 5 months each year, instead of 12. Below is a graph of the idea, with the seasonal buy/sell points circled in green.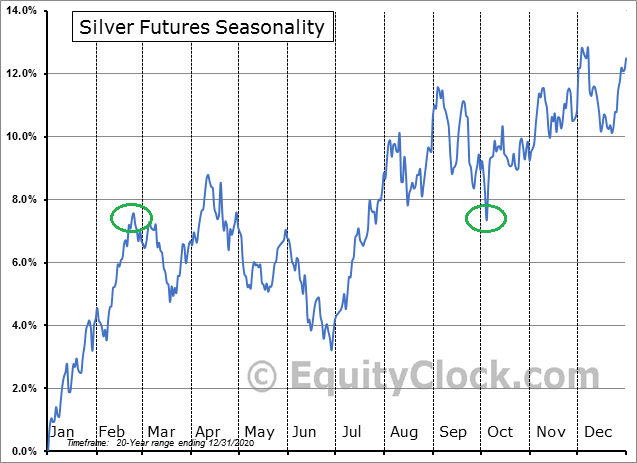 Image Source: Equity Clock Website
Final Thoughts
Long-term industrial silver usage growth is another bullish development, from expanding solar panel demand (and EVs and electronics). I wrote about one of my favorite photovoltaic buildout ideas here last week. With solar plants/farms now the cheapest, all-in-cost source for energy/electricity production (with legitimate climate-friendly advantages), projecting an explosion in solar panel demand going forward is a no-brainer. Experts far smarter than me are worried a physical shortage of silver could be on its way, assuming panel manufacturing totals double and double again over the next decade.
The bursts in silver investment buying during 2020 as a hedge against excessive central bank money printing, and the early 2021 meme feeding frenzy seem to have been fully consolidated into October. If you are searching for a counterweight hedge idea against new black swan events and the still high odds of another round of money printing in 2022, silver remains a terrific holding, uncorrelated to stock market price swings.
My research views remain quite bullish on all the major precious metals, as silver, gold, and platinum have been nonsensical underperformers the past 12 months, while nearly every other commodity and hard asset class has skyrocketed in U.S. dollar pricing. I wrote a bullish article in September here about gold's clear undervaluation around $1,800 an ounce, measured against money supply expansion, Treasury debt issuance, and equity market wealth on Wall Street. If my arguments and logic for $2,500 gold in 2022 prove out, silver prices of $35 to $40 an ounce in 6-12 months could be a reasonable relative target zone.
Lastly, using the 100-year average gold to silver ratio of 45x, my $3,000 gold price estimate for 2023 would equate with a "fair value" for silver closer to $67 an ounce. So, $24 silver today may be quite the bargain for patient, intelligent investors.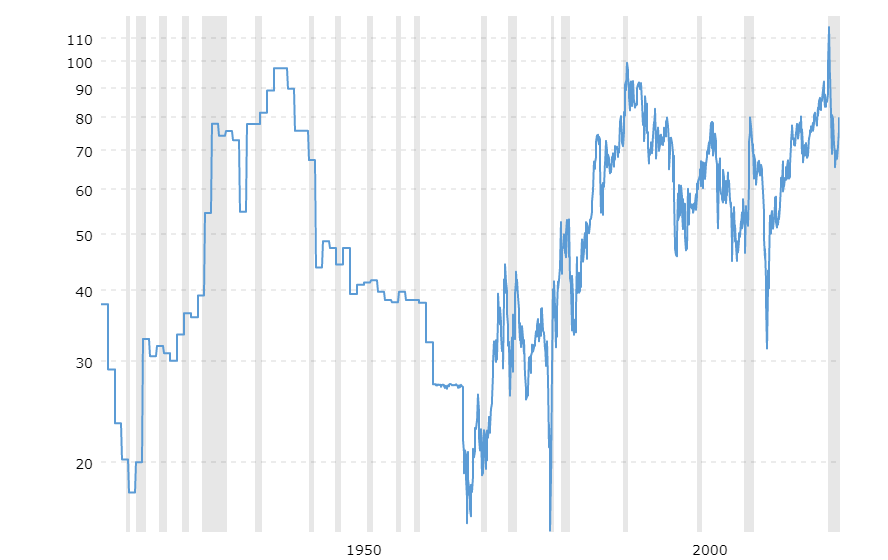 Image Source: Macrotrends Website
What could cause the silver price to stay depressed? This trade isn't without risk. Two downside ideas stand out. First, if the Federal Reserve stops printing money, ends QE buying of bonds, and raises interest rates abruptly to fight inflation, the bullish silver story would be degraded. The second downer would be a sharp contraction in monetary system liquidity caused by a stock market crash or the resumption of an industrial recession. If the pandemic numbers heat up again with a new variant that gets around vaccines or China invades Taiwan (as examples), a decline in economic output and related industrial demand for silver could keep the quote closer to $20 an ounce for another year.
However, absent these major risks erupting, gradual improvements in the global economy should pull industrial demand for silver higher. And, eventually, the world's record debt setting in late 2021 will require even more money printing to prevent a deflationary implosion. Assuming silver demand spikes from solar panel (and EV) production growth, while money printing on top of money printing remains our future, the long-term outlook for silver is amazingly rosy. Record prices above $50 an ounce could be just 18-24 months away, while predictions for $100 in 3-5 years are not completely out of bounds.
My thinking is the ProShares Ultra Silver ETF makes an interesting buy idea today. A bullish target of $80 to $100 per trust unit is well within reach in 9-12 months from $39 today. If you want to reduce the risk of oversized losses, placing a stop-sell order underneath the low in September of $30 is a great battle plan. I do not expect renewed selling or even a double-bottom retest for silver. To me, it appears all systems go for silver bulls.
Thanks for reading. Please consider this article a first step in your due diligence process. Consulting with a registered and experienced investment advisor is recommended before making any trade.