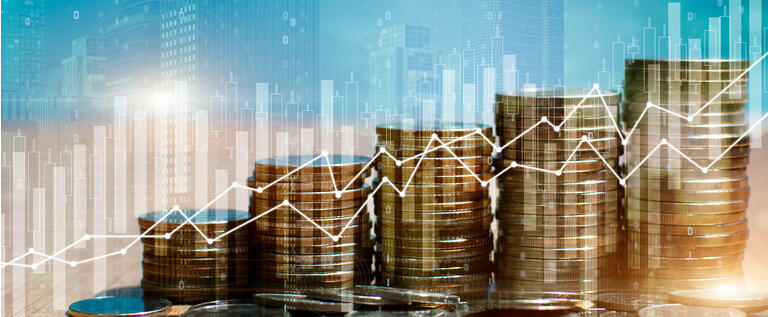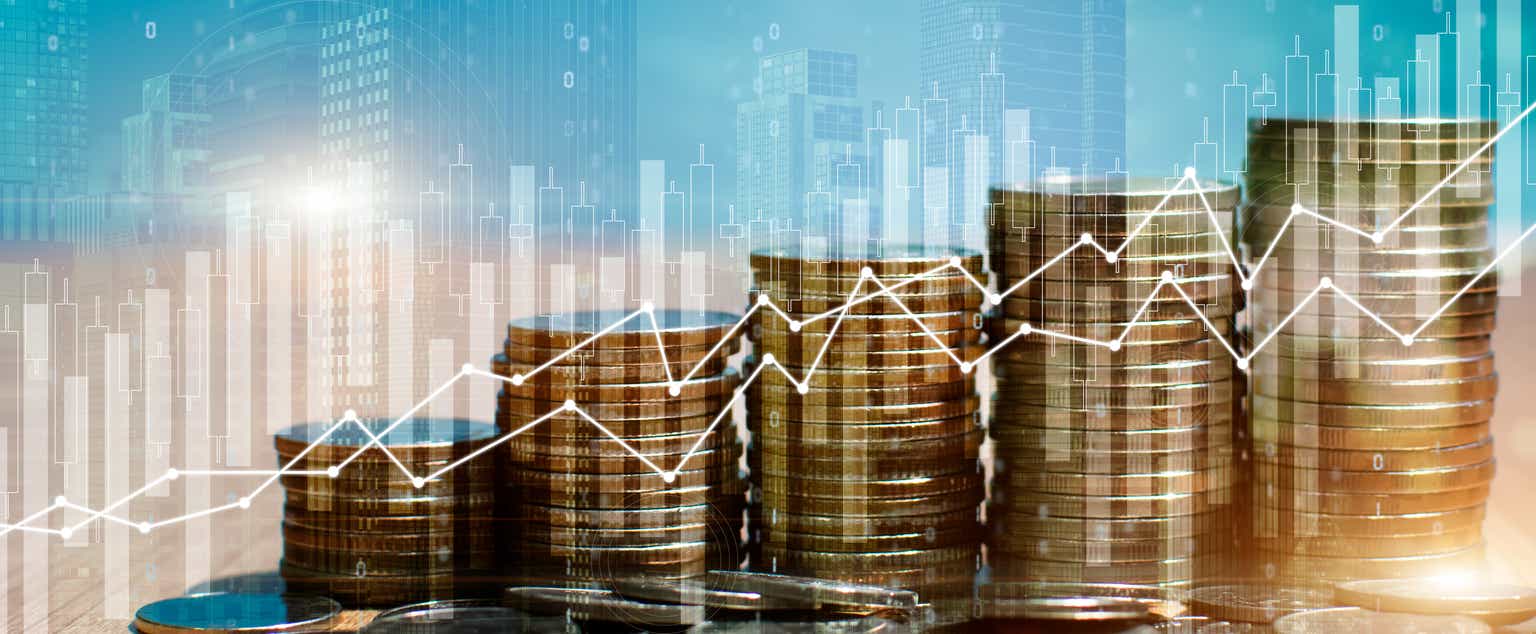 Written by Nick Ackerman, co-produced by Stanford Chemist
Calamos Global Total Return Fund (NASDAQ:CGO) is a worthy offering from the Calamos lineup of funds. Calamos is generally known for its convertible funds that have been some of the best performing in the space. Though this fund holds a convertible exposure, it is primarily invested in equity positions. Overall, it has more of a hybrid approach to investing as they also have more traditional fixed-income bond exposure.
Calamos Strategic Total Return Fund (CSQ) is a fund I've written about frequently. It's a position I'm long in and intend to remain long in. When taking a look at CGO, it would appear that it is essentially CSQ's global equivalent. The fund still carries a majority of its investment in U.S.-based investments at 51.9%. That being said, that is pretty typical of most "global" funds anyway.
For those that might not be so familiar with CSQ, here are some of the basics. Both the funds will "seek total return through a combination of capital appreciation and current income." The way they attempt this is quite similar, just with a global tilt; "by investing in a globally diversified portfolio of equities, convertible securities and high-yield corporate bonds."
Some of the key features that they highlight are:
Aims to provide consistent income through monthly distributions set at levels the investment team believes are sustainable.
Offers access to global markets, which complement and diversify an investor's equity allocation.
A broad range of global security types increases opportunities to actively manage the portfolio's risk/reward characteristics over full market cycles.
Judicious use of leverage seeks to enhance overall returns by achieving a net positive spread on investments over borrowing costs.
CGO is a bit smaller of a fund. They have total managed assets of around $207.3 million total. That makes daily trading volume on this fund something to consider. At an average of 20k shares traded daily, that could be a risk for investors. Making a purchase here, one would definitely want to place a limit order. The latest bid-ask that is showing was $15.07 and $15.76.
They incorporate leverage at about 32.56% at the moment. That's on the higher end, which is pretty typical for Calamos funds. However, most of their other funds are heavier in convertible securities that can offer more downside protection. I'd say this amount of leverage makes CGO relatively riskier. CSQ, in comparison, also runs a bit higher of leverage at around 30.19%.
The expense ratio of this fund comes to 2.23%. Excluding the interest expenses for the fund and it would have been 1.63%.

(Source)
CPZ's Leverage
The leverage comes in the form of borrowings and mandatory redeemable preferred shares. These preferred shares come in Series A, B and C. This is a more expensive form of leverage. However, it also makes the fund more flexible. Since a CEF can typically be more leveraged when done so through preferred shares. That means less of a chance for forced liquidation and deleveraging when market panics set in. At the same time, they had still reduced leverage last year in the form of their borrowings.

(Source - Semi-Annual Report)
That accounts for up to $12 million of the outstanding leverage on the portfolio. The other is in borrowings of up to $55 million. The fund last reported an average borrowings of the last six-month period of $45.1 million. The average interest rate on that was just 0.56%.
However, by the end of April 30th, 2021, they had $50.5 million in borrowings. The interest rate on that borrowing was 0.53%. The increased borrowings likely suggest that management was more bullish. Luckily for them and shareholders, they were right in that assessment to have increased leverage.

(Source - Semi-Annual Report)
Global Performance Vs. U.S.-Based
As we know, U.S. investments have been outperforming global securities for over a decade now. Historically, that hasn't always been the case, with international investments outperforming the U.S. through various periods of time.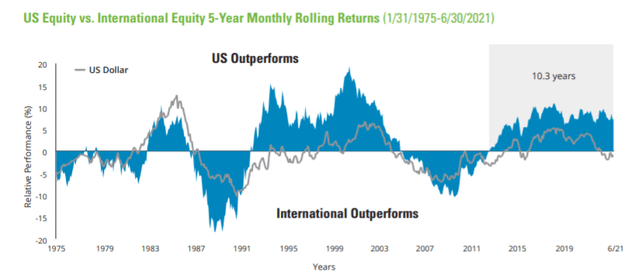 (Source - Hartford Funds)
That is what makes a good case for CGO possibly being the better performing in the future. At least if we are looking at the averages, international investments are well overdue to take the lead. This could make CGO an excellent complement to a CSQ position. When we look backward, we see that CSQ has quite handily outperformed.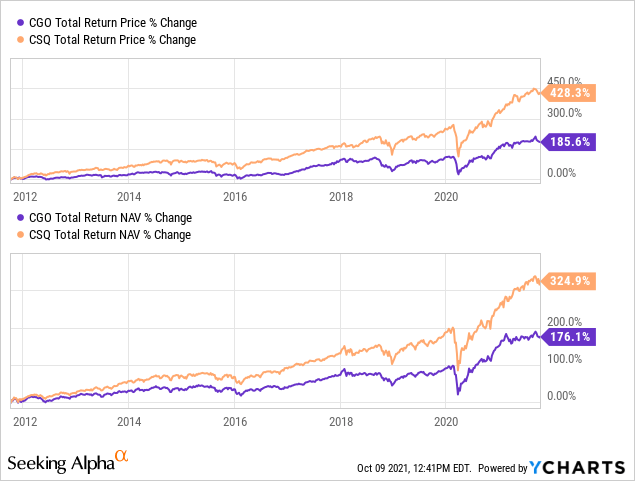 Though the end results were still reasonably attractive on an annualized basis, CSQ benefited from the solid U.S.-investment performance over the last decade-plus now.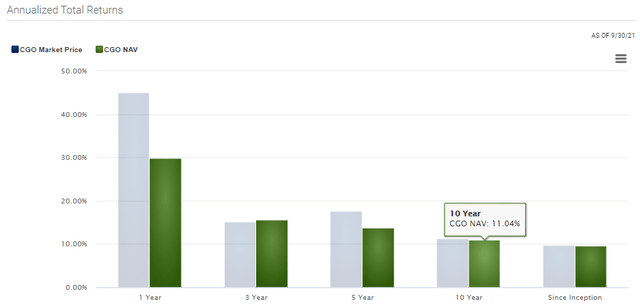 (Source - Fund Website)
The Fund's Premium Isn't Uncommon
Shares of CGO are currently going for a premium to the underlying NAV of the fund. On a bit of a side note, CGO is trading above its inception NAV of $14.30. That is quite attractive considering the fund was incepted before 2008/09, launching in 2005.
At a premium of 0.57%, that puts it a bit lower than the last 1-year average premium of 3.04%. In fact, that 1-year average is quite close to the fund's 5-year average, which means that, if anything, CGO is mildly undervalued relative to its history.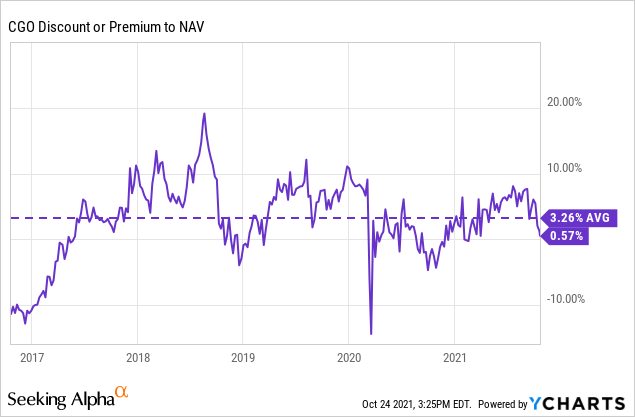 The fund met a low discount of 14.36% during 2020's panic selling. That obviously would have been a steal. Interestingly, the fund's premium looks to have topped out back in 2018. That isn't as odd as it might first appear. If you can recall, we went into a bit of market volatility in Q4 of 2018.
There were several causes for that weakness, but one of the big ones was the Fed raising rates. The markets thought that rates were rising too aggressively, while economic data suggested a slowdown in the global economy. While 2019 provided a rally to the overall market, CGO hadn't reclaimed its former high water market for its premium.
CGO's 7.61% Distribution Yield
CGO currently sports a distribution yield of 7.61%. Due to its slight premium, that means the fund has to earn 7.66% to maintain that rate. So far, this has been one of the more stable providing monthly distribution funds. The $0.10 monthly amount goes all the way back to 2008/09 when it was trimmed.
Due to the overall weaker performing international markets, it isn't too much of a surprise that CGO didn't enjoy the same distribution boosts that CSQ had. That being said, CGO also didn't experience the same number of cuts that CSQ endured. CSQ's cuts were also deeper than what CGO had done.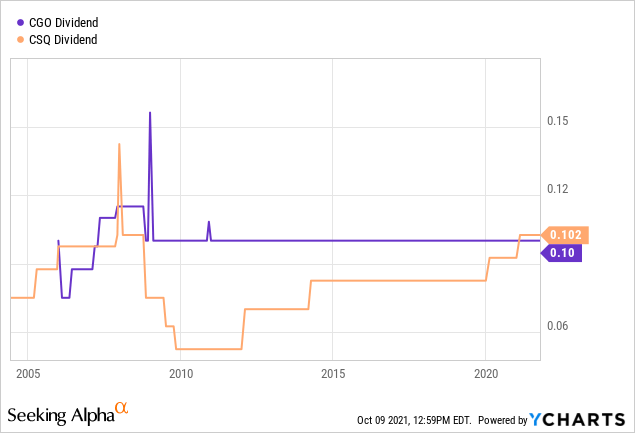 This type of consistency certainly meets the key feature they mentioned above: aiming to pay a monthly distribution they believe is sustainable. CGO is now over ten years of the same distribution.
Since the fund's launch, they've actually returned $19.082 back to investors cumulatively. That makes CGO certainly seem as though it is a solid fund. They have more than paid back the original NAV. At the same time, the fund's NAV is now back above its inception NAV as well.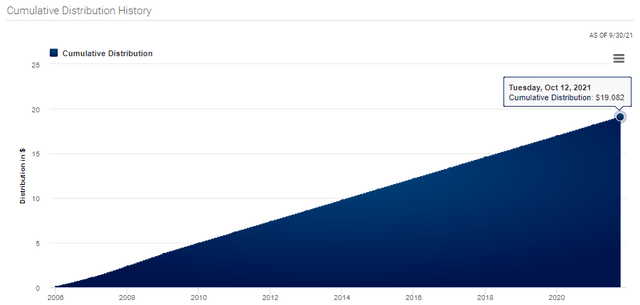 (Source - Fund Website)
To fund the current distribution, the fund will rely on a significant portion of realized capital gains. Despite the convertible securities feature of generally paying out regular income, interest rates these days just aren't what they used to be. Additionally, since their most significant exposure is to equity positions, this is also quite common.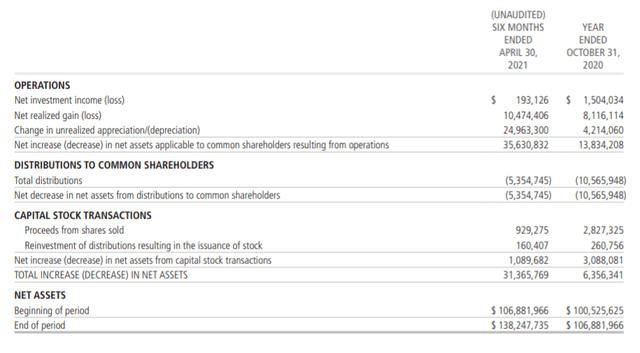 (Source - Semi-Annual Report)
Net investment income [NII] coverage was last reported at just 3.6%. For their entire fiscal year, the fund last reported NII coverage of 14.23%. That means there was a sharp decline heading into this year.
A reduction in total investment income [TII] and investment advisory fees being higher seem to be the culprits for this reduction. The interest expenses were a net positive if we annualized the figures. Net expenses would have been an annualized $781,308. That can be compared with the $1,007,190 that it was for their full fiscal year.
For TII, the fund reported $4.273 million for full-year 2020. That can be compared to $1.643 million for the last six-month period or an equivalent of $3.286 million. That's a total 23% reduction. At the same time, advisory expenses were $1.469 million last year. Over the previous six months, this came to $932,289 or $1.865 million annualized.
This doesn't mean that the fund can't maintain its current distribution. As we can see, it has more than afforded it through realized and unrealized gains. At this time, I don't believe there is any threat that the distribution should be reduced. In fact, if the fund accumulated any more realized gains, it could mean a special year-end distribution.
Despite realized gains funding the distribution, that doesn't always line up with the actual tax breakdown of the distribution come year-end. This fund is one of those that can highlight this best. The fund had classified all distributions as ordinary income for the prior fiscal year. In contrast, NII earnings weren't even 15% of what the fund received.

(Source - Semi-Annual Report)
CGO's Portfolio
The fund last reported a turnover rate of 73%. For 2020, it came to a high of 153%. For most of the last five years, the fund has actually had turnover reported at over 100%. That means they are quite actively managing this fund with plenty of buying and selling. With 615 positions reported by CEFConnect as of July 31st, 2021, they certainly have a lot of positions to play around with as well.
More broadly, the portfolio is heaviest in common stocks. This is similar to CSQ. The convertible sleeve of the portfolio still makes up a material allocation, with 24.2% of the portfolio. The common stock slice of the pie comes to 60.2%. Corporate bonds make up another 8.3% of the portfolio, with the remainder spread across cash, options, other bank loans, preferred stock and warrants.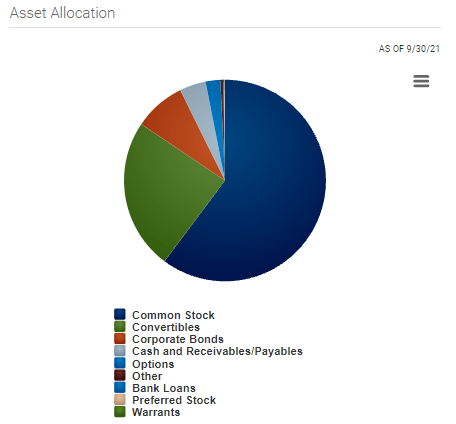 (Source - Fund Website)
Though those lesser exposures to options can still result in some material impact on the fund. The purchased and written options resulted in some fairly material realized gains for the fund over the last six months. On the other hand, in the unrealized sleeve of the portfolio, purchased options were a drag but were more than made up for on the written options for the portfolio.

(Source - Semi-Annual Report)
Since the fund does have a global tilt, it is worth noting where that exposure is to. Behind the U.S., there isn't too much high concentrated exposure. It is more or less spread throughout both Europe and Asian continents.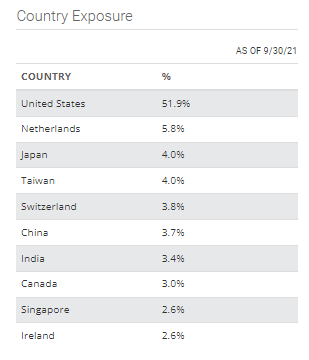 (Source - Fund Website)
The largest sector exposure for the fund is tech. That isn't too much of a surprise as it is fairly common for most CEFs to overweight tech. It has been working for years now, so this has been to the benefit of shareholders. At the same time, CGO isn't overly overweight in the tech sector.
The financial sector makes up the second-largest exposure, and that to me is a positive. I believe that financials are poised to outperform when rates start rising. Overall, CGO seems like a relatively more balanced CEF when it comes to sector exposure than we see in many other funds. Being relatively more diversified means that it could potentially make a good addition to more investors' portfolios. Simply put, it wouldn't make drastic changes to an already diversified portfolio.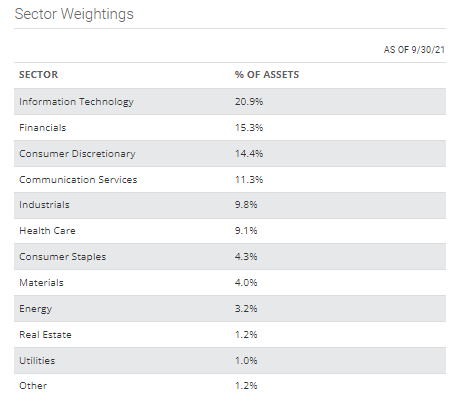 (Source - Fund Website)
The fund might show a significant number of positions, at 615 holdings; however, the top ten make up 20.4% of the fund. That means it is fairly top-heavy comparatively speaking to the number of positions. In the top ten, all but one of their positions is an equity security. The sole convertible position belongs to Sea Limited (SE).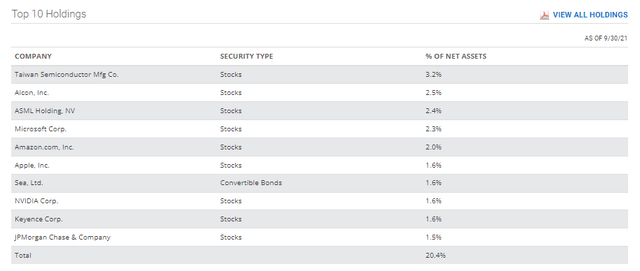 (Source - Fund Website)
SE is an "interactive home entertainment" company based out of Singapore. They don't make a profit, but revenue is expected to be quite explosive. Revenue has already been climbing quite rapidly.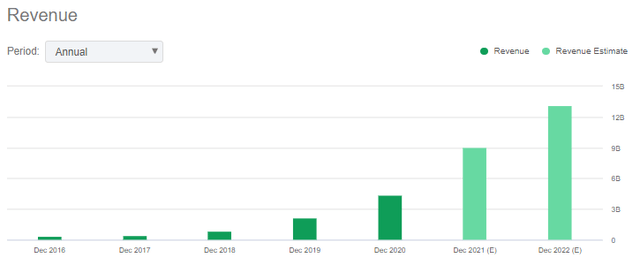 (Source Seeking Alpha)
Conclusion
CGO is an interesting fund that could be a great fit for investors comfortable with Calamos as a sponsor. They've provided attractive long-term results for their shareholders in many of their funds. While CGO is a laggard relative to some of their other names, this is primarily due to its global tilt. Global positions have underperformed U.S. markets for over a decade now. This could indicate that global markets are due for a reversal, as historically has been the case.
That could make CGO an excellent complement to an investor's portfolio. At the same time, the fund is quite diversified without any sector allocation at an overwhelming majority of the portfolio. This is further diversified by the fund's multi-asset approach, incorporating equity positions, convertible positions and more traditional bonds. Additionally, the options strategy the fund has employed appears to have resulted in some positive gains for the fund. As capital gains will help fund their distribution, keeping those types of gains up is essential.