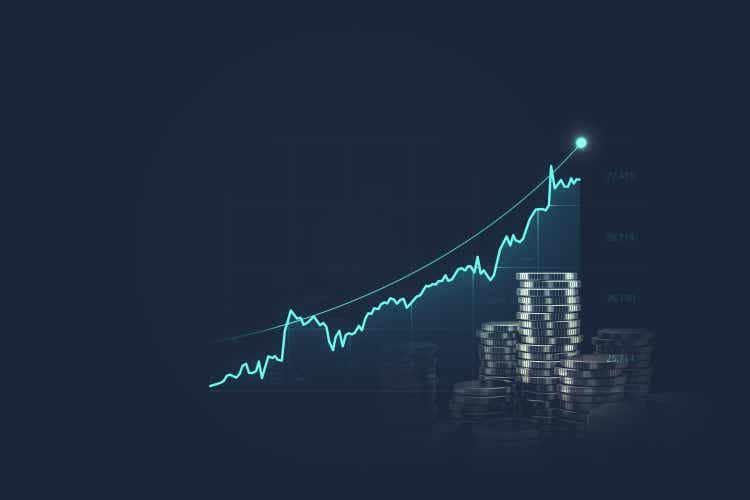 We monitor dividend announcements for stocks in Dividend Radar, a spreadsheet of stocks with dividend streaks of five years or more. Readers are invited to download the spreadsheet for free. The Dividend Radar spreadsheet separates stocks into categories based on the length of the streak: Champions (25+ years), Contenders (10- 24 years), and Challengers (5-9 years).
Recently, 20 companies in Dividend Radar announced dividend increases. Note there were no dividend cuts or suspensions announced for Dividend Radar stocks during this period.
The following table provides a summary of the dividend increases. The table is sorted into sections for Champions, Contenders, and Challengers, followed by the percentage increase (%Incr). Dividends are annualized and in US$, unless otherwise indicated. Yield is the new dividend yield for a recent price, and Yrs are years of consecutive dividend increases.
Source: Created by the authors from data in Dividend Radar.
The following dividend increase data are sorted alphabetically by ticker.
Company descriptions are the author's summary of company descriptions sourced from Finviz.
American Electric Power Company, Inc. (AEP)
AEP is a public utility holding company that engages in generating, transmitting, and distributing electricity to customers in the United States. The company generates electricity using coal and lignite, natural gas, nuclear, hydroelectric, and other energy sources. AEP was founded in 1906 and is headquartered in Columbus, Ohio.
Brown & Brown, Inc. (BRO)
BRO markets and sells a range of insurance and reinsurance products and services, as well as risk management, third-party administration, managed health care, and Medicare set-aside services and programs. Customers include businesses, public entities, individuals, trade, and professional associations. BRO was founded in 1939 and is headquartered in Daytona Beach, Florida.
Crown Castle International Corp. (REIT)(CCI)
CCI owns, operates, and leases more than 40,000 cell towers and more than 75,000 route miles of fiber supporting small cells and fiber solutions across every major U.S. market. This nationwide portfolio of communications infrastructure connects cities and communities to essential data, technology, and wireless service.
Fidelity D & D Bancorp, Inc. (FDBC)
FDBC operates as the holding company for The Fidelity Deposit and Discount Bank. This state-chartered commercial bank provides a range of banking, financial, and trust services to individuals, small businesses, and corporate customers, primarily in Lackawanna and Luzerne counties in Pennsylvania. FDBC was founded in 1903 and is headquartered in Dunmore, Pennsylvania.
Huntington Bancshares Incorporated (HBAN)
HBAN is a diversified regional bank holding company. Through its subsidiaries, HBAN provides commercial, small business, consumer, and mortgage banking services, as well as automobile financing, equipment leasing, investment management, trust services, brokerage services, customized insurance programs, and other financial products and services. HBAN was founded in 1866 and is headquartered in Columbus, Ohio.
Heritage Financial Corporation (HFWA)
HFWA is a bank holding company incorporated in the State of Washington in August 1997. Its wholly-owned subsidiary, Heritage Bank, is a full-service commercial bank providing financial solutions to small and medium-sized businesses in Washington and Oregon. Effective 1 May 2014, HFWA completed a merger with Washington Banking Company.
Heartland Financial USA, Inc. (HTLF)
HTLF operates retail pawn stores in the United States and Latin America. Its pawn stores lend money on the collateral of pledged personal property, including jewelry, electronics, tools, appliances, sporting goods, and musical instruments. FCFS was founded in 1988 and is headquartered in Fort Worth, Texas.
Hubbell Incorporated (HUBB)
HUBB designs, manufactures, and sells electrical and electronic products for non-residential and residential construction, as well as industrial and utility applications. The company's products include cable reels, wiring devices and accessories, junction boxes, plugs and receptacles, cable glands and fittings, switches, and dimmers. HUBB was founded in 1888 and is based in Shelton, Connecticut.
IDACORP, Inc. (IDA)
Founded in 1915 and headquartered in Boise, Idaho, IDA is a holding company engaged in generating, transmitting, purchasing, and selling electric energy in the United States. The company operates 17 hydroelectric generating plants in southern Idaho and eastern Oregon, and three natural gas-fired plants in southern Idaho.
Lincoln Electric Holdings, Inc. (LECO)
LECO, through its subsidiaries, designs, develops, manufactures, and sells arc-welding products, robotic arc welding systems, plasma, and oxy-fuel cutting equipment. The company sells its products directly to users and through industrial distributors, retailers, and agents. LECO was founded in 1895 and is headquartered in Cleveland, Ohio.
Magellan Midstream Partners, L.P. (MMP)
Founded in 2000 and headquartered in Tulsa, Oklahoma, MMP is a publicly traded partnership engaged in the transportation, storage, and distribution of refined petroleum products and crude oil in the United States. MMP owns the longest refined products pipeline in the USA, with access to about half of the nation's refining capacity.
Middlesex Water Company (MSEX)
Founded in 1897 and headquartered in Iselin, New Jersey, MSEX owns and operates regulated water utility and wastewater systems. The company's Regulated segment collects, treats, and distributes water on a retail and wholesale basis. MSEX's Non-Regulated segment provides non-regulated contract services to operate and maintain municipal and private water and wastewater systems.
Mueller Water Products, Inc. (MWA)
MWA manufactures and markets products for use in the transmission, distribution, and measurement of water in the United States, Canada, and internationally. Its Infrastructure segment offers valves for water and gas systems, while its Technologies segment provides water metering, water leak detection, and pipe condition assessment products. MWA is headquartered in Atlanta, Georgia.
Prosperity Bancshares, Inc. (PB)
PB operates as a financial holding company for Prosperity Bank. Formed in 1983 and headquartered in Houston, Texas, PB provides a range of financial products and services to its customers, including traditional loan and deposit products, trust services, brokerage services, mortgage lending, and credit card operations.
PPG Industries, Inc. (PPG)
PPG manufactures and distributes a variety of coatings, specialty materials, and glass products. The company's Performance Coatings segment provides light industrial and specialty coatings, protective and marine coatings and finishes, and sealants. The company also operates in two additional segments: Industrial Coatings and Glass. PPG was founded in 1883 and headquartered in Pittsburgh, Pennsylvania,
Stepan Company (SCL)
Headquartered in Northfield, Illinois, SCL produces and sells specialty and intermediate chemicals to manufacturers for use in a broad range of industries. The company is a leading merchant producer of surfactants, the key ingredients in consumer and industrial cleaning compounds. The company was founded in 1932.
1st Source Corporation (SRCE)
SRCE operates as the bank holding company for 1st Source Bank, providing a range of financial products and services to individual and business clients in the United States. The company offers commercial and consumer banking services, trust and investment management services, and insurance. SRCE was founded in 1863 and is headquartered in South Bend, Indiana.
S&T Bancorp, Inc. (STBA)
Founded in 1902 and headquartered in Indiana, Pennsylvania, STBA is the bank holding company for S&T Bank. It provides retail and commercial banking products and services in Pennsylvania, Ohio, and western New York. STBA company accepts time and demand deposits and offers commercial and consumer loans, cash management services, and brokerage and trust services.
Tompkins Financial Corporation (TMP)
Founded in 1836, TMP is a financial holding company based in Ithaca, New York. The company provides commercial and consumer banking services to individuals, small businesses, and corporations in New York and Pennsylvania. TMP also provides leasing, trust and investment management, financial planning and wealth management, and insurance services.
UFP Industries, Inc. (UFPI)
UFPI, through its subsidiaries, designs, manufactures and markets wood and wood-alternative products in North America, Europe, Asia, and Australia. The company primarily sells its products under the ProWood, Deckorators, and UFP-Edge names. It serves retail, industrial, and construction markets. UFPI was founded in 1955 and is headquartered in Grand Rapids, Michigan.
Please note that we're not recommending any of these stocks. Readers should do their own research on these companies before buying shares.
Dividend Cuts and Suspensions
Following requests from readers, we've added this section to our weekly article series. Please note that we're only covering dividend cuts and suspensions announced by companies in Dividend Radar's spreadsheet.
There were no dividend cuts or suspensions announced for stocks in Dividend Radar during this period.
An Interesting Candidate
In this section, we highlight one of the stocks that announced a dividend increase. We provide a quality assessment and present performance, earnings, and valuation charts.
Our objective is to identify high-quality dividend growth [DG] stocks trading at reasonable valuations. That's a tough task, though, as high-quality DG stocks often trade at premium valuations. If we can't find a worthy candidate, we'll suggest a stock to add to your watchlist and a suitable target price.
To start, we use DVK Quality Snapshots to do a quick quality assessment, screening our list of DG stocks based on quality scores. Below is a shortlist of stocks with quality scores in the range 19-25:

Source: Created by the authors from data in Dividend Radar
Five stocks made the shortlist this week. Hubbell (HUBB) has the highest 5-year DGR and a reasonable yield of the five candidates, so let's look at this stock in more detail.
HUBB yields 2.19% at $192.07 per share and has a strong 5-year DGR of 9.2%.
HUBB is rated Fine (quality score: 19-22):

Over the past ten years, HUBB has slightly underperformed the SPDR S&P 500 ETF (SPY), an ETF designed to track the 500 companies in the S&P 500 index: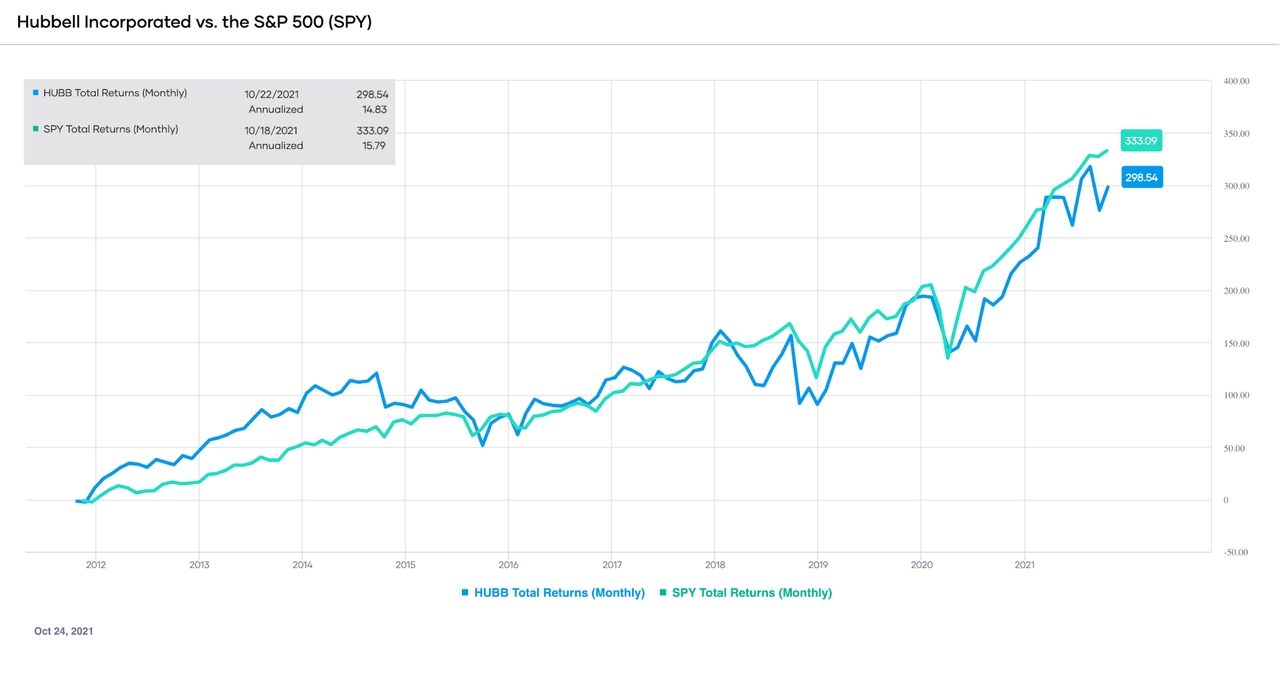 Source: Portfolio-Insight.com
Over this time frame, HUBB delivered total returns of 299% versus SPY's 333%, a margin of 0.90-to-1.
But if we extend the comparison period to the past twenty years, HUBB easily outperformed SPY with total returns of 1,095% versus SPY's 504% (a margin of 2.17-to-1)!
HUBB's dividend growth is impressive, with annual increases that averaged about 10% over the past ten years: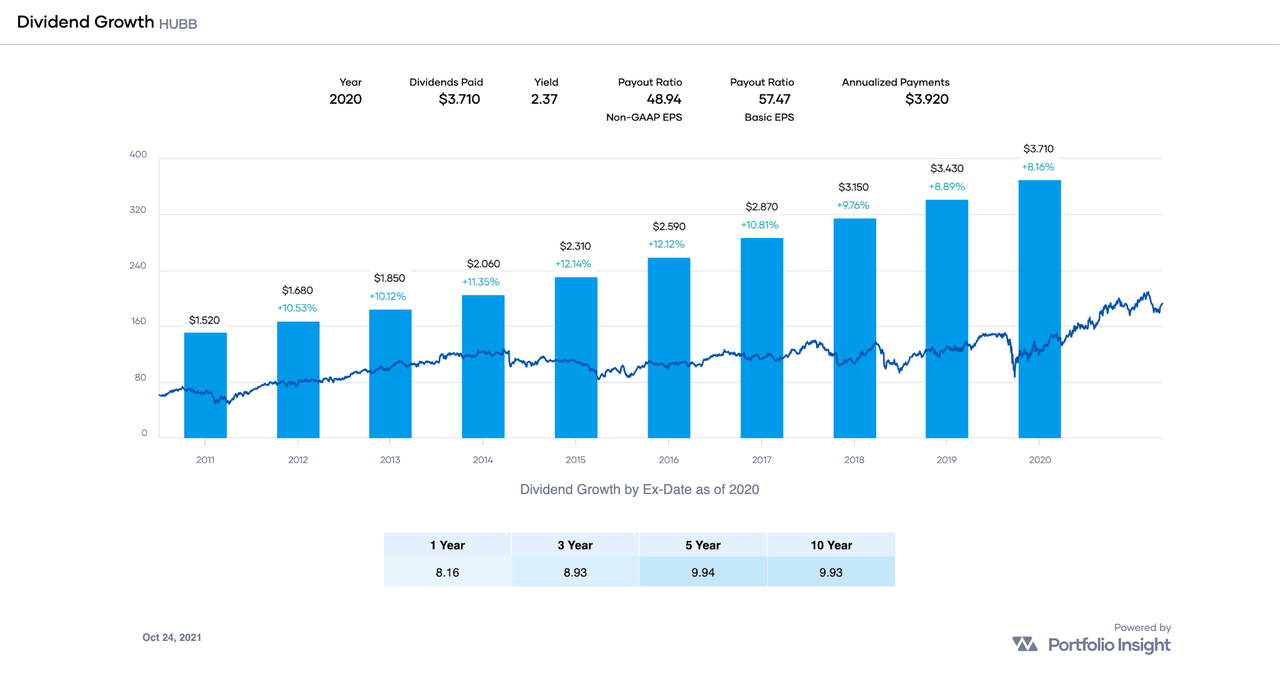 HUBB's EPS is growing but not as steadily as the company's dividends, with down years in FY 2015 and FY 2020. Estimates for FY 2021 and FY 2022 look promising, though: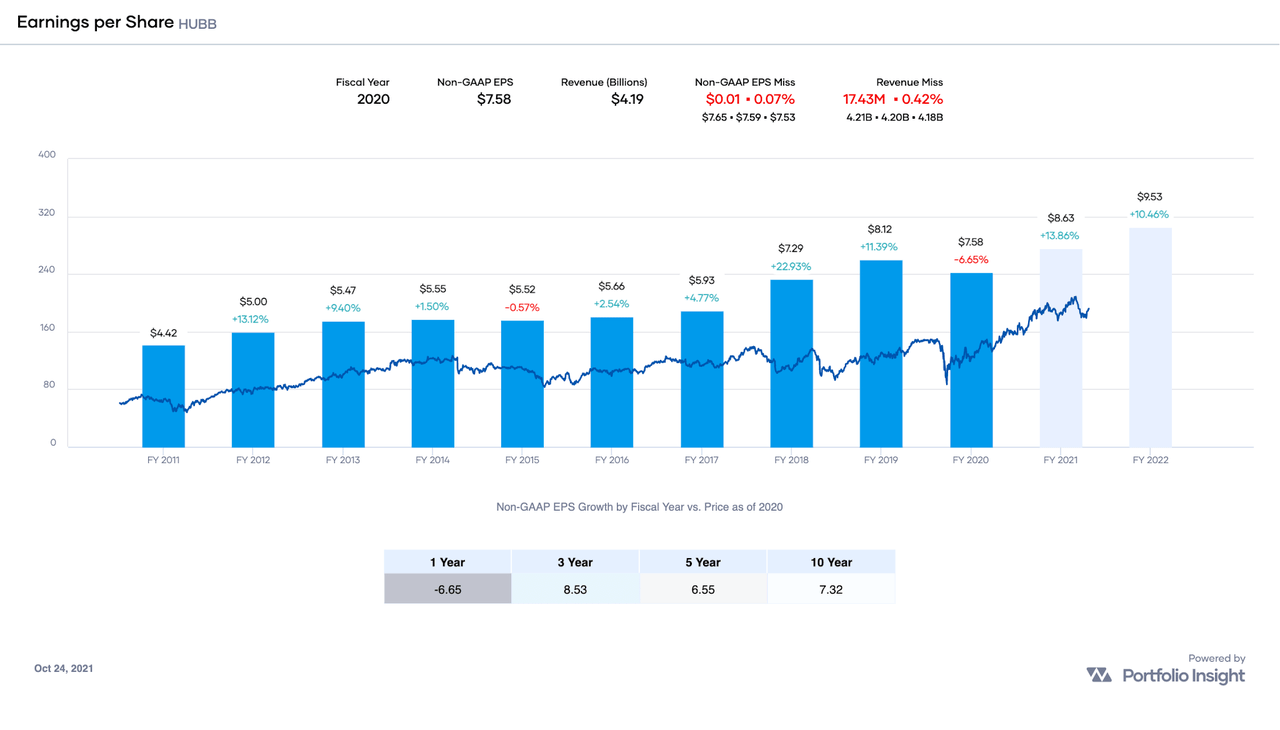 At 47%, HUBB's earnings payout ratio is "low for most companies," according to Simply Safe Dividends: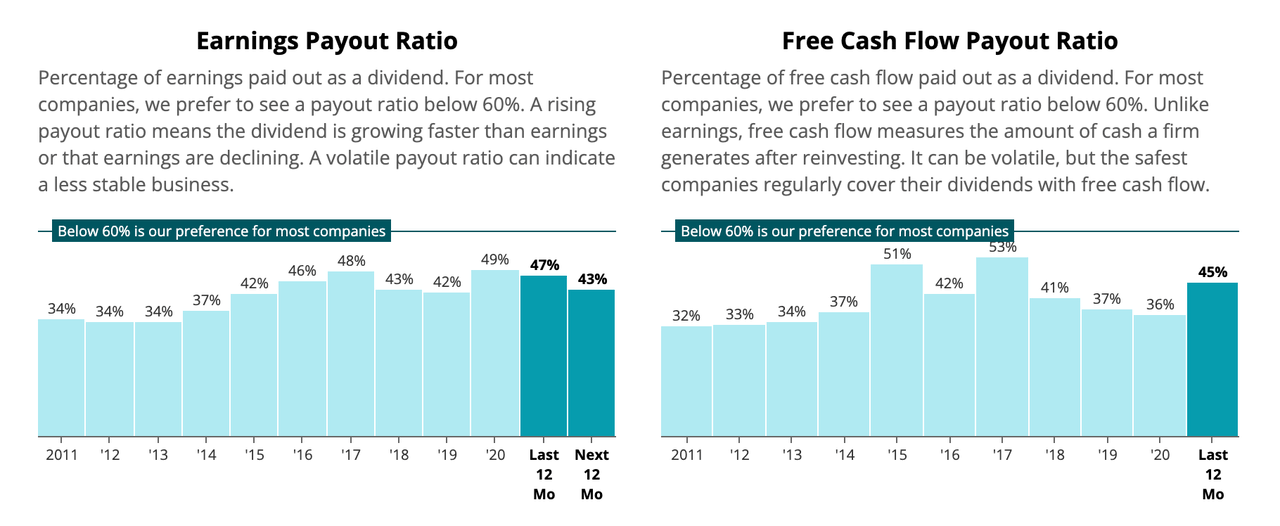 Source: Simply Safe Dividends
This means HUBB has ample room to continue its generous dividend increases, at least for the foreseeable future.
Next, let's now consider HUBB's valuation. We could estimate fair value by dividing the stock's annualized dividend ($4.20) by its 5-year average yield (2.52%). That results in a fair value [FV] estimate of $167. Given HUBB'S current price of $192.07, the stock is trading at a premium valuation relative to its past dividend yield history.
For reference, CFRA's FV is $166, Morningstar's FV is $185, Finbox.com's FV is $206, and Simply Wall St's FV is $224. The average of these fair value estimates is $195, indicating that HUBB may be slightly undervalued.
My own FV estimate of HUBB is $185, so I believe the stock is trading at a premium valuation of about 3.8%.
Here are the most recent Seeking Alpha articles covering HUBB, all Neutral:
Hubbell Benefiting From Strong Outlook, Electrification Demand Is Sparking Across Its Markets, by Stephen Simpson
With Weaker Non-Resi Markets, Hubbell's Self-Help Story Is More Important Than Ever, by Stephen Simpson
Conclusion
HUBB is a high-quality DG stock rated Fine. For stocks rated Fine, I require a discounted valuation. Therefore, my Buy Below price for HUBB is $185. For conservative investors, look to buy below $167 per share.
Please note that we're not recommending HUBB or any of the stocks listed in this article. Readers should do their own research on these companies before buying shares.
Thanks for reading, and happy investing!