Merchant power generators have been perpetually discounted by the public markets for quite some time. It's only gotten worse in recent years as ESG trends have taken hold, causing capital flight from even highly efficient "dirty" power generation like combined cycle natural gas turbines. A private equity consortium took juggernaut Calpine Corporation private a few years ago, and it was no surprise when rumors cropped up this year that Vistra Corporation (NYSE:VST) would follow the same path.
While undoubtedly it has considered that option, Vistra Energy management is giving the public route another shot by taking matters into its own hands. A re-upped $2.0B stock buyback program has been implemented, immediately funded by the new issuance of $1.0B worth of 8.0% Fixed Rate Reset Preferreds. Given the issuance of relatively costly preferred stock to undergo a large buyback program over the next twelve months, it's worth looking at the impact of this program, as well as likely corporate earnings profile in 2022 and 2023. While it is going to be divisive, the move makes perfect sense from a capital allocation perspective. And, if the share price move in reaction to the news is any indication, the market is about to get very excited about Vistra Energy prospects into the new fiscal year. In my opinion, this is one of the best values in the current market and is worth a look.
History Of Capital Allocation
The Vistra Energy saga has been covered baseline pretty well on Seeking Alpha by other authors, but it's worth a quick recap. Even in the heart of the pandemic, margins in the merchant power business looked healthy. During Q1 2020, Vistra Energy guided for $3,435mm in EBITDA, with COVID-19 impact set to be minimal. Bad debt expense and lower volumes would be completely offset by higher spark spreads stemming from lower gas costs. There were a lot of questions on whether this was attainable, and at times consensus estimates dipped well below this guidance. But, like it had for five years running, management figures proved conservative. By the end of 2020 - even with the pandemic having a much more abrasive impact on the economy than assumed back early in the year - Vistra Energy reported adjusted EBITDA of $3,766mm, an 11.0% positive comp versus 2020 results. As we get into later, this history of conservativism is important as the market contextualizes the opportunity in coming years.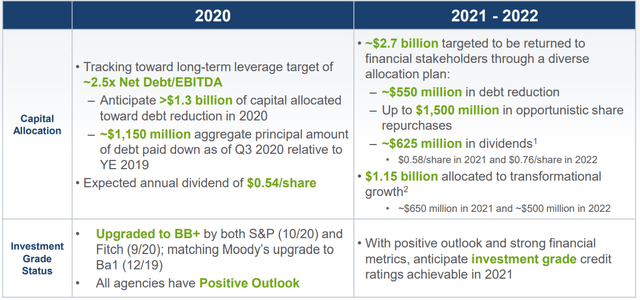 *Source: Vistra Energy, Q3 2020 Investor Presentation, Slide 13
Around that same time, the company seemed to be on the cusp of an inflection point. The balance sheet was coming off years of work after several expensive acquisitions, with ratings agencies getting more and more comfortable with assigning an investment grade credit rating. Investment grade is exceedingly rare in the merchant power and retail customer businesses, particularly because the subsector has developed a bit of a reputation for mind-numbingly large bankruptcy filings (Dynegy, Calpine, etc.). It can be a bit circular, but ratings agencies do tend to develop a bias against industries that repeatedly run into credit quality issues. The hurdle was thus set much higher for Vistra Energy to get that ratings upgrade, but there was a clear path to achieving the metrics necessary. Once hit, greater percentages of cash flow were designated to be returned to shareholders via buybacks and a sharply higher fixed dividend.
Pandemic, Texas Freeze Knock-On Effects
But, even Vistra Energy was not prepared for the fall-out from Winter Storm Uri in early 2021. Despite undergoing significant winter prep that allowed the company to boost its share of overall ERCOT power generation during the storm, many of its gas suppliers declared force majeure, claiming that they were unable to make deliveries they had contractually agreed to provide. Some of this was due to gas infrastructure and wells that were not properly winterized. In other cases, gas infrastructure was not declared as "critical" infrastructure and had their power turned off; it's pretty hard to move gas to market without compression equipment. Hedging hub prices outside major delivery areas can be difficult, so Vistra Energy had to buy natural gas at prices well above what they expected to be able to source at.
There were a litany of other factors relevant to this saga (the $9,000 per mwh price cap, alleged ERCOT pricing errors, potential gas provider deceit, etc.). It would be easy to write a novel on what happened in the days leading up to and what occurred immediately after. But, at the end of the day, management had a pretty simplistic choice: produce power by buying gas at basically any cost knowing that it would eat massive losses or shut down, essentially leaving many Texas consumers at risk of freezing to death. Several utilities took the latter route, but Vistra Energy took the moral high road. So here we are, with the roughly $3.0B hit being bored by shareholders while gas producers and investment bank trading desks walked away with billions of dollars.
2022 and 2023 EBITDA, Spark Spreads
While pundits took plenty of advantage of the ERCOT grid situation to deride free market capitalism, the free market is now doing its job. After such an adverse event that was created by unexpectedly high peak power, capital underinvestment, and the potential for a repeat event, forward power prices have rallied in ERCOT. Power providers are quite frankly unwilling to forward sell electricity at 2018 - 2021 prices given the now apparent risk of doing so - particularly in the winter and summer months where prices are more likely to spike (e.g., another winter storm, extremely hot days coupled with generation going offline). Retailers (and thus eventually ratepayers) are going to have to pay up if they do not want spot exposure.
While there are some balancing factors for Vistra Energy harming the earnings outlook, notably PJM capacity auction results and higher natural gas prices which have compressed spark spreads recently, overall 2022 and 2023 look to be pretty healthy years for free cash flow generation.

*Source: Vistra Energy, Q2 2021 Investor Presentation, Slide 15
While no hard, formal guidance has yet been given, CEO Curt Morgan stated that he feels "pretty good" of hitting the $3.4B 2022 EBITDA estimate that was part of their prior framework during a recent Wolfe Fireside Chat. Current sell-side consensus sits at $3.3B for 2022 and $3.2B for 2023, so Wall Street continues to see these numbers as basically attainable as well. Given the commitment to hitting 60 - 70% free cash flow conversion (which lines up well with recent execution), that points to roughly $4.0-$4.5B in free cash flow coming over the next two years at current spark spreads, at least assuming fairly normal years with no unforeseen weather events or any tail impacts from Winter Storm Uri, such as all of the lawsuits that remain outstanding.
Remember that this is a historically conservative management team. Outside of 2021, from 2016 to 2020 Vistra Energy ended up beating their initial EBITDA guidance estimates by the time Q4 rolled around. The balance sheet came first in 2019 and 2020, prepping for investment grade credit. Given their hedge book (gas, power deliveries) they've locked in a large portion of these profits assuming normal operations on their generation assets; the retail business (buying wholesale, selling to consumers) is generally extremely stable as well.
VST's Preferred Stock Offering
Management has made it clear that they view the stock as heavily undervalued. In the framework of buybacks versus dividends, the bias is towards allocating free cash flow towards lowering share count versus meaningfully higher dividends. Senior executives and the Board of Directors have been putting their money where their mouth is, with a plethora of open market purchases by insiders in recent quarters. Notably, per share metrics do not factor into Vistra Energy executive compensation calculations. Instead, executive compensation is calculated based upon Adjusted EBITDA, free cash flow, and various operational and financial targets for both the retail and merchant power businesses. There is no juicing of per share metrics to get fatter bonus allocations within the executive annual incentive plan ("EAIP").
Before Winter Storm Uri, Vistra Energy was finishing up a years-long effort of balance sheet cleanup after its bankruptcy emergence (knock-on effects from the leveraged buyout of predecessor Energy Future Holdings) and subsequent merger with Dynegy. It had an outstanding buyback authorization but was in no position to execute on it heavily after spending $1.5B on the last one, especially with investment grade credit within reach. The timing of the capital hit from Uri, while easily absorbed by the balance sheet, was about worst-case scenario for the company when it comes to shareholder returns.
Vistra Energy thus found itself in a pickle. There is a clear opportunity to take out shares at an incredible value (23.5% free cash flow yield on the equity, 10.9% on the enterprise value) based on sell-side consensus and likely forward guide for next year. Management is bullish and thinks its future prospects are great. Unfortunately, it just does not have the cash right now to execute. Waiting for the cash flow to come pouring in might have ended up as too lagged. Wall Street price targets on average point to 30% upside, and there is potential those get lifted off the capital allocation program. Buying back this time next year could dramatically reduce how many shares are able to be retired.
Hence the most recent decision. News that the company would reauthorize and upsize the repurchase authorization, as well as issue $1.0B in 8.0% coupon Fixed Rate Reset Preferreds to fund it, has created a flurry of fresh interest in Vistra Energy. Issuing (relatively) expensive obligations in order to buy back common stock often create some highly opinionated discussions, but I think it's important to talk about the merits.
Number one is toeing the line on the balance sheet. While it has been delayed, there is still a clear pursuit of investment grade credit. These preferreds are reportedly going to get 50% equity treatment from S&P and Fitch, 100% by Moody's. For those unaware with ratings agency methodology, this means that they get fractional treatment or are ignored altogether when these firms calculate the ratios that form the foundation of a credit rating.
For perspective, net debt to EBITDA is expected to come in at 3.12x as of year-end. Hypothetically, if management used the entirety of cash raised by the end of 2021 (unlikely), that ratio would move up to 3.28x using 50% treatment. That's a very small step change that does not jeopardize its current standing and is also easily reversed by the billions of dollars in cash flow coming downstream in 2022. See Moody's below on the metrics it wants to see before it would consider an upgrade:
We could consider positive rating action should the company meet and maintain its net debt to EBITDA target of around 2.5x and produce a CFO pre-WC to debt ratio of 24% or higher. Such an action would also be conditioned on our expectation that Texas will take the necessary corrective actions to address its reliability issues in a manner that is not credit negative for Vistra.
In contrast, S&P and Fitch target gross debt / EBITDA of 3.0x for investment grade, but given the differences in equity treatment on the preferred and between using gross versus net debt as a benchmark, the amount of debt paydown needed to hit the mark for all three is roughly the same: roughly $2,500mm using sell-side EBITDA consensus after taking into account typical ratings agency EBITDA adjustments. This is a little more than 50% of expected 2022 and 2023 free cash flow, potentially less if management can pull off certain actions (securitization of its ERCOT receivables, lawsuit settlements from gas suppliers, etc.).
In a nutshell, Vistra Energy still has a path to investment grade credit by mid-2023, which is about an eighteen-month delay compared to where it sat prior to Winter Storm Uri. That path remains in place despite the early implementation of an aggressive repurchase authorization. Vistra Energy is essentially having its proverbial cake and eating it too: buying back (in its opinion) discounted stock while sticking its extremely important intermediate-term objectives on leverage.
Takeaways
Is issuing a preferred product to buy back stock a fundamentally aggressive move? Sure. That said, investors like to see senior executives push to realize value when they see the opportunity. In this case, management does own a significant number of shares, has been buying those shares in the open market, and does not receive any direct financial compensation based on lowering the buyback. In fact, allocating capital towards growth projects (boosting EBITDA) or retiring debt (boosting free cash flow) would actually increase bonuses. Buying back stock does not.
Looking forward, there is a clear pathway for earnings improvement. Higher spark spreads coupled with retail customer share gain in ERCOT have combined to create a pretty decent outlook for earnings over the coming two years. Fundamentally, Vistra Energy is likely to be in a wonderful place after that time, with the balance sheet and expertise to capitalize on longer-term issues like renewables investment. While more risky than monopoly-like utilities like Duke Energy (DUK), I think the risk / reward favors allocating capital to companies like this one.