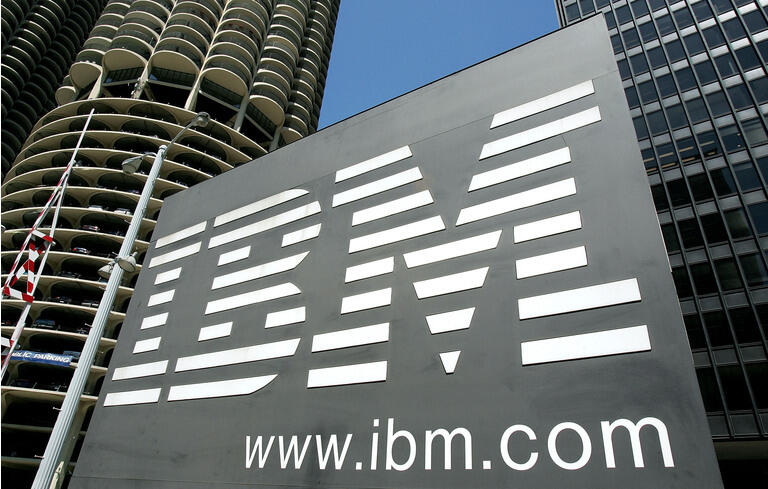 It has been almost a year since I warned of IBM's (NYSE:IBM) signs of a classic value trap and explained why it is set to disappoint its shareholders. As the broader equity market and other cloud service providers continued to make new all-time highs, IBM's share price is nearly flat over the period after experiencing significant volatility.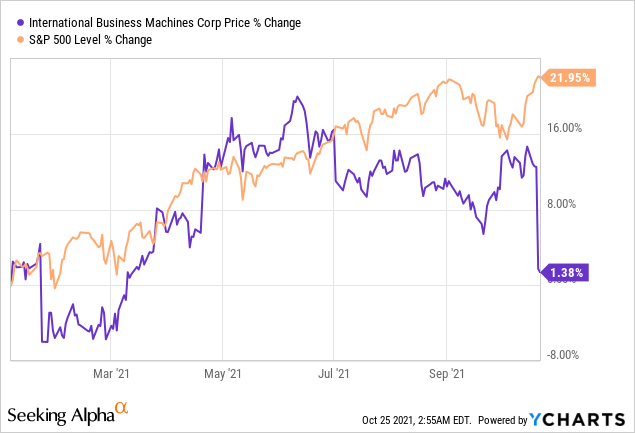 It should also be noted that this performance comes at a time of extreme market liquidity, which as we see above resulted in yet another strong year for both technology stocks and the broader equity market in the United States. If this has not been the case, IBM's performance would likely have been deep in the negative territory already.
After years of lackluster performance, the expectations that the upcoming spin-off transaction of Kyndryl will solve IBM's problems are running high. This, in combination with the company's low valuation and high dividend yield, could easily be interpreted as an attractive value and a turnaround opportunity. The reality, however, is that in spite of the progress made in recent quarters, IBM is still a value trap that will likely continue to disappoint.
Acquisition Frenzy
One of the major red flags for IBM is the company's consistent misallocation of capital. Although the story of a turnaround based upon Red Hat acquisition and the eye-watering $1 trillion total addressable market in hybrid cloud might sound appealing, it appears only as a facade to what in my view is a business that continues to struggle and misallocate capital.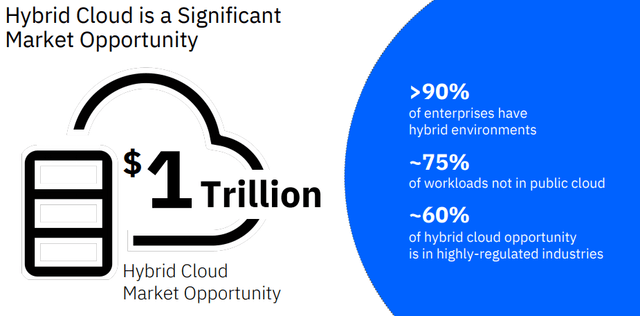 Source: IBM Strategic Update 2020 Presentation
The first red flag here is the acquisition spree that IBM has embarked upon. For some reason engaging in an M&A frenzy is seen as something good for a business, which has been slowly melting away.
After the announcement of the most recent deal for Adobe Workfront consulting unit, IBM's management was quoted to have completed 17 acquisitions in a matter of one and a half year.

The acquisition of Rego's Adobe Workfront business represents the 17th overall acquisition for IBM - and the ninth acquisition in cloud and AI services - since Arvind Krishna took over as IBM CEO in April 2020.

Source: newsroom.ibm.com
It is not only the number of deals made, but the capital allocated to those acquisitions was exceptionally high. Since 2016, the cash spent on acquisitions stands at around 43% of the cash flow generated from operating activities during the same period, compared to 20% and 14% in the 2006-2010 and 2011-2015 periods, respectively.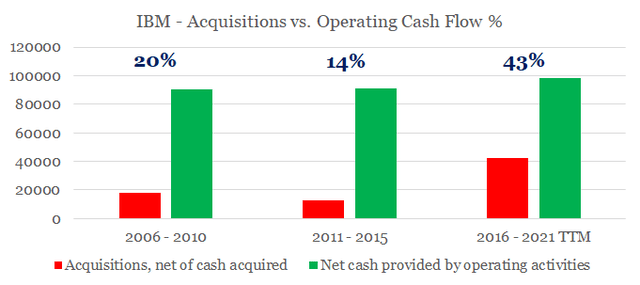 Source: Prepared by the author, using data from IBM annual and quarterly reports
Thus, the ratio of goodwill and intangible assets to total assets reached 52% (see below).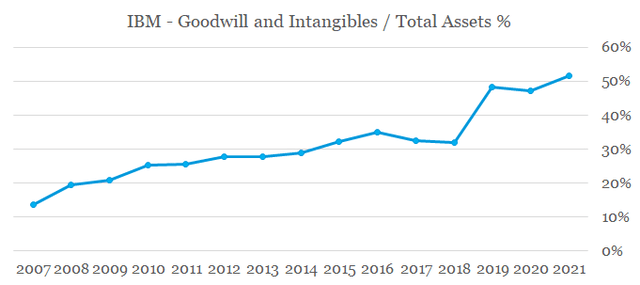 Source: Prepared by the author, using data from IBM annual and quarterly reports
Even though this is not a problem on its own, such an aggressive approach to M&A activity that is also packed in such a short time period raises a serious question regarding IBM's legacy business and its viability to compete. It appears as a sign of desperation as opposed to a well-thought long-term M&A strategy.
In addition, it raises questions regarding the strategic fit of all those businesses and whether or not the price paid by IBM shareholders is too high. Integration risks are also significant for a company that is changing at such a rapid pace, primarily through inorganic opportunities.
The Problem with Debt and Dividends
While inexperienced shareholders are often cheering for new and exciting acquisitions made, they should not forget that acquisition deals come with a price and often involve significant risks.
In the case of IBM, this rapid expansion was also followed by a significant increase in leverage.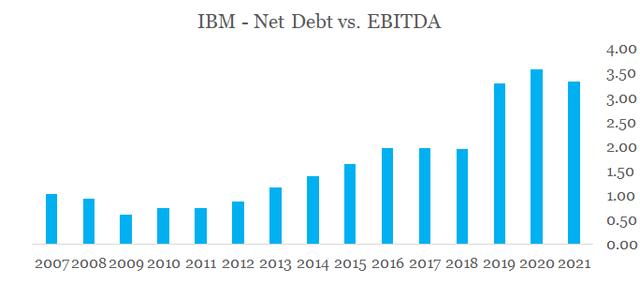 Source: Prepared by the author, using data from IBM annual and quarterly reports
While interest coverage fell rapidly in recent years, after almost a decade of gradual decline.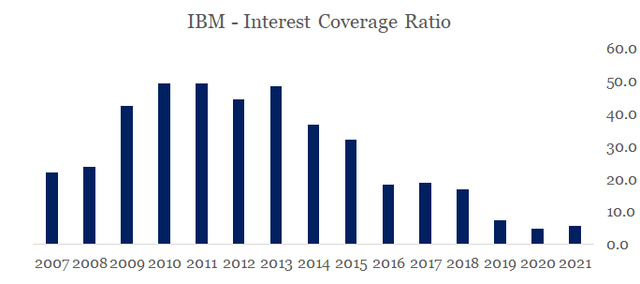 Source: Prepared by the author, using data from IBM annual and quarterly reports
As a comparison, Salesforce (CRM), which has one of the most aggressive M&A strategies in the cloud space has Net Debt to EBITDA ratio of around x2.4 (compared to x3.3 for IBM) and interest coverage ratio of 8.1 (compared to 5.8 for IBM).
However, contrary to CRM and many other cloud players that are either growing rapidly or highly profitable, IBM is paying a hefty dividend which is a significant burden for the company's capital allocation. While many investors might find the dividend yield of around 5% compelling, it is neither safe nor a competitive advantage for IBM.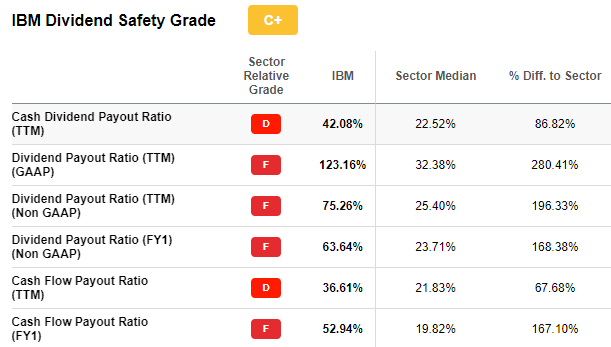 Source: Seeking Alpha
On a historical basis, IBM's dividend payments to cash flow from operations ratio have also been steadily increasing.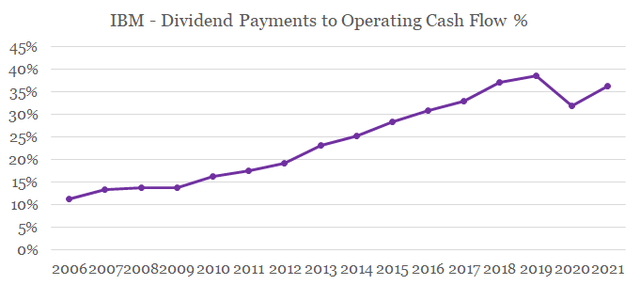 Source: Prepared by the author, using data from IBM annual and quarterly reports
By simply observing the graph above, one could easily conclude that IBM's cash payout ratio has improved during the past two periods, however, changes in financing receivables and other working capital elements resulted in temporary higher cash flow from operations.

Source: IBM Annual Report 2020
In addition, IBM has been increasing its debt load in recent years in order to meet its dividend obligations.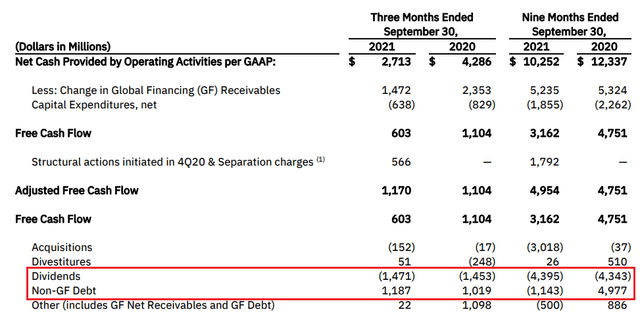 Source: IBM Q3 2021 Earnings Release
Last but not least, the amount of stock-based compensation has also increased significantly in recent years while the much-needed capital expenditures have been falling as a share of the company's depreciation and amortization expense.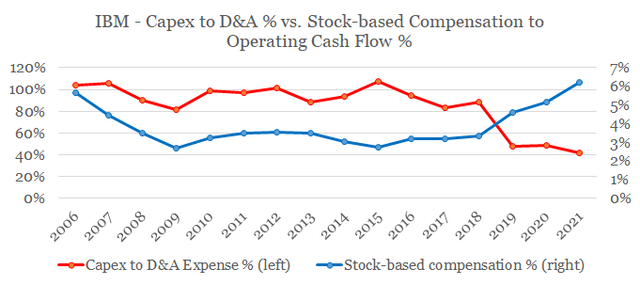 Source: Prepared by the author, using data from IBM annual and quarterly reports
Spin-off as a Solution
In addition to the acquisition frenzy mentioned above, the spin-off of IBM's managed infrastructure services unit is expected to deliver the much-needed antidote to the company's melting business. While Cloud & Cognitive Software and Global Business Services units continue to grow on the back of the Red Hat's business, the Global Technology Services business unit continues to struggle.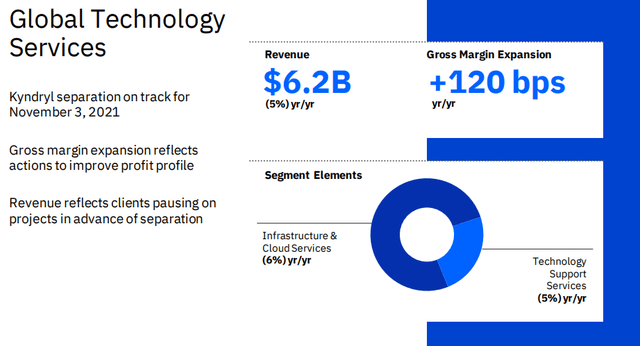 Source: IBM Q3 2021 Earnings Presentation
The decline of the GTS business is far from having only financial implications for the company. Just two years ago, IBM's cloud infrastructure business was ranked almost at par with those of Oracle (ORCL) and Alibaba (BABA) on completeness of vision vs. ability to execute matrix.
One year later, in August of 2020, IBM was already far behind those two players, but it was still somehow ahead of Tencent Cloud (OTCPK:TCEHY).
As of July of this year, however, IBM was ranked at the bottom on the ability to execute while being very close to the last player in the ranking in terms of completeness of vision.
While the proposed spin-off transaction will allow IBM to more quickly brush aside its declining infrastructure businesses and focus on its recently acquired businesses, it provides little help for Kyndryl's strategy going forward.
Conclusion
In spite of its record low valuation levels and the upcoming spin-off of Kyndryl, IBM's problems are far from over. Heavy reliance on newly acquired business is rarely a recipe for long-term success and value creation. In the meantime, the company's record high leverage and burdensome dividend payments are severe limitations for the company's capital allocation policy going forward.