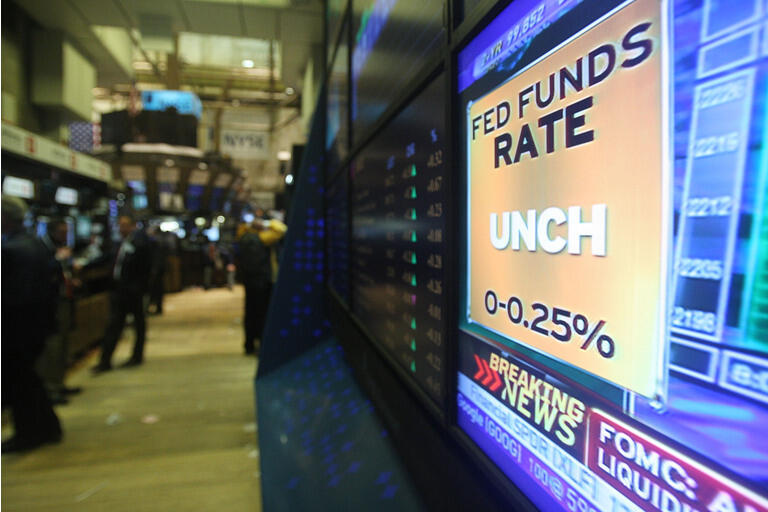 Background
Investors tend to place a lot of significance on whether they think interest rates might be headed, or are already in, an up or down cycle. This is obviously because they assume an up cycle will hurt returns while a down cycle is going to help returns. So it should be informative to see how the stock market, or various types of investments within it, actually have done during periods usually of about one year or more, of rising, falling, or steady interest rates, at least those controlled by the Federal Reserve.
According to Investopedia.com
As a general rule of thumb, when the Federal Reserve cuts interest rates, it causes the stock market to go up; when the Federal Reserve raises interest rates, it causes the stock market to go down.
So, naturally, one might guess that the overall stock market has usually done best during extended periods when the Fed was lowering rates. After all, lower rates might seem to be when stocks should excel, while rising rates, such as many are anticipating now, might be expected to be the worst time for many segments of the market. Of course, steady rates might be a good time for many stock investments too.
In my article here last month, I showed that when rates were rising, surprisingly, the overall bond market, as measured by the Vanguard Total Bond Market Investor Index (VBMFX) or the equivalent Admiral or ETF funds (VBTLX or BND), did not tend to show price or NAV drops. Rather, more often than not, these fund prices were found to be rising. And when rates were dropping, bond prices, surprisingly again, were not necessarily doing as well as one might expect. Finally, steady rates, when the Fed was for a year or more neither raising nor lowering rates, did not seem to help in predicting what would happen to bond prices.
Perhaps similar surprises might be observed when tracking how a fund that measures the performance of the total stock market, including large, mid, and small growth and value stocks performed during these sometimes relatively long periods of Fed activity or remaining docile.
Procedure
As in last month's article, the same 24 1/2 year period was selected for inclusion. The fund performance selected for examination was the Vanguard Total Stock Market Index Fund Investor Shares (VTSMX). This fund has been in existence since April, 1992. (Since the Admiral and ETF versions of this fund, (VTSAX) and (VTI), were not yet available going back over as many full Fed cycles of raising and lowering rates, their performances were not examined. However, those fund classes since their inception perform almost exactly the same as VTSMX).
Results and Analysis
The following tables show the results when fed fund rates had entered a period of rising, easing, and stable fed fund rates. The first column in each table shows the dates for each period. The second column shows the total return for VTSMX over the course of the entire period. Finally, the third column shows the total return during the period on an annualized basis.
Periods Following Fed Rate Increases
Dates

Total Return

During Period

(Not Annualized)

Total Return

Annualized

March 24 1997 - Sept. 28 1998
30.40%
20.28%
June 29 1999 - Jan 2 2001
-2.88
-1.92
June 29 2004 - June 29 2006
19.10
9.60
Dec. 15 2015 - July 30 2019
57.33
15.60
Periods Following Fed Rate Easings
Dates

Total Return

During Period

(Not Annualized)

Total Return

Annualized

Sept. 28 1998- June 29 1999

30.24

40.32

Jan 2 2001 - June 25 2003

-17.95

-7.20

Sept. 17 2007 - Dec 16 2008

-36.81

-29.40

July 30 2019 - Mar 15 2020

-10.84

-18.60
Periods Following Stable Fed Rates
Dates

Total Return

During Period

(Not Annualized)

Total Return

Annualized

June 25 2003 - June 29 2004

20.56

20.52

June 29 2006 - Sept 17 2007

17.90

14.28

Dec. 16 2008 - Dec. 15 2015

164.59

23.52

Mar. 15 2020 - Oct. 22 2021

76.96

48.60
All of the time periods shown in the above tables reflected fund performances through the day before the Fed either raised, eased, or started a period of no action that held rates steady.
The tables show the stock market as a whole did best when rates were steady, as contrasted with what you might expect, with an average annualized return of 26.73% during four such periods. Surprisingly, it did the worst when rates were falling with an average annualized return of -3.72, and with an average annualized return of 10.89 when rates were rising!
So how can one explain these results? Steady rates seemed to have occurred in three out of four cases after the economy had come out of crises but did not yet show signs of excessive overheating. In the fourth instance, the Fed finally stopped raising rates after regular increases every month or two between June 2004 and June 2006. In all these cases, the markets highly cheered and advanced strongly.
When the Fed chose to drop rates, in three out of four cases, the economy and stock market had indeed suffered major setbacks causing the Fed to attempt to come to the rescue. But the damage to stock prices had its toll. In the most recent instance, the overall stock market dropped almost 35% in over a little more than a month starting in Feb. 2020 due to the Covid-19 crisis, dragging down returns over the entire seven month period.
What happened when were rates rising? This occurred when the economy was doing quite well, usually associated with higher stock prices but the Fed acted to try to keep the economy from overheating. However, in the case of the June 29, 1999 to Jan, 2 2001 period, the stock market began seriously slumping after the dot.com bubble burst starting in March 2000.
Implications for Investors
Right now, even though the Fed is highly likely to quite soon begin phasing out its bond purchases, called quantitative easing, that is not the same as actually raising rates. Since the Fed Chairman has repeatedly stated the Fed is not expected to raise rates until those purchases have ended sometime later next year, we can assume that rates will remain stable until then, as they have been since the last series of cuts ended on March 15, 2020. Given this data and the fact that the overall market has shown to perform best when rates are stable, it appears likely that stocks can do considerably well until then.
But there are many variables other than interest rates affecting stock returns aside from short-term, Fed fund rates. Therefore, one cannot count on the mere fact of rising, falling, or steady interest rates in deciding what, if any, actions might be needed to maximize returns or minimize possible losses by responding to changes in the Fed funds rate.
Of course, certain types of funds may not have followed the same patterns as is shown by the overall market in response to Fed actions. In my next article, I will look at the returns of several different categories of funds, such as growth vs. value funds, or one or more sector funds to see if the same patterns hold.