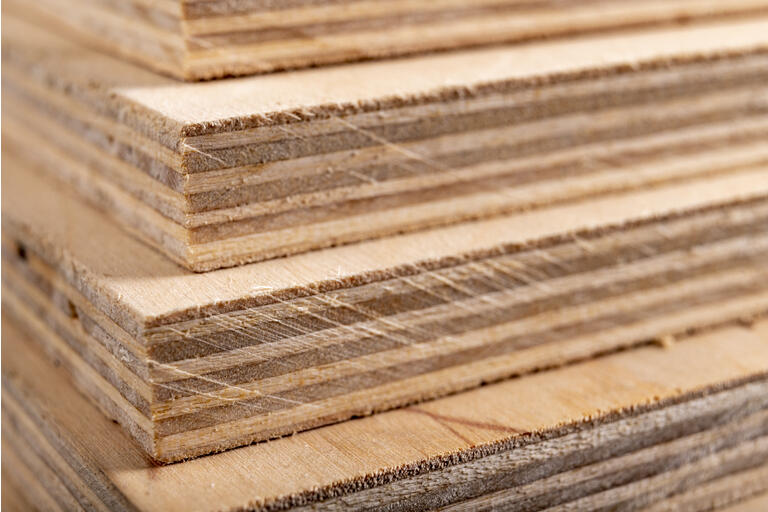 Introduction
As the market continues to touch new highs and market multiples reach levels not quite seen in the past, I remain constructive on the home-building sector. Stocks here are trading at single digit earnings multiples as investors fear the good times will not last. I believe that the tail-wind from low interest rates will continue to propel home sales and renovations. BlueLinx (NYSE:BXC) is exposed to this trend, and the stock is cheap even with an expected decrease in profits going forward.
Company background
BlueLinx is a distributor of building and industrial products in the United States, serving 40 states. The company is headquartered in Marietta, Georgia. It serves dealers, manufacturers, housing producers and home improvement retailers through a network of distribution centers. It distributes products used for structural support and walls, like plywood, oriented strand board, rebar, lumber, siding and insulation.
Stable housing market with pricing power
The hot summer housing market is cooling a bit, although September home sales were stronger than expected. After the housing boom in the 2000s and the subsequent bust, we are back to the level of the 1990s. I believe this pace is sustainable with a larger and growing population. And let's not forget the homes that 50,000 Afghan refugees are going to need! The chart below shows seasonally adjusted annualized new home sales in '000s.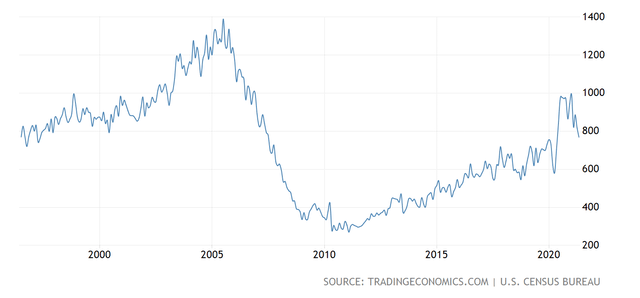 Mortgage rates continue to be low by historical standards. It is still a good deal for people to buy homes they live in for less than a 3% interest rate. There is some concern that higher inflation will cause the Federal Reserve to increase interest rates soon. However, I believe the Fed will start tapering bond purchases starting towards the end of this year, and won't be in a position to stop its bond purchases until the middle of next year. Only then will they consider raising interest rates, and they will move gingerly. They will not want to be accused of snuffing out an economic recovery with higher rates. Therefore, I believe that short-term rates are unlikely to exceed 2% under the current Biden administration.
I don't expect inflation to go away any time soon, and I believe distributors like BlueLinx are in a comfortable position, with consumers flush with cash willing to pay higher prices, and manufacturers constrained in how much they can supply.
Financial overview and outlook
The company's recent quarterly results were epic. In the three months ending July 3, 2021, the company's revenue of $1.3 billion was up 87% YoY while operating income was up 7x to $157 million. Net income of $113 million resulted in diluted EPS of $11.61 in the quarter. The company nicely capitalized on increased demand and higher prices for its products. Cash flow was rather poor and significantly less than net income as the company's receivables and inventory went up to satisfy higher demand at higher prices. The company expects to generate more cash in the second half of this year as prices and demand stabilize.
The consensus estimate is for the company to earn $23 per share this year and $9 next year as conditions normalize. I believe these estimates are achievable, but there could be a significant variance depending on market conditions.
The company has $600 million of debt and finance leases. Its market cap is $500 million and Enterprise Value is $1.1 billion. I would regard the level of debt to be reasonable in the current demand environment, but it is best for the company to prepare for leaner times by repaying some debt over time.
The company recently raised $300 million of 8 year debt at a rate of 6% that it is using to repay shorter term financing. It has a $25 million share repurchase plan in place.
Capital allocation opportunity
The company has more than $600 million invested in net working capital, representing $65 per share. YTD this is up $165 million or $17 per share. I believe over time the company can extract most of this year's increase as the business stabilizes and prices for some of the products it sells like lumber decline from elevated levels. Thus there is $10-15 per share of value here.
Along with $100 million of earnings over the next year, I expect the company to generate $200 million of cash, with $100 million coming from working capital. I believe the company should use the working capital inflow of $100 million to repay debt and return most of the earnings to shareholders. With $50 million, the company can buy back 10% of its stock at the current price. An initiation of a $1 per share quarterly dividend would use $40 million on an annual basis and provide a nice 8% yield at the current price. This dividend level can be supported even if earnings halve, providing a margin of safety for its preservation.
Valuation: Fair value of $65 for the stock
I believe an 8x multiple on next year's earnings of $9 per share is reasonable. Discounted back by 10% for a year would give you a current fair value for the stock of $65, offering 30% upside.
In a bull case, earnings will come in at $11 per share and a similar methodology would result in an $80 stock price, offering 60% upside
In a bear case, the company's revenue and earnings will miss estimates, with only $5 of EPS, resulting in a $36 stock price for 27% downside.
In terms of comparables, Louisiana-Pacific (LPX), a less leveraged company, trades at 9x next year's earnings. I believe there is upside in this stock as well.
BXC garners a 4.9/5 (Very Bullish) quant rating from Seeking Alpha, with A grades on all five quant factors.
Risks are high
The biggest risk here is that the company's earnings will come in lower than expected due to macroeconomic, competitive, or execution factors. As a distributor selling mostly commodity products, the company has little control over supply and demand. It could also face labor shortages and higher costs.
A rapid increase in interest rates could prompt home buyers to pull back and equity investors to pay lower multiples. I believe that interest rates are unlikely to increase a lot with a dovish Federal Reserve and continued monetary expansion.
Shareholders depend on a company's management being good stewards of their capital. There is a risk that the company will make an overpriced acquisition that is material. This risk can be lessened by management returning cash to shareholders rather than hoarding it at the company level.
Conclusion
An investment in BXC offers the opportunity to generate a good return, capitalizing on a continuation of the housing boom. The stock's risk is offset by its cheap valuation and upside potential.