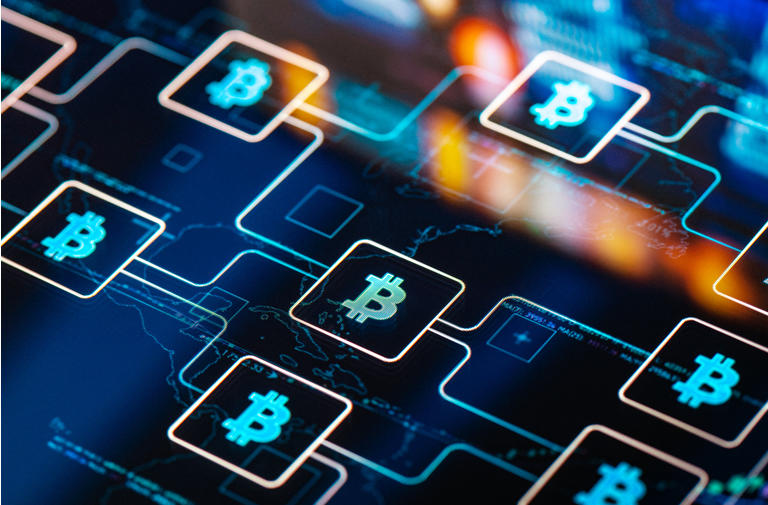 Blockchain is brilliant technology and Elon Musk is perhaps the most influential man on the planet.
Neither is a valid reason to invest in Shiba Inu (SHIB-USD).
Merely being associated with powerful technology or powerful people in no way accrues value to owners of a given entity whether that be a stock, company or coin. There's a huge difference between being a part of something and having the positioning to capture the value of it.
Allow me to walk through a history of stock market lessons. Learn from the history so you don't have to learn the hard way.
A long history of companies selling themselves on the association with very valuable technology
Every startup has to raise capital and even mature companies hit the markets up for an infusion from time to time. As such, companies continually have to position themselves in a way that is appealing to a broad audience. One of the most tried and true methods is to latch on to a hot trend or technology and borrow its excitement.
This sort of excitement by association has been prevalent for decades and it doesn't always go well. In particular, I want to highlight three failed associations and one success case to show what made it different.
Dot com bubble stocks associated themselves with the internet. They were the original digitally native companies.
Around that time, Cisco (CSCO) was close to being the largest company in the world. There was a general belief that the Internet was the future and therefore Cisco was the future. Unlike most of the dot com stocks, Cisco was a legitimate company, but the association that Cisco = Internet caused the market price to jump to astronomical levels that it still has not recovered 20 years later.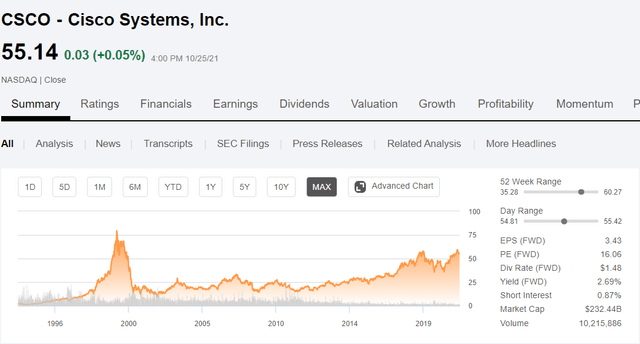 Source: SA
Cisco has sold products and services that use the Internet, but it has a 0% ownership interest in the internet.
2) IBM (IBM) associated itself with Artificial Intelligence since the introduction of Watson in 2010.
AI and machine learning have gone on to do powerful things and generate massive value. IBM owned Watson but owned 0% of the broader AI and machine learning technology.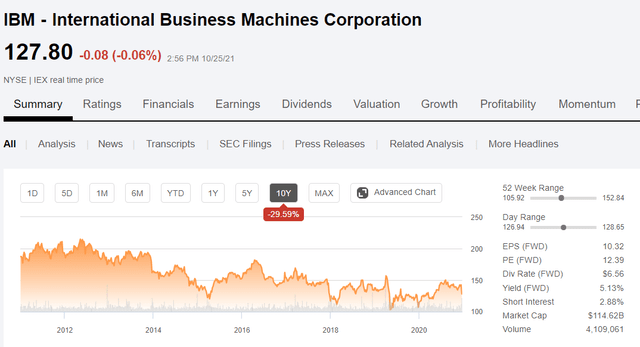 Source: SA
3) GoPro (GPRO) positioned itself as the camera of social media communication.
Social media has continued to succeed and even GoPro filmed videos have had some level of social media success with many going viral.
However, just like the above companies, GoPro used social media, it did not own it.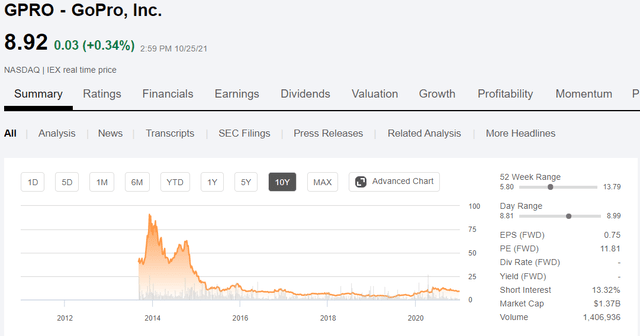 Source: SA
I want to take a bit to contrast this with something that had real success.
In 1996, Pfizer (PFE) took Lipitor to market. The drug became one of the most commercially successful of all time with sales of more than $131B. It has also likely saved countless lives and is still regarded as a proper treatment 25 years later.
Just like the other companies, PFE stock took off with the association with this powerful drug.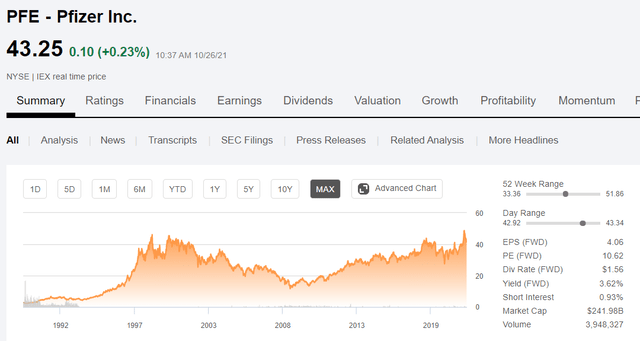 Source: SA
There is, however, one key difference that made Pfizer a sustainingly successful company.
It actually had ownership interest in Lipitor and this interest was protected by a patent. It took decades before generics were allowed to compete.
The moral of the story is that associating oneself with a given technology or even using that technology does not grant ownership of that technology.
Applying history's lessons to crypto
Blockchain might be one of the great technologies of the future. It might be how all transactions are conducted 50 years from now.
Yet just as the dot com stocks had zero ownership of the Internet, owning Shiba Inu or any other crypto for that matter does not grant one any ownership interest in blockchain technology.
A couple weeks ago I wrote an article discussing how Shiba Inu has no intrinsic value. The crux of the article was that the price of the coin moving up or down did not create or destroy value but was merely a transfer of wealth between traders. In order for Shiba Inu to have real value it would need to produce some good or service that has intrinsic value.
The comment stream that came as a response to that article is the reason I'm writing this piece. Many readers eloquently detailed the intricacies of blockchain technology and in my eyes did a good job showing that blockchain does have intrinsic value. Depending on how efficiently blockchain can be used it might even have massive value in the future.
The problem here is that investing in coins simply does not convey any ownership of blockchain.
Shiba Inu uses blockchain, it does not own it.
Bitcoin (BTC-USD) uses blockchain, it does not own it.
Ethereum (ETH-USD) uses blockchain, it does not own it.
In fact, the ability of new alt-coins to pop up demonstrates that the original cryptos have no proprietary claim on blockchain.
Thus, cryptos look a lot more like the failed examples above than they are like Pfizer. They use blockchain just as the dot coms used the Internet. They may even have made great contributions to the advancement of blockchain just as the early dot coms helped proliferate the Internet.
There just isn't a mechanism that will allow the cryptos to capture the value of blockchain.
They do not have a patent like Pfizer had on Lipitor to prevent generics from competing.
So, if cryptocurrencies have no stake in blockchain and no intrinsic value of their own, why do people like Elon Musk and the Ether Whale invest so heavily?
Just to be clear, the investments to which I'm referring are the $11.51 million Shiba Inu purchase from the Ether Whale and Musk's longstanding commentary on cryptos. As was recently discovered, Musk does not own any Shiba Inu, but he has invested significantly in other cryptos such as Dogecoin (DOGE-USD) and Bitcoin.
When a professional investor or celebrity takes a stake in a position there's an implicit assumption that they believe in the company, currency or whatever they bought.
I don't think it's appropriate to make this assumption.
In many cases, the purchase is made for other reasons. It could be that they're looking for a flip trade and think they can play temporary momentum. It could be that they got a particularly good entry point into a stock they otherwise might not like. It could even mean that they do believe in the stock but just like everyone else these famous people are fallible. Finally, for someone with the level of wealth that Musk has, it could just be for entertainment or "for the memes" as they say.
Again, let us turn to history to glean insight into the situation.
Back in 2015, Warren Buffett, via Berkshire Hathaway, bought 2 million shares of Seritage Growth Properties (SRG) which was a whopping 7.74% of outstanding shares.

Source: SNL Financial
The market saw this as a whole hearted endorsement of the company and shortly after Buffett's purchase it traded up in the $50s.
I don't see it is as an endorsement, and if it was, Buffett was wrong.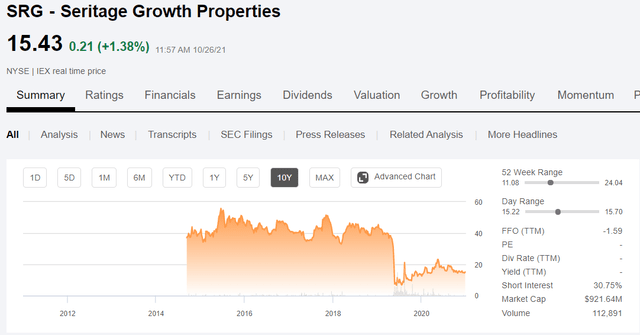 Source: SA
Instead, I think it was a toehold position which later facilitated a truly massive debt position that Berkshire offered to SRG, a $2B credit facility in which SRG paid 7% interest as well as 1% on the undrawn portion.
So SRG suffered and those who followed Buffett into the position probably lost money on that particular position, but Berkshire won.
Even though SRG has since tanked, the losses in Berkshire's common position are dwarfed by the amount of interest income they have gotten from that egregious loan.
The lesson taught by history
We do not know why famous investors take their positions. Copying their bets can result in nasty sideswipes such as what happened at SRG. Following the Ether Whale into Shiba Inu could be exactly what the Ether Whale had in mind. It could be your money that gives them a profitable exit for their momentum play before the position eventually collapses.
A stock, coin, or other security being associated with powerful technology or powerful people does not give it real value. Look for mechanisms to protect ownership and capture value such that the entity in which you're investing has full ownership of the valuable technology.