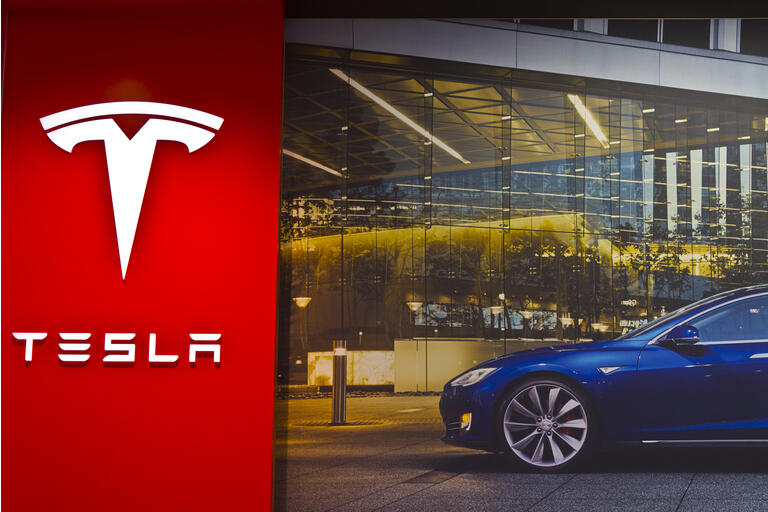 Investment Thesis
In our previous article: "Can Tesla Stock Reach $1,000 As Momentum Returns?" we said its strong momentum could bring it there. We also added that many bearish investors don't accord sufficient consideration to Tesla (NASDAQ:TSLA) stock's incredible momentum. Consequently, it led them to adopt a surprisingly bearish stance on its stock. Therefore, these investors must be left stunned by Tesla stock cracking the $1,000 ceiling recently. However, we were not surprised, as Tesla stock has been gaining momentum since H2'21 started. If only these investors paid close attention to its price action and trend analysis that we often highlighted.
We also informed readers that Tesla has been improving its operating leverage incredibly fast. We informed readers to value Tesla on its operating earnings moving forward instead of focusing solely on its revenue growth. The company's gangbuster adjusted earnings growth in FQ3'21 also demonstrated that.
We discuss what investors should look out for as Tesla stock marked a new all-time high (ATH) post-FQ3's report card.
TSLA Stock YTD Performance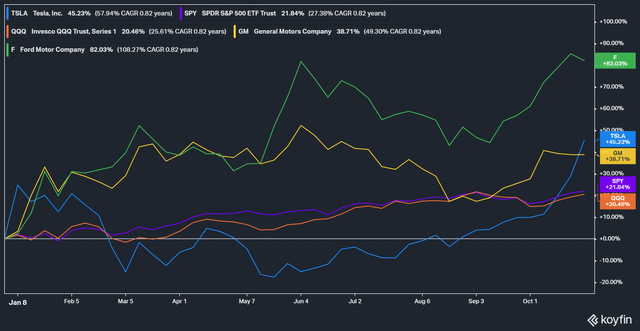 TSLA stock Vs. legacy peers YTD performance (as of 25 October 21).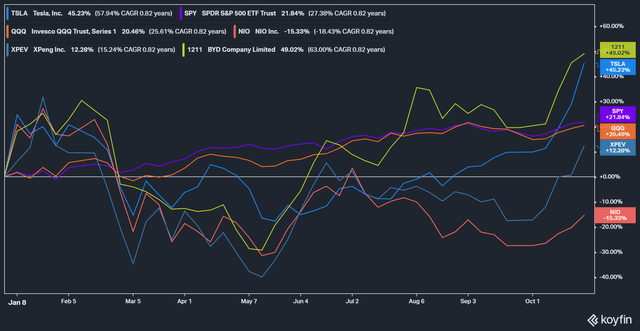 TSLA stock Vs. Chinese EV peers YTD performance (as of 25 October 21).
Tesla stock started the year strongly as it raced to a YTD return of more than 20% by January. However, like its Chinese EV peers, NIO (NIO), XPeng (XPEV), and BYD (OTCPK:BYDDF), the stock was battered during the growth-to-value rotation. As a result, the stock's upward momentum quickly fizzled out, and its YTD return went into the red by March. In contrast, its legacy peers' stocks maintained their strong upward momentum. For example, Ford (F) and General Motors (GM) stocks continued to gain through June as their momentum also spiked on the release of their electrification roadmap.
On the other hand, Tesla stock struggled to gain traction from March to May. However, those two months also proved to be a transitory consolidation phase for the stock. Nevertheless, the stock has quickly regained its upward momentum since May. By August, the stock has recovered all its losses for the year.
At the moment, the stock's YTD gain of 45.2% has already outperformed GM stock's 38.7% gain. It also clearly leads the SPDR S&P 500 ETF (SPY) and the Invesco QQQ ETF (QQQ). Moreover, it has also outperformed NIO and XPEV stocks as the Chinese BEV makers have struggled for traction.
TSLA stock still trails F stock's 82% YTD gain, as well as BYD stock's 49% YTD gain. Nonetheless, TSLA stock has made a sensational recovery against the bears who wanted to see it crash and burn. We think much of it can be attributed to the stock's incredible momentum.
Tesla Annualized Production Run Rate Exceeded 1M Units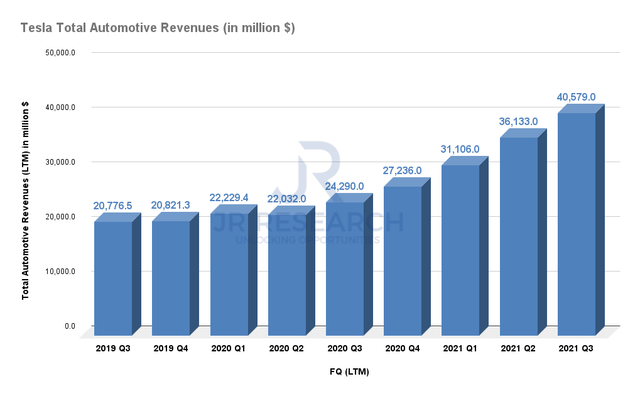 Tesla LTM total automotive revenue. Data source: Company filings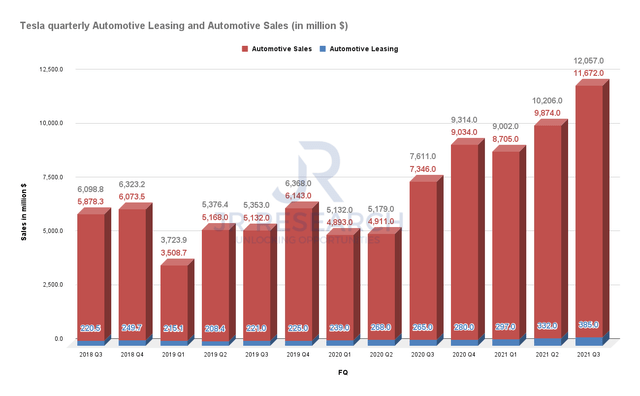 Tesla quarterly automotive revenue by segment. Data source: Company filings
Tesla indeed reported another incredible quarter of results. We shouldn't be surprised since the company reported a record number of deliveries in Q3 in early October. Tesla has already delivered 627K vehicles in the first nine months of 2021.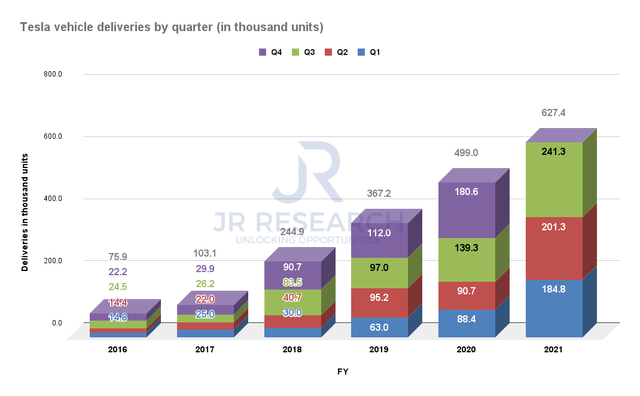 Tesla deliveries by quarter. Data source: Company filings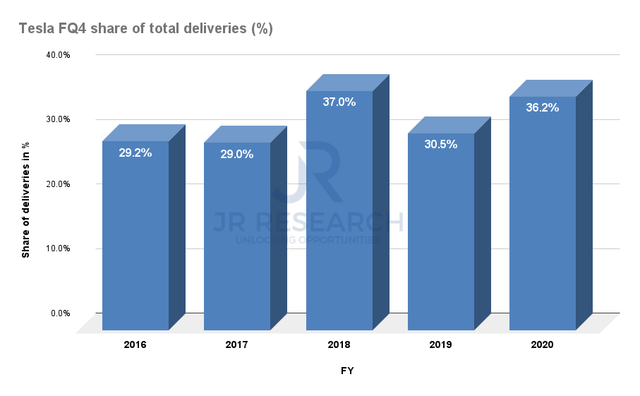 Tesla FQ4 share of total deliveries. Data source: Company filings
The upcoming FQ4 has also seasonally been the strongest quarter for Tesla over the last five years. Therefore, we think Tesla looks set to reach between 900K to 1M deliveries for FY21. Moreover, despite the supply chain shortages besetting the other automakers, Tesla's production capacity has proven remarkably resilient. CFO Zachary Kirkhorn emphasized that the company has already exceeded "an annualized production run rate of over 1 million cars towards the end of the quarter."
Even Volkswagen AG (OTCPK:VWAGY) chairman Herbert Diess also applauded Tesla for its achievements in production. Moreover, it showed that Tesla's advances and technological capability in software have often been misunderstood and understated. Diess emphasized:
One example for the speed of Tesla: They handle the chip shortage very well – the reason: they are developing their own software. Within just 2-3 weeks they had a new software which allows to use different chips. Impressive. (from Herbert Diess LinkedIn post)
Analysts are expecting the company to deliver between 1.3M to 1.5M units in 2022. However, the performance will depend on how successful the company can overcome the challenges in the production ramp in its new factories. Tesla highlighted that the company has been trying very hard to ramp capacity. It added: "We're trying as hard as we can to maximize that capacity and to be able to meet the demand that we're receiving. But the net-net of all of this is that we're not able to increase production capacity fast enough."
Notwithstanding, we remain confident that Tesla can find a way to overcome these shortages. Its ability to outperform delivery estimates has been remarkable so far. Therefore, we encourage readers to continue monitoring its performance closely.
Tesla Expects to Continue Gaining Operating Leverage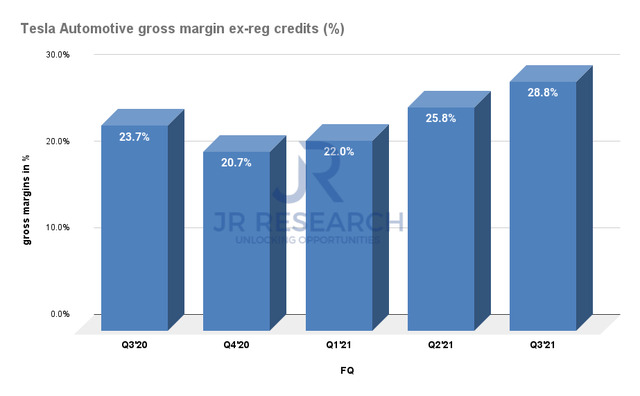 Tesla quarterly automotive gross margin excluding regulatory credits. Data source: Company filings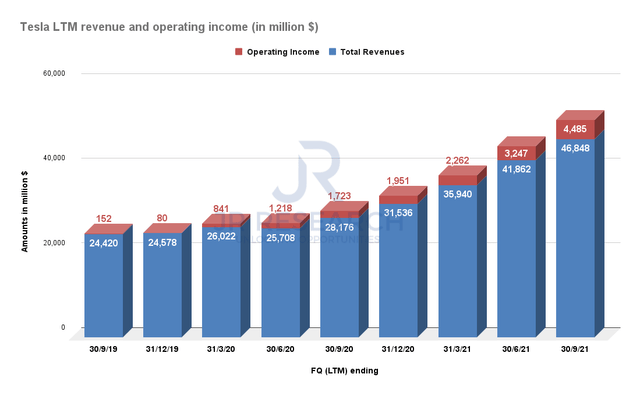 Tesla LTM revenue and operating income. Data source: S&P Capital IQ
Tesla's automotive gross margins (excluding credits) continue to impress as it reached 28.8% in FQ3. Tesla is demonstrating resilience in profitability, while navigating supply chain shortages. We believe it shows the tremendous execution capability of Elon Musk & Co. that has often been misunderstood.
In addition, TSLA also continued to gain operating leverage impressively as it scales. On a last-twelve-months (LTM) basis, Tesla increased its revenue by a CAGR of 38.5% over the previous two years. However, its operating income increased a phenomenal CAGR of 443% over the same period. In addition, operating income was also up 160% YoY.
What makes Tesla's performance so remarkable is its ability to improve leverage despite facing surges in raw material costs for its EV batteries. They have gone up by more than 40% this year. Moreover, Tesla also has to deal with supply chain problems relating to its semiconductors. However, as we mentioned earlier, the company has been very adept at resolving its manufacturing challenges. Tesla has undoubtedly proven its manufacturing capabilities as an automaker. We have little doubt that it will continue to be at the forefront of the EV race.
Nonetheless, Tesla telegraphed that the company expects some margin pressures when production at Austin and Berlin begins. It expects initial ramp inefficiencies similar to a new factory roll-out. However, those pressures are expected to be transitory as the company starts volume production subsequently. Notably, Tesla believes that the best is yet to come for its long-term operating leverage. CFO Kirkhorn emphasized:
...And operating expenses as a percentage of revenue has been declining, and I expect that trend to continue to happen. And I think the net of all of this is hopefully that we continue to make progress on operating margin over the next 4 or 5 quarters. As we think kind of forward, the business up until this point has kind of largely been a hardware automotive business with a little bit of software on top of that. As full self-driving matures, as take rates increase, if we are to raise pricing on that, there's considerable upside both on gross margins, and operating margin as that comes to light as the business starts to become more of a mix of a hardware-based company and a software-based company. (from Q3'21 earnings call)
So, is Tesla Stock a Buy Now?
We explained before in our previous articles that we think Tesla has been an excellent investment for us. We have also taken the opportunity to pare down our holdings in the stock recently, given a potential bull trap, as the market makers look to draw in the "FOMO" buyers. We shared before that Tesla stock carries a premium valuation. Investors have been torn on how to value Tesla stock appropriately. CFO Kirkhorn has hinted that investors should consider the company as a blend between hardware and software. Investors are torn whether to value Tesla as an automaker or a disruptive technology company.
Even Morgan Stanley acknowledged that Tesla shares are "driven by a wide range of market forces that are difficult to comprehend." Therefore, even the most brilliant Street analysts are finding it challenging to value Tesla.
Tesla stock is trading at an EV/NTM Revenue of 15.1x. It's also trading at an EV/NTM EBIT of 116.5x. Elon Musk has often emphasized that he sees the Chinese EV makers as his most formidable competitors in the world. Therefore, we thought it would be meaningful to consider their valuations against Tesla stock.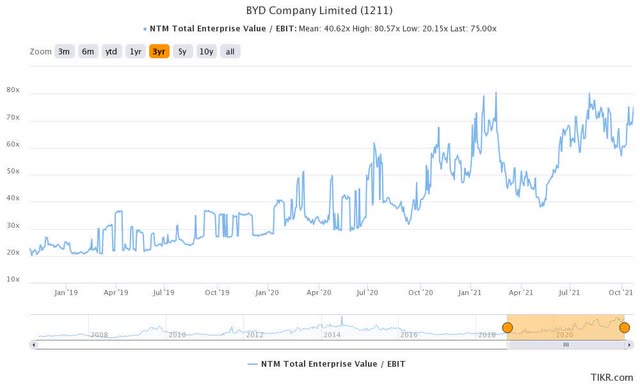 BYD stock EV/NTM EBITDA.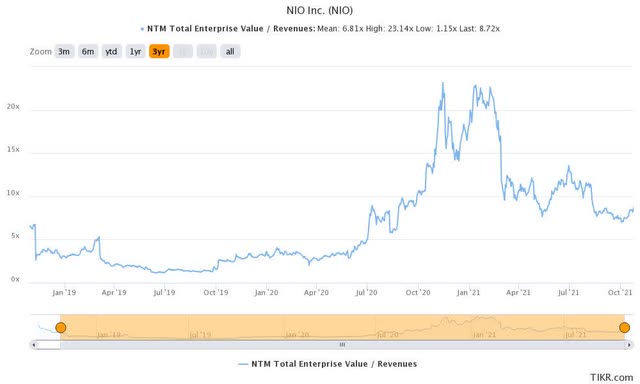 NIO stock EV/NTM Revenue.
BYD stock, which has outperformed TSLA stock so far in 2021, trades at an EV/NTM EBITDA of 75x. It's trading way below TSLA stock's astronomical EBITDA valuation. Moreover, NIO, which is expected to grow faster than TSLA, is trading at an EV/NTM Revenue of 8.7x. It's also way below TSLA stock's "nose-bleed" valuations.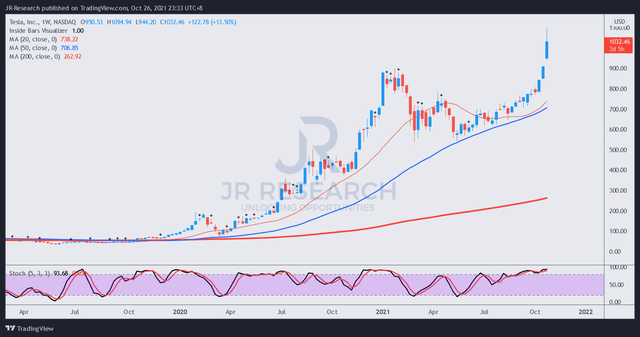 TSLA stock price action (weekly chart).
In addition, the stock is also forming a potential bull-trap price action. Although the price action remains unresolved, we have taken the opportunity to lock in our gains and pare down our holdings further. We used those gains to rotate to other undervalued growth stocks.
There's little doubt that Tesla is a magnificent company, as we have shown. The stock also has an impressive long-term uptrend (which is why we never understood the bearish thesis). Price action investors never fight against the long-term trend. It's just not smart.
Although Tesla stock continues to demonstrate incredible upward momentum, we think it's setting up nicely for a bull trap. Coupled with what we believe is an overvalued share price, we encourage investors to lock in some of your substantial gains. Take some risks off the table, and then rotate.
Therefore, we continue to maintain our Neutral rating on Tesla stock.