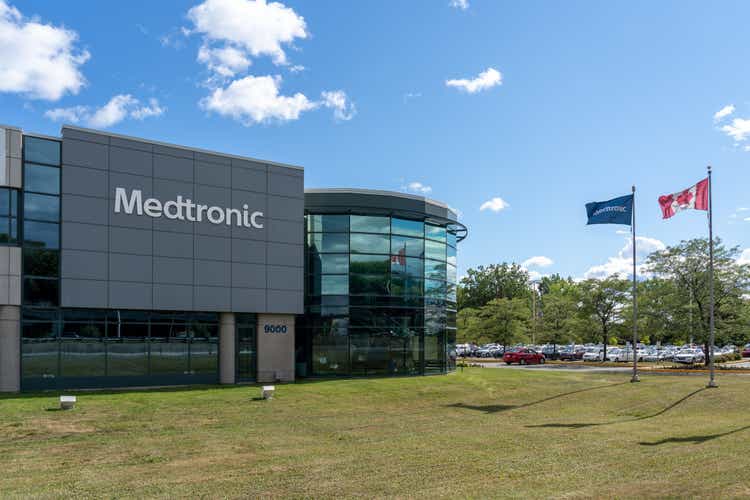 Medtronic (NYSE:MDT) is one of those companies most retail investors know little about. The company's customers are primarily hospitals, doctor's offices, and healthcare facilities. The company has its headquarters in Ireland, making it even more obscure. However, Medtronic is the largest pure-play global manufacturer of medical devices. In addition, the company is a Dividend Champion and Dividend Aristocrat with 44 years of consecutive yearly increases. The stock has been pressured lately and is down about (-10%) from its all-time high. However, the dividend has grown at a double-digit rate in those 44 years. The dividend is also safe. It may be time to add share, and I view Medtronic as a long-term buy.
Overview Of Medtronic
Medtronic was founded in 1949 in Minneapolis, MN. Today, the company has its headquarters in Dublin, Ireland, a move that took effect during the acquisition of Covidien in 2015. Covidien had already executed a tax inversion. Medtronic is one of the largest medical device companies in the world and operates globally in 140 countries. The company has four business segments: Cardiac & Vascular Group (~36% of total revenue), Minimally Invasive Therapies Group (~29% of total revenue), Restorative Therapies Group (~27% of total revenue), and Diabetes Group (~8% of total revenue). Business operating units include Cardiac Rhythm & Heart Failure; Structural Heart & Aortic; Coronary & Peripheral Vascular; Surgical Innovations; Respiratory, Gastrointestinal & Renal; Cranial & Spinal Technologies; Specialty Therapies; Neuromodulation; and Diabetes. Total revenue was $30,117 million in the fiscal year 2021 and $31,597 million in the LTM.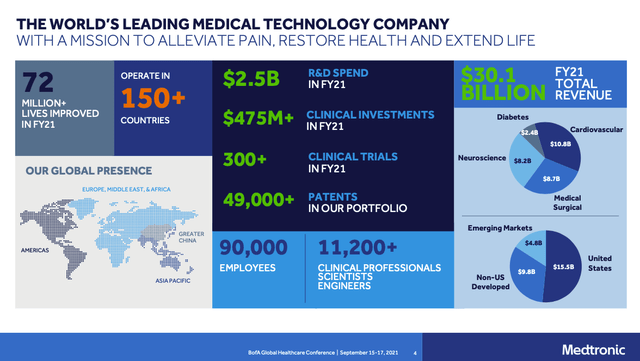 Source: Medtronic Investor Relations
Medtronic Revenue Growth And Margins
Medtronic is a growth engine. The company grows organically and through bolt-on acquisitions. Revenue growth supports earnings growth that in turn supports dividend growth.
In the past decade, revenue has grown from $16,184 million in fiscal 2012 to $30,117 million in fiscal 2021. Medtronic acquired Covidien in 2015, a substantial acquisition of $42.9 billion that boosted revenue in 2015 by nearly $8 billion. However, the purchase of Covidien lowered gross, operating, and net profit margins. This fact is likely due to the company's product having lower margins since Covidien also sold basic medical supplies, a commodity-like business. Medtronic later sold the basic supplies business to Cardinal Health (CAH) for $6.1 billion.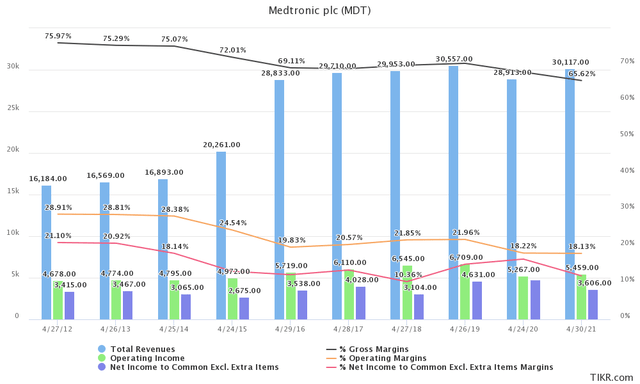 Source: TIKR
Medtronic's revenue declined in fiscal 2020 due to the negative impact of the COVID-19 pandemic. Although Medtronic sells necessary products for its customers, the pandemic interrupted the long-term growth of elective procedures. In addition, patients stayed away from hospitals fearing the risk of infection.
Medtronic's business plan states that annually, it will organically grow revenue by 5%+, earnings by 8%+, and the dividend in-line with earnings growth. The key for organic growth in the medical device space is R&D, and Medtronic plans to spend $2.7 billion on it. Spending of this magnitude should result in a pipeline of products and approvals. It is essential to understand that most if not all of Medtronic's products must receive regulatory approval before marketing and sales.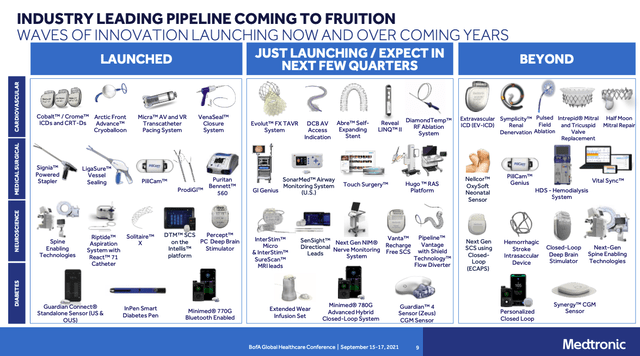 Source: Medtronic Investor Relations
Medtronic also plans to grow by taking minority investments in early-stage companies, conducting tuck-in M&A, and having strategic partnerships with larger companies. The company has taken minority investments in more than 40 companies. Medtronic has also made seven tuck-in acquisitions in FY 21 for roughly $2.3 billion. This list includes Medicrea, RIST, Avenu Medical, Companion Medical, Sonarmed, and intersect ENT. This strategy is expected in the medical device space as small companies increasingly take on the risk and doing R&D and obtaining regulatory approval.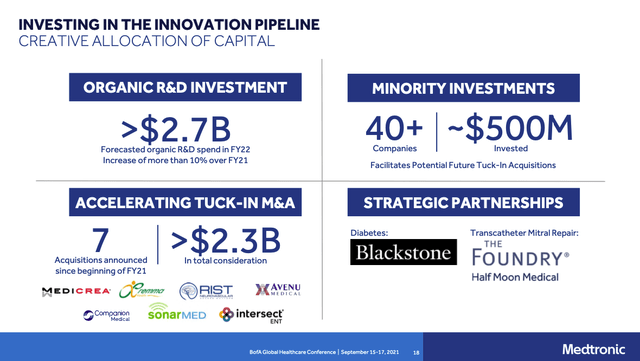 Source: Medtronic Investor Relations
Medtronic's Dividend Growth And Safety
Medtronic has paid a dividend since fiscal 1978. The dividend has grown at a double-digit rate of 16% since then for 44 years in a row of annual increases. The regular dividend growth rate in the past 5-years is about 9.55% CAGR, and it is roughly 10.24% CAGR in the past decade. However, the growth rate has been slowing, and it is only been 8% CAGR in the past 3-years.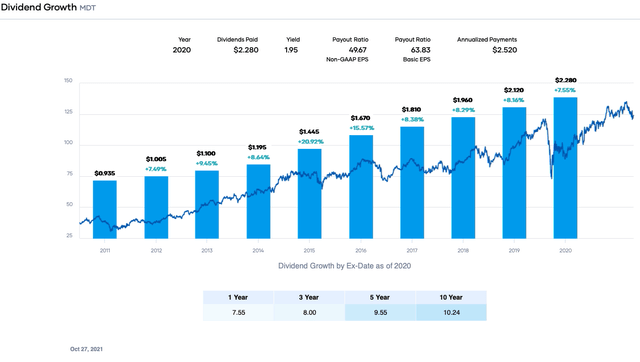 Source: Portfolio Insight
The regular quarterly cash dividend is $0.63 per share, giving an annualized dividend is $2.52 per share. Thus, the forward dividend yield is approximately 2.1 at the current stock price%. This value is more than the average dividend yield of ~1.3% for the S&P 500.
The dividend safety is excellent based on earnings and free cash flow, and debt is not a significant concern now. Consensus fiscal 2022 earnings per share are $5.71, and the forward annual dividend is $2.52 per share. Thus, the payout ratio is around 44%, an excellent value and below my criterion of 65%. The low payout ratio also supports future dividend growth. Despite the company having lower revenue and earnings in fiscal 2020, Medtronic did not cut or suspend the dividend.
In addition, the dividend is safe from the perspective of free cash flow. In fiscal 2021, operating cash flow was ~$6,420 million. Capital expenditures were about $1,355 million, resulting in a free cash flow of $5,065 million. Therefore, the dividend required roughly $3,120 million, giving a dividend-to-FCF ratio of approximately 62%. This percentage is OK but a little on the higher end of the range of dividend growth stocks. However, the percentage is still below my target cutoff value of 70%.
Total and net debt surged in fiscal 2015 due to Medtronic's acquisition of Covidien. Since then, total debt has declined while net debt has been relatively flat. At the end of Q1 fiscal 2022, Medtronic had $3,004 in cash and cash equivalents and $7,591 million in investments. Short-term debt was $6 million, and long-term debt was $25,958 million. The leverage ratio has declined to about 1.6X, and interest coverage has risen to over 12X at the end of the latest quarter. Furthermore, Medtronic has an A3 credit rating from Moody's and an A credit rating from Standard & Poor's. Both ratings are investment upper-medium grade meaning Medtronic has a strong capacity to meet its financial obligations.
Valuation For Medtronic
Let's determine a fair value estimate for Medtronic. The consensus fiscal 2022 earnings per share are now $5.71. We will use 20X as a reasonable value earnings multiple, which is slightly higher than the average in the past decade of around 19.2X. We use a higher multiple to account for market leadership, high margins, and a renewed focus on growth. Our fair value estimate is $114.20. The current stock price is ~$122.64, suggesting that the stock is slightly overvalued based on earnings.
Applying a sensitivity analysis using P/E ratios between 19.0 and 20.0, I obtain a fair value range from $108.49 to $119.91. Thus, the current stock price is ~102% to ~113% of my fair value estimate.
Estimated Current Valuation Based On P/E Ratio
P/E Ratio

19.0

20.0

21.0

Estimated Value

$108.49

$114.20

$119.91

% of Estimated Value at Current Stock Price

113%

107%

102%
Source: dividendpower.org Calculations
How does this compare to other valuation models? A 5-year discounted cash flow analysis from finbox results in a fair value estimate of $143.04. The calculation assumes a 7.5% discount rate, 5.7% revenue CAGR, and 8.8% unlevered free cash flow CAGR. The Gordon Growth Model gives an estimated fair value of $126, assuming an 8% desired rate of return and a 6% dividend growth rate. The average of these three models is ~$127.75, suggesting that Medtronic is slightly undervalued at the current price.
Final Thoughts On Medtronic
Medtronic is a Dividend Champion and Dividend Aristocrat worth looking at for dividend growth investors. The company has had a strong track record of increasing dividends at a double-digit rate for more than four decades. Today, the dividend safety metrics are excellent. There are few companies like that. Medtronic is the largest pure-play medical device company in growth markets. The stock price has lately been pressured. Investors may find this to be a good entry point or a time to add shares. I view Medtronic as a long-term buy.