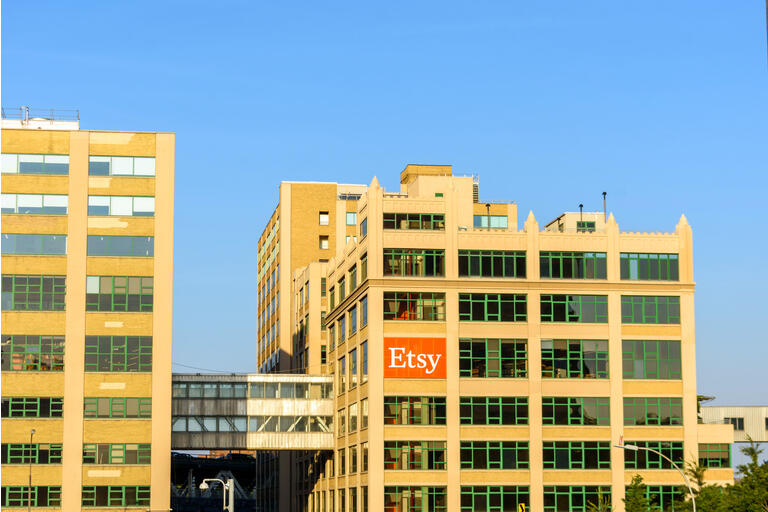 Recently, I have been reading articles about pandemic-related supply chain problems that could make a great deal of consumer items unavailable during the gift giving season. Many consumer goods that people might find popular during the holiday season are likely currently sitting off the coast of California.
The question is, if people are unable to get what they want this holiday season, then what alternative gifts would people buy this year during the holiday season?
When I first asked myself that question, the first answer that came to mind was hand-made goods might become popular this season, which made me think of Etsy (NASDAQ: NASDAQ:ETSY), whose entire marketplace is built around enabling the sales of handmade, vintage, or a craft supply goods.
I suspect that Etsy will likely have a really good fourth quarter and investors might want to start buying the company today in anticipation of increased business during the holiday season.
The above is just the short-term outlook for Etsy.
Over the long term, Etsy is still so early in its growth curve of building out a marketplace for crafters, artists, and collectors to sell handmade creations, vintage goods, crafting supplies and other niche products, that growth investors will likely benefit from an Etsy investment made today for the next decade or two.
Etsy's addressable market is not a constraint to Etsy's growth in the next decade or two that we can imagine, and that's the time horizon that most investors tend to think in.

Source: CEO Josh Silverman - Citi 2021 Global Technology Virtual conference
Let's take a closer look at Etsy's business.
Etsy Business Over the Short Term
Etsy's business should really benefit over the short-term because its business doesn't rely as much on traditional retail or ecommerce models that depend on guesses about what's going to be popular six months out by retail executives, then making hiring decisions on who is to design the product, then building out a supply chain complete with sourcing the manufacturer of the product, and then finding a way to ship the product from the manufacturer that is often located in China, Vietnam or Indonesia to the USA.
If everything goes well, the traditional retailer must hope the product will arrive in stores on time, in enough quantity and then hope the product is actually still popular enough so that all the inventory gets sold.
Etsy business model works in a completely different way. Etsy management is aware that these days, tastes and trends change very quickly and very unpredictably. Etsy's main business strength is in the flexibility of its seller community to quickly produce and start selling the most popular products.
The most famous example of the Etsy seller community quickly adjusting to consumer demand by selling those consumers what they want almost as soon as they want it, happened when the pandemic reached US shores, making demand for masks go up almost overnight. Etsy began encouraging its sellers to start producing masks directly in response to that demand and the whole Etsy website was changed to emphasize the sales of masks at the same time.
However, the selling of masks is not the only example of the Etsy seller community being able to shift to producing the most popular product. The Etsy seller community is very sensitive to shifting trends on social media websites like Instagram and TikTok.
During a recent investor conference, Etsy CEO Josh Silverman spoke to that phenomenon:
As soon as something trends on TikTok, you see it on Etsy. So we mentioned in our last earnings call, Free Britney became a powerful social movement. There's a lot of people who care about Britney. And it seems like she's got a legitimate grind out there. And so within minutes of that starting to trend on TikTok, you see it on Etsy. And Free Britney Merch starts showing up on Etsy.

Source: CEO Josh Silverman - Citi 2021 Global Technology Virtual conference
In a world with broken international supply chains where products are often on backlog and sometimes come very late to stores in response to consumer demand, Etsy has an advantage by being immediately responsive to the latest consumer trends with few or no delays in having the product shipped to the end user.
That is probably some of the reason that Etsy has been able to show in Q2 that they are able to continue growing its Gross Merchandise Sales or GMS, even while lapping difficult comps from last year.
Etsy Q3 2021 Guidance
In Q3 2020, the etsy.com stand-alone marketplace GMS grew 116%, which was the highest growth rate among the U.S. publicly traded e-commerce marketplaces.
Since 2020 was such a one-of-a-kind year for Etsy because of the pandemic accelerating ecommerce, in general, and Etsy's business, in specific, the company does face very difficult comps in Q3 and Q4 of this year.
Etsy last issued earnings on Aug 4 and because of the uncertainty of COVID-19, the company did not issue full year guidance but did issue guidance for the third quarter, and that Q3 earnings report should be released on Nov 03, 2021, so we will soon see how accurate the Q3 guidance was.
Etsy is today, essentially a collection of four different independent marketplaces under one roof. There is the legacy etsy.com, plus the three recent acquisitions of Reverb, Depop and Elo7. The following guidance is the consolidated results expected out of all four marketplaces.
The etsy.com marketplace, however, represents the vast majority of the top and bottom-line performance, in the near term. Over time, of course, the other marketplaces should become more important to the results.
Third quarter guidance reflects the most recent acquisitions of Depop and Elo7 causing a 300-basis point contraction in margins to what the company guidance would have been without them. However, the company believes that over time, with scale, both Depop and Elo7 can deliver strong margins and healthy levels of profitability.
The guidance that Etsy issued for the third quarter includes:
Gross merchandise sales or GMS of $2.9B to $3.0B; which equals 12.5% year-over-year growth at the midpoint. The company expects the Etsy.com standalone business to produce mid-single-digit growth and mid-teens growth excluding facemasks.
Revenue guidance is $500 million to $525 million, up about 13.5% at the midpoint versus Q3 of last year.
A consolidated take rate of approximately 17.4%. Consolidated results include the Depop and Elo7 acquisitions. The take rate excluding recent acquisitions would be approximately 17.7%.
An Adjusted EBITDA margin of approximately 25% consolidated, which includes the Depop and Elo7 acquisitions. Excluding the recent acquisitions, Adjusted EBITDA margin would be approximately 28%.
Investors didn't like this guidance because, along with the Q2 earnings report, it suggested growth was slowing down from the blazing hot, pandemic-fueled boom, so the stock sold off 10% after Q2 earnings, as investors left for perceived greener pastures.
In a little over a week, Etsy should be reporting Q3 numbers and giving Q4 guidance and it will be interesting to see if management was being overly conservative and exactly how much growth that management expects during the holiday season.
How is Etsy Faring Now That the Worst of The Pandemic Is Over?
On Dec. 11, 2020, the Pfizer (NYSE: PFE) COVID-19 Vaccine was made available to individuals 16 years of age and older under an EUA. The USA is now 57.8% fully vaccinated and people are already starting to resume "normal" activities.
Etsy management has acknowledged to analysts in investor presentations that the ability to shop in physical locations and do other activities outside the house will be a headwind to Etsy's growth. There is little doubt that a lot of new buyers were pulled forward during the pandemic and that might take some time for Etsy to digest.
However, Etsy's business is still doing better than many people thought it would. During the second quarter, the numbers that Etsy reported were great across the board despite the macro headwinds and challenging year-over-year comps, as the company beat analysts' expectations on both earnings and revenues.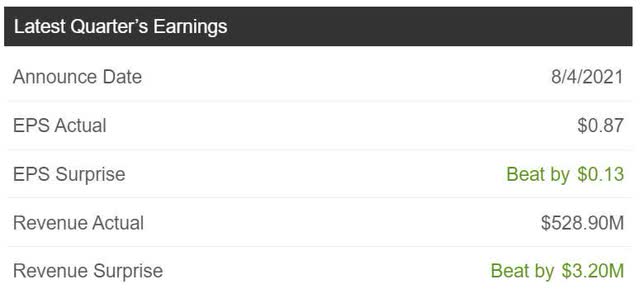 Source: Seeking Alpha
Etsy also met its own expectations on GMS, revenue and adjusted EBITDA. So, while growth might be indeed slowing, at least temporarily, growth has not completely halted.
Investors might also want to consider the fact that while the pandemic might indeed be waning and things are returning back to normal, the damage that COVID-19 has done to worldwide supply chains might not be repaired any time soon. This could mean many retailers could be giving customers the dreaded "This product is backlogged and will be delayed", over the next several months.
On the other hand, there are decent odds that Etsy will continue to do well because of its flexibility and ability to rapidly adjust to sell the most popular products without shipping delays, thereby delighting the end consumer.
Differentiated Marketplace
Etsy has developed a marketplace that serves the role of being the opposite of Amazon in many ways. Etsy specializes in selling niche products that are often handmade or in some other way unique. Amazon (NASDAQ: AMZN) specializes in selling mass-produced commoditized products with long supply chains. Etsy is often viewed as the Anti-Amazon.
Etsy has chosen a completely different path than Amazon. While Amazon has chosen a capital-intensive model for its marketplace by building out warehouses and a logistic network, Etsy has chosen to build its initial etsy.com platform as a peer-to-peer two-sided marketplace with a capital-light, flexible business model, where every Etsy shop transacts its own sales and ships its own products.
Etsy management had that overall philosophy of running a capital-light business model from the very beginning and that philosophy has been used to assess acquisitions like the three other marketplaces that Etsy has recently acquired. Reverb, Depop, elo7 all have similar attributes of the original etsy.com platform by being capital-light and flexible.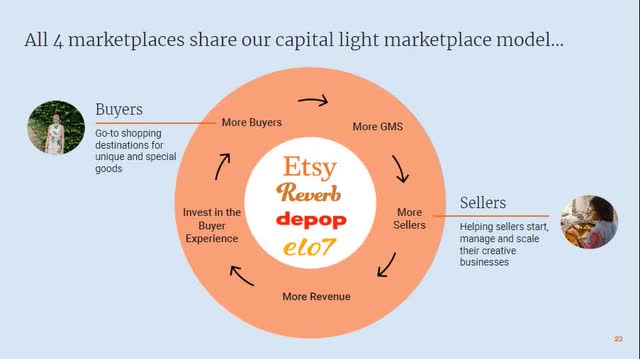 Source: Etsy Q2 2021 Investor Presentation
Etsy Has a Powerful Moat
The Etsy's platform is a two-sided marketplace with both same-side and cross-side network effects. In same-side network effects, the value a user receives is directly derived from the total amount of users on the same side of the platform.
In cross-side network effects, the value a user receives is derived from the total amount of users on the opposite side of the platform. This means that the more buyers that make purchases on etsy.com platform will attract more artisan sellers to set up shops on the platform and vice versa.
The total value that either a seller or buyer receives from joining the Etsy platform is directly related to both the number of sellers and buyers existing on the platform. In addition, each new buyer and seller to Etsy's platform adds additional value for each existing buyer and seller on the platform.
Network effects are competitive advantages that often make it extremely difficult for competitors to gain market share by taking away that company's customers. Eventually, a platform that has network effects and a growing user base will reach a size where the competitive advantage becomes a true moat. Companies with a network effect moat make it nearly impossible for competitors to break away its customers for their competing service.
Some examples of companies/services with a network effect moat are Google, YouTube, Amazon, and Facebook.
At the end of Q2 2021, there were approximately 5.23 million sellers on Etsy, up by 67% year-over-year from 3.14 million and active buyers grew 51% year-over-year to approximately 90 million.
Etsy's network effect moat is large enough today, that even competition with Amazon has not slowed down Etsy's growth. Amazon had established an Etsy "copycat" artisan marketplace around 2015 and started actively promoting it again in 2020, as Amazon saw Etsy starting to do extremely well in selling masks during the pandemic. The "copycat" Amazon competition, however, has not prevented Etsy from doing extremely well.
One important metric that can gauge the strength of a marketplace's moat and competitiveness is the take rate. In the second quarter of 2015, Etsy had a take rate of 11%, which when compared to the second quarter of 2021, Etsy's take rate had risen 640 basis points to 17.4%. If competition from Amazon was truly impacting Etsy, its take rate likely wouldn't have risen to 17.4%.
As Willy Braun once said, "Take rate is a good indicator of the power of negotiation: a high take rate usually means that the marketplace proposition value is high and somehow exclusive in a given segment."
Strong Customer Engagement & Another Moat
Customer engagement is among the most important aspects of a successful company as strong engagement helps increase customer loyalty and trust. When customers become very loyal and increasingly engage with a brand, it is a sign that a company has formed an intangible asset moat.
Another factor that makes engagement an important factor to monitor is that loyal, repeat customers spend roughly 7X more than their one-time purchase counterparts.
In the case of Etsy, the engagement numbers can be measured with the metric of GMS per active buyer, which came in at $129, up 22% year-over-year on a trailing twelve-month basis, a new record for Etsy.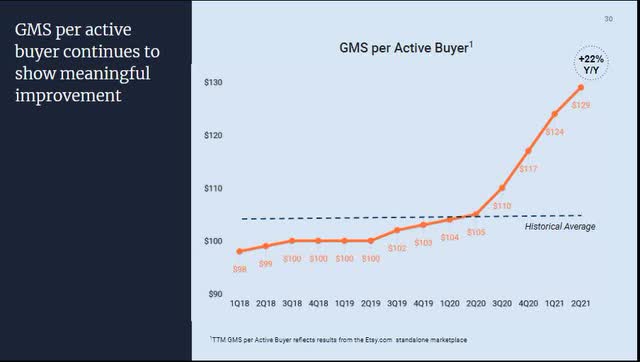 Source: Etsy Q2 2021 Investor Presentation
Repeat buyers, defined as those who made purchases on two or more days in a 12-month period, grew 61% year-over-year to 36 million. Habitual buyers, which are the most loyal buyers, remained the fastest-growing buyer segment, up 115% for the second quarter to nearly 8 million. The habitual buyers make up only 9% of active buyers but contribute on average about 40% of the GMS.
Market Opportunity is Large and Expanding
Another reason that investors should be interested in Etsy is the company is still early in expanding into multiple lucrative niche markets, which as a whole are a very large market opportunity.
Etsy has chosen to not just attack its large opportunity within the etsy.com platform but it has also chosen to expand into what the company thinks are the most lucrative, niche areas of ecommerce through acquisitions.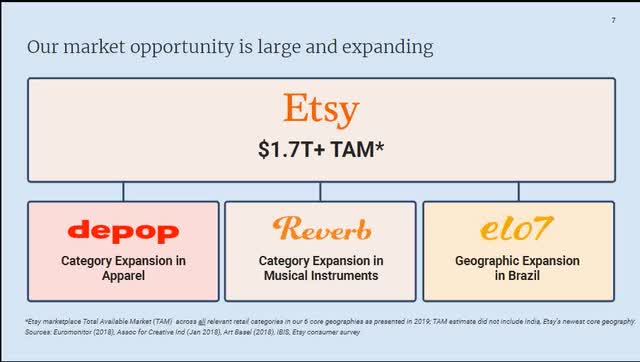 Source: Etsy Q2 2021 Investor Presentation
Reverb was acquired in August 2019, because Etsy felt there was a compelling value proposition in a marketplace for musical instruments and saw a clear path for future growth in the niche.
Depop was acquired in July 2021, because the company saw a huge opportunity in the rapidly growing sector of apparel resale. The secondhand apparel market is valued at about $28 billion today and is forecast to reach $64 billion within the five years, according to a report by ThredUp and GlobalData Retail, that was referenced on CNBC.
Elo7 was acquired in June of 2021, because Etsy wanted a presence in the Latin American market, specifically Brazil, as that market has low penetration and also represents a very large market. Etsy mentioned recently that the Brazilian ecommerce marketplace is forecasted to reach $50 billion by 2025 and Latin America as a whole is forecasted to be a $160 billion market in the same time frame.
I shall delve deeper into these three marketplaces, as well as the international opportunity as additional long-term reasons to buy Etsy, in future articles.
Strong Adjusted EBITDA and Cash Flow
I have mentioned a few times during this article that the Etsy management team has an overall fundamental philosophy biased toward a capital-light business which doesn't require a huge balance sheet or have huge OPEX and CAPEX requirements for things like warehouses, fulfillment retail stores, last-mile delivery logistics, etc.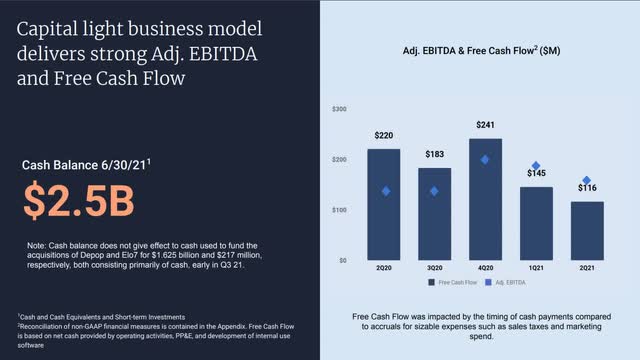 Source: Etsy Q2 2021 Investor Presentation
Etsy has structured its business to deliver strong top and bottom-line financial performance, over time. The company has also pretty much been a free cash flow machine since 2019.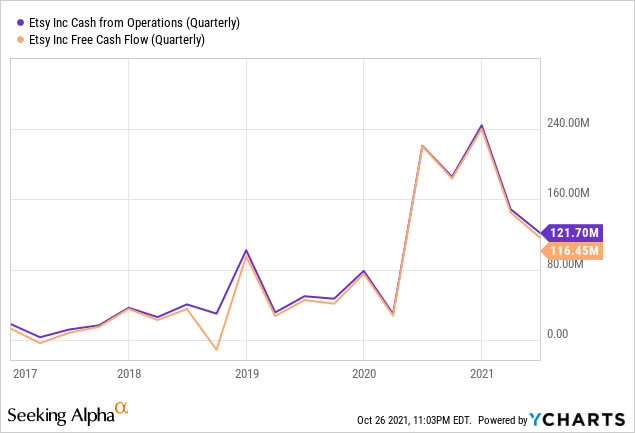 Etsy has also stated in the past that they have long-term EBITDA margin goals of 30% or higher at scale.
Balance Sheet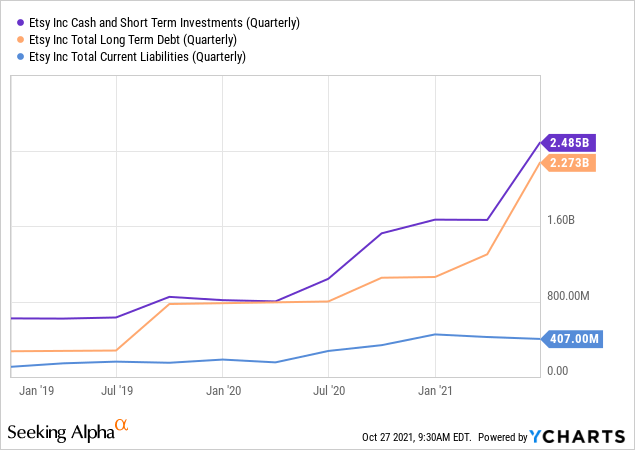 Etsy ended Q2 2021 with $2.46 Billion in cash and short-term investments.
Etsy ended Q2 2021 with $407 Million in current liabilities and Long-Term Debt was $2.27 Billion.
Etsy has a quick ratio of 6.49. A company with a quick ratio of 1.0 and above can easily pay current liabilities. A company that has a quick ratio of less than 1 may not be able to fully pay off its current liabilities in the short term.
Etsy had a debt-to-equity ratio of 4.283, which is a measure of the ability to pay long-term liabilities. Companies with a Debt-to-Equity ratio of more than 1 have more than 50% of the company's assets being funded by debt. If the ratio grows larger every year, then the company is becoming more highly leveraged by debt, which appears to be the case with Etsy.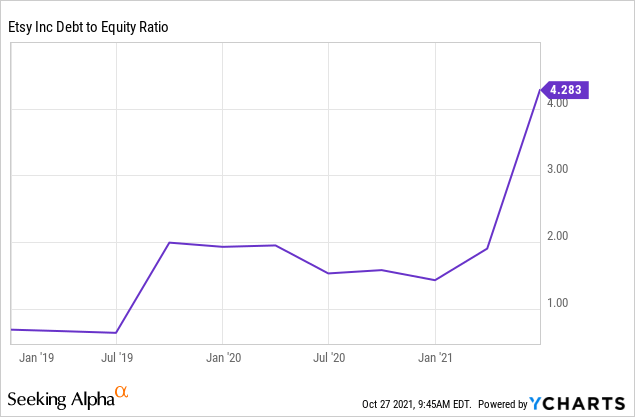 Etsy raised approximately $1 billion in 0.25% convertible senior notes due in 2028 in a private institutional offering, in June of 2021. A portion of the proceeds will be used to repurchase shares worth $180 million. The remainder will be used for general corporate purposes.
Valuation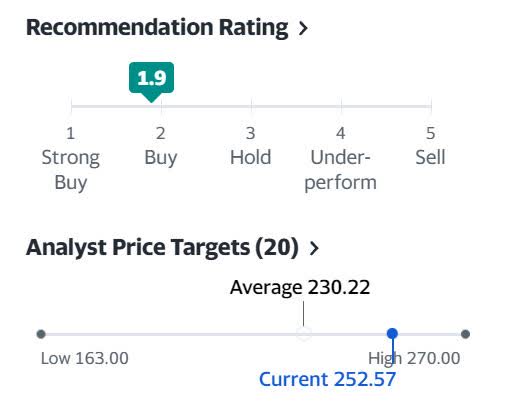 Source: Yahoo Finance
The above is based on 20 Wall Street analysts offering 12-month price targets for Etsy in the last 3 months. The average price target is $230.22 with a high forecast of $270.00 and a low forecast of $163.00. The average price target represents a 9% decrease from the last price of $252.57.
When I compare the revenue growth of Etsy to other ecommerce marketplaces, growth has really dropped off in Q2 against difficult comps, even in comparison to many other ecommerce companies.
The drop off in growth, weak Q3 guidance, possible rising interest rates and still lingering COVID-19 concerns might have accounted for Etsy's stock price drop after Q2 earnings.
When I compare the valuation of Etsy to other ecommerce platforms on a Price to Free Cash Flow basis, I think Etsy sells at a decent valuation in comparison to other companies.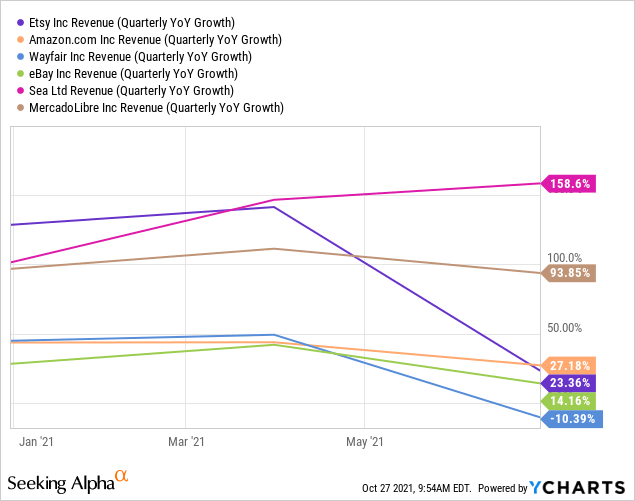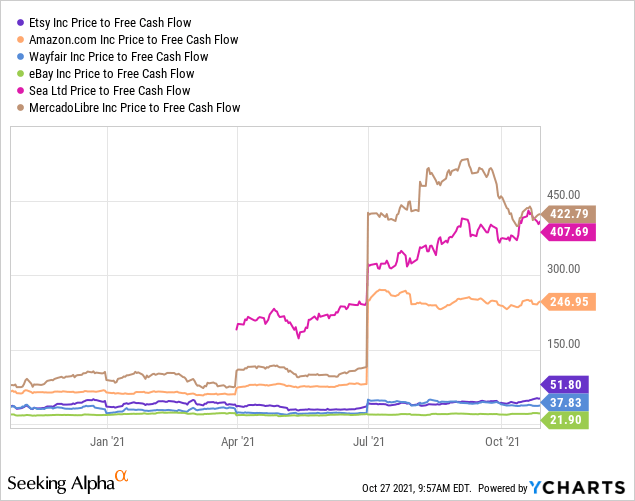 If Etsy re-accelerates their growth a bit during Q3 and Q4, due to consumers gravitating to the platform again because of shortages of highly desired products at other retailers that rely on broken supply chains, then investors might send the stock price up again.
In fact, analysts have already been indicating that Etsy could benefit from the broken supply chain, and investors seem to have caught on to that point of view as Etsy's stock price has recently been rising in October.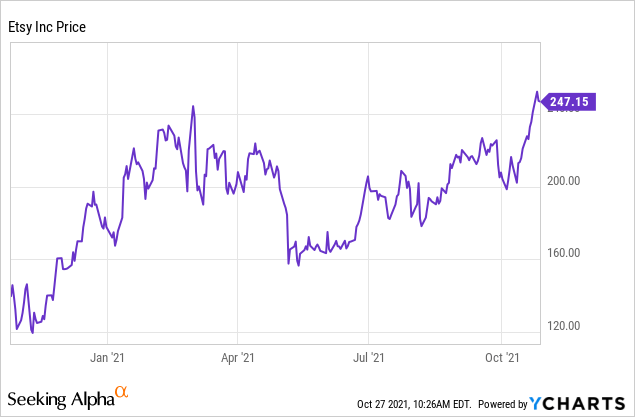 Conclusion
While short-term investors might speculate on possible tailwinds that might favor Etsy during this upcoming holiday season, I view Etsy as more of a long term buy because of the large worldwide market opportunity that has barely been penetrated by Etsy, the powerful moats the company has, and a great management team that has a great business model that is fully capable of producing strong profitability at scale.