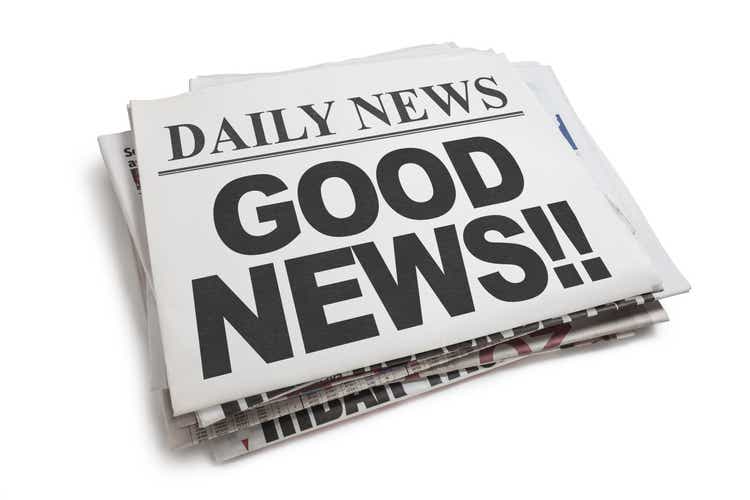 Co-produced by Austin Rogers
We concentrate our investment focus heavily on publicly listed real estate investment trusts (or "REITs") because of the numerous advantages they possess:
Over very long time periods, equity REITs in particular (that directly own real estate rather than invest on the lender side as a mortgage REIT) frequently outperform broad stock indexes. See, for instance, the period from 1972 to August 31st 2021: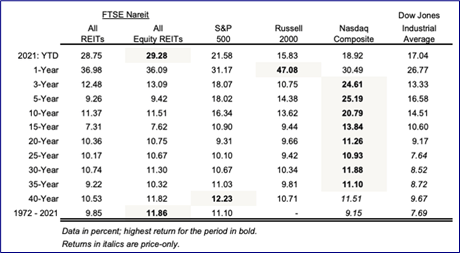 Source: NAREIT REIT Watch
But recently, we published an article titled "Very Bad News For REIT Investors" that discussed the potential headwinds that could soon weigh on REITs. In it, we explain why the economic environment we seem to be entering into could be very bad for certain REITs.
Historically, REITs have performed the worst during times of rising interest rates and slowing economic growth.
It seems as though we might be headed for just such an environment, as inflation is speeding up the Federal Reserve's rate-hiking plans even while projections for future GDP growth are falling.
However, our conclusion was not to sell and/or avoid REITs altogether. Trying to time the market rarely works out and usually causes investors to leave money on the table.
Instead, we advocate selectivity.
Certainly, when you look at a broad index of American REITs like the Vanguard Real Estate ETF (VNQ), you find that the sector as a whole has nearly doubled from its COVID-19 lows and is now hitting all-time highs.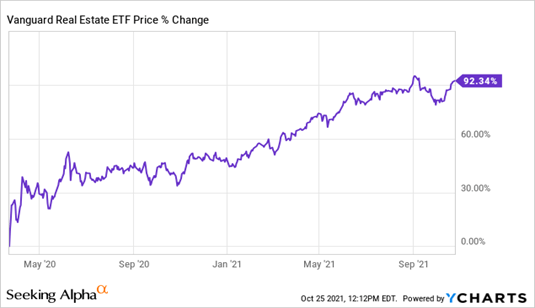 Moreover, many of the largest names (AMT; PLD; PSA; CPT; EQIX) in the index have soared to very high and stretched valuations. See, for instance, the price-to-cash from operations (or "operating cash flow") of five of the largest REITs that trade on US exchanges: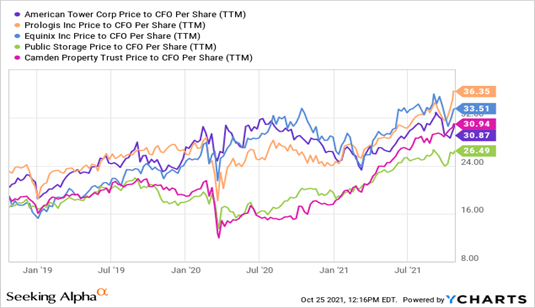 Each of them trades at nearly the highest valuations of any time in the last three years, a period that has been characterized by relatively rich valuations. While these are each fine companies, we do not believe their stock prices are particularly attractive right now.
The good news is that there are almost always some REITs with positive future outlooks that trade at reasonable valuations.
That is why selectivity is key. Simply buying the index at a time like now exposes one heavily to the most highly valued REITs and very little to the most reasonably valued REITs.
By paying close attention to fundamental trends in the economy and then matching those trends with reasonably valued (or undervalued!) REITs well-positioned to take advantage of them, you have a formula for a successful investment.
So let's look at the positive fundamentals occurring right now in three sectors of the economy and match them up with two attractively valued REITs.
Positive Fundamental Trends In Retail, Multifamily, And Hospitals
First, consider the positive fundamental backdrop for the American retail sector. Unlike most recessions, American consumers are emerging from the brief COVID-19 recession with more money in their pockets than they would have had if the pandemic had never occurred. This is due to multiple stimulus checks, enhanced unemployment benefits, surging stock and housing markets, and now the rising wages being spurred by a labor shortage.
Personal consumer spending since the middle of last summer has more than doubled the rate of consumer inflation, indicating that Americans are happily spending this money in their pockets.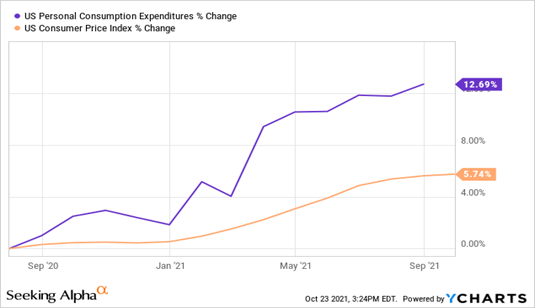 What's more, using cell phone ping data, we can see that foot traffic at national retailers is above pre-pandemic (Q3 2019) levels virtually across the board.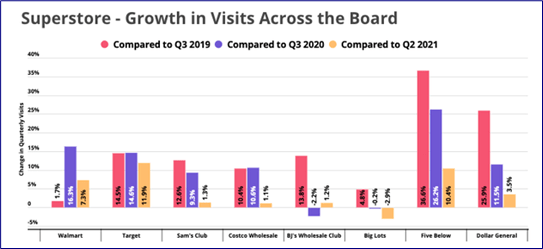 Source: Placer.ai
Traffic in these stores is mostly higher than their level from last year as well, which is impressive considering that the pandemic funneled people into the retailers that were considered "essential" and allowed to remain open without capacity constraints.
Consider grocers. Almost universally, grocery stores were still experiencing growing foot traffic in the third quarter of this year, hitting levels well above where they were in Q3 2019 and Q3 2020.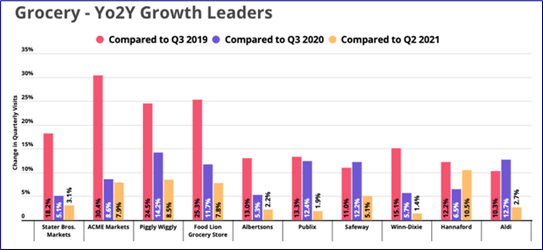 Source: Placer.ai
While this data does not speak for all retailers, big and small, it does clearly indicate that brick & mortar retail is not dead. People are still going to physical stores to shop for their everyday needs, which has positive spillover effects on other types of retail.
Apartments, likewise, have enjoyed surging rent growth this year - well above the pre-pandemic trend rate of growth.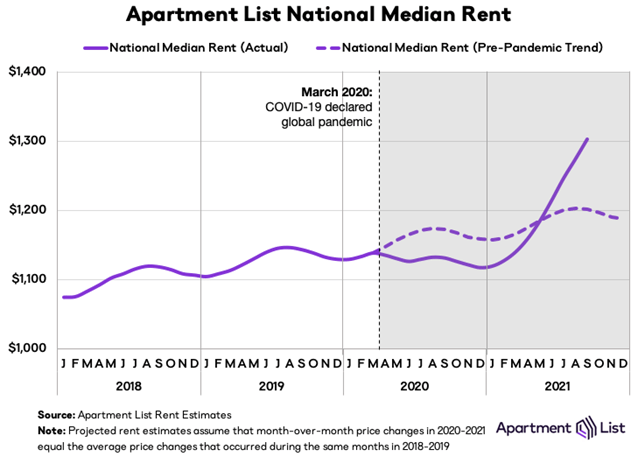 Source: Apartment List
In fact, the Dallas Fed believes that this elevated rent growth could persist for years, which would provide a long-lasting tailwind to multifamily landlords.
Though the apartment vacancy rate ticked up slightly in September, probably due to the end of the eviction moratorium, it still remains at a historically low level.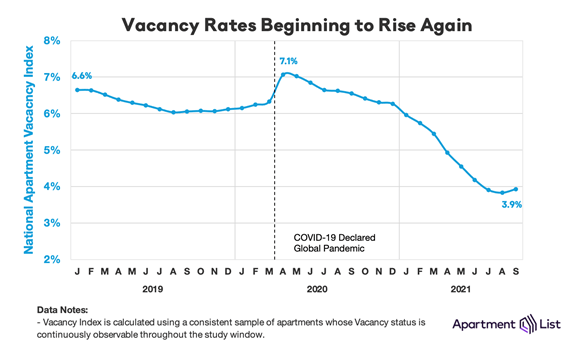 Source: Apartment List
It will take many years for new multifamily developments to be completed, bringing supply up to match demand.
Finally, let's take a look at the positive fundamental backdrop for hospitals. We all know by now that the country has an aging population and that the total number of American seniors is set to rise considerably in the coming decades.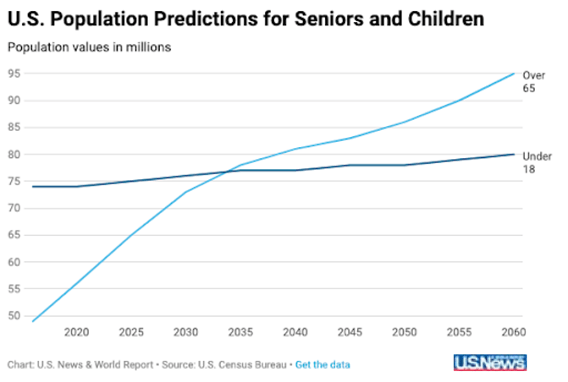 This is a beneficial trend for healthcare real estate, especially hospitals because the average number of healthcare visits and spending rises exponentially with age.
Moreover, notice that emergency room visits per 1,000 people have risen considerably from 1999 to 2019: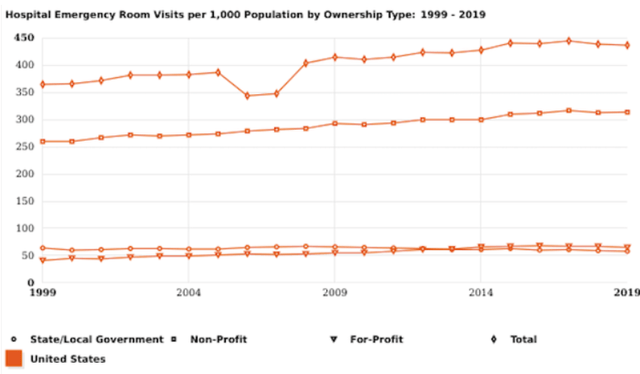 Source: Kaiser Family Foundation
The reason this generally rising trend of emergency room visits per 1,000 people matters is that some percentage of those translate into hospital admissions. According to the CDC, 12.4% of emergency department visits turn into hospital admissions.
Much hay has been made about the increasing number of doctor visits and procedures moving to outpatient care facilities rather than inpatient hospitals. But this does not mean hospitals are bringing in less revenue. Many of the most expensive procedure and care is still provided only at hospitals.
According to CDC data on national health expenditures, total spending on hospital care rose 45% from 2010 to 2018 - an average annual growth rate of about 5.63%. Since 1960, expenditures on hospital care as a percentage of personal healthcare spending has consistently hovered in a range of 36% and 41% (though it briefly reached as high as 46.3% in 1980), with the share in 2018 sitting at 38.8%. This has steadily risen from 37.5% in 2010.
As the country ages, hospitals should continue to capture much of the associated increase in healthcare spending.
Two REITs To Benefit
Two REITs in particular right now appear to be opportunistically valued compared to future prospects and the fundamental backdrop.
Armada Hoffler Properties (AHH), for example, owns a diversified portfolio of 59 mixed-use, office, retail, and multifamily properties across the Mid-Atlantic and Southeast regions of the US. The REIT is also a general contractor and has developed many of the properties that currently occupy its portfolio.
The diverse portfolio of mostly Class A properties is split fairly evenly between multifamily, retail, and office tenants.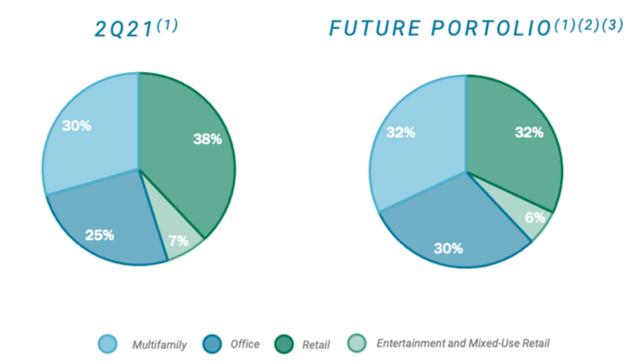 Source: AHH September Presentation
In the third quarter, AHH acquired two retail centers in North Carolina and Virginia for a combined ~$65 million. The centers feature tenants like Kroger (KR), T.J. Maxx (TJX), Ross (ROST), Five Below, and Homegoods.
One thing that is critical to understand about AHH is that the REIT tends to run fairly high debt ratios while major projects are under development. Right now, AHH has 7 major development projects worth about $600 million ongoing. Once the properties are completed and generating rental revenue, debt ratios will come down. But until then, debt appears to be on the high side.
For instance, net debt to adjusted EBITDA at the end of Q2 stood at 7.0x. However, total debt to capitalization was only 43%, which is fairly conservative. Until development projects can begin generating EBITDA, the debt taken out to finance them will make AHH's debt ratios appear high.
AHH trades at a dirt-cheap 12.7x 2021 FFO, and so far this year the REIT has paid out only 59% of FFO in the form of dividends. Based on full-year expectations of $1.04 FFO per share, the recently raised dividend of $0.17 per quarter amounts to a very low forward payout ratio of about 65%.
The second REIT we want to highlight is Medical Properties Trust (MPW), a healthcare REIT that owns hospitals across North America, Europe, Australia, and a few in South America.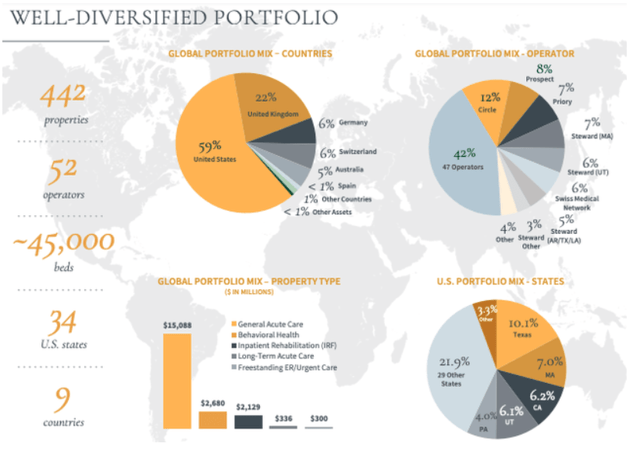 Source: MPW June Presentation
MPW's standard procedure is to buy hospital real estate directly from the major health systems that occupy them in sale-leaseback deals. This way, MPW is able to insist upon its preferred lease terms, such as triple-net leases, cross-default protection, and rent escalations.

Source: MPW June Presentation
This also gives MPW the ability to protect its revenue streams from inflation. About 90% of lease contracts include CPI-based escalators, with 75% of those capped at 4.5% annually.

Source: MPW June Presentation
Using this financing method, MPW has successfully integrated billions of dollars' worth of hospital real estate into its portfolio in recent years. In fact, from 2010 through 2020, MPW's compound annual growth rate of gross assets was 31%. This year alone, MPW has added around $3.5 billion of real estate onto its books. Compare that to a little over $21 billion of total assets.
It's no wonder, then, that MPW has been able to grow its FFO per share by 16% year-over-year in the first half of 2021!
And the REIT's growth runway extends far into the future, as it has only just begun to tap into the market for hospital real estate. Many operators are only just beginning to discover the benefits of engaging in sale-leasebacks with the likes of MPW.
Despite having a sub-investment grade credit rating, MPW is still able to access cheap capital. For instance, since the REIT operates in Europe, it recently issued €500 million of 0.993%-yielding notes due in 2026, and it also recently entered into a joint venture agreement to sell partial stakes of 8 Massachusetts hospitals at an attractive valuation.
MPW has hiked its 5.5%-yielding dividend each year over the last 8 years at an average rate of about 5% annually. And the REIT is expected to pay out slightly less than 70% of FFO for this year, leaving plenty of margin of safety for the dividend.
Like AHH, MPW is trading at around 12.7x 2021 FFO, providing a great value relative to the REIT's growth rate.
Bottom Line
Though overvalued REITs are a dangerous investment when entering an environment in which REITs have historically underperformed - namely, rising interest rates and falling rates of GDP growth - there are almost always some good values still to be found. One simply needs to go looking for them and to understand them well enough to comprehend the bull thesis.
The fact that there are almost always some diamonds to be found in the rough is very good news for REIT investors.
We believe AHH and MPW are two of such diamonds that the market has wrongly shunned, and it is by targeting this type of undervalued REITs that we have managed to do far better than the REIT market averages over the years:

(Source: Interactive Brokers. See disclosure at the end of this article)