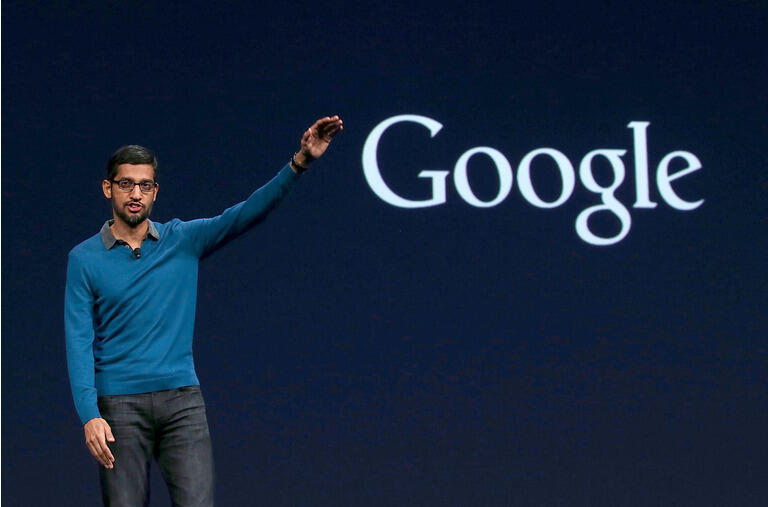 Alphabet (NASDAQ:GOOGL) (NASDAQ:GOOG) is my largest position, though that distinction was achieved only recently due to the setbacks at Facebook (FB). The stock has performed tremendously well over the past year, and that strong performance has been more than justified by wonderful financial results. The company is showing strong bottom-line growth courtesy of operating leverage, and appears committed to aggressively buying back stock. That combination is in my opinion the tried and true recipe for strong shareholder returns, and I expect shareholders to be generously rewarded over the long term.
Google Stock Price
Over the past 12 months, GOOGL has done what many thought mega-cap tech stocks couldn't do: roar higher.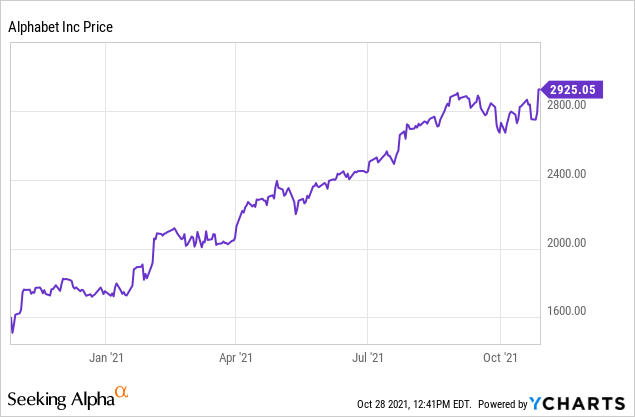 The stock is now trading at or near all time highs, and is up over 90% over the past year. What has caused the upward momentum in the stock?
Why Did Google Stock Go Up?
Unlike the now-fashionable meme stocks, which seem to trade strongly on hype alone, the move in GOOGL appears to be driven by the fundamentals. As seen below, GOOGL was trading far too cheaply prior to the move higher based on forward price to earnings ratios.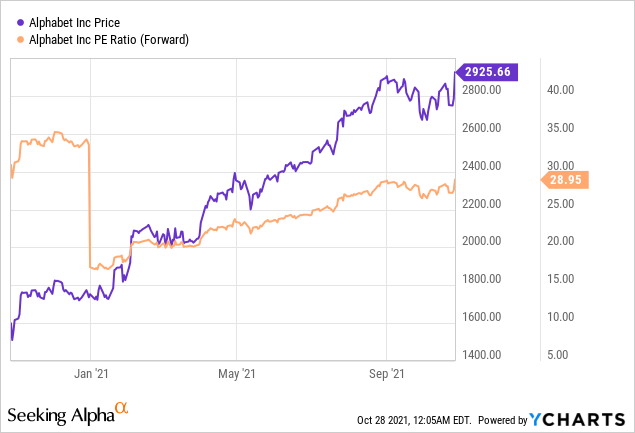 While multiple expansion drove some of the move higher, it appears much of the move was also driven by strong growth in underlying earnings.
Google Earnings
The most recent earnings release saw strong results all around.
Revenue grew 41% to $65 billion.

EPS grew 71% to $27.99.

GAAP EPS included $2.2 billion of unrealized gains. Excluding that, EPS was $24.80, which represented growth of 84%.

GOOGL repurchased 4.6 million shares for $12.6 billion.
How was net income able to grow so much faster than revenues? The answer is operating leverage. As we can see below, GOOGL did not increase operating expenses like research and development ('R&D') nearly as fast as top-line growth, allowing the bulk of top-line growth to flow directly to the bottom line.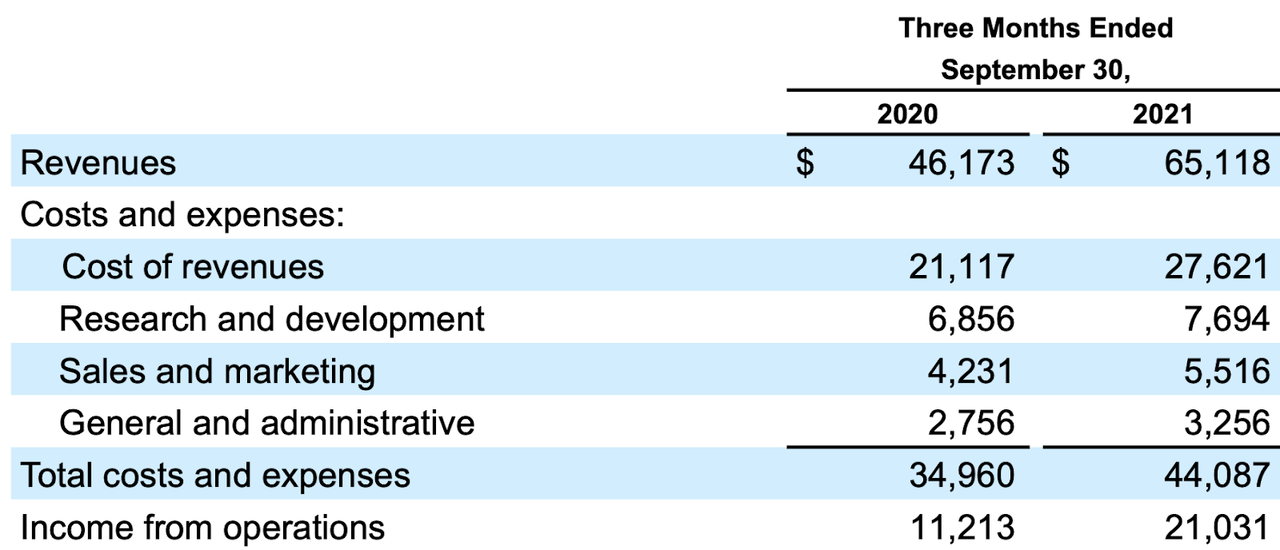 I note that GOOGL still spends an astounding $7.7 billion on R&D, which is promising for future growth. In comparison, Apple (AAPL) spent only $5.7 billion on R&D in its second quarter.
I'm not surprised by the strong growth, which was driven in large part due to Google Search and YouTube. Online advertising has seen a strong rebound this year, though it is worth noting that GOOGL appears to not have been so impacted by AAPL's recent privacy changes, which had an outsized impact on others like Snapchat (SNAP).
Instead, I am most impressed by what appears to be reformed capital discipline. Cash and equivalents grew modestly to $142 billion. Unlike in prior years, GOOGL has shown a greater commitment to repurchasing shares. Year to date, GOOGL has generated $48.4 billion of free cash flow while repurchasing $36.8 billion of stock. This follows the 2020 first nine month performance with $25.6 billion in free cash flow while repurchasing $23.2 billion of stock. I am optimistic to see GOOGL taking a more aggressive approach with buying back stock as I view share repurchases as being critical in earning a higher multiple.
Is Google Stock Overvalued?
At first glance, it might not be obviously clear that GOOGL is deeply undervalued. The stock trades at just over 27x forward earnings - a multiple which I still consider very cheap for the growth potential, but perhaps not everyone will see it that way.
We must point out a couple of things, however. First, GOOGL has nearly 8% of its market cap held in cash. Next, GOOGL's earnings are held back by losses in its Other Bets division, which reduced operating income by over 5% in the latest quarter.

If one looked solely at the consolidated PE ratio, then that would be effectively assigning the Other Bets division with a negative value, though that is clearly not accurate as this segment has promising businesses such as the self-driving unit Waymo.
Is Google Stock A Buy, Sell, or Hold?
GOOGL is trading at just over 27x earnings and is expected to generate consistent growth over the coming years.

I note that those estimates are most likely understated considering they are not assuming operating leverage, as revenues are predicted to grow at faster or comparable rates.

(Seeking Alpha)
My fair value estimate for GOOGL is to trade at 40x earnings over the long term. This means that investors may be able to enjoy 20% annual returns from underlying earnings and growth, with further return potential from multiple expansion.
Risks
Antitrust regulations remain an ongoing overhang. Not only may antitrust reform negatively impact earnings, the mere overhang may prevent multiple expansion from taking place. My view is that antitrust fears are overblown, and that multiple expansion should occur anyway as GOOGL continues to execute on its share repurchase program, but investors are advised to be patient on this one. GOOGL isn't trading at the same multiples of a Microsoft (MSFT) or Mastercard (MA), even though I believe it should do so, but that may not change until the negative headline risk dissipates.
Conclusion
GOOGL has been trading at less than ideal valuations for so long that it is easy to forget the monopolistic-like characteristics of Search and YouTube. I expect persistent growth and consistent share repurchases to provide strong enough catalysts to facilitate multiple expansion. The stock shouldn't be trading at the roughly 1.3x price to earnings growth ratio ('PEG') that it currently trades at, and I expect that to improve over time. GOOGL is my largest individual position and is one I am excited to own over the long term.