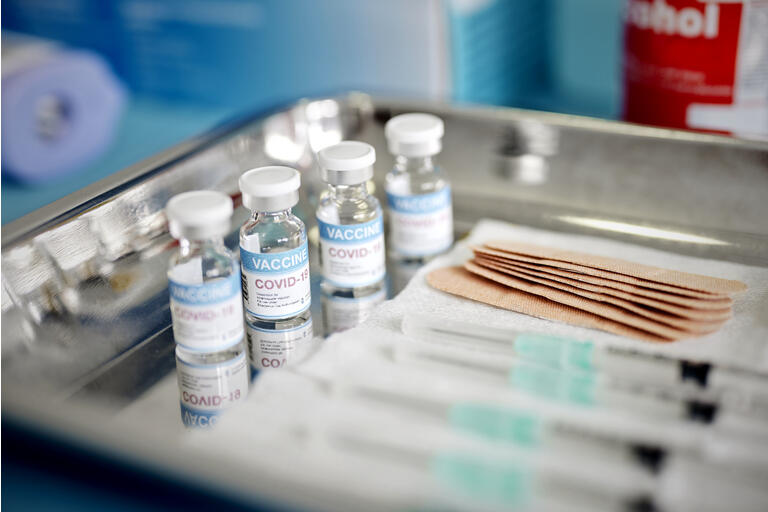 Investment Thesis
Novavax (NASDAQ:NVAX) has finally filed for authorization for its COVID-19 vaccine, NVX-CoV2373, in the UK. NVX-CoV2373 is a two-dose protein subunit-based vaccine. It contains a proprietary Matrix-M adjuvant. In contrast to Pfizer-BioNTech, Novavax's vaccine uses the Recombinant Nanoparticle Vaccine Technology. It has also been proven to be 93% clinically effective. Novavax has filed for Emergency Use Listing (EUL) from the World Health Organization (WHO). The company also expects to file for Emergency Use Authorization (EUA) with the US FDA by Q4'21. Besides its COVID-19 vaccine, Novavax also has eight other programs in development. Three of the programs are in the Phase 2/3 clinical stage.
BioNTech SE (NASDAQ:BNTX) is one of the two key players behind the leading and highly successful COVID-19 vaccine, Comirnaty. It has delivered more than a billion doses worldwide as of 21 July 2021. On 27 October 2021, the vaccine was also recommended for children between 5 and 11 years old. In addition, BNTX has also rapidly expanded the scope of its R&D efforts to sustain its success beyond Comirnaty by deploying some of that cash to build up its capabilities in "Next-Gen Immunotherapies & Vaccines." More than 20 potential candidates are in the pipeline with a target to launch "multiple products in the next five years."
If you are new to Novavax and BioNTech, we encourage you to read our recent articles on both companies. They will help you understand their business models and market opportunity better. The links to the articles are appended:
NVAX Vs. BNTX Stock YTD Performance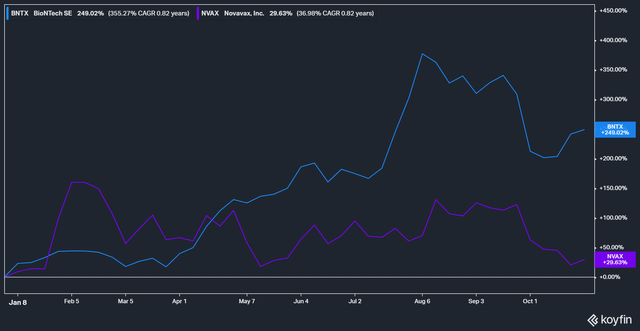 NVAX Vs. BNTX stock YTD performance (as of 27 October 21).
BNTX stock has had a phenomenal year so far. At one point in August, its YTD gain almost reached 400%. Although the momentum has subsided substantially, its YTD gain of 249% should still be gratifying for its investors. In contrast, NVAX stock has had a topsy-turvy year. Its YTD gain raced to more than 150% earlier this year. However, its momentum has all but fizzled out. Its YTD gain has fallen dramatically to 29.6%. Its struggle for traction this year also mirrored its struggles in obtaining its EUA for its COVID-19 vaccine.
Comirnaty Continues to Lead the Race in Protecting Children
On 27 October 2021, Comirnaty, the COVID-19 vaccine produced by Pfizer-BioNTech, has been recommended for children between 5 and 11 years old. It is based on the voting results from a panel of FDA advisors. The vote is 17-0 in favor of the vaccine. The advisors believe that the benefits of the COVID-19 vaccine outweigh the risks of heart inflammation. As a result, we may expect a formal FDA approval within this week. It is after the discussion by CDC's Advisory Committee on Immunization Practices on 2nd November 2021. The White House has also acquired sufficient specially packaged children vaccines from Pfizer-BioNTech. The vaccines are ready for distribution to more than 25,000 pediatrician's offices, hospitals, and pharmacies.
It is indeed excellent news for the medical community. It will help to reduce the mortality rate for children with underlying medical conditions. As of 26 October 2021, 737K deaths have been reported in the US. Of these, the American Academy of Pediatrics estimated that children accounted for up to 0.26% of all COVID-19 deaths. As of May 2021, UNICEF estimated 3.48K of children aged 9 and below to have died globally from COVID-19.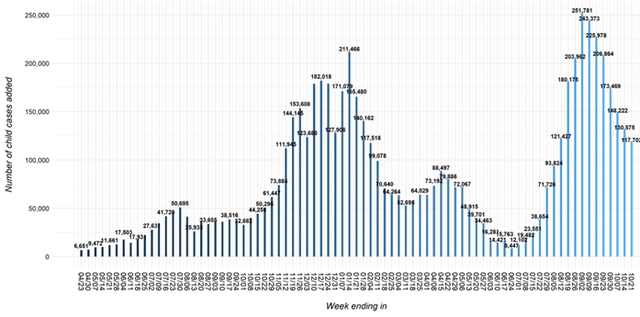 The number of Child COVID-19 Cases Added weekly. Source: American Academy of Pediatrics.
Furthermore, most of these unvaccinated children have returned to school in Q2'21. The American Academy of Pediatrics reported that more and more children in the US have tested positive for COVID-19 recently. Almost 1.89M US children fell sick in the recent 2.5 months. Assuming a rollout of vaccines by November 2021, 28M young Americans can finally be better protected from COVID-19.
It will save lives in that age group," says Emma McBryde, an infectious-diseases modeller at the Australian Institute of Tropical Health and Medicine in Townsville. "For every child's life you save, you may well save many, many more adult lives," she says. This is because the infected children may transit the COVID-19 to others, including adults. (from nature article)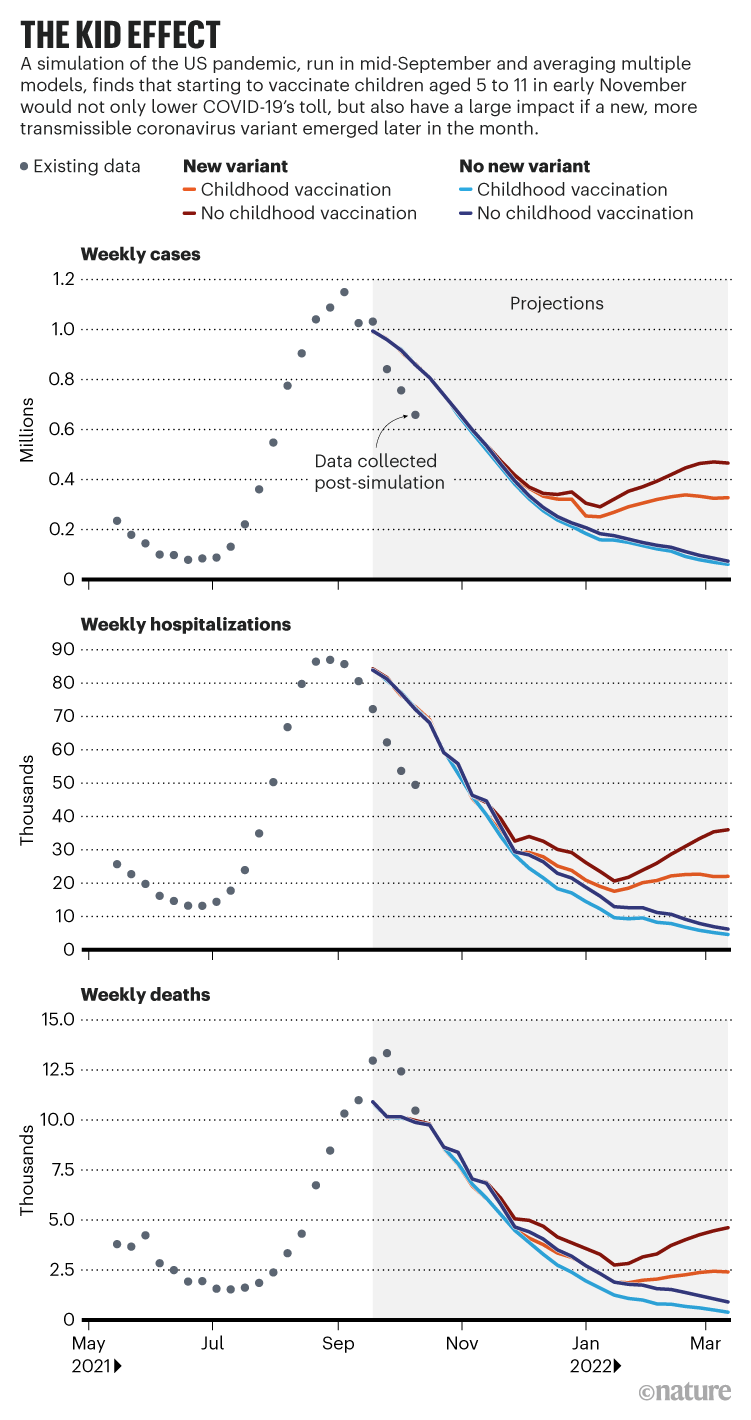 Vaccines for children aged 5–11 could reduce new US infections and deaths. Source: COVID-19 Scenario Modeling Hub
Vaccinating the children may help to reduce the impact from potential future variants based on the study above. Hence, it serves not just to protect our children, but also confer a significant benefit to society.
NVAX is Finding Its Cadence
On 27 October 2021, NVAX finally filed for authorization for its COVID-19 vaccine, NVX-CoV2373, in the UK. NVAX is the first company to submit for Conditional Marketing Authorization (CMA) of a protein-based COVID-19 vaccine in the UK. The company had submitted complete data to the regulator. It includes preclinical, clinical, and chemistry, manufacturing, and controls (CMC) data. CEO Stanley C. Erck added:
We look forward to U.K. Medicines and Healthcare products Regulatory Agency's (MHRA) review and will be prepared to deliver vaccine doses following what we anticipate will be a positive decision. (from Novavax news report)
NVAX is confident that the complete submission to the US FDA will be made by the end of 2021. NVAX also expects to submit authorization in Europe, Canada, Australia, and New Zealand. It is on top of a pending approval for Emergency Use Listing (EUL) from World Health Organization (WHO), Indonesia, and the Philippines. Serum Institute of India's (SII) CEO also reported that NVX-CoV2373 should be licensed in India by the end of 2021 or early 2022. In addition, it was reported that the vaccine's complete data would be submitted to the regulatory board soon. Thus, it seems that NVAX is finally finding its cadence for regulatory submissions. As a result, NVAX is leaning closer to its potential EUA approval by the US FDA.
NVAX has also closed multiple Advance Purchase Agreements (APA), amounting to 450M total doses despite the lack of regulatory approval. These doses are meant for the US, Japan, and Europe. It demonstrates confidence shown by the international community. NVAX has also pledged over 1B doses for the developing world, with Serum Institute of India producing 600M annually.
In Q2'21, NVAX reported deferred revenue of $1.2B. It comprised $1.1B from upfront payments under the APAs. NVAX expects to fulfill these unsatisfied performance obligations by 2022. In addition, the company highlighted that it has unfulfilled performance obligations amounting to $7B. Therefore, we think the opportunity to realize its unfulfilled purchase obligations in 2022 is getting closer than before. Novavax also expects to have a production capacity of 2B doses by 2022.
So, Which Stock is the Better Buy Now?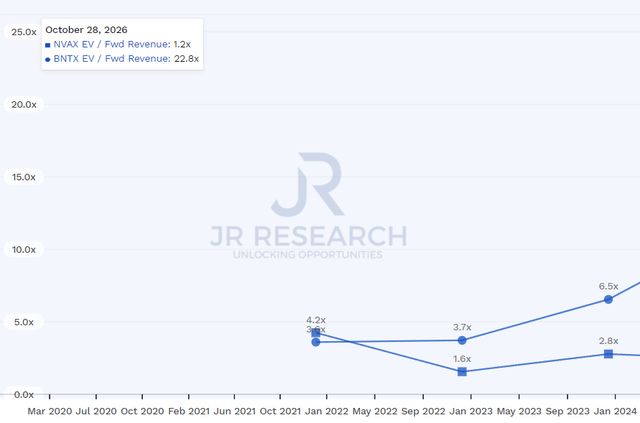 BioNTech & Novavax stock EV/Fwd Revenue trend. Source: S&P Capital IQ
NVAX is currently trading at an EV/NTM Revenue of 2.39x, while BNTX is trading at 3.35x. However, if we consider the fulfillment of its $7B worth of purchase obligations by 2022, its stock is trading at just 1.6x of its FY22 estimated revenue. As compared to BNTX stock, NVAX stock certainly looks like a huge bargain now.
Notwithstanding, many investors may still be cautious about NVAX stock due to multiple delays on its EUA submissions and manufacturing issues. However, as the company inches closer to a potential rollout if it obtains its EUA, its valuation looks attractive now. Nevertheless, we think NVAX stock should still be considered as a speculative play for investors.
In contrast, BNTX already has a proven vaccine with Pfizer. Thus, even though BNTX stock trades at a significant premium over NVAX stock, it might seem to be the smarter buy for some investors. Moreover, both stocks don't look expensive now, ever since their recent valuation compression.
Therefore, we rate both stocks at Buy. However, if you have the appetite for speculation, NVAX stock might prove to be the outperformer at its current valuation.