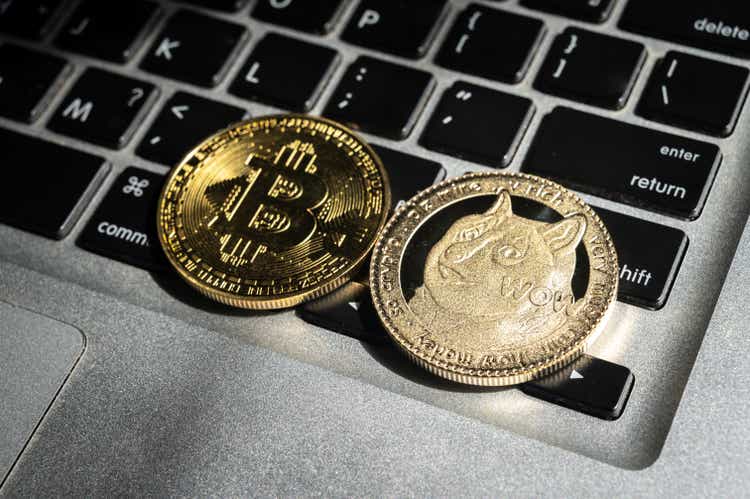 While I view some cryptocurrencies like Bitcoin (BTC-USD) as a legitimate attempt to send and receive money outside of the conventional financial system and a store of value, I don't really see Dogecoin (DOGE-USD) as one of those cryptocurrencies. DOGE serves a purpose for speculators, but I think a lot of the speculation has moved on, and recent lacklustre rallies that fail to bring DOGE anywhere near previous highs provide support for that theory.
This article will cover the mid-2021 tops in the DOGE bubble, and why I think DOGE won't do what BTC has done in returning to all-time highs.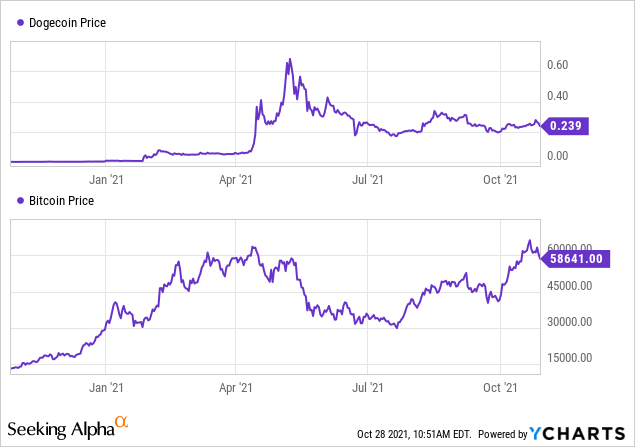 Figure 1: Past year of BTC and DOGE trading. DOGE is still up over the time frame, but hasn't recovered to mid-2021 highs.
Mid-2021 DOGE action is reminiscent of other bubbles
Everyone and their dog was talking about DOGE
DOGE was launched in late 2013 as a joke, it is a memecoin, and has spent most of its history trading for fractions of a penny. The year 2021 has seen DOGE achieve mass recognition (whether it is good or bad).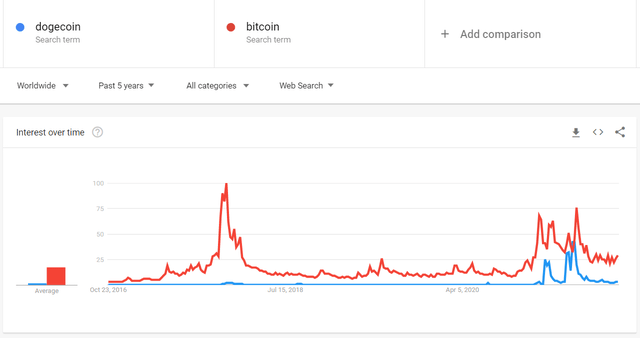 Figure 2: Google Trends data shows that DOGE (blue line) barely figured in the crypto-bubble that peaked in late 2017, but in 2021, achieved far more interest in search. Bitcoin (red line) is included as a comparison. Source: Google Trends.
As DOGE rallied in 2021, I expected to hear about DOGE among those in the crypto space and among speculators taking advantage of the coin being pumped up by the fear-of-missing-out. I didn't expect to hear about it on May 8, 2021, on Saturday Night Live, but Tesla (TSLA) CEO, Elon Musk, made sure we did. There's nothing that says bubble-like speculators getting excited about Elon Musk, the self-proclaimed DogeFather, on Saturday Night Live (SNL), hoping that he'll throw DOGE a bone, as he had done repeatedly on Twitter. The sell-off following and even during, that appearance is no surprise.
The 2018 pot stock bubble
The SNL-induced sell-off reminds me of the pot stock bubble of 2018. Approaching legalization of recreational, adult-use cannabis in Canada on October 17, 2018, many with long exposure to pot stocks were excited about this milestone, sort of like how DOGE longs were excited about Musk's upcoming SNL appearance. Major stocks like Canopy Growth Corporation (CGC) and Aurora Cannabis (ACB) instead sold off during the week of legalization, and a couple of bleak months followed. As sales of cannabis started to pick up, some cannabis stocks enjoyed a second rally in early 2019, but enthusiasm for the space soon faded again. The share price of some of the big names in the business like Canopy mounted some sort of recovery over the longer term. Meanwhile, other players like Aurora never really recovered to the highs of those glory days.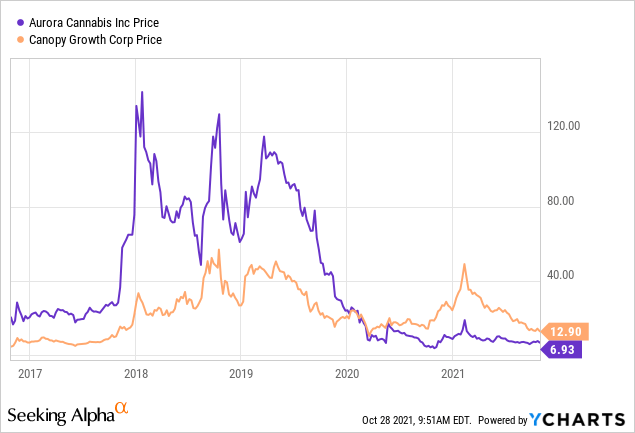 Figure 4: Performance of CGC and ACB the past 5 years.
If we take a look at some of the smaller cannabis stocks that were brought along for the ride, the story is worse. Lifeist Wellness (OTCQB:NXTTF), formerly Namaste Technologies, Emerald Health Therapeutics (OTCQX:EMHTF), and CannTrust Holdings (OTCPK:CNTTQ) have made a return to pre-2018 prices, down heavily from highs.
Figure 5: Performance of NXTTF, EMHTF, and CNTTQ over the past 5 years.
Bubbles popping can force consolidation in a space
There is a difference though. Canadian producers actually had a product to sell, and while valuations needed some revision, there was always a bull case that could be made, October 17, 2018, just served as a consolidation event where valuations that had gotten a bit too lofty were brought back a little closer to reality. The wheat was sorted from the chaff in the 18 months following, and CGC and even ACB (albeit at much lower prices) are still meaningful players in a genuine industry. There aren't too many people talking about NXTTF, EMHTF, and CNTTQ nowadays.
A similar bubble was seen in the cryptocurrency space throughout 2017 where initial coin offerings were all the rage. BTC is still here, despite an 80% pullback from around $20,000 in late 2017 at one point to about $3,200 in late 2018.
BTC is making strides, DOGE is losing favor
During a consolidation event where those trading cryptocurrencies decide what names are going to remain players in the cryptocurrency space, is DOGE really going to be on that list? Is there a high demand for DOGE futures and an ETF based on that? It has taken a long time for that to happen with BTC, with ProShares Bitcoin Strategy ETF (BITO) and Valkyrie Bitcoin Strategy ETF (BTF) launching last week and VanEck launching another similar bitcoin ETF soon.
Let us not forget what DOGE actually is, a memecoin. Memes get old, they lose popularity, and while old memes are occasionally still referenced, peak popularity has likely passed for DOGE. Indeed many speculators seem to be moving on to Shiba Inu (SHIB-USD). For those who want to get caught up in the most volatile of cryptocurrencies, the latest hype, look no further than SHIB. I can't tell you when exactly that bubble will pop, but I wouldn't be surprised if it is one.
Conclusions
BTC wasn't designed as a joke and it remains the largest cryptocurrency by market cap. It recovered from the mid-2021 sell-off to reach fresh all-time highs. It appears from where we sit now, that the wheat has been sorted from the chaff. DOGE seems to be done, I don't think subsequent events, such as Space-X's DOGE-funded trip to the moon, will cause the stock to move the way it has previously. The market is bored with DOGE, perhaps SHIB is the shiny new toy among people looking to gamble on some of the more speculative coins out there. Either way, I'm bearish on DOGE. I find it hard to consider a short in a volatile cryptocurrency with little way to hedge, so I won't be considering that further.
On the long side however, I'm bullish on BTC and think it could be a good buy for those looking to get exposure to cryptocurrency over longer terms. I think the coin has yet again proven itself to have resilience to sell-offs, having recovered from yet another crypto-bubble and the appearance of new futures-based ETFs may bring additional longs aboard the BTC train.
There are risks to any long in BTC, a couple of which are considered here. Notably, risks apply to trading BTC directly, for example, coins kept on an exchange can be stolen if a hack occurs and the exchange may or may not reimburse you. Whether investing via ETF or holding BTC directly, the coin has seen large drawdowns previously, another 80% drop wouldn't be out of the question. While I speculate that BTC is here to stay and is resilient, that is just my opinion, and market sentiment may shift to favor other coins.