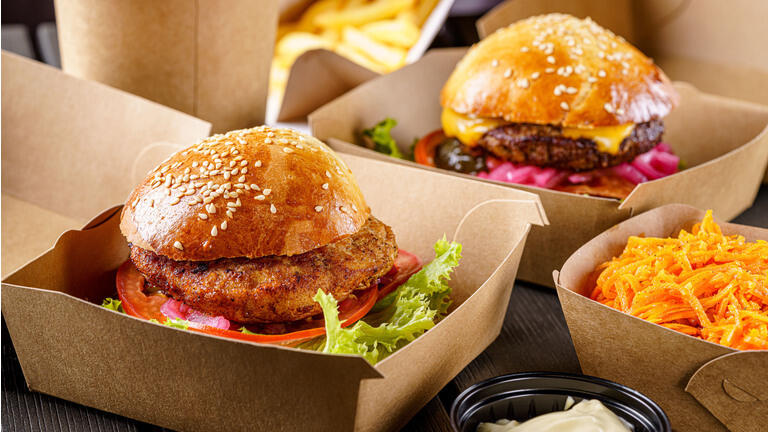 Investment Thesis
I have decided to take a look at Good Times Restaurants Inc. (NASDAQ:GTIM) following the stock's stellar performance in recent months (1-year return of 210.5%). The stock has been extremely volatile over the past decade and when there is volatility, there is usually an opportunity. I expect unit and same-store sales growth to serve as catalysts and drive the stock price higher in the near future.
On top of that, management has recently launched a new concept that could add to the upside scenario. GTIM is currently trading at 5x forward EV/EBITDA, which is a lower valuation than most of its peers. Despite the fact that the stock is up 210% since October 2020, I think there is still an opportunity to buy a good business at the current price if management can keep on executing well.

Source: Seeking Alpha
Company Details
Good Times Restaurants Inc. was founded in 1996 in Nevada. The company owns and franchises two separate premium restaurant concepts:
Bad Daddy's Burger Bar (BDBB)
BDBB operates in the full-service dining sector as a premium burger bar concept. BDBB is a full-service restaurant concept featuring a chef-driven menu of gourmet signature burgers, chopped salads, appetizers, and sandwiches, as well as a full bar featuring local and craft beers. A typical BDBB restaurant is approximately 3,500-4,000 square feet with an enclosed patio, smaller than most other chain casual dining restaurants. There are presently 41 restaurants in operation.
Good Times Burgers & Frozen Custard
It is a regional quick-service drive-thru restaurant chain with 32 locations (eight of which are franchised), all are located in Colorado. The idea behind this concept is to serve fresh all-natural beef and all-natural chicken (without the use of hormones, steroids, or antibiotics). Every restaurant has a drive-through lane and, in most cases, a walk-up window where customers may place orders. Many restaurants just have one or two drive-through lanes and outside patio seating, with no indoor seating. The bulk of purchases were made in the drive-thru.
Catalysts
Same-Store Sales Growth
The stock had a rough time from early 2015 until mid-2020. During this period, the price fell from a high of $9.4 per share in May 2015 to a low of approximately $0.50 in April 2020. It seems that the market had a period of high exuberance at the beginning of the last decade and gave up on this company after 2015. It is quite understandable when you look at GTIM's income statement over the past five years. Despite constantly increasing the top line, the company failed to deliver a profitable year. In fact, GTIM has incurred losses in 29 out of its 33 years since inception. As of September 29th, 2020, the company had accumulated a deficit of $44.5 million.

Source: Seeking Alpha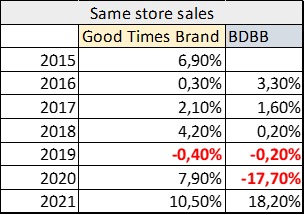 Source: GTIM's annual reports
The Unit Growth Potential
According to management, BDBB is the brand where they see the main unit growth opportunity. Compared to Good Times restaurants which are free-standing and require lengthy site development and permission processes, BDBB locations are usually end-cap positions in new and existing shopping center projects. As a result, BDBB restaurants may be constructed cheaper and more rapidly since just a building permit, signage approvals, and a liquor license are required, rather than substantial on- and off-site construction or land and zoning submittals and changes.
GTIM already opened a new BDBB restaurant in June 2021 in Marietta, Georgia and a second one was scheduled to open in September 2021. Moreover, during the last earnings call, management pointed out they expect to open approximately two new Bad Daddy's restaurants in FY22. This represents approximately 5% unit growth for FY21 and FY22. I would like to highlight that management mentioned they will finance the capital expenditures with their own cash. However, the company has zero long-term debt and if they decide to take some debt to speed up the unit growth, this can provide a significant upside to the unit growth scenario.


Source: GTIM FY20 10-K
New project
Another catalyst that could create value is the launch of this new project called Bad Mama's Chicken. In November 2020, the Company launched an entirely new virtual brand, Bad Mama's Chicken. What I like about this concept is that it is not capital intensive and it is easily scalable since the concept makes use of 24 existing Bad Daddy's Burger Bar kitchens, and staff is only available through large third-party delivery providers.
In the last 10-K, management pointed out that depending on the success of this concept, they're thinking about expanding the concept in Alabama, Colorado, Georgia, and Oklahoma, North Carolina, South Carolina, and Tennessee. I couldn't find any feedback from management on it in the past two earnings calls, so perhaps the next annual report will give us more color on how this concept has been developing.
Valuation
The company finished the quarter with $10.3 million in cash and paid down all long-term debt. As a result, the company has zero long-term debt and expects to finance its future capital expenditures with cash flows generated by the business. Management has provided the following guidance for FY21:
We provided guidance of net income for the full fiscal 2021 year of between $16.5 million and $17.0 million and adjusted EBIDTA between $9.5 million and $10.0 million.
GTIM had 12.8 million shares outstanding as of 29th of June 2021. Given the fact that the company purchased 0.33 million shares during a tender offer between August and September 2021, the company now has approximately 12.47 million shares outstanding. Based on the price of $4.76 per share, GTIM has a market cap of $59 million. If we assume that, after the buyback, the company will be left with $9 million in cash and the end of Q4 2021, and management will not issue debt during the quarter, the company has an enterprise value (EV) of approximately $50 million.
Based on management's guidance of $10 million in EBITDA for FY21, the stock is currently trading at 5x EV/EBITDA. In a recent article, I have provided a valuation for BBQ Holdings, Inc. (BBQ) which can be considered a peer. BBQ is currently trading at 7.2x forward EV/EBITDA. Therefore, GTIM is cheaper than BBQ. If the market would close the valuation gap between GTIM and BBQ, and GTIM would trade at 7.2x forward EV/EBITDA, that would imply a 44.5% rally from the current level.
Key Takeaways
GTIM is a fast-food chain operating two main concepts: Bad Daddy's Burger Bar and Good Times Burgers. This investment opportunity comes with an interesting growth potential since the company is in the process of expanding its BDBB and Good Times Burgers brands through unit and same store sales growth. Assuming a 5% unit growth rate and a 3% average same-store sales growth rate, I think the business is able to deliver a conservative 8% revenue growth over the next 5 years.
Moreover, the company performed a tender offer to buy back stock from mid-August to mid-September, which could signal to the market that management believes the company is undervalued. After looking at the valuation, the company trades at the 5x forward EV/EBITDA. This is way below the value at which BBQ is trading and if the market would assign to GTIM the same multiple, the stock should rally 44.5%.
Of course, it is important to highlight the fact that there are some risks involved. I would personally like to see management communicate more on their growth strategy and on the steps that they are taking to scale the business. That being said, at the current valuation, this is a "heads I win, tails I don't lose much" situation in my opinion.